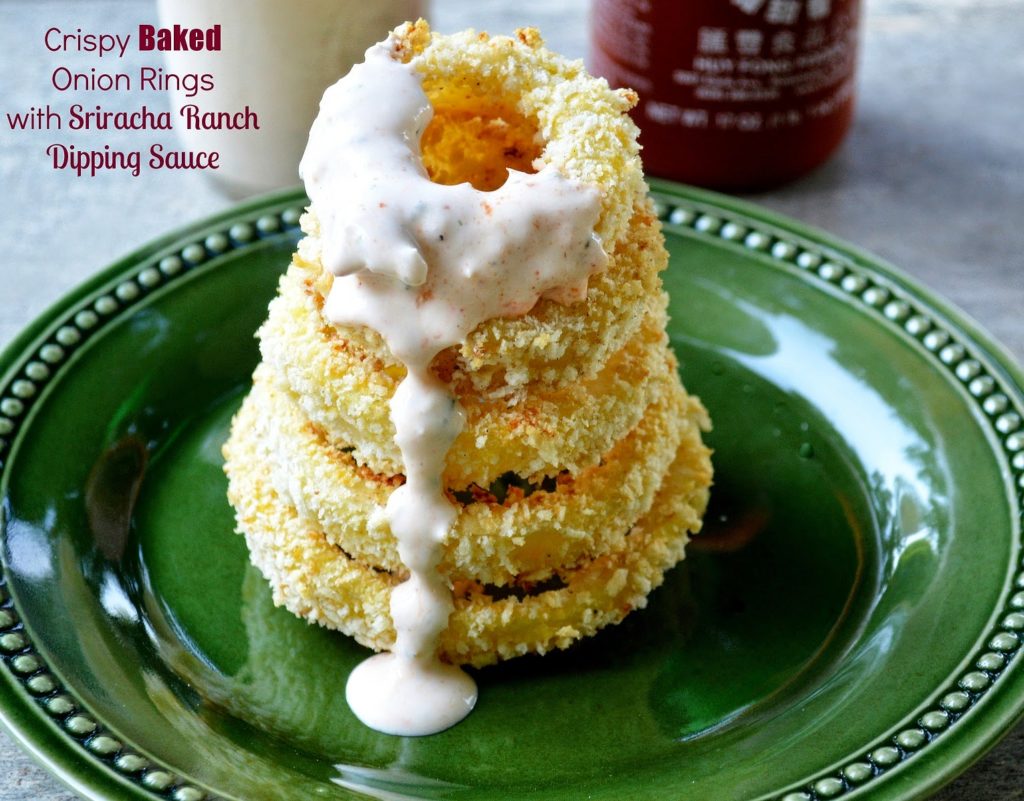 Remember the Cobb Salad with the Sriracha Ranch Dressing I posted the end of June?
It was SO good!
Well, I had extra dressing left over and wasn't in a salad-kinda-mood the day after I had made it so…I decided to make some baked onion rings with my Little Chef to use it up.
I sliced the onions, Samantha separated them, then we coated and we baked and the result was really good for a baked onion ring!
In my opinion baked just can't replace a beer battered & deep fried onion ring of glory BUT it did totally satisfy my desire to crunch and taste the sweet deliciousness of a Vidalia onion. My husband and kids totally enjoyed them as well!
So if you are looking for a quick and easy side dish to go with a sandwich or grilled meat – why not give these a try!
Crispy Baked Onion Rings
-recipe inspired by Sally's Baking Addiction


1 large Vidalia onion
2 cups buttermilk
2 egg whites
1/2 cup flour
3/4 cup Panko
Salt & Pepper
Paprika
Red (cayenne) Pepper
*Sriracha Ranch Dipping Sauce
In a baking dish, soak your onions in the buttermilk for 2 hours, turning occasionally.
After the onions have soaked. Set out a shallow bowl for the egg whites and beat a bit with a whisk or a fork. In another shallow bowl, combine the flour, Panko, salt, pepper, paprika and red pepper and mix until combined.
Line a baking sheet with a sheet of parchment paper and begin. Take an onion out of the buttermilk, shake off any excess, dredge it in the egg whites then place it right into the Panko mixture, coat it fully then place it on your baking sheet. Repeat until all onion rings are coated. Bake in a 400 degree oven for about 30 minutes, flipping the rings halfway through. Once rings are crisp and golden, beginning to brown they are ready to come out.
Server with the dipping sauce and enjoy!
*For the dipping sauce, all I did was use the dressing from the Cobb Salad. I just added a bit more Sriracha and 2 TBS of sour cream to thicken it up a bit for the onions – Yummo! If you are making this just for the onions, I suggest halving it OR do the reverse of what I did and make the Cobb Salad the next day 🙂
Enjoy!