This just happened, Loaded Crispy Fingerling Potatoes with Mushrooms Bacon and More!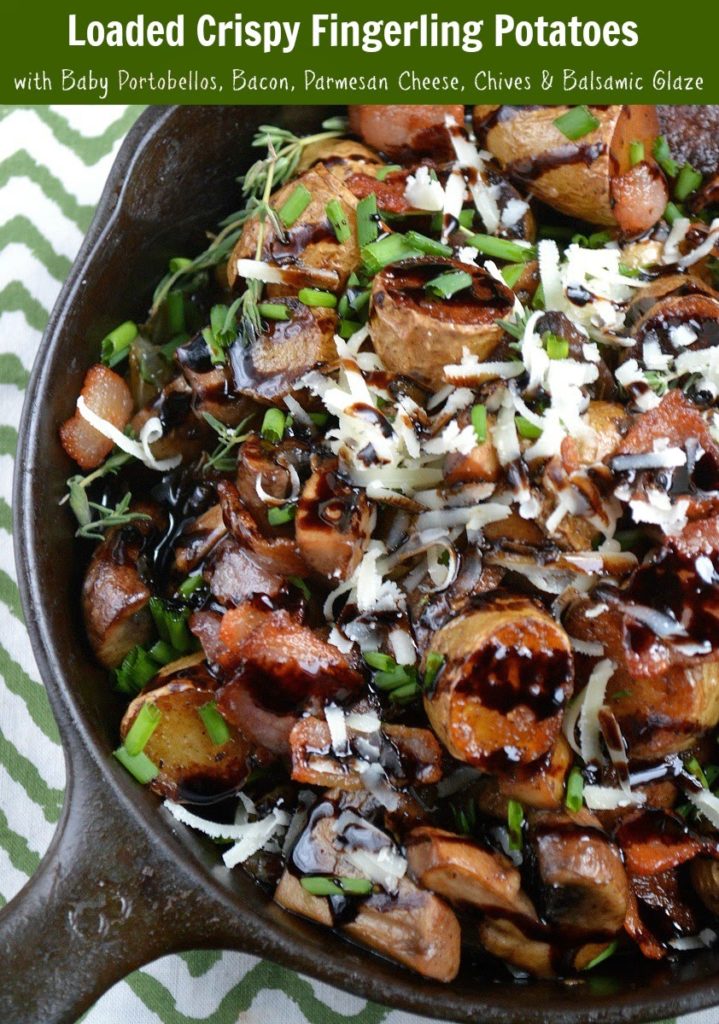 My love of potatoes is very strong.  Whatever the variety…I want to eat it!
I used to think my relationship with potatoes was a byproduct of my Irish heritage. Nope. It wasn't until about 5 years ago, while doing some research for a project I was working on, that I found out – out of 10,000 people surveyed across the US on what their favorite food was…the answer that came up the most was potatoes! I was like, potatoes…really, I mean I love them but everyone else does too?? Yup, just in front of Mexican food, the humble potato was the overarching answer!
Then I thought about it, you can do just about anything with a potato! Soups, apps, entrees, sides…even dessert!  For Pete's sake there is even a Potato Ice Cream, lol! 
Potato goodness comes in so many forms! First, there are endless possibilities in the produce section: Russets, reds, yellows, whites, purples, fingerlings and petites all have distinct flavor and cooking properties. For mashed in minutes, today's instant potatoes are better than ever because of advancements in the dehydrating process. And don't forget to check out the frozen aisle for fries, hash browns, wedges, shreds, tater tots, slices and more!  Simple as that!  Potatoes everywhere you look!
I was challenged by The U.S. Potato Board to join in their Speedy Spud Challenge and come up with a potato recipe that could be whipped up in 30 minutes or less and of course I happily accepted!
Ummmm, hello…PO-TA-TOES!! Just look at the bottom of the post for some of the recipes from my potato obsession! 
My mind instantly went to a potato and mushroom combination.  I wasn't even sure if that was a thing or a combo that should even happen outside of a soup or stew BUT it turns out it is and it should! The dish came out earthy and delicious!  The potatoes, mushrooms and onions are all from below ground, right, so you can see why I say earthy.  Mmmm!
Crispy fingerling potatoes mingling with chunks of baby portobello's and bacon over-top a bedding of caramelized onions with a sprinkle of Parmesan cheese and chives and a drizzle of balsamic glaze?? YOu need to give these Crispy Fingerling Potatoes With Caramelized Onions Mushrooms and Bacon a try! 
Oh-my-YES!  Here it is up close!  You can't even see the caramelized onions…but they are there, making a nice little bed for the potatoes and mushrooms…just waiting for your fork!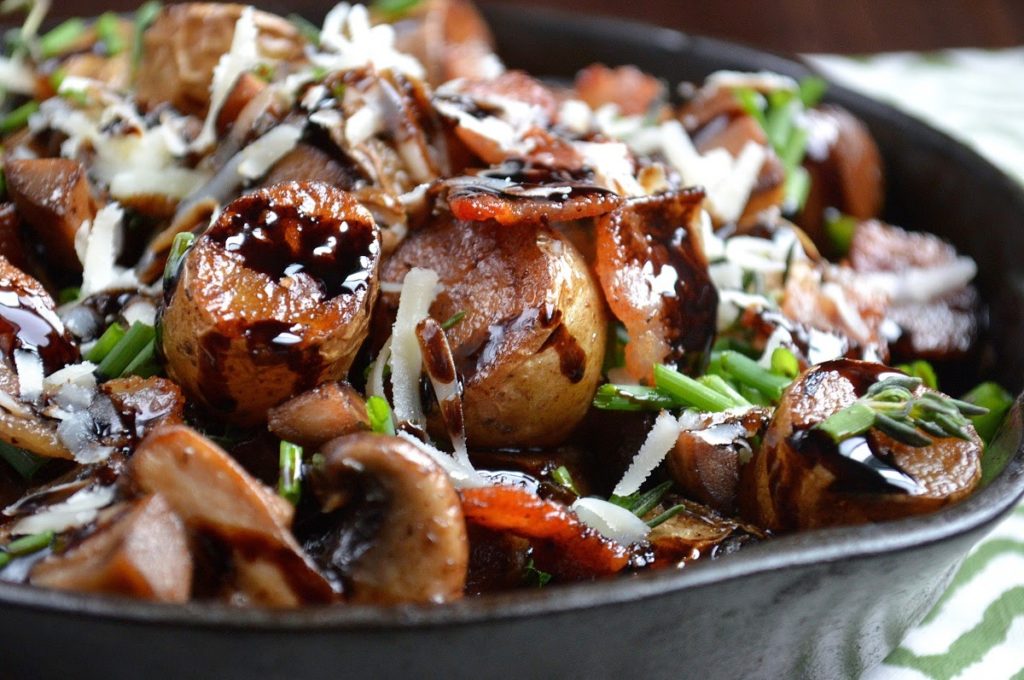 If that its just too much for you (say it isn't so!!).  It is almost as delicious like this…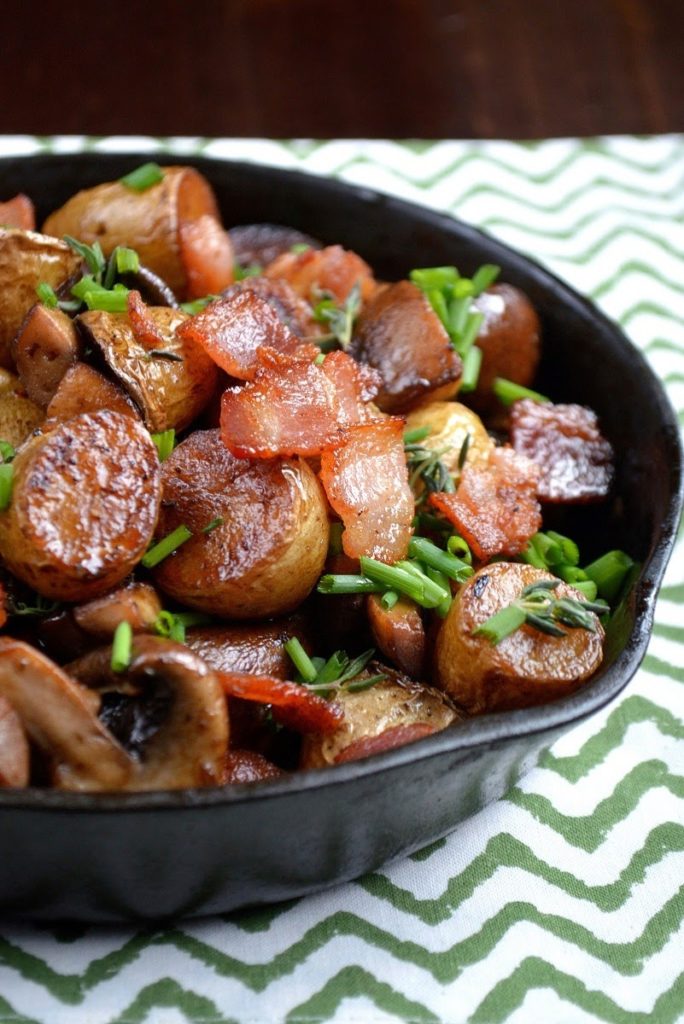 If you want meatless…you can do that too…I'll happily eat your bacon!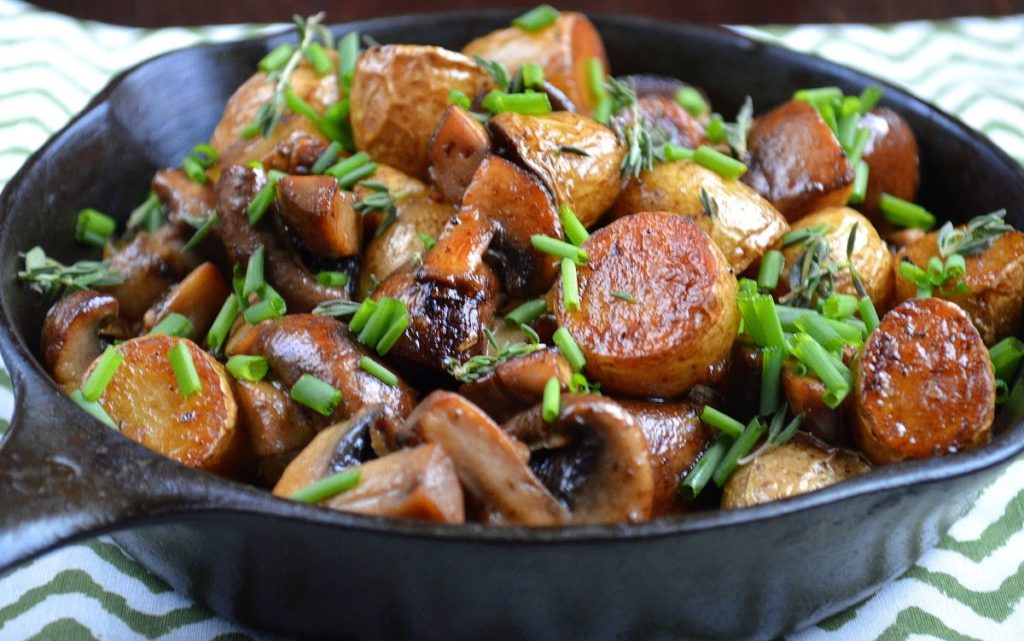 For more potato recipes that you have ever dreamed of
, check out the
Potato Goodness
 website PLUS you don't have to be a blogger to participate in the #TopTater fun on
Facebook
& 
Instagram!
Every week a winner is selected and wins $100.  All you have to do is upload a pic of a potato dish  to
Instagram
, 
Facebook
or 
PotatoGoodness.com/TopTater
 and use the hashtag #TopTater to enter…easy peasy!
Tell your friends! 
This recipe is my entry for The Potato Lovers Club Speedy Spud Challenge Blogger recipe contest and was sponsored by the U.S. Potato Board.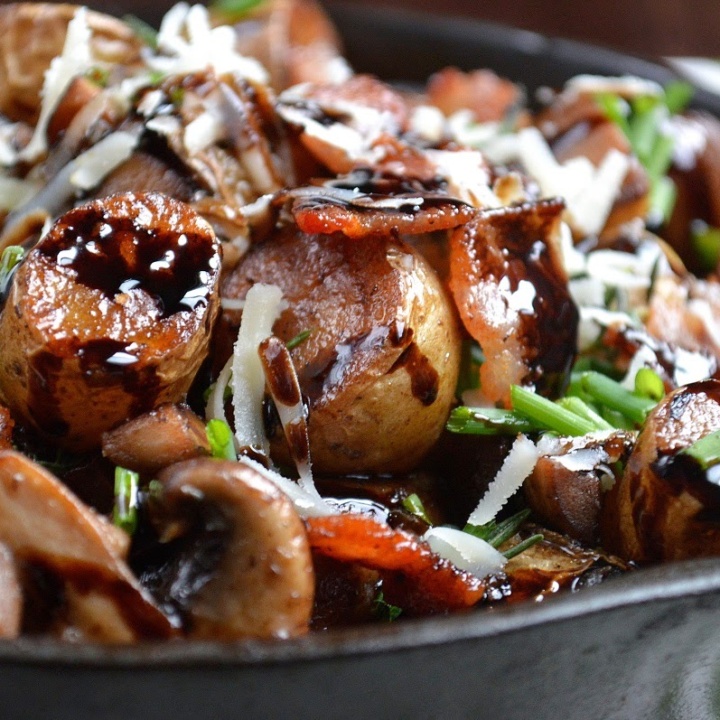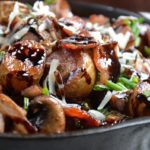 Print Recipe
Crispy Fingerling Potatoes With Caramelized Onions Mushrooms and Bacon
Ingredients
4

TBS

butter

divided

2

Large Red Onions

sliced thin

1

TBS

olive or grapeseed oil

1 1/2

pounds

Fingerling potatoes

chopped into bite sized pieces

2

cups

quartered baby portobello mushrooms

1

TBS

minced garlic

1/3

cup

chopped crispy bacon or pancetta

Salt & pepper

1

TBS

Worcestershire Sauce

Squeeze of fresh lemon juice

2

TBS

snipped chives

2

TBS

Shredded Parmesan cheese

or more to taste

Balsamic Reduction
Instructions
In a saute pan, melt 2 TBS butter, add in your onions and cook 20 minutes over medium heat or until caramelized to your liking.

Season with salt and pepper and set aside when done.

Meanwhile preheat oven to 400 degrees.  In a large saute pan, place 1 TBS butter and 1 TBS olive or grapeseed oil over medium heat.

Add in your potatoes.

Saute until crispy, about 7-8 minutes, seasoning and stirring along the way.

Add in the mushrooms and garlic as well as another TBS butter and saute for another 5 minutes, season with salt and pepper again.

Add in the bacon pieces, a splash of Worcestershire and a squeeze of lemon juice, season and place in the oven for an additional 10 minutes or until potatoes are done to your liking.

Place the potato and mushroom mixture over-top the caramelized onions in a serving dish or pan, top with chives, cheese and balsamic and serve.
Notes
Colleen's Notes:  Seasoning is key with this dish, season the onions, season the potatoes and season the mushrooms and potatoes. If you like garlic, you could even add in some garlic salt for more of a kick.  If you like heat, add in some Cayenne pepper or red pepper flakes.  
 
While caramelizing the onions you may need to add in a little more butter or oil...or even better bacon grease...mmm!  Just eyeball them and see if they need any more moisture.  To hurry along the caramelization process, you can add in a pinch of sugar if you like.
Enjoy!