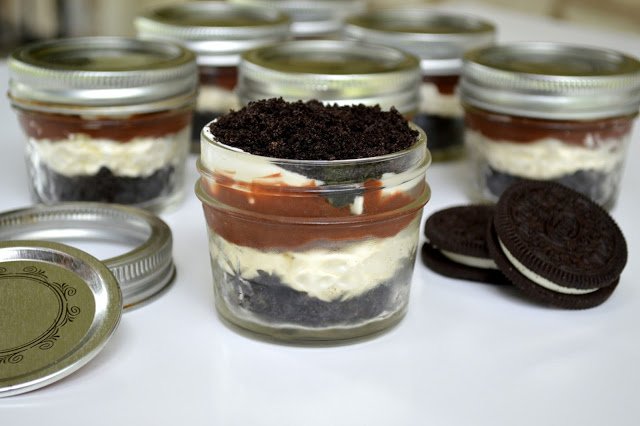 Don't you just want to grab one of those and a spoon and sit somewhere reeeealy comfy & dig in?
I was thrilled when Marie from Little Kitchie asked me to do a guest post for her while she is on vacation... in PARIS!!! Nope, I am not jealous at all...pinky swear! I thought a fun, cool & refreshing dessert that kids 2-102 can enjoy this summer would be just the ticket (it also works as a consolation when people are going on amazing vacations and you are staying local for the summer).
I think this dessert is almost as cute as Marie...almost!
Did you know that last year both the Oreo & my grandmom turned 100? Yup it's true! Now, they are both a very young & spry 101!
My grandmom has an edge over the Oreo - her birthday is on Leap Day...so technically she is only 25 and she will stay that way until 2015! THAT right there must be the secret to the incredible health she has had her whole life (she says she's never even had a cold). That and the fact she pretty much grew a lot of what she ate (my Babci did as well). She never really eats what many of us probably have in our pantries right this moment unless it was at a party or something like that, I don't know if she ever even tasted soda other than ginger ale. She's cut from a different cloth, she just always made everything, reused everything as thought about anything she would buy before she did it. I swear she has never paid money for a trash bag - ever. She says why would you pay money for something then throw it away?? Funny how "today" the way she lived has become the way many are beginning to strive to live.
When it comes to food she tastes everything at parties and gatherings - she loves to taste new things, but she has always been a simple, natural eater. Many times my gift to her on Christmas has been a basket full of oysters, a lobster tail, fillet mignon, shrimp, and high end dried fruits - things she adores but won't necessarily buy just for herself. One thing I will always remember about her is her love of good food.
At the "100"party that 5 grandkids put together, one of my brothers included in the decorations packs of Oreo's. He's smart like that - he scattered around the rooms any products he could find that were her age! Loved that! I thought to myself throughout the day...I wonder if she ever ate an Oreo?? I had totally planned on getting her to take a bite of one to see what she thought, but time got away from me, so instead I am bringing her a couple of these next week.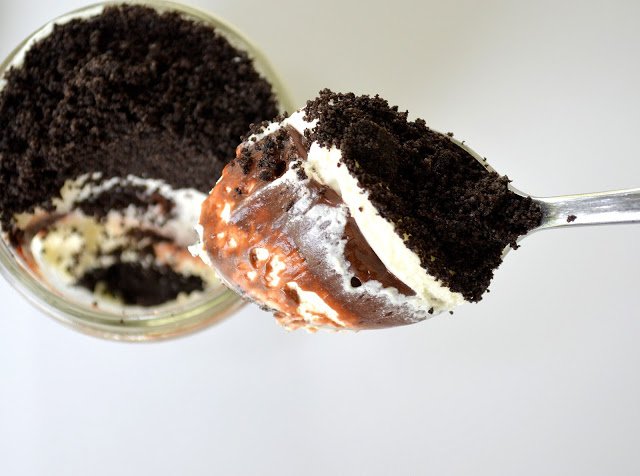 I thought I want to make her something fun with Oreo's and I want to put it in a jar for easy travel (she's an 1 ½ hours from me). I did a test run a little over a week ago and bought 3 dozen 4 oz and 8 oz mason jars full to a BBQ I went tt and they went SO fast that I didn't even get to taste one! I don't know who was worse...all the dad's or the kids, scarfing them down...I guess they were good! This is all that was left, scattered about the home we were at - almost no trace of what was once in those jars!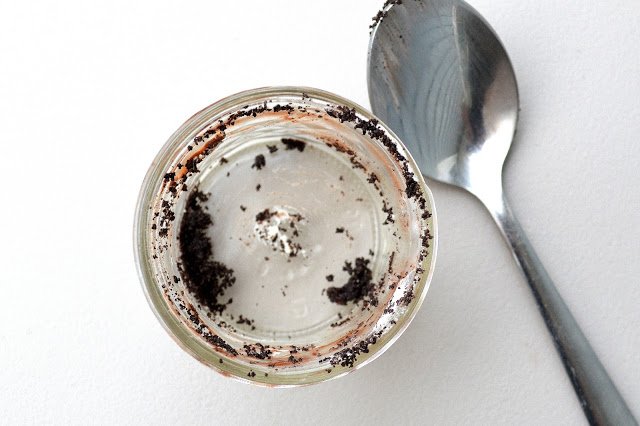 Treats like these are spectacular on a hot day - they go down easy and are incredibly refreshing since they are served cold and hey, if you have a bunch of mason jar's sitting around - fill 'em up!!
To get the recipe for these Oreo Parfaits, head on over to Marie's site & while you are there check out her incredible Mexican Breakfast Pizza plus being from Texas and all Marie has quite a few tempting biscuits and cornbreads to share! Yummmm!
Enjoy!!