Easy Valentines Day Cookies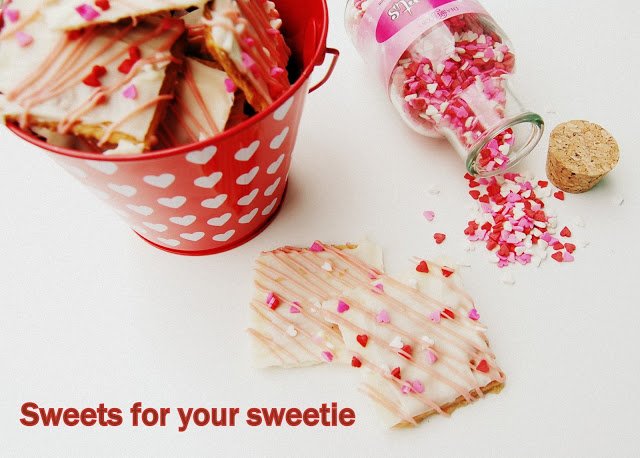 It's funny, when you have kids, Valentines Day seems to take on a whole new meaning…know what I mean!  Valentines need to be selected or made for classes, treats need to be sent in to school.  The kids themselves get excited for a fun holiday and something different that day in school.  Good times!
My husband and I are not ones to go out to dinner to mark this occasion.  Instead, we go out when we want, give cards when we want and show each other we love them any day we choose.
But…my kids…that's a different story!
What about you? How do you celebrate Valentines Day?  Any traditions?
Here is a fun and super simple treat to make as an I-love-you for Valentines Day or any day.  You can easily make these gluten free by using gluten free crackers which I have seen in the market.  I plan on using a box for making class treats for the kids I know who are GF this year.  I always make something that they too can enjoy whatever treat I send in for a holiday party.  My kids are not GF, however they do have a number of food allergies including tree nuts & peanuts.  So I totally know what is like for a kid to feel left out in these situation…I do my best to not allow that to happen when I am involved.
These Easy Valentines Day Cookies are a riff on the White & Dark Toffee Cookies I shared with you prior to Christmas that were introduced to from the fabulousness that is Three Many Cooks!  Is fabulousness even a word?  If not it should be when I apply it to Pam, Maggie & Sharon over at TMC xoxo !
6 TBS butter
4 TBS sugar
1/2 tsp vanilla
24 Saltine crackers
6 oz of white chocolate, chopped coarsely
3 oz Wilton pink (chocolate) melting disks, melted (found at craft stores)
Optional: Decorations of your choosing like sprinkles
Preheat oven to 375 degrees..  Line a  baking sheet with parchment paper, and line up your Saltine crackers, close together (touching). Heat butter and sugar in a small saucepan over medium heat until mixture comes to a rolling boil, remove from heat and stir in your vanilla.
Slowly, pour the butter mixture over your crackers, spreading it evenly with a rubber/silicone spatula or silicone brush. Bake until butter-sugar mixture starts to darken to a caramel color and bubble, about 7 to 9 minutes.
Scatter your white chocolate over the crackers, allow it to soften from the heat of the crackers and begin to spread the white chocolate over all of surface of the crackers.  Immediately sprinkle with a decoration if you are choosing to do so.  Transfer crackers to a wire rack to cool.  Place a piece of parchment paper under your cooling racks and drizzle the crackers with the melted chocolate & decorate as you wish.  I used a small pastry bag to drizzle the chocolate, you can also just snip a tiny corner off of a sandwich bag.  Whatever works 🙂 Allow these to cool completely to harden, I keep them in my cool garage.
Notes:  You can choose to make these like a bark and break them apart into odd pieces or you can keep them as full squares.  If your choose to keep them as squares, gently separate your crackers from one another just after you spread the white chocolate over-top (and sprinkle with a decoration if you are choosing to do so).  Use a couple toothpicks to help you get the job done.  Then once the chocolate hardens, place your crackers/cookies on parchment or a cooling rack and drizzle each separately.
You may also wish to melt your white chocolate first then spread it evenly over-top your crackers.  Both ways have worked for me.  I find that melting the chocolate is quicker.
Enjoy!