Who Loves Avocados??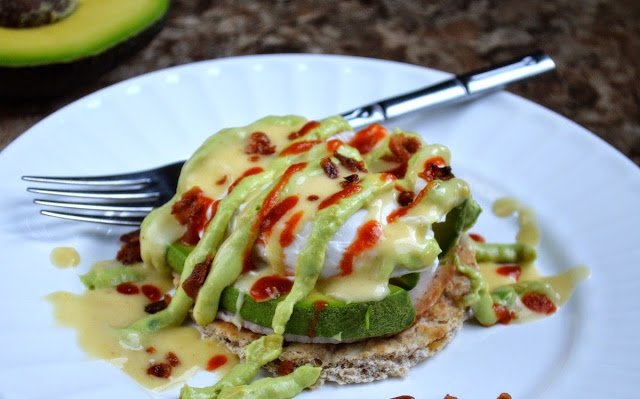 If you love avocados, what's your favorite way to eat them? They are just so delicious and good for you to! You can work them into breakfast, lunch dinner or even dessert! Woot!!
almost too pretty to eat…Almost!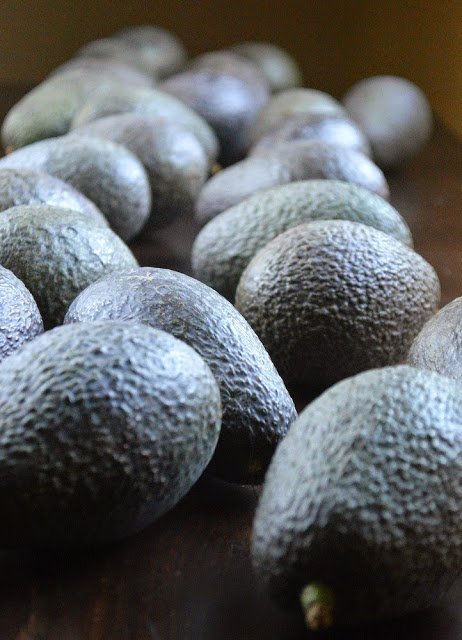 What dishes would you whip up if a hoard of avocados landed on your doorstep?  
California Avocados
are in season now and puuurrrrfet! So look for them and make good things…lots and lots of deliciously good things.  Then tell/show me via
Facebook
,
Twitter
or
Instagram
what they are so I can be inspired to make them too
and
share your creation with California Avocados!!
I decided to make a riff on traditional Eggs Benedict.  I made Eggs Benedict with Avocados Sriracha Hollandaise & Avocado Cream.  It was SO delicious. It exceeded my expectations. I wanted to incorporate some heat into the Hollandaise, plus add some extra straight up Sriracha then cool it down with some avocado cream.  It may not be the prettiest dish you have ever laid your eyes on HOWEVER  it all works together in perfect harmony!
THIS was spot on…I mean the yolk mingling with the avocados and double sauces and double…yes double bacon!  It was one of those times you eat (even if you are by yourself) and with your mouth full…Utter sounds of delight like "ooomffff, oooohhhh, mmuufffppphhh!"  Then you try to swallow real fast so you can experience it all over again, lol!  That may or may not be a direct quote!
All I can say is EAT THIS!!!
This is my second recipe creation in partnership with California Avocados
and so far, in my mind anyway, I am 2 for 2!  I am trying to come up with things a little different.  Last month we were asked to "California-ize" a dish.  So I did did a riff on Garlic Bread, and called it
California Garlic Bread.
This month it was breakfast.  Next month it's a sandwich of some sort (my wheels are turning)!
So if you love California Avocados as much as I do…stay tuned to see what other delights I have in store for you!
Learn what makes California Avocados SO special.  For recipe ideas, tips and everything avocado, visit their website, follow them on Facebook, Pinterest & Instagram…You will not be disappointed!


Eggs Benedict with Avocado, Sriracha Hollandaise & Avocado Cream
Sriracha Hollandaise
Homemade or store-bought Hollandaise sauce
Sriracha
Make your Hollandaise sauce, then add some Sriracha sauce to it until you can taste the heat (or to your liking).  If you need a great recipe – Alton Brown's is the best, and what I use!


Avocado Cream
1 avocado
1/2 TBS grapeseed or olive oil
2 TBS fresh lemon juice
1/4 cup Greek yogurt
Kosher salt & black pepper
Combine all ingredients in your food processor and pulse until smooth. Taste & adjust to your liking.


Poached Egg
2 eggs
1 TBS vinegar
Bring water with 1 TBS vinegar about 3 inches deep to a boil in a saucepan (one that has a lid). Crack your egg into a small ramekin.  With a spatula or large spoon, swirl the water vigorously until a small vortex appears.  Quickly slide your egg into the vortex. Turn off the heat, cover the pan and allow your egg to poach 3 1/2 -5 minutes…depending on the size of the egg and your preference for the poach (set your timer).  Quickly and gently scoop out your egg when done with a slotted spoon, and place it atop your Benedict base, season the egg and continue to build your Eggs Benedict..
Eggs Benedict Assembly
Flatbread (or English Muffin)
2 slices Canadian Bacon
4 slices of Avocado, seasoned
Poached egg
Hollandaise sauce
Avocado Cream
Crumbled bacon (why not!!)
If using an English muffin for a base, toast it.  If using flatbread, cut a circle of flatbread for your base with a biscuit or pastry cutter.  Lightly oil a pan and sear the bread on both sides, just until it is warm with the beginnings of a crunch.
Sear your Canadian bacon in the same pan.  Place that atop your bread.  Place your avocado slices atop your Canadian bacon, gently slide your poached egg atop the avocado, spoon on Hollandaise, use a small snack bag (snip off one corner) to squeeze some of your avocado cream over-top, drizzle additional Sriracha (if you want heat) and sprinkle bacon over-top.
Now you are ready to feast!!  Keep repeating the recipe until you are full!  
Some of my food blogger friends are also creating delicious avocado recipes this season…Check out these fabulous looking Salmon Meatballs with Avocado Cream, These stunning Avocado & Hemp Seed Arancini and this Egg & California Avocado & Eggs Flatbread Recipe (You know I love flatbread!).
Enjoy!!