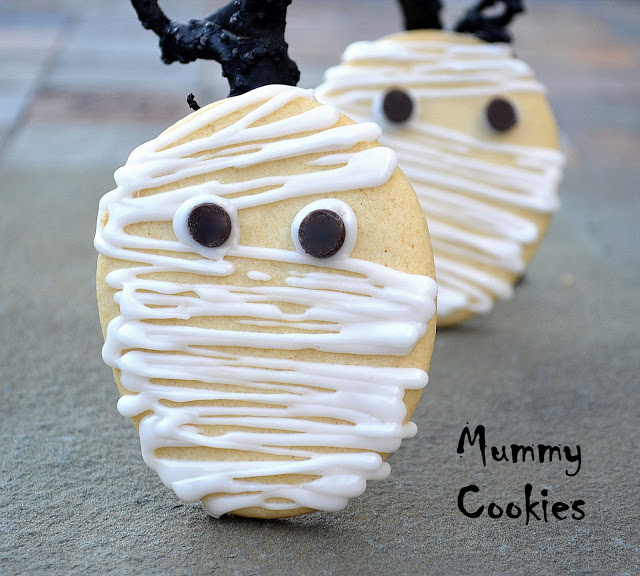 These mummy cookies are easy to make and fun to eat! I made a few dozen this weekend for my son's sleepover-birthday party. I had nooooo idea just how loud eight 10 & 11 year old boys could be OR just how much they could eat! Breakfast was an eyeopener!
My son usually wants to invite 7 friends over for a sleepover each year for his birthday. WHY 7 you ask?? He has a method to his madness…he wants to play video games and he wants them to all be "in" the same game. So we rearrange the furniture, put 2 TVS and 2 XBOX's side to side in one of the rooms and they go at it! This year I know he had more buddies he wanted to invite, however, to keep to the 7, he stuck with his school/hockey/video buds. The noise and excitement is deafening! But they have a blast, it makes my son SO happy. This year he planned the whole thing and I took notes…what foods for dinner, what snacks and breakfast, what would go into the goodie bags and what they would do…manhunt outside for hours in the dark and again in the morning, video games, set up the tent for an attempt at sleeping out on a 37 degree night (didn't happen)…it was really used as a fort in the end.
When the first parent came to drop off her son, she said "those rules are a great idea". I was like "what rules?" She said "on your front door". I took a look and sure enough, slapped on the door with enough tape to withstand a class 5 hurricane was a sheet of typed paper stating "the rules"! THAT is SO my son!
Earlier in the day he had said to me as I was cooking stuff up "mom I typed up some rules for tonight, I was like what…really, your going to do that? Then went back to what I was doing and forgot all about it. I HAD to take a photo – so, so funny!! But…THAT is my son in a nutshell – analytical and structured…lol!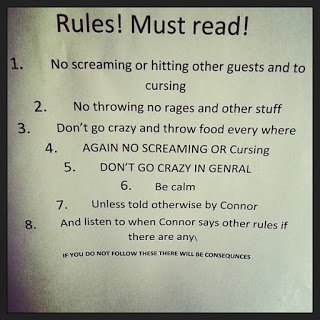 I asked him what the consequences were…and he whispered "mom, there are none." Lol!
Last week I was thinking about what kind of cookie to make for the boys this year and since these parties are always Halloween themed, a mummy popped in my head. I figured I could pop some inverted chocolate chips on the cookies for eyes like I did way back when for the Edible Eyeballs I came up with for his first party. It worked…the mummy cookies were fun and easy to make, and a huge hit with the boys. One boy ate at least 4…however similar to a mummy…my lips are sealed!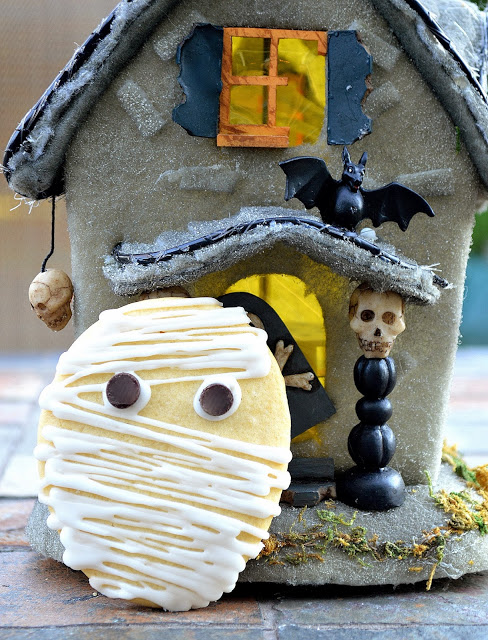 I decided to cut the cookies out with an Easter Egg cutter, I figured it would be a more realistic head vs a straight up circle.
Try these fun and super easy Edible Eyeballs too! The kiddos go crazy for them!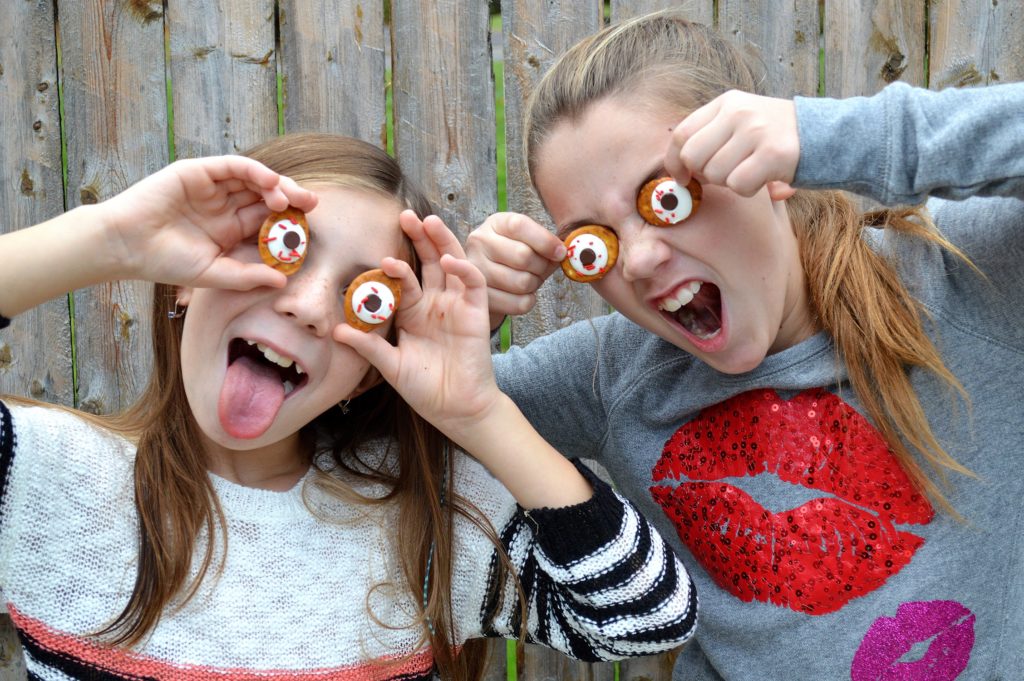 Mummy Cookies
Sugar cookies (either the Monk Fruit Sugar Cookie recipe here (which are DELICIOUS with less sugar)
or my friend Jen's sugar cookie recipe that I LOVE here.
Cookie Icing
3 cups powdered sugar
3 TBS corn syrup
3 TBS milk
1 tsp fresh lemon juice
Chocolate chips for the eyeballs
Cut your cookies with either an egg shaped cookie cutter, bake on a parchment paper lined baking sheet according to recipe you are using. Cool cookies completely on a cooling rack, then decorate with the cookie icing.
Turn cookies small side down (for the chin). I use a plastic squeeze bottle (like this) for this, which I fill with the icing. I have snipped a little bit of the plastic tip off to give me a thicker stream for certain cookies. You can also use a baggie with a tiny snip in the end. Then just zig zag. When you get to where you want to put the eyes, make a sideways "v" for the opening. Move on to the next cookie. Once all cookies are decorated, go back and place 2 drops about the size of a chocolate chop for the eyes…do 5 at a time…quickly plunk in inverted chocolate chips and press them into the cookie a bit. When you are done all the cookies…go back and drizzle some more "bandages"…a second coat, for a better effect.
Allow the icing to dry completely before storing them – it can take a few hours.
Colleen's Notes: If your icing is too thick, add a little more milk. If it is too thin, add a little more powdered sugar.
These are perfect for kids to decorate as well – it doesn't get easier than this when it comes to decorating cookies. My 9 year old daughter had fun helping decorate these 🙂
Hope you and your family have as much fun with these as we did!
Happy Halloween!!