Ham and Egg Cups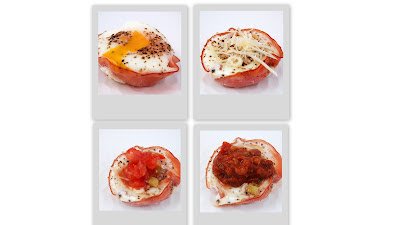 Ever have one of those mornings where everyone in your house wants something different for breakfast? I know I sure do!
My daughter who is now 7, has always enjoyed eggs. My son who is now 10, just began to let them into his life! It's funny when you tell your kid different things you think they would like and they want noooo part of it...then one day they are like "OMGosh! THIS is a-mazing!!" Meanwhile...you are standing there like "yeeeeaaah...uh-huh I have been telling you for 2 years that XX is something I think you would like!!" Sheesh where do these kids come from?? Lol!
So...on mornings where I decide its eggs for breakfast, I now have to contend with 4 different egg tastes.
On my other website, I did a post a while back on "MYOF" - Which means Make Your Own Fritattas - I let the kids go at adding what in they like...which they enjoy both the crating of and the eating of. I find it a fun way to kick off a day. Or, if I have visitors for breakfast, I find it an easy way to please a crowd. Take a look here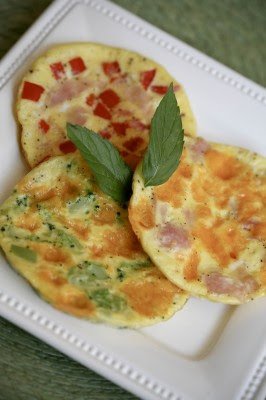 Another fun way is to make Ham and Egg Cups. Same idea as MYOF. You can personalize the egg(s) to each of your family member's liking (and its a great way to use up leftovers). Get creative and enjoy!!
Up top I have a picture of one plain egg cup loaded with black pepper, one sprinkled with shredded Parmesan cheese (you could melt it too), one with a dollop of salsa and one for my husband with some leftover chili. You can take this anywhere you wish, that what fun about it. I first heard of making these years ago from a friend who was on Weight Watchers - it was one of the recipe suggestions she began enjoying.
Ham and Egg Cups
Preheat your oven to 375 degrees. Spray or oil a cupcake pan. Line with a slice of ham (circular cut ham works best). If your ham is thin or if you just love it feel free to line with 2 slices. Crack an egg into each ham cup and bake for 12-20 minutes - it all depends on ho you like your egg cooked.
I like my yolks runny, the kids want theirs cooked through and my husband is in the middle of us.
Top with what you wish either at the beginning, middle or end - it all depends what your topping them with. Once you are happy with how an egg(s) is cooked, gently remove the cups and plate. I like using a small spatula to help lift the cups out intact - a butter knife or a cheese spreader knife will work nicely as well.
Enjoy!!