Hershey's Chocolate Cupcakes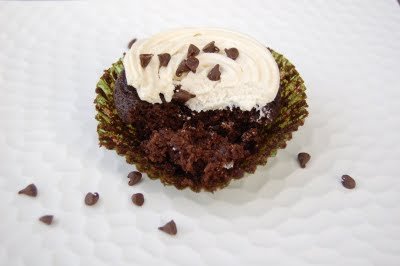 I am not a huge chocolate lover, I go for the lemon, the creme brulee, the cooked fruit…your get the picture, HOWEVER this cupcake/cake recipe from Hershey's is my all time favorite! And Milton Hershey is one of my idols in life for all that he and he and his wife have done for children – that still carries on…today…look it up.  This is moist and just perfectly delicious…every time!
Hershey's Chocolate Cupcakes
2 cups sugar
1-3/4 cups all-purpose flour
3/4 cup unsweetened cocoa
1-1/2 teaspoons baking powder
1-1/2 teaspoons baking soda
1 teaspoon salt
2 large eggs
1 cup milk
1/2 cup canola oil
2 teaspoons vanilla extract
1 cup boiling water
Heat your oven to 350°F.
Line your cupcake pan (or grease your cake pan if making a cake). Combine sugar, flour, cocoa, baking powder, baking soda and salt in large bowl. Add in eggs, milk, oil and vanilla. Beat on medium speed for 2 minutes.
Stir in boiling water (batter will be thin…it's oooooook).
Bake 20 to 25 minutes for cupcakes or until wooden pick inserted in center comes out clean. Cool and frost as you wish.
I love this with Butter Cream Frosting!
Enjoy!!