Mini Apple Raisin Bread Puddings with a Whiskey Sauce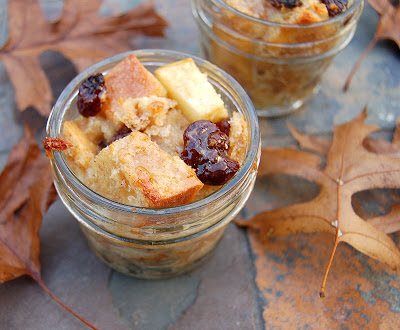 I am finally getting into Fall...how about you? My tipping point was the first bag of Brachs Candy Corn...I know, I know...I can't help it!
I sooooo did not want Summer to end...sigh. BUT the cover is on the pool, the leaves and acorns are falling constantly and yes...I turned the heater on yesterday for the first time. So now I am ready to decorate, jump on a hayride, do some seasonal cooking and begin to get into the Holiday mode! Bring it on!
What is your favorite Fall tradition or food?
I made these super fun Mini Apple Raisin Bread Puddings with a Whiskey Sauce....you know how after a great meal you are often to full for dessert OR you don't want the extra calories? That's where mini desserts come in handy.
A few bites of warm, gooey, spicy deliciousness and your sweet-tooth is satisfied! Plus they are just toooo cute!
To me the best part of minis are you make just enough for what you want...no waste!
This makes 4 - 4 ounce desserts. I use 4 ounce mason jars 🙂
Mini Apple Raisin Bread Puddings with a Whiskey Sauce
1 egg
½ cup sugar
⅔ cup milk
1 TBS vanilla
½ teaspoon cinnamon
¼ teaspoon nutmeg
2 cups of cubed bread like French, Italian or Sourdough
½ cup diced apples (I like Honeycrisp)
2 TBS raisins
I have used day or two old bread for this as well as fresh bread each with good results. Click here for my Bread Pudding with Grand Marnier Sauce...Yummalicious!
Combine the egg,sugar, milk, vanilla, cinnamon and nutmeg in a bowl and mix well. Add in your bread, apples and raisins and toss until every piece of bread is coated with the mixture. Let it sit for about 10 minutes, tossing occasionally.
Grease or spray your mason jars and fill to the top, pressing down a bit.
Bake on a baking sheet at 350 degrees for 20-25 minutes or until the tops are browned a bit and crispy.
Whiskey Sauce
2 TBS butter
1 ½ TBS whiskey (I use Jack Daniels or Celtic
½ TBS vanilla
½ cup confectioners sugar
In a saucepan, melt your butter, add in the whiskey and bring to a boil for just a minute. Remove from heat and add in the vanilla and confectioners sugar, whisk until smooth.
Spoon some sauce over each mason jar-full and serve warm...so good!! **I actually double the sauce ingredients, since I want a lot of sauce (and for my guests to have that choice as well).
Enjoy!!