Mini Cheesecakes Topped With Mini Caramel Apples are easy to make and a super festive fall dessert! It's 2 desserts in one!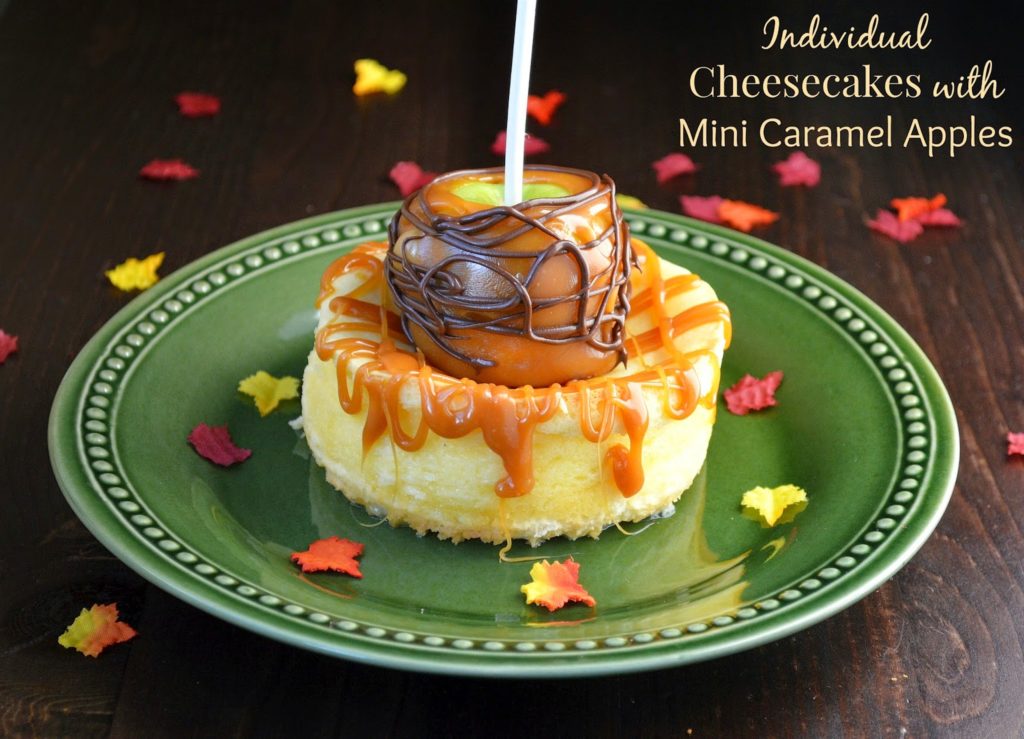 With the holidays just around the corner...I say go big or go home when it comes to desserts!
Impress your guests with these mini cheesecakes that are over-the-top!! The addition of a fun mini candied caramel apple makes this a dessert that will be talked about!! How fun would these be served at a Fall dinner party, holiday party, baby/wedding shower or wedding??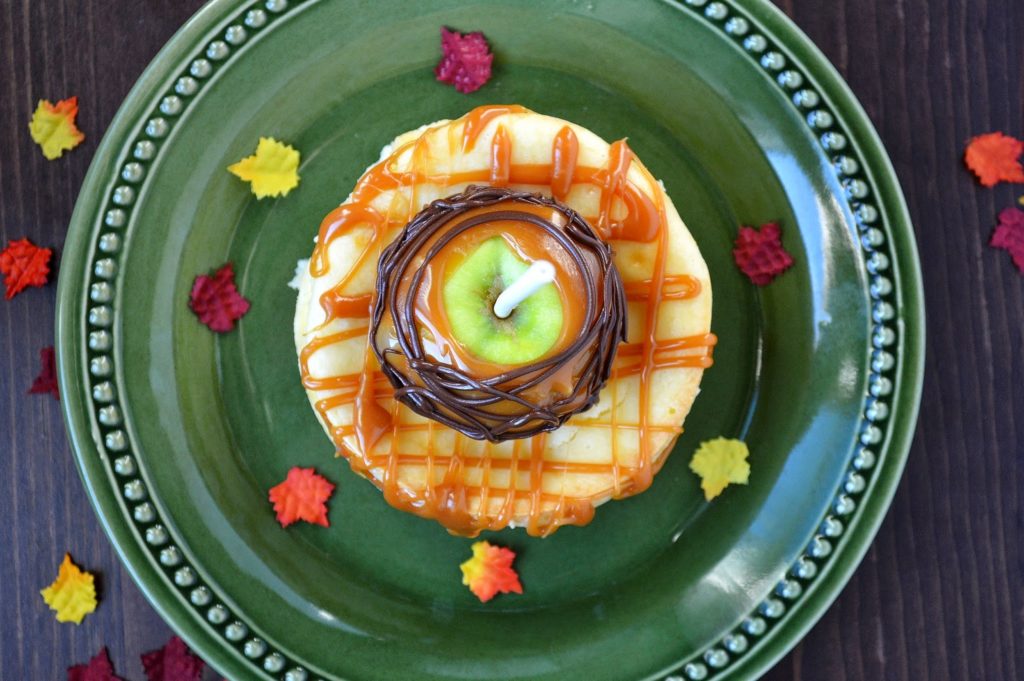 Mini Cheesecakes Topped With A Mini Caramel Apple

For this you can use your favorite cheesecake recipe. You can choose to use a crust or go crustless. Your call. I swear by my adaptation below (or the original) of Jim Fobels Cheesecake Recipe!
4 8-ounce packages cream cheese, room temperature*
1 stick of unsalted butter, room temperature*
4 large eggs, room temperature*
2 cups sour cream, room temperature*
1 ½ cups sugar
2 Tablespoons cornstarch
1 ½ teaspoons vanilla extract
1 TBS fresh squeezed lemon juice
*Make sure everything truly is at room temp...it makes a difference in the creaminess.
Grease or spray the insides of 6-8 (depends on the size used) 3 or 4 inch mini springform pans. and place them on a baking sheet.
In a large mixing bowl (use your Kitchen Aid if you have one), beat the cream cheese and butter until smooth and creamy, get the lumps out. Add in your eggs one at a time then add in your sour cream and mix until smooth and well blended.
Add the sugar, cornstarch, vanilla, and lemon juice continue beating for another 2 minutes.
Pour your cheesecake mixture into your prepared pans (¾ full), place them (keeping them on the baking sheet). Bake for 25-30 minutes on the center rack or until the center of your cheesecakes are just set but not yet browned.
Allow your cheesecakes to cool for 2 hours, run a very sharp knife around the edges to loosen any attached parts, close the rings back up, cover and chill 6 hours or overnight.
Top with caramel drizzle, caramel mini apples and serve when ready.
While cheesecake is chilling make your caramel by either using caramel candies and cream or by making your own...either works well. Place lollipop sticks into each mini apple, dip and coat in the caramel (a couple layers), place dipped apples on a parchment paper lined baking sheet and refrigerate immediately to help the caramel firm up a bit. Once it has, melt some chocolate or chocolate chips if you so choose and drizzle apples with some chocolate as well. You could also add nuts, candies or whatever you wish.
To make the caramel from wrapped (Kraft) Caramels.
25 individually wrapped Kraft caramels
3 ½ TBS heavy cream
In a small pot or saucepan, combine the caramels and the cream and heat over medium heat, stiffing often until caramels have melted and cream is incorporated. Scrape caramel into a small deep bowl, and begin dipping apples (with the lollipop sticks already placed in them), placing them on a parchment paper lined tray as you finish each one. Double dipping is a good thing. Quickly place in the fridge to allow the caramel to firm up, decorate with additional chocolate or whatever you choose. Store in the fridge until you are ready to top your mini cheesecakes with them.
I hope you enjoy this fun recipe!