My family loves this simple Pecan Encrusted Chicken with Dijon Cream Sauce. I started making this recipe when I was a teen.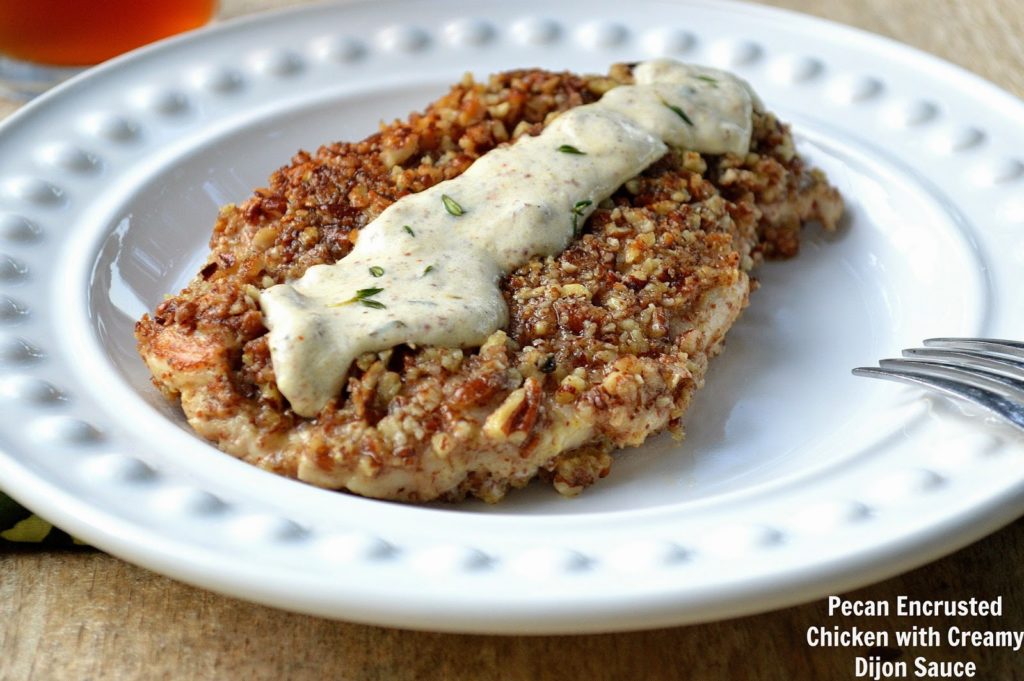 Don't you just love making a dish or dessert for someone and they love it? The other day, I made soup for my 12 year old son...as he took his first spoonful, he made a noise of such satisfaction then looked right up at me and said "Mom....Mom! "This is SO good!" Even my husband noticed the sound he made and it made him smile as well - and that...THAT right there is why I love to cook!
One day I was thinking about just what cookbook it was that made me fall in love with cooking and two books popped into my mind (that is if you don't count the Sesame Street Cookbook I received from Santa when I was 9 but THAT is another story). I still have my first "real" cookbook. The Good Housekeeping Illustrated Cookbook which I bought for myself when I was 18 or 19. My dear "friend" is in pieces...literally! 40% of that giant book has completely fallen off of the spine. I haven't touched it in years but I know that if I did, it would be like sliding on my oldest and most favorite pair of broken in jeans! Sigh!
The cookbook that made me fall in love with both reading cookbooks cover to cover and the dream of opening a small food shop was The Silver Palate! That book didn't have a single photo, just a few sketches but the LOVE of cooking for others enjoyment and cooking and entertaining in general jumped right off of its pages and into my soul! I wasn't the only one because for its 25th anniversary, they released it again with photos and more. I never did grab that one...just happy with my original I guess!
Do you have a favorite cookbook? One that may have lit your spark when it comes to a love of cooking?
My Pecan Encrusted Chicken with Creamy Dijon Sauce was inspired by a combination of two recipes found in the two books I mentioned above and every time I have made it since I was a teen...people just love it! It is unusual and delicious...simple yet special. From an intimate 2 person dinner to feeding a mountain house full of 20 people, this chicken always pleases! Serve it with some grilled or roasted asparagus and some roasted potatoes and you have yourself a memorable meal! Enjoy!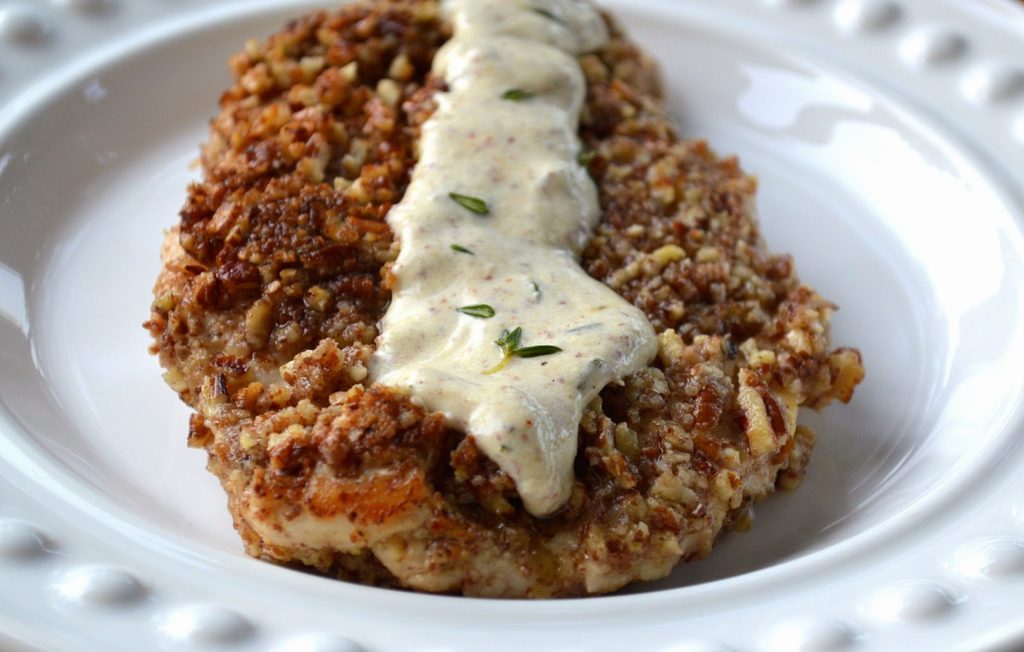 Pecan Encrusted Chicken with a Dijon Cream Sauce
4 good sized chicken breasts
Salt & pepper
8 TBS butter
3 TBS coarse-grained Dijon mustard
1 teaspoon fresh thyme leaves
10 oz finely chopped pecans
3 TBS Butter
1 TBS olive or grapeseed oil
Sauce
⅔ cup sour cream
1 TBS coarse-grained Dijon mustard
Salt & Pepper
Pound your chicken breasts a few times with a rubber mallet or rolling pin until it is even and thin, then season them with salt and pepper. Set aside. Melt 8 TBS butter in a frying pan, whisk in the mustard and scatter 1 teaspoon of fresh thyme leaves in. Set your pecans out on a dish or paper plate and grab one piece of chicken, coat it in the mustard mixture, then immediately coat it in the pecans. Place on a baking sheet and repeat.
Preheat your oven to 225 degrees. In a large frying pan, melt 3 TBS butter, gently add in your chicken pieces (giving them enough space between one another to easily flip). Cook for 3 minutes over medium heat, flip and cook for 2 minutes more. Take chicken pieces out of the pan, and place them onto a baking sheet. Bake for 15 minutes or until done (depends on the thickness of your chicken).
Meanwhile deglaze your frying pan with the sour cream,1 TBS of mustard, salt and pepper. Heat it just enough to warm it through.
Serve chicken over-top of the sauce or drizzle sauce over-top - whichever you prefer.
Colleen's Notes: I like to pound my chicken with a rubber mallet, which I have had for years for just that purpose. I always place the chicken, one piece at a time in a baggie and bam...bam...bam! Love it!
This chicken is incredible moist and tender if cooked correctly, pan frying it for a bit then finishing it in the oven at a low temperature makes it perfect! Don't leave out the Thyme - that little bit goes a long way with flavor! Also you may want to wash your hands in-between coating each chicken breast...it can get messy!
Enjoy & Good Luck!
I was not compensated to write this post, I just thought it would be fun to share both the story and the giveaway. Lucky for me Page Street Publishing and Calphalon were both happy to offer up fun prizes!