Raisin Scones with Cinnamon & Sugar Drizzle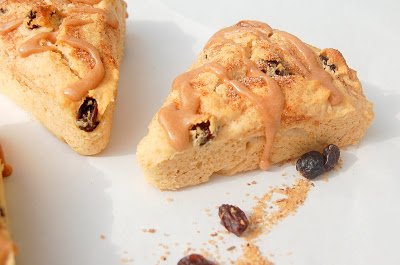 I am a sucker for baked goods and as a result so are my husband and kids.
Funny how my husband is a chocolate freak, but slip him a hot from the oven scone, muffin, cookie or the like and he rolls over like a puppy wanting his belly scratched!
I bake things every week for my kids to take in their lunches and for all of us to enjoy at home - it's just one of the ways I show my love!
These Raisin Scones with Cinnamon & Sugar Drizzle are adapted from the Raspberry Yogurt Mini Bunt Cakes I love so much!
Raisin Scones with Cinnamon & Sugar Drizzle
-adapted from Bon Appetit
1 cup (or more) raisins
2 TB vanilla
3 cups flour
1 ½ teaspoons baking powder
Dash of salt
1 cup butter, room temperature
1 ¾ cups sugar
1 TB cinnamon
3 large eggs
6 oz vanilla yogurt
Drizzle
1 cup powdered sugar
1 teaspoon cinnamon
1 TBS or more of water
Preheat oven to 350 degrees.
Grease scone pan or cook in a well greased cupcake pan.
Combine raisins and vanilla in a small bowl, toss well. Set aside and toss every so often wile making the scone batter.
Combine flour, baking powder and salt in a medium bowl and set aside.
Combine butter, sugar and cinnamon and beat with your mixer until creamy. Add eggs and mix until incorporated. Add in yogurt and mix until incorporated. Add in dry ingredients and mix until just blended. Spoon batter into chosen pan(s). If baking in a scone pan cook for approximately 25 minutes. If baking in a cupcake pan bake 20-25 minutes. When a wooden toothpick inserted comes out clean and top is golden it is finished. Cool for about 5 minutes.
Remove from pan(s).
Combine powdered sugar, cinnamon and water until desired consistency of drizzle is created, drizzle over your scones.
Enjoy!!