This is a sponsored conversation written by me on behalf of Snapple. The opinions and text are all mine. #TrueTeaTaste
Get ready to take a big ol' bite of this scrumptious decadent Steak, Caramelized Onion and Blue Cheese Pizza! It's so good, plus I have the perfect refreshing drink to pair it with!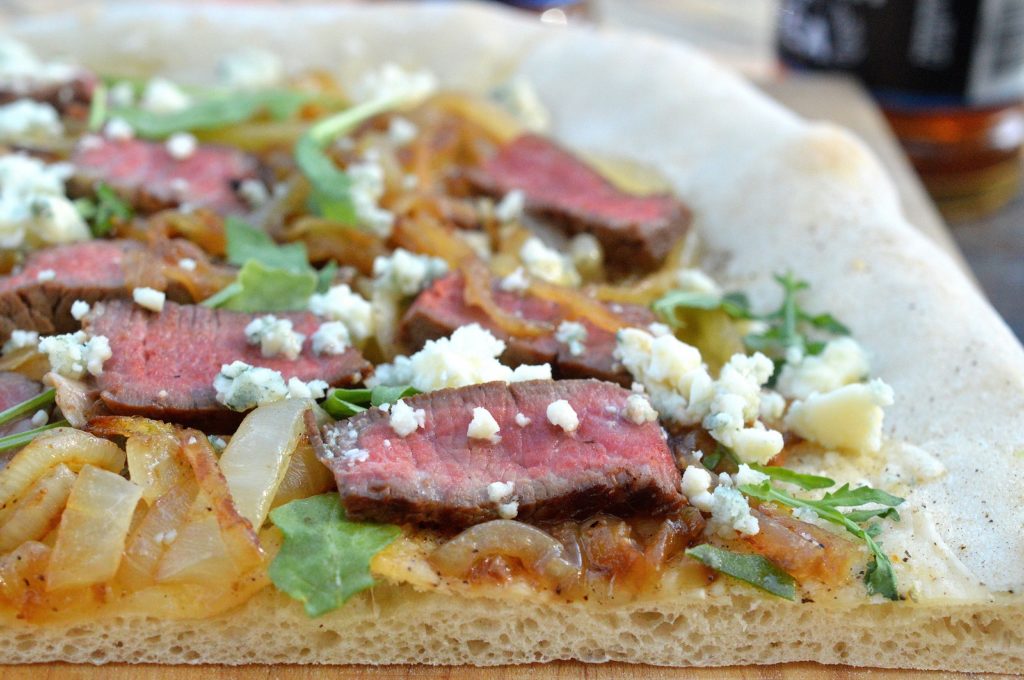 I made this delicious pizza in under 30 minutes for dinner last week. It was so simple. I shaped the dough I purchased from my local pizza place (which is what I almost always do, since they make the best dough…it's the best $2.50 I can spend…no mess, no waiting and pure perfection), shaped it into a rustic rectangle and baked it until almost done. While that was happening, I sauteed Vidalia onions, cooked 2 pieces of fillet to our liking and set up the rest of the toppings. With a few minutes left to bake the sough, I quickly pulled it out, seasoned it, scattered over-top some Pepper Jack cheese and popped it back in the oven to finish cooking and for the cheese to melt.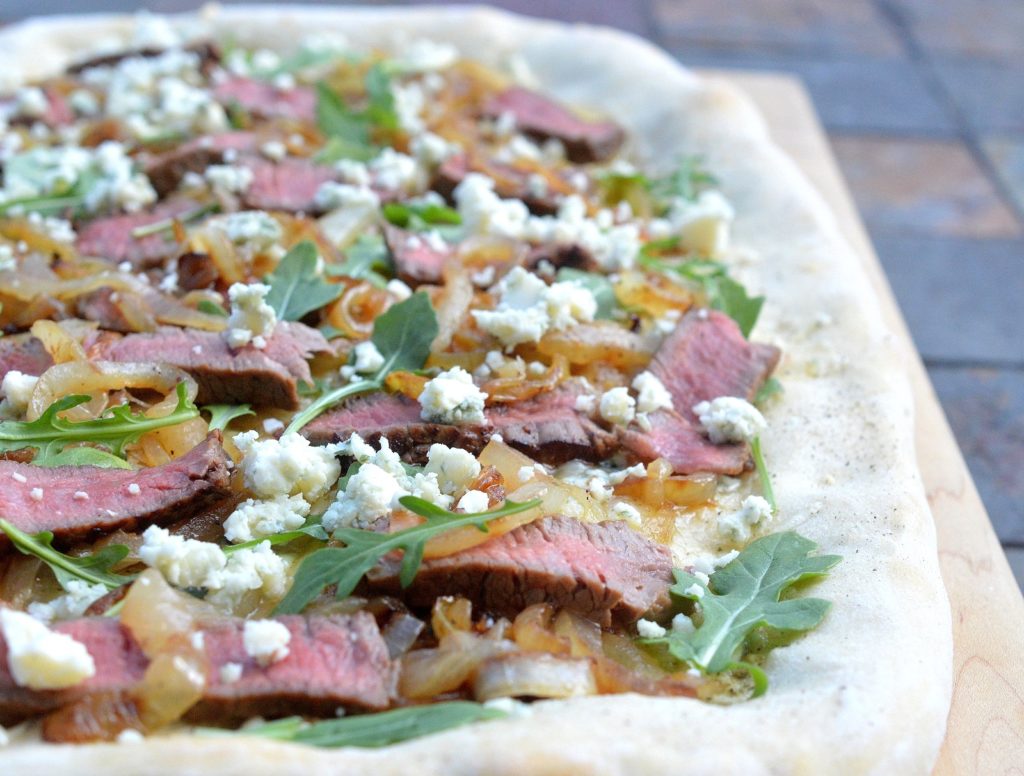 A few minutes later, I pulled it out topped it with the onions, arugula, Blue cheese and the steak and just like that I had a beautiful and easy Steak Caramelized Onion and Blue Cheese Pizza for our dinner.
With temperatures in the high 80's I paired our dinner with Snapple® Straight Up™ Tea.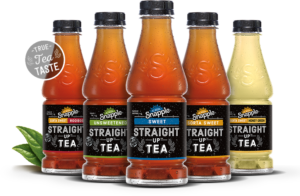 Snapple® and I go waaaay back! To almost their beginning! I can remember my favorite shock jock on the radio talking about Snapple®. He was such a fan and always drinking them while doing his radio show and his TV show. He made Snapple® sound so delicious and refreshing that I immediately had to have one. After tasting the first one, I was hooked, and so were most of my friends! I'm a Gen X girl and Snapple® was right there with me.
I was excited to hear that Snapple® now has a line of teas called Snapple® Straight Up Tea™ that are all natural and have no artificial ingredients! I was able to try all 6 varieties (Sweet Straight Up Tea™, Sorta Sweet Straight Up Tea™, Sorta Sweet Honey Green Straight Up Tea™, Unsweetened Straight Up Tea™ and Sorta Sweet Roobios Straight Up Tea™.  My favorite is the Sorta Sweet Straight, while my husband favors the Sorta Sweet Honey Green Tea. They are perfect for hot summer days by the pool, in the park, or on the beach. Icy cold, they feel so good going down and you can feel good about drinking them and stocking up on them for your family & friends!
Snapple® Straight Up Teas ™ are perfect for hot summer days by the pool, in the park on on the beach. Icy cold they will feel so good going down and you can feel good about drinking them and stocking up on them for your family & friends!
You will be able to spot Snapple® Straight Up Teas ™ by their sleek and modern packaging. They stand out! I found mine at my Giant in the juice aisle and have been seeing them in cashier refrigerators at many locations as well.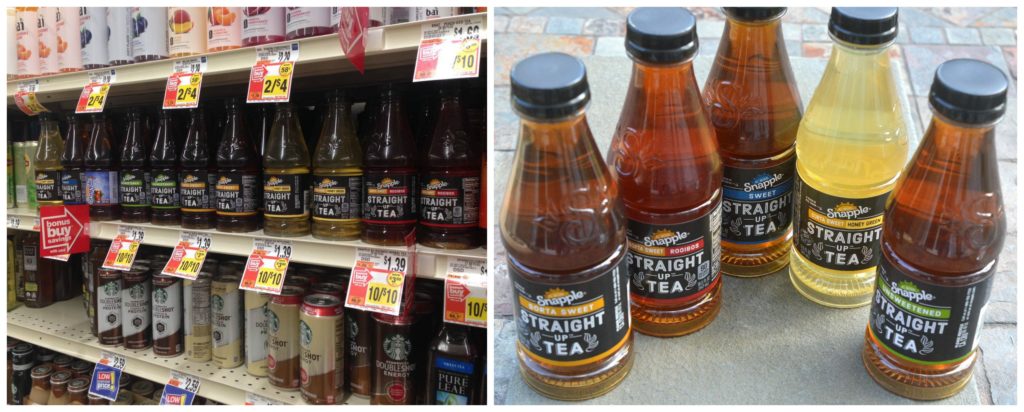 I really like the levels of sweetness Snapple's® new line of Straight Up Teas™ offer plus I am all over the all-natural ingredients. I am a huge iced tea drinker. It's my main drink every day, so quality teas with natural ingredients are just what I want. Thanks Snapple®!
Our cold iced teas over ice paired with square slices of my Steak Caramelized Onion and Blue Cheese Pizza made for a great evening weeknight meal on our patio while both kids were out for the evening. My son graduates middle school and was on his 8th grade Dorney Park filed trip and my daughter ends elementary school and was celebrating with her classmates at a huge swim party organized by the school after classes. So it was just us, our Snapple® and the pizza!
I'm not sure what I think about my kids gaining more independence. They are growing up way to fast!! Someone needs to point me to the pause or rewind button.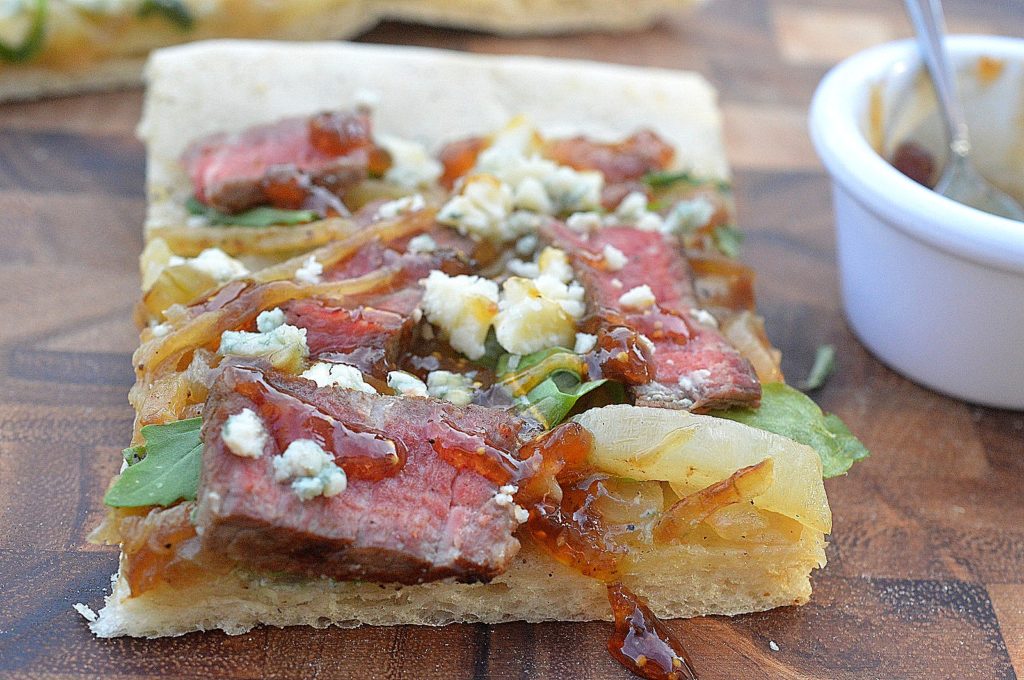 If you make this deliciously easy Steak Caramelized Onion and Blue Cheese Pizza you may also want to drizzle it with some Fig Jam like I did. Oh-my-gosh was that ever a good idea!
My husband wanted it without the jam but me?? The girl who is all about sweet and spicy…Loved it!!
Let me know if you make this, if you did any variations and what you thought. You can tag me on Facebook or Instagram to share your creation. Can't wait to see it!

Ingredients
1 disc of fresh pizza dough
2 TBS butter
2 Vidalia onions
Salt & pepper
1½ pounds of fillet Mignon or Strip Steak
2 cups of Pepper Jack Cheese
A handful of Arugula
Blue Cheese to taste, crumbled
Fig jam (optional)
Instructions
Preheat your oven to 400 degrees.
Shape dough into a rustic rectangle and place on a lightly greased and floured baking sheet.
Brush the dough very lightly with a tiny bit of grapeseed or olive oil and season with salt and pepper.
Slice onions thin, melt the butter in a large saute pan and saute onions until golden brown (or to your liking). Season with salt and pepper.
Pat your steaks dry, season them and saute in a hot skillet until cooked to your liking.
When oven is hot, place the dough in and bake for 10 minutes. Checking on it to see that is is becoming golden in spots and crisp.
A few minutes before the dough id done to your liking, quickly pull it out and scatter the Pepper Jack cheese over-top. Place back in the oven and finish baking for a few minutes and until the cheese is melted.
Once the pizza is cooked and the meat and onions are ready (you are making all 3 simultaneously but it's easy. Allow the meat to rest for a few minutes then slice it down), assemble the pizza by scattering the arugula and onions, followed by the meat and blue cheese. If drizzling with the jam, scoop some jam into a small microwave safe bowl, heat for 15-30 seconds or until it gets liquid and drizzle over-top the pie.
Enjoy!!