THIS!! I love these Sticky Chicken Meatballs, like loooove them!  They are quick to make and bursting with flavor.  I serve them over rice and it's an easy dinner my whole family enjoys.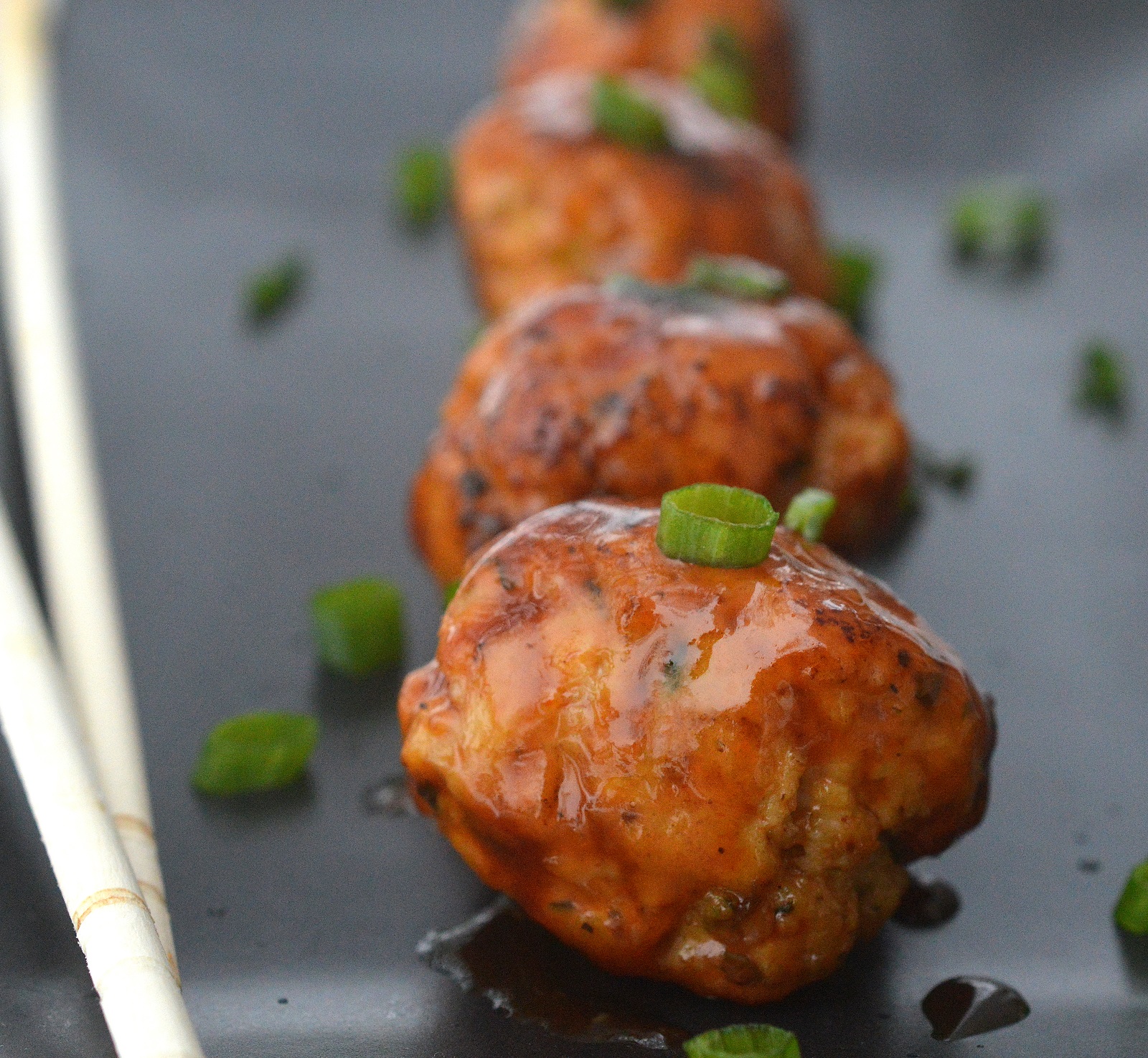 While I made the meatballs, my 13-year-old daughter made the sauce. We literally were finished in under 20 minutes. I call that winning dinner, lol!  You can choose to add a bit of breadcrumbs to these Sticky Chicken Meatballs or you can leave them out and they become gluten-free. These also do not require egg.
The trick is to buy boneless chicken breasts, cut them into 2-inch chunks and puls them in your food processor, making your own ground chicken. That way the ground chicken isn't "wet" like some prepackaged ground chicken packages can be.  This is what I always do when I want ground chicken.  It literally takes 2-3 minutes to accomplish. After that, I toss in scallions, garlic paste, salt & pepper (breadcrumbs if you choose)…Give it another couple of pulses and then I roll them into balls.  That's it.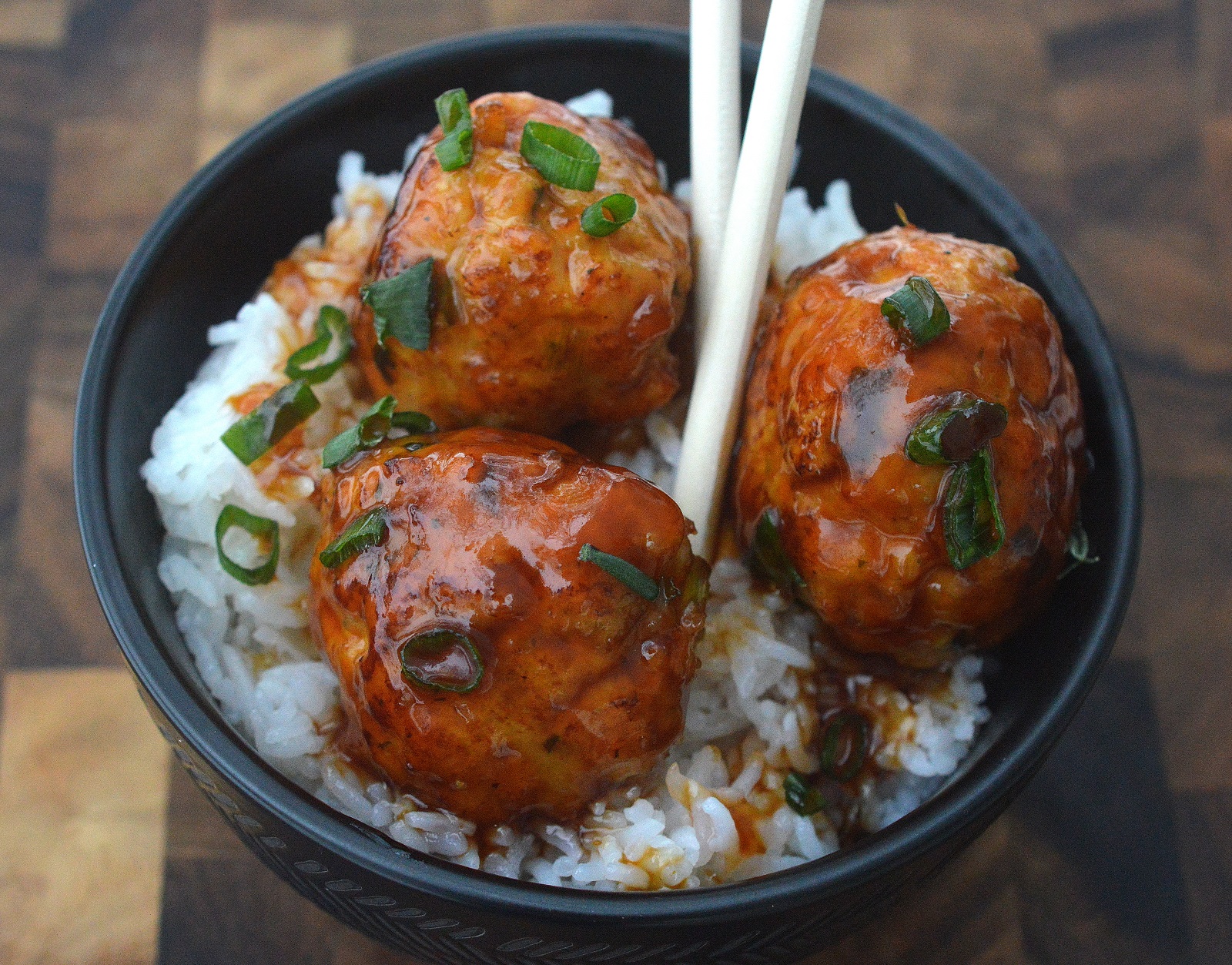 Then I simply saute the chicken meatballs until browned (that what makes them taste so good…the browned areas)  in a pan. Then I simmer them in the sauce a few minutes more to ensure they are cooked through. While that's happening I cook a package or two of Veetee Rice which takes just 2 minutes to cook (plus it's GMO and BPA free). I seriously love Veetee, especially the Thai Jasmine and Basmati Rice. (This post isn't sponsored…I just love Veetee and eat it often.)
When I make Sticky Chicken Meatballs and serve them over rice, I always make sure I spoon extra sauce over the rice, mmmm! Haha, my mouth is filling with water as I type this at 10:15 pm just thinking about eating this…really! If you want the meatballs themselves to have an Asian flavor kick, add in some sesame oil. The wetness of the chicken itself once ground means there is no need to add an egg to help it hold together. In my opinion, these are best pan-fried all you need is a bit of grapeseed or olive oil.
I am a meatball lover! One minute I think I like pork meatballs the best, the next I decide…nope it's all about the beef and the next I know chicken are the best…Let's just say they are alllll good!
If you like meatballs as much as I do, check out my Meatball Pinterest Board or these recipes here on Souffle Bombay…I must have at least 10 meatball recipes, lol
I hope you enjoy these Sticky Chicken Meatballs as much as my family and I do. I am crazy for them! Let me know if you make them!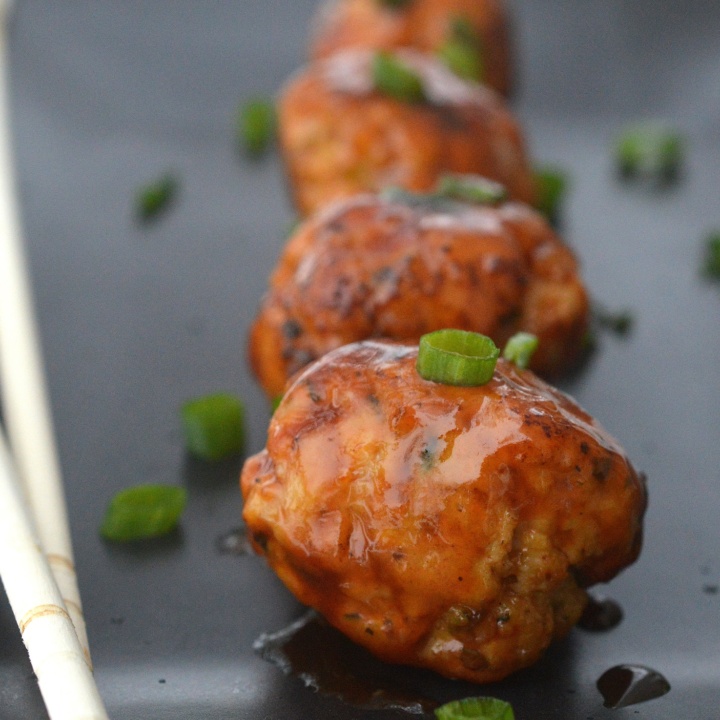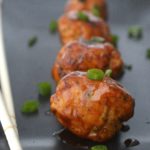 Print Recipe
Sticky Chicken Meatballs
Ingredients
1 1/2

pounds

of boneless chicken breast

1/3

cup

sliced scallions

2

TBS

garlic paste

I use Gourmet Gardens

Kosher salt & black pepper

3

TBS

breadcrumbs

optional

1

TBS

sesame oil

optional

Grapeseed or olive oil

Sauce

1/2

cup

ketchup

1/2

cup

honey

3

TBS

soy sauce

2

TBS

garlic paste

1/2

TBS

chopped ginger

1/4

cup

brown sugar

1

TBS

sesame oil
Instructions
Cut chicken breasts into large chunks, place in food processor and pulse 4-5 times until ground.

Add in scallions, garlic paste, salt, pepper, breadcrumbs and sesame oil and pulse a couple of times until combined.

Form into balls about 1 inch in diameter.

Combine the sauce ingredients in a saucepan. Bring to a simmer, whisking often. Remove from heat.

in a nonstick frying ban, heat a small amount of oil and saute meatballs until browned. Adding additional oil as necessary (start with 1-2 TBS).

Transfer meatballs to the pan with the sauce, bring to a simmer for a few minutes until meatballs are cooked through.

Serve over rice and enjoy!
Notes
These reheat well.
If you choose to add sesame oil to the meatball mixture, you will most likely need to add some breadcrumbs.
Don't overcook, remember this is white meat chicken and it will cook quickly.
You can use dark meat or a combination of dark and white meat, as dark meat is a bit moister, you may need breadcrumbs.
While sauteing the meatballs, be gentle.