Sugar Cookies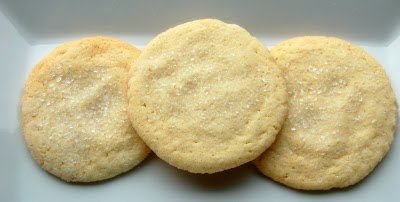 Cookies…is there a better comfort food?
Think about it…cookies are there for everything…
For many people, the first thing they ever helped make in the kitchen as a young child were cookies. Cookies are there at every holiday, party, school lunch, picnic and just because. I wonder just how many packages of cookies are shipped all over the world each year? Parents ship them to their kids away at school or in the service, sending them a little piece of home and a lot of love.
Many folks are known for their signature cookie.
Cherished cookie recipes are passed from one generation to the next.
Parents experience joy, when the little hands in their life help make cookies time and time again. Little voices and big eyes often request to make cookies. How can we say no? I think the day one of my kids makes cookies on their own I will burst into tears! Kinda like when my son lost his first tooth lol!
I know I whip them up so very often just to surprise and delight my kids (the big one too…love ya sweetie) Many nights I have being so tired just wanting to sit for a minute..instead I think…oooh I want the kids to wake up to a full cookie jar!
Why not, after all, it doesn't take very long and I would much rather whip them up(mess and all) over buying them at the store.
For me cookies = Love!
This particular recipe is years of me trying to replicate a cookie a friend of mine makes. I began working with Janet many years ago. She was the first true foodie I came across in life. She had hundreds of cookbooks, even some signed by Martha (who at the time I had not even heard of). She could make anything and did. They first time I put one of her sugar cookies in my mouth I had a moment! I asked her for the recipe and she just said, "Oh, I don't give that one out". At first I couldn't understand why someone just didn't give you a recipe, but after years of cooking and perfecting a number of dishes myself, I totally understand. I also have a couple I do not give out. I so looked forward to the holidays when she would bring them in (so did my then boyfriend now husband).
So over the years I just kept at it trying to come close.
Last Christmas…guess what arrived in the mail????
None other than Janet's recipe. I jumped around the house screaming like a little kid…funny, everyone around me always has said that I am the hardest person to buy a present for…but all I need are the simple things in life like a good recipe! Thanks Janet!
I will never share Janet's recipe as promised but I will share the one I ended up with which comes close to hers. I know a few people who will be happy about this one!
Sugar Cookies
3 cups of flour
1/2 tsp baking powder
1 tsp baking soda
1/2 cup butter
1/2 cup vegetable oil
1 cup sugar (plus 1/2 cup)
1/4 cup powdered sugar
2 eggs
2 tsp vanilla
1/2 tsp cream of tarter
Decorator Sugar
Combine flour, baking powder and baking soda in a bowl and set aside.
Combine butter, oil, 1 cup of sugar and powdered sugar in a mixing bowl.
Mix for 2 minutes on medium speed. Add in the eggs, vanilla and cream of tarter, mix until incorporated. Add in the dry ingredients. Mix until smooth and creamy.
Note: Depending on the size of your eggs you may need to add up to 1/2 cup additional flour if your dough seems to wet and sticky.
Place cookie dough in your refrigerator for 20 minutes or more, when ready to bake the cookies preheat your oven to 375 degrees.
Place 1/2 cup sugar in a small bowl.
Line baking sheets with parchment paper and begin rolling 1 1/2 inch balls of dough,roll each ball into the sugar and gently place on your baking sheet.
You need to give these cookies room to grow, so no more than 9-10 cookies per sheet.
Once your sheet is full, use a metal mixing cup or glass with a smooth bottom and dip the bottom of it in the sugar and then gently and quickly push down on each ball of dough…one by one. "Sugar, smash…sugar, smash." You are not flattening them like a pancake just flattening them out a bit. Then sprinkle liberally decorator sugar on each cookie (Found in Michael's/AC Moore)
Bake for 9-10 minutes…depending on the size cookie you are making.
Check them you do not really want them to brown…once you see golden edges beginning, they are finished…if you can grab them out of the oven prior to that…all the better!
Enjoy!!
Colleen