Once again, my 9 year old daughter, Samantha takes over my site...This time to show kids and adults alike (and you too there in the plaid shirt) that anyone is just 3 to 5 minutes away from enjoying a delicious rich and thick homemade berry smoothie!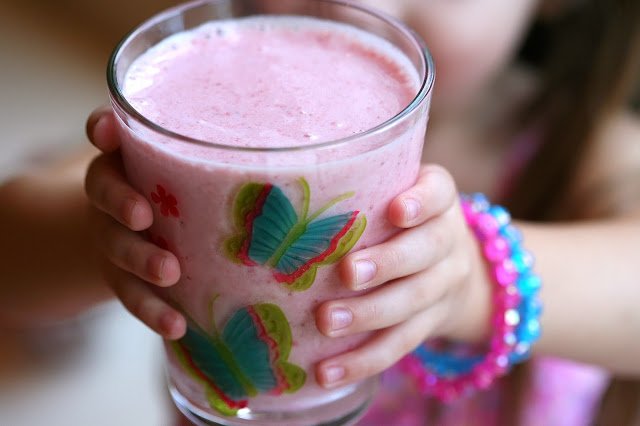 Hi, It's me Samantha and today I'm going to show you how to make a fruit smoothie!
This is really good - it will blow your mind when you see how easy it is to make and how fast
you can make it.
It doesn't even take you five minutes, it only takes me 3 🙂
You can use just strawberries or you can use mixed berries, just make sure they are frozen first.
Berry smoothies are my favorite and a really yummy snack when you come home from school.
I really don't like milk, not even chocolate milk. I never drink it, but I eat yogurt every day.
Guess what?? This smoothie has LOTS of milk in it and I like it...a lot...it's SO delicious!
Do you have a favorite smoothie?

Mixed Berry or Strawberry Smoothie


10 ounces of frozen mixed berries or strawberries (unsweetened)
1 ½ cups 2% milk
½ cup heavy cream
¼ cup sugar
½ teaspoon vanilla bean paste or a dash or two of pure vanilla extract
First you need to get your blender, second you put all the fruit in - make sure the fruit is frozen.Pour in your milk, cream, sugar and vanilla. Then you tell your blender you pulse it until it is smooth.
Pour or spoon it into your glasses and drink it up with a straw or eat it with a spoon. Today I made this for my brother, mom, dad and me and it was just enough for all of us.
Mom's Note: You want your berries frozen for a nice thick smoothie otherwise it will be to liquid and adding ice will dilute it and often be chunky.
See you next time xoxo!!
Samantha