Tomato Bread Salad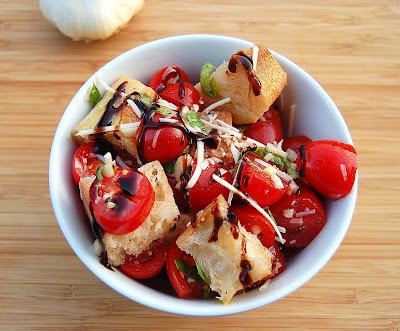 Raise your hand if your still in summer mode…I know I sure am! I am sooooo not ready to let go, after all technically fall is still almost 2 weeks away aaaaand what about the Indian Summer that typically occurs. Haha!! See what I mean!
Here in my part of Pennsylvania it has been consistently warm, with today actually being the first day we have awoken to a cooler temp in the 60's.
If you have a late crop of tomatoes this salad is just the thing to give you a mouthful of summer as you sit outside and enjoy every minute of this beautiful weather we are having!
Look who crawled up on to the arm of the chair I was sitting in while I was eating this salad!! How funny is that? I think he wanted a bite!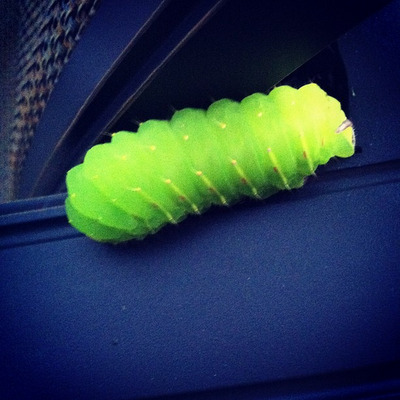 Tomato Bread Salad for 2
1/2 cup olive oil
2-3 cloves of garlic minced
Kosher salt and black pepper to taste, but be a bit generous
A splash of white wine vinegar or Basalmic vinegar
A pint of grape tomatoes, halved
16-20 cubes of day old French, Sourdough or your favorite hearty bread
A handful of fresh Basil leaves, chiffonade
A sprinkling of shredded or shaved Parmesan cheese
Balsamic reduction
In a medium bowl, combine olive oil, garlic, salt and pepper. Allow the flavors to mingle for at least an hour and occasionally use a spoon to both stir it up and mash the garlic a bit. (This "garlic oil" is something I make often for a number of dishes to really punch up the flavor of grilled veggies, salads etc. Allowing the garlic, salt and pepper…and occasionally Cayenne pepper to infuse the oil gives it amazing flavor).
When ready, add a tablespoon or two of your chosen vinegar to your oil, whisk it up well then toss the tomatoes, bread and basil into the bowl and mix it up really well. Allow mixture to sit for 20-30 minutes, tossing it every so often. Sprinkle with your cheese, drizzle with some Balsamic reduction if you wish and serve.
*If you like onions, you might want to add a few very thin slices to this as well. If you do not have day old bread, just pop your bread into the oven for 15-20 minutes at 300 degrees. You can punch up the flavor of the bread more if you like by halving your bread lengthwise, and drizzling it with a little of the garlic oil as described above…Y-u-m!! Just be sure to make extra oil for the salad.
** Balsamic reduction is made by boiling and reducing Balsamic vinegar, or you can purchase a bottle to keep in the fridge.
To make your own, simply place 1/2 cup Balsamic vinegar in a small pot over med-low heat and ring to a boil. Reduce by half and allow to cool. The vinegar will thicken as it cools. Refrigerate in a covered container. This will keep in your fridge for months. It does however stink up the house a bit while you make it…or so my kids proclaim 🙂
Enjoy!!