Creamy Guacamole Dip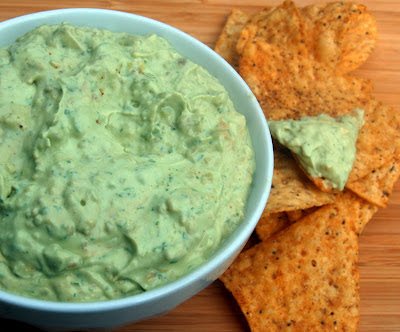 During the summer, I always keep certain ingredients on hand for those last minute texts or calls that say "come on over and hang out" or for when we decide to be the last minute host.
My husband and I try to find ways for our weekend fun to include our kids, we like sticking together as a family. We all like hanging out outdoors and the kids enjoy swimming with their freind's while the adults just hang out with good snacks, good cocktails, and good music (however the music is subjective…lol!).
I make sure I always have on hand staples like cream cheese, onions, Parmesan cheese, avocados, tomatoes, scallions, corn, a variety of beans, cheddar, feta and Monterrey Jack cheeses, jalapenos, tortillas, various fruits, bacon etc… All the things that would allow me to quickly throw together an app or two in 10-15 minutes time and host or head out the door.
Who doesn't love a great guac in the summer or a summer veggie and bean salsa alongside some flavorful chips. Their light and they are fast and easy!
Recently I spotted Maria's (from Two Peas and their Pod) Creamy Avocado Yogurt Dip and was drawn to the creaminess of it, so I knew I had to try it out…and I'm happy I did!
It's a nice change from the traditional guacamole, plus it goes farther and holds up better too! I changed it up a bit to meet my needs and taste. To see the original recipe, click here.
Here a a few of my favorite easy go to summer apps. I would love to know what your favorite(s) are as well!
Tomato & White Bean Bruschetta
Ingredient Hot Vidalia Onion Dip
Roasted Red Pepper Spread
And I just realized I have never posted one of my go-to easy summer staples…all it is is fresh corn, black beans, diced grape tomatoes, scallions (sometimes a few pinches of Mexican cheese) and a sprinkling of taco seasoning!! YUM! I will post that asap 🙂

For the kids I love to make Apple Salsa & Chips or Brown Sugar Fruit Dip
Creamy Guacamole Dip
Adapted from Two Peas and Their Pod
3 ripe avocados, peeled & seeded
6 oz plain Greek yogurt (I use Chobani)
6 oz sour cream
2-3 cloves of garlic, minced
A small bunch of cilantro, stems removed (about 4 TBS worth)
1/2 a jalapeno pepper, minced (more or less depending your your heat preference, I myself include some of the seeds for extra heat!)
A couple dashes of cumin
2 TBS lime juice
Kosher salt and pepper taste
Throw everything into your food processor (or blender) and pulse a until you get your desired consistency. I like it a little chunky. Adjust your seasoning to your liking, then scrape into your serving bowl. Cover very tightly with plastic wrap (you want the wrap to touch the dip) and chill for 20-30 minutes. Serve with tortilla chips, pita chips or veggies.
Note: I have been a fan of the Garden of Eatin' Blue Corn Chips and Red Hot Blues for awhile! This summer I am also digging Tostito's Artisan Chips! They have some fun flavors!
Enjoy!!