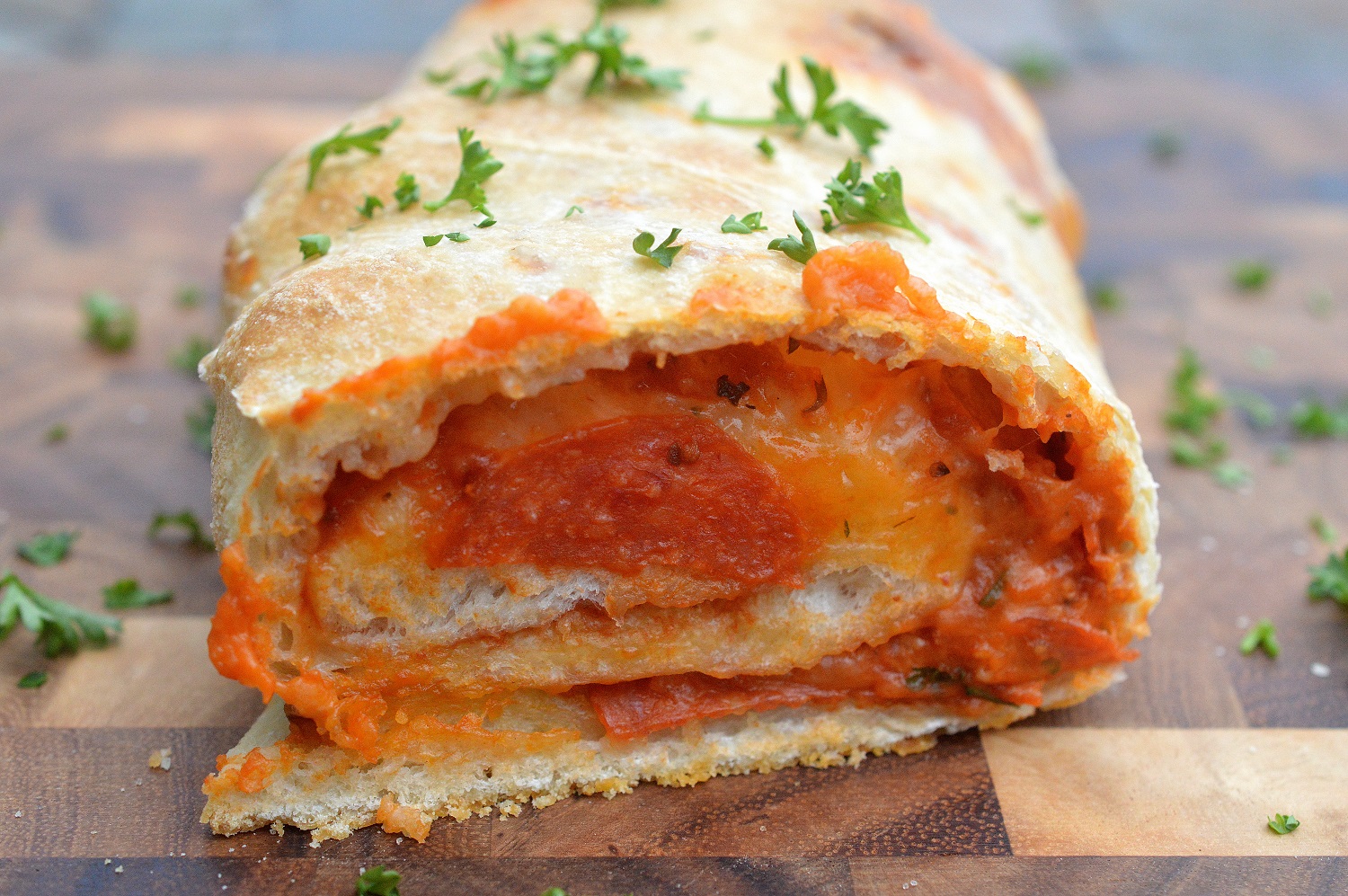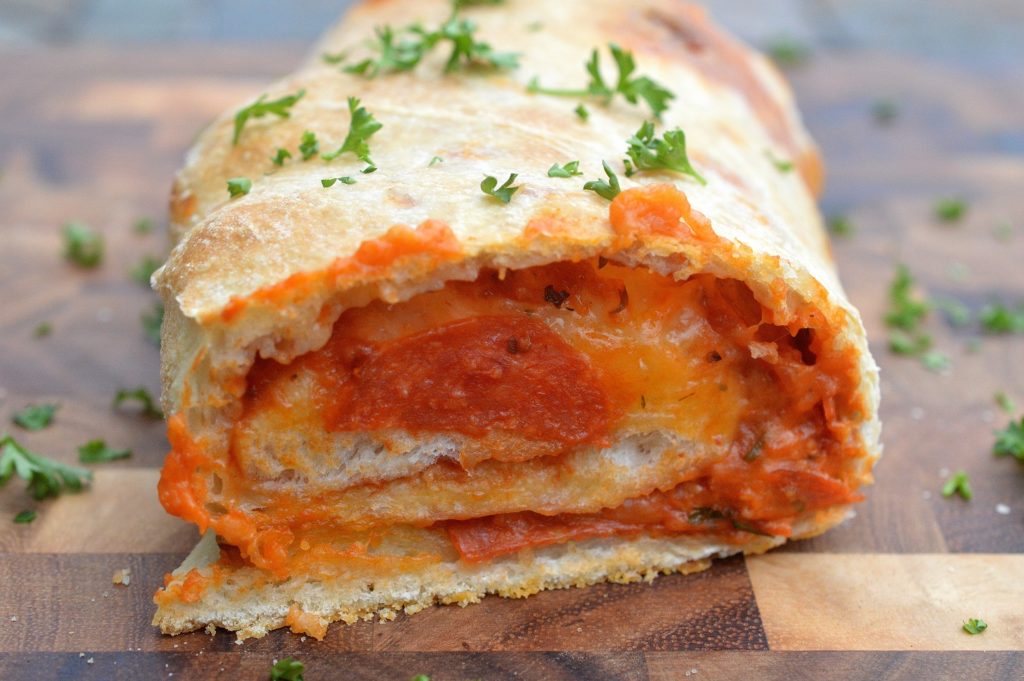 Everyone I live with loves pepperoni, which means that I pick some up on almost every trip to the supermarket. My kids and husband enjoy it for snacking both at home and in school lunches. So, I decided to make a Pepperoni and Cheese Stromboli to see what they thought of that.
It vanished!
I made a huge Pepperoni and Cheese Stromboli and they destroyed it. I literally had 1 bite! However, that right there makes me happy...always has. I love making food people enjoy...especially those I love the most.
(This is my master plan so the kids beg me to one day be their college roommate...Muahaahaa)!
If you want a simple dinner, or offering for a party, tailgating or whatever. A stromboli is a great idea! Add a salad and you are good-to-go! 
I will be 100% honest and say I never make my own pizza dough...ever, for anything. Nope.                                     Instead, I drive 3 minutes to our favorite local pizza place and buy 1 or 2 disc's of their dough.  Here's the thing...They make fresh pizza dough all day long. It's what they do and it's delicious. SO they are way better at it than I would ever be, making the dough recipe handed down to them by their father and their fathers father. I kind-of love and respect that.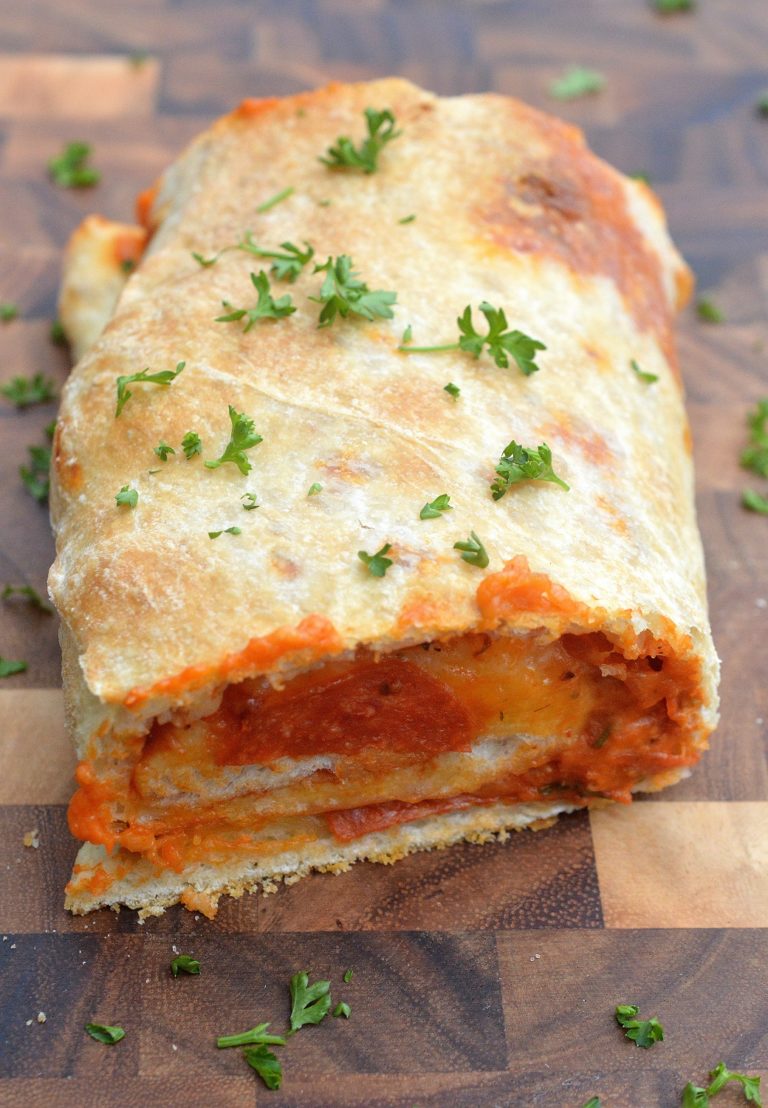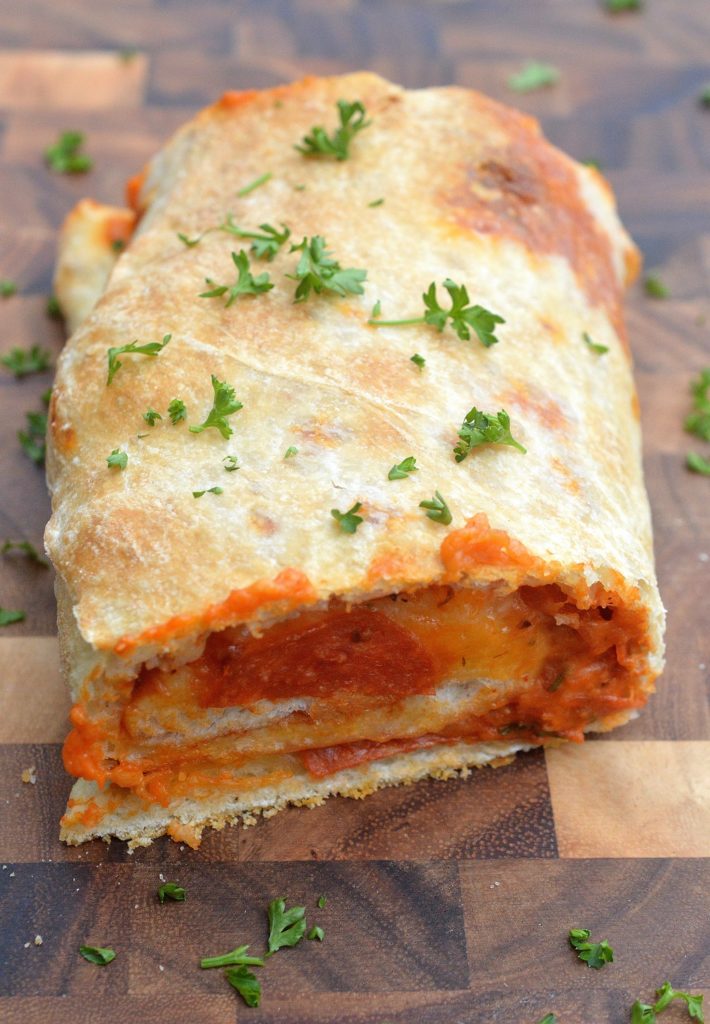 I don't have to wait for dough to rise, I have no clean-up and can make what I want...when the mood strikes me. Plus...it's $2.50 a disc. All of that together is a big-fat-win in my book!
I their pizza dough for my Loaded Garlic Knots that all the kids go crazy for and for my favorite Pulled Pork Pizza as well as so much more. I think am their best pizza-dough-buying customer, lol! They always ask me..."what are you making time"??
Making your own Stromboli is fun and easy and I'll bet less expensive that buying one, especially if you order via delivery. The whole family can get into it. You can make a stromboli big or small...your call. You can also stuff them with any combo you dream up! I've been making this Buffalo Chicken Stromboli for years. Anything "Buffalo" makes me happy!
It all comes down to high enough heat and not too many wet ingredients inside.  20-30 minutes later...you'll be crunching through a beautiful crust and happily munching your way to a full belly! One disc of pizza dough makes a huge 16-18 inch long stromboli.
My son Connor 14, took the lead on this particular Pepperoni and Cheese Stromboli...I think he did a great job!
Next week, I'll share our Philly Cheesesteak Stromboli with you!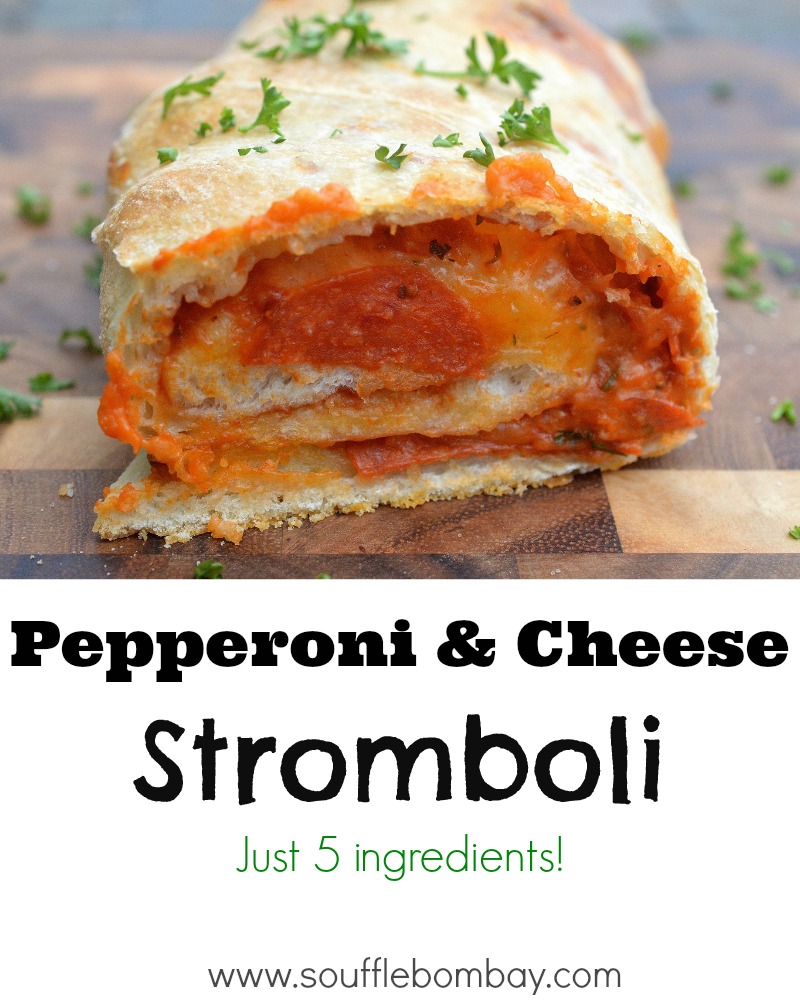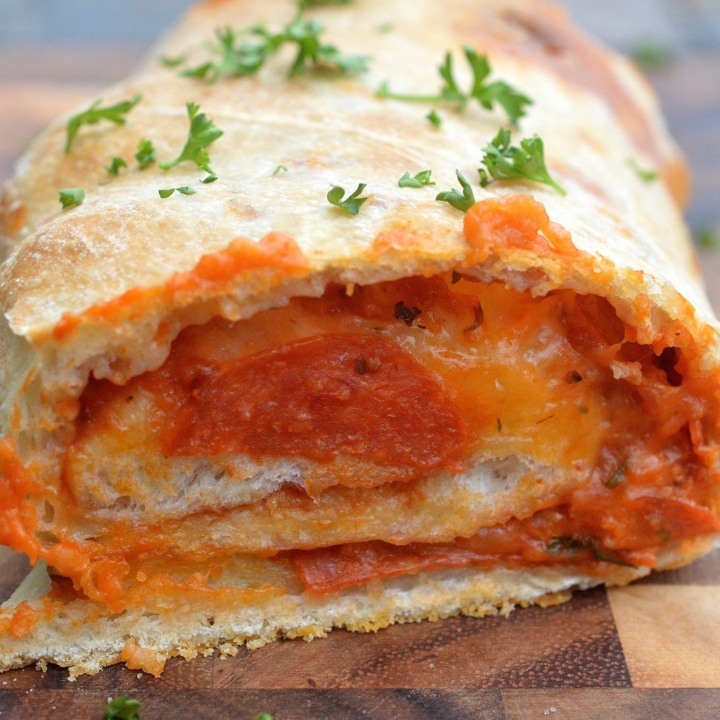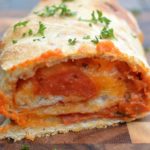 Print Recipe
5 Ingredient Pepperoni and Cheese Stromboli
Ingredients
1

disc pizza dough from your local pizza place

or homemade

Pizza sauce

6

oz

sliced pepperoni

1-2

cups

of Mozzarella cheese

Salt & pepper
Instructions
Preheat oven to 400 degrees.Lightly spray or oil your large baking sheet.

Work your dough gently into a rectangle shape. I find quickly turning it (like a steering wheel) and allowing the dough's own to weight stretch it, while it hangs briefly, works for me.

Once dough is shaped to your liking. place it on a large piece of parchment or waxed paper.

Season the dough with a bit of salt and pepper,

If you enjoy sauce on the inside of the bread like we do, lightly spread some pizza sauce around with the back of a spoon. Not to much, just a very light coat (or it will bake mushy).

Place a layer of thin pepperoni slices all over the dough, leaving ½ inch uncovered around the perimeter.

Sprinkle with cheese (as much or as little as you like).

Season with additional salt and pepper or whatever herbs you may enjoy.

Gently begin to roll (from the long edge) until you form a stromboli. Pinch seam and ends closed.

Gently lift your parchment to help get your stromboli onto your baking sheet, smush it a bit to make it fit of necessary.

Discard the paper and bake for 25-30 minutes or until the top is golden brown and crisp.

Allow the stromboli to sit for a few minutes, then slice into pieces and serve with pizza sauce for dipping.
Notes
Feel free to season the top of the stromboli with salt and pepper or garlic salt if you like. You can lightly coat the outside of the stromboli with a little butter if you like as well just prior to sliding it into the oven.