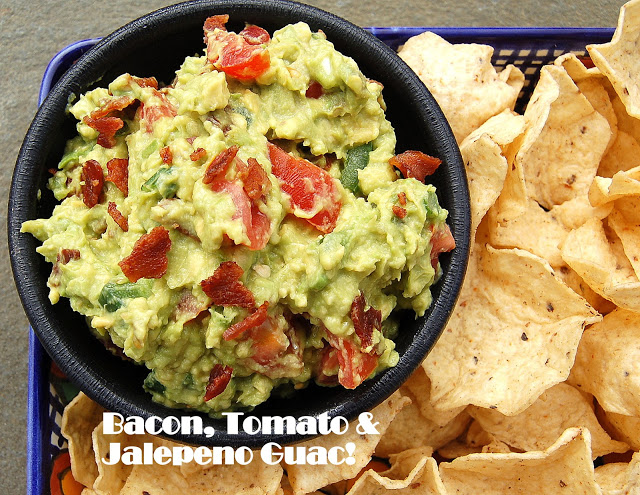 One of the apps I am making for Saint Patty's Day is this simple but flavorful Bacon, Tomato & Jalapeno Guacamole.  What??  Yup I know, I know...it has nothing Irish about it...but hey, it's green...I love it and most people I know can't keep themselves away from a bowl of guac... especially if it involves bacon!


I've been making this for a while now and often I will quickly whip it up for myself for lunch.  I just scale it down to 1 avocado and a handful of chips and THAT makes me a happy, happy girl!
The idea for this guac came from Rick Bayless and his Margarita's, Guacamole & Snacks book, which I read last year.  If I remember correctly, in his recipe one of the things he had in it were grilled scallions, which I have not tried in this dish but may one day.  I think he even had a strawberry guac recipe in that book if I am not mistaken.  Interesting!
So if you are looking for "green" dishes to make for St Patty's Day why not grab some avocados and get down to it!  I have become a bit obsessed with them myself.  They are versatile, always available and
deee-licious!  If you like them as much as I do then you have to, have to, have to try this Crispy Avocado, Bacon & Tomato Salad that I am addicted to, or this fantastic Creamy Guacamole Dip.  If you dig crab cakes you could try this Avocado Crab Cake Sandwich, I love the addition of creamy avocado to the crab!!
Here is some more avocado inspiration...check out Kays' Avocado & Edamame Dip and Avocado Fries...Yum!! This Candied Bacon Tomato & Avocado Sandwich (Can I marry this??) or this Linguine with Creamy Avocado Sauce.
OK now I'm starving!


What's your favorite way to enjoy avocados?  I would love to try something new!



Bacon, Tomato & Jalapeno Guacamole


3 avocado's
Kosher salt to taste
1 teaspoon fresh lime juice
1 jalapeno, chopped
5 pieces of crispy bacon
½ pint of grape tomatoes, chopped
3 scallions (green onions) sliced thin
Optional:  Chopped Cilantro to taste, red pepper for added heat or a minced or mashed garlic clove.
For tips on how to shop for avocado's click here.
Lightly mash your avocado's in a bowl, add in your salt and lime juice and mash a bit more.  Add in your jalapeno (I throw seeds and stems in as well for extra heat), bacon, tomatoes and scallions and mix until incorporated.  Serve with tortilla chips and enjoy!
Enjoy!!