Call these Coconut Bites, coconut macaroons or coconut candy. Whatever you call them you love this east tasty sweet coconut and chocolate treat! These are simple to make and happen to be gluten free. Without chocolate they are also great for those with dairy issues.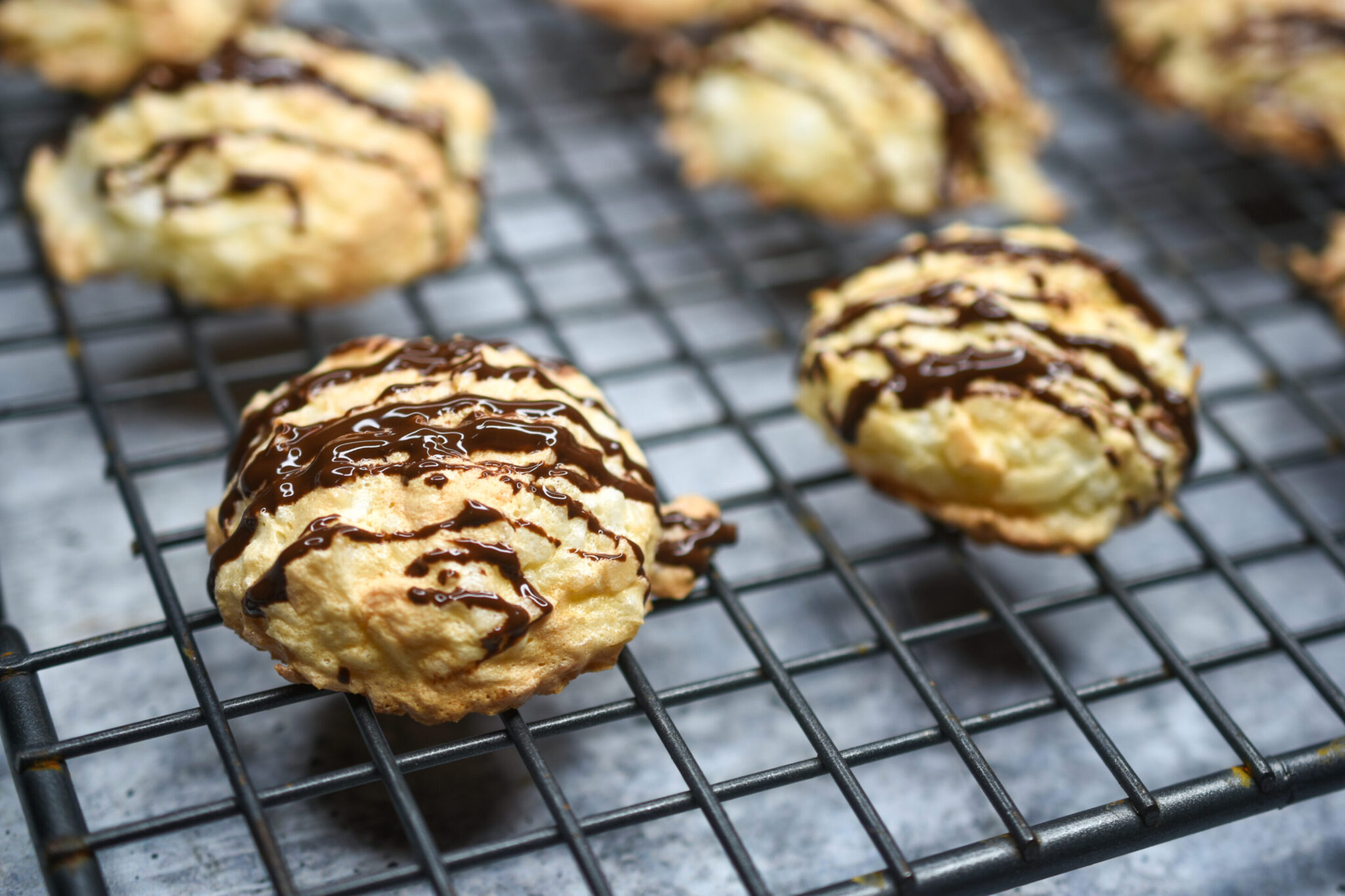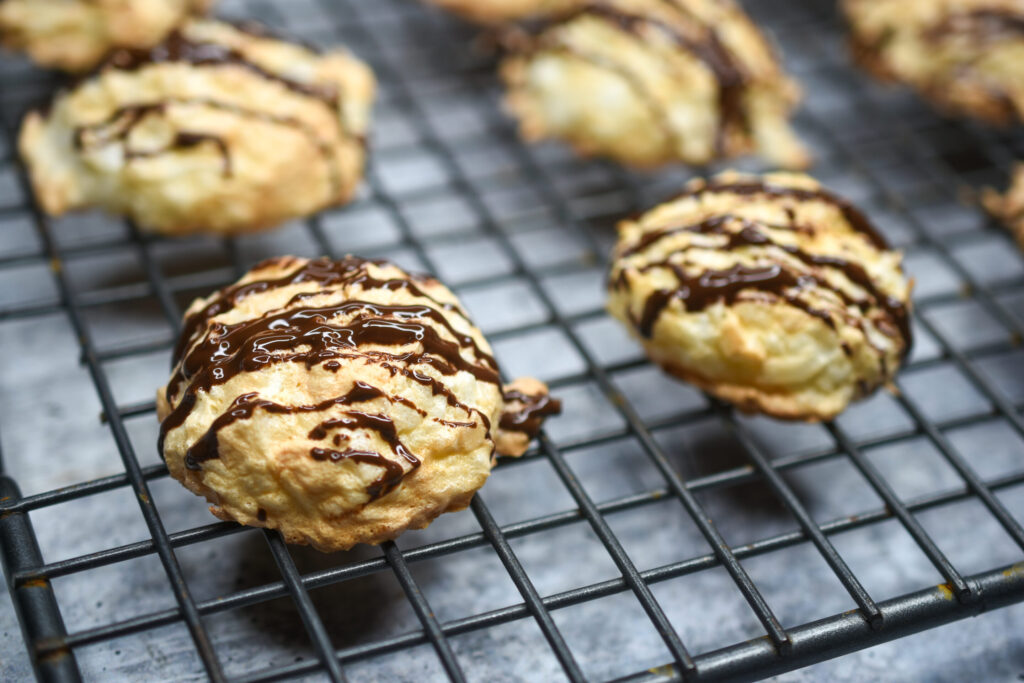 Simple to make, just 4 ingredients, plus one to two more if dipping in chocolate.. Leave these
coconut
bites plain or dip or drizzle them in bittersweet or milk chocolate. A perfect bite!
Why you'll love this recipe for Coconut Bites
This easy recipe only requires 4 ingredients (plus chocolate if using)
If you enjoy coconut, you will love these
Recipe makes about 16 coconut bites
These hold up well for a few days in a sealed container
Customize with bittersweet or milk chocolate
Gluten free dessert
Vegetarian dessert
Perfect for an Easter dessert
Ingredients
egg whites
salt
powdered sugar
coconut flakes
vanilla
bittersweet or milk chocolate
coconut oil (optional)
Call these Coconut Bites, Coconut Macaroons or Coconut Cookies. Whatever you call them they are SO tasty and such a simple recipe to make!
You can choose to leave these Coconut Bites plain, dip them in chocolate or drizzle them with chocolate. The addition of chocolate makes them taste like a
Mounds
(yum!!)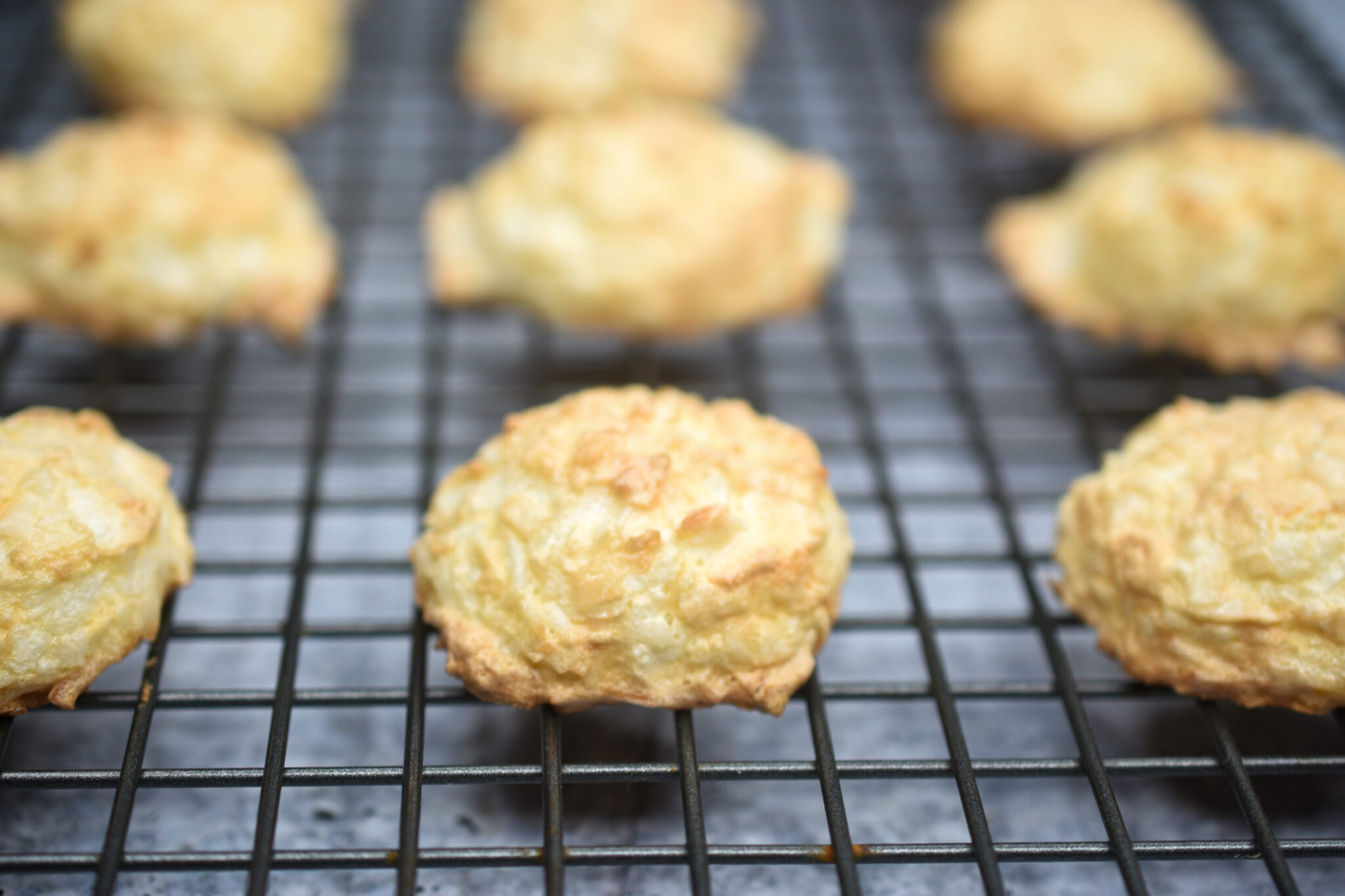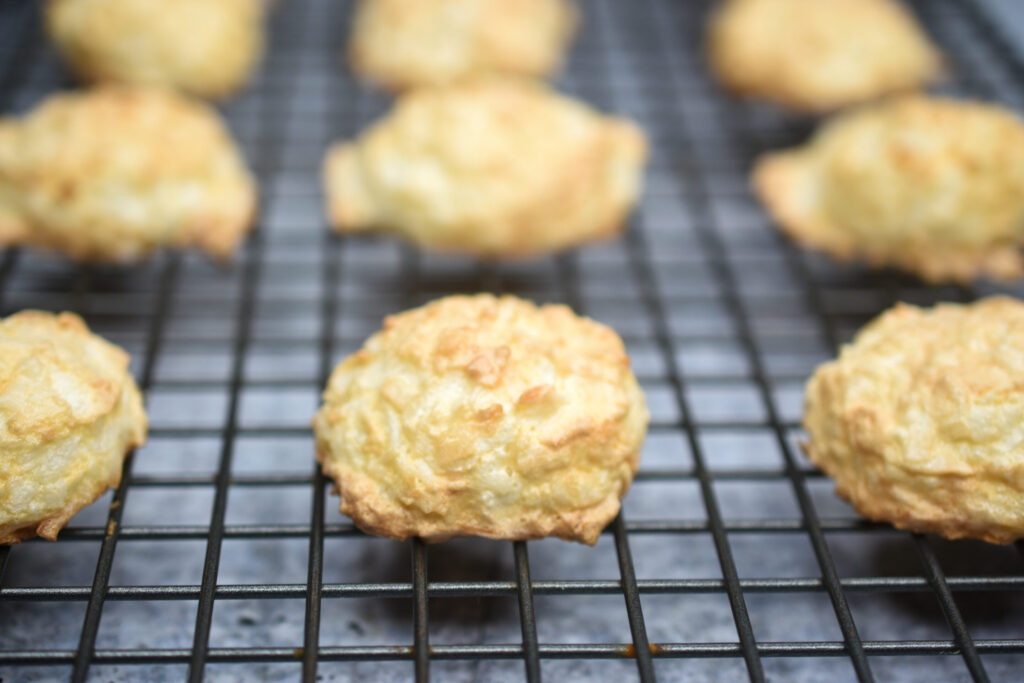 Instructions
Whip egg whites and salt on high until stiff peaks form, add vanilla and powdered sugar and whip till thick and frothy. Add in coconut flakes and using a spatula fold together. On a parchment paper lined baking sheet, use a cookie scoop (spray cookie scooper with baking spray first). and place batter 1.5 inches apart. Bake on middle rack at 360 degrees for 13-15 minutes or until golden brown. Cool on the parchment lined baking sheet and putt paper off each once cooled. Dip into or drizzle on melted chocolate if you like (YUM). Set in refrigerator or a cold area.
Storage
Store in air tight container.
Tips
To cut down sweetness or save on calories or carbs. Choose to use unsweetened coconut flakes OR 1 cup sweetened and 1 cup unsweetened
For an extra depth of flavor, toast coconut first
If you dip in chocolate or drizzle with chocolate, pop coconut bites in the refrigerator for 30 minutes or so to set.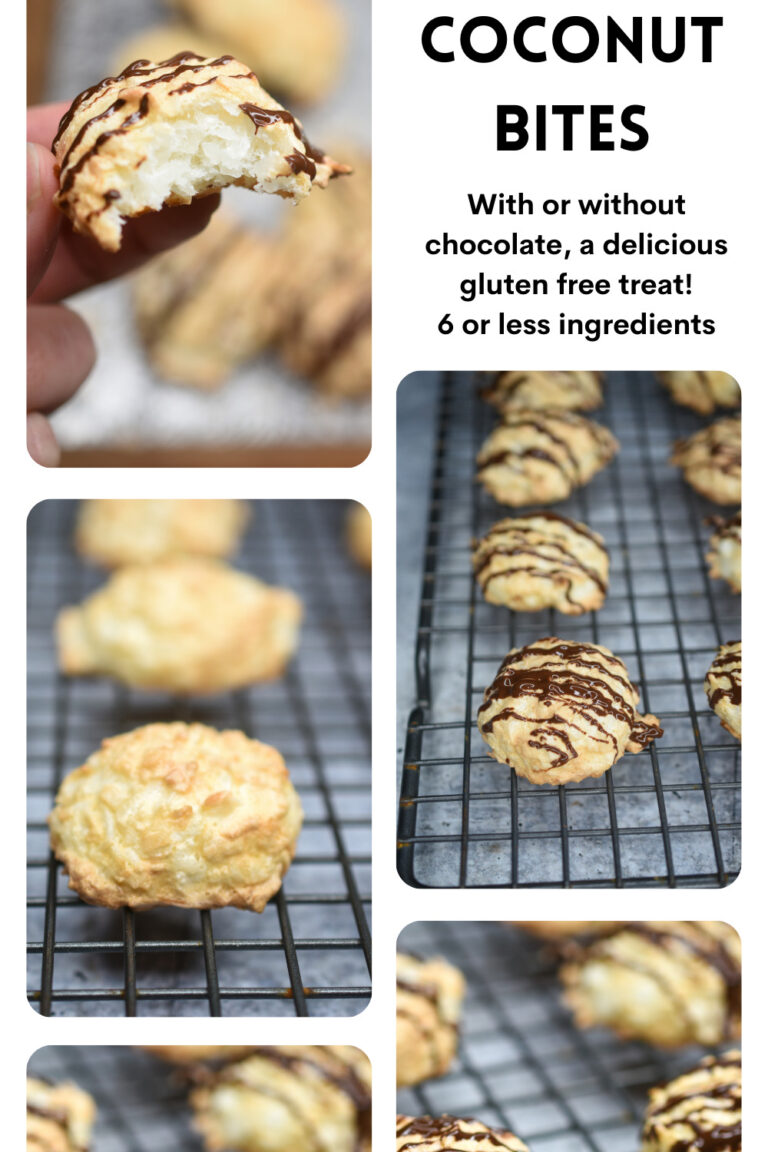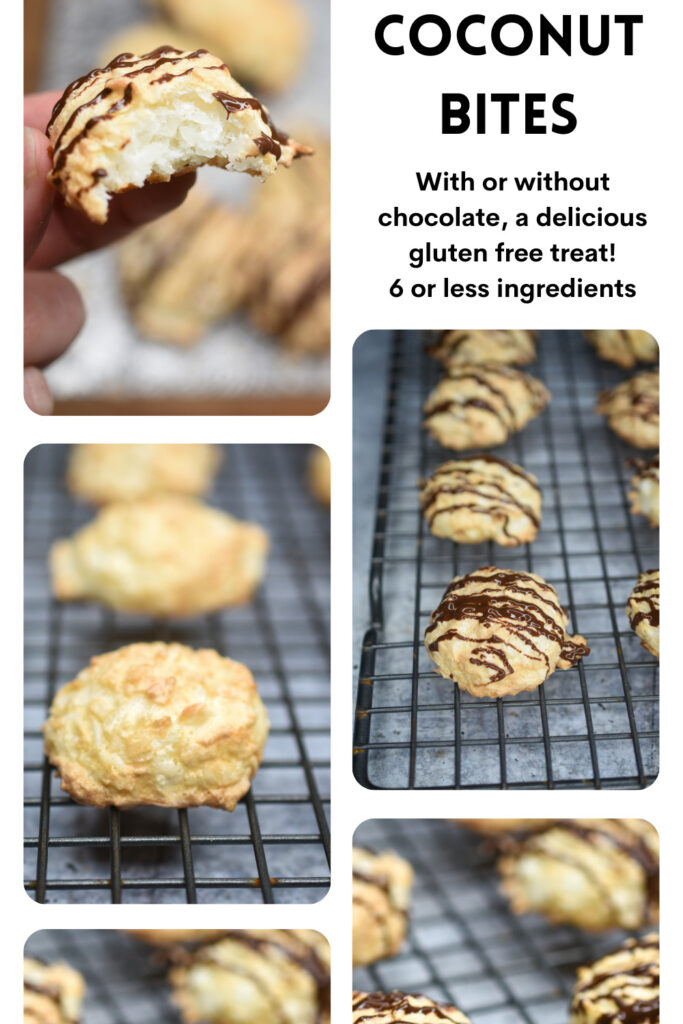 Dessert Recipes to try
For sweet treats that are no fail and easy to make: My Key Lime Pie is a must try! I won a trip to the Florida Keys with this recipe. Or try this family favorite, Apple Fritters. If you enjoy quick breads, this Sweet Potato Bread is my personal favorite! So moist and flavorful!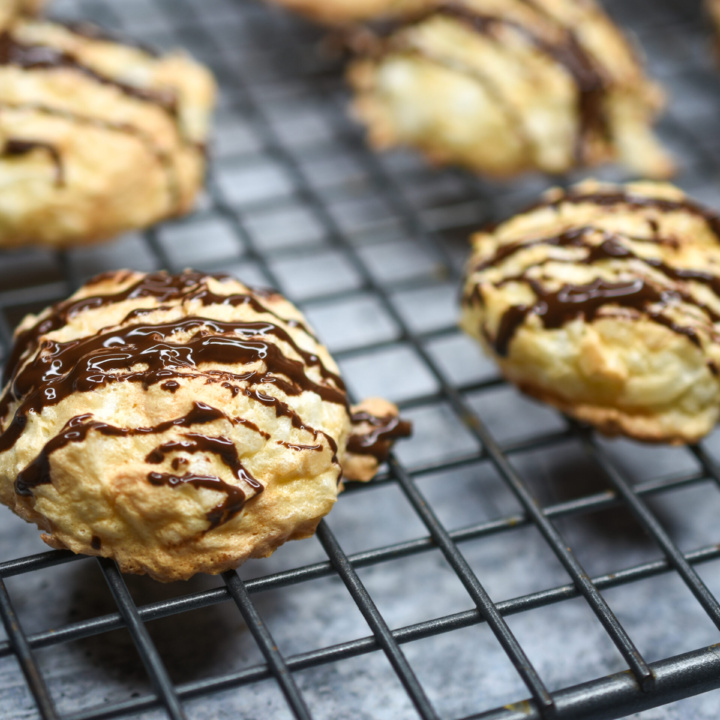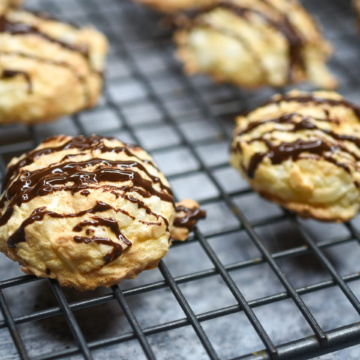 Coconut Bites
Call these Coconut Bites, Coconut Candy or Coconut Macaroons. Whatever you call it, you'll fall in love with the taste and easy recipe fopr a sweet coconut treat with a hint of cocolate!
Ingredients
2

egg whites

pinch of salt

½

cup

powdered sugar

½

teaspoon

vanilla

2

cups

sweetened coconut

2

ounces

melted 60% chocolate or milk chocolate

optional but delicious

smidge of coconut oil (about ¼ teaspoon)

optional (helps make schocolate smooth)
Instructions
Preheat oven to 365 degrees F.

Whip egg whites and salt on high with your mixer until stiff peaks form.

Add in vanilla and the powdered sugar and whip another 30-60 seconds.

Fold in the cocnut with a spatula until just combined.

Spray cookie scoop with baking spray and then scoop batter, spacing 1.5 inches apart on a parchment paper (or silicone) lined baking sheet.

Bake on center rack for 14-16 minutes or until golden.

Cool completely, remove from parchment paper (peel back) or silicone and if you choose to, dip into pr drizzle with melted bittersweet chocolate or milk chocolate.

If dipped/drizzles with chocolate, allow the chocolate to set on the coconut bites in the refrigerator for 20-30 minutes.

Store in airtight container.
Notes
Recipe make approximately 16 coconut bites if using a traditional size cookie scoop (NOT ice cream scoop).
Serving size is 2.
I use 4 squares of a Ghirardelli 60% cocoa bar for the chocolate plus a ¼  teaspoon of coconut oil
For a less sweet taste, use unsweetened coconut which depending on the brand used (for sweetened or unsweetened) will save you approximately 500 calories/34 carbs a batch. Or use 1 cup sweetened and 1 cup unsweetened.
Nutrition
Serving:
8
servings
Calories:
196
kcal
Carbohydrates:
25
g
Protein:
2
g
Fat:
10
g
Saturated Fat:
8
g
Polyunsaturated Fat:
1
g
Monounsaturated Fat:
1
g
Trans Fat:
1
g
Cholesterol:
1
mg
Sodium:
84
mg
Potassium:
148
mg
Fiber:
3
g
Sugar:
20
g
Vitamin A:
4
IU
Calcium:
8
mg
Iron:
1
mg
Follow me on Tik Tok for 1 minute videos