I am totally a cookie monster!! I will pick a homemade cookie (or three) over candy any day of the week!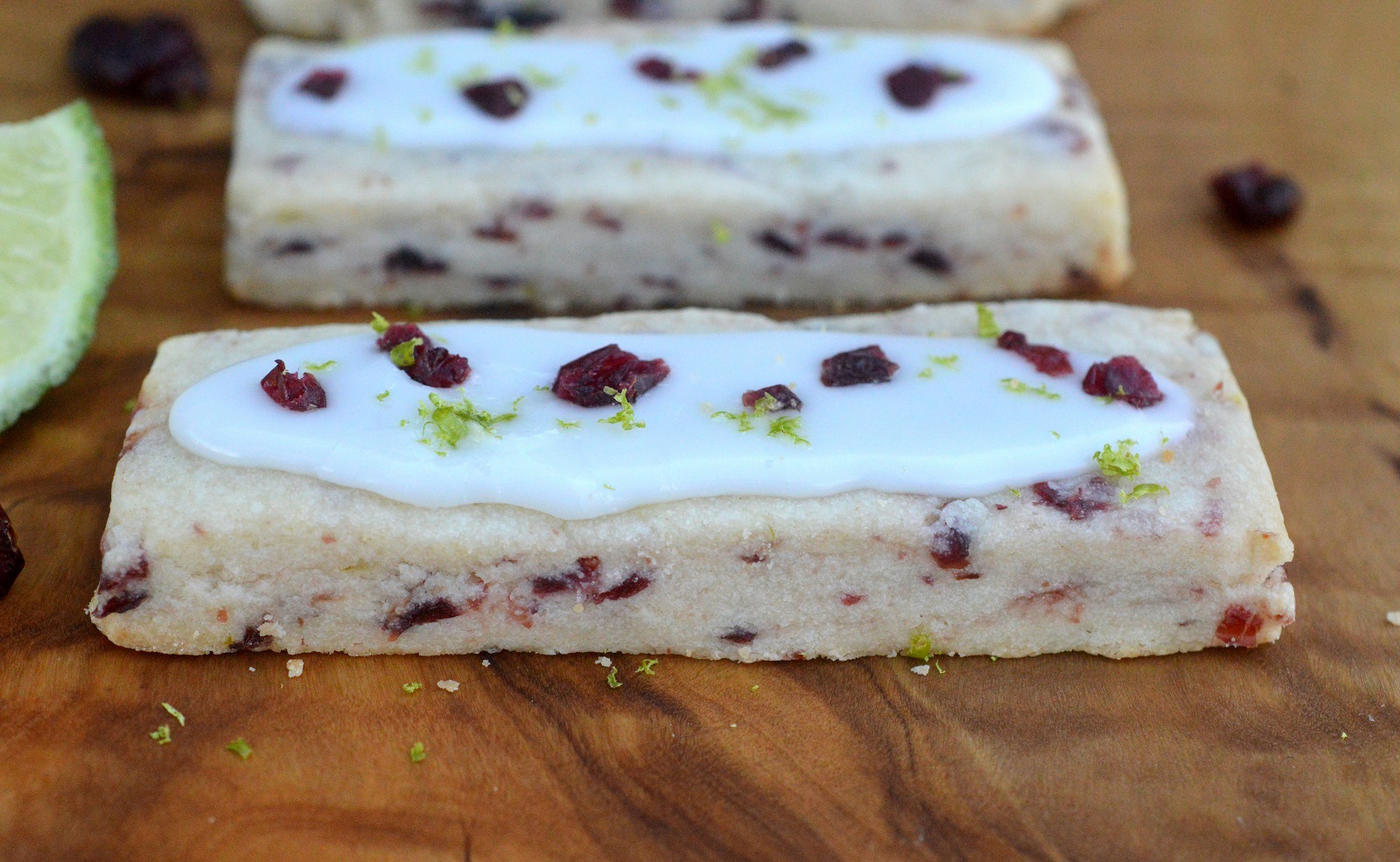 Choosing a favorite cookie is almost like picking my favorite child, however, my hands-down favorite cookies are my Pizzelle's. The recipe was given to me by a woman I worked with named Betty decades ago when I was about 21. Her family owned a bakery in South Philly and their Pizzelle's were a hot seller. I was smitten at first bite (I had never tried them as a kid). I literally gain 5 pounds every December because of the number of Pizzelle's I eat, no joke! This is why I only make them for Christmas, lol!
I do love a good homemade cookie and I really love it when I (or someone else) comes up with something a little different like these Cranberry Lime Shortbread Cookies. Typically you see a cranberry-orange combo, however,  lime and cranberry are meant for each other in my opinion! I think I will experiment with this flavor combo in biscotti this week.
These Cranberry Lime Shortbread Cookies are delicate and light. You get a hint of lime in the cookie and icing and the texture the chopped dried cranberries give the cookie is fantastic! I enjoyed waaaay too many of these!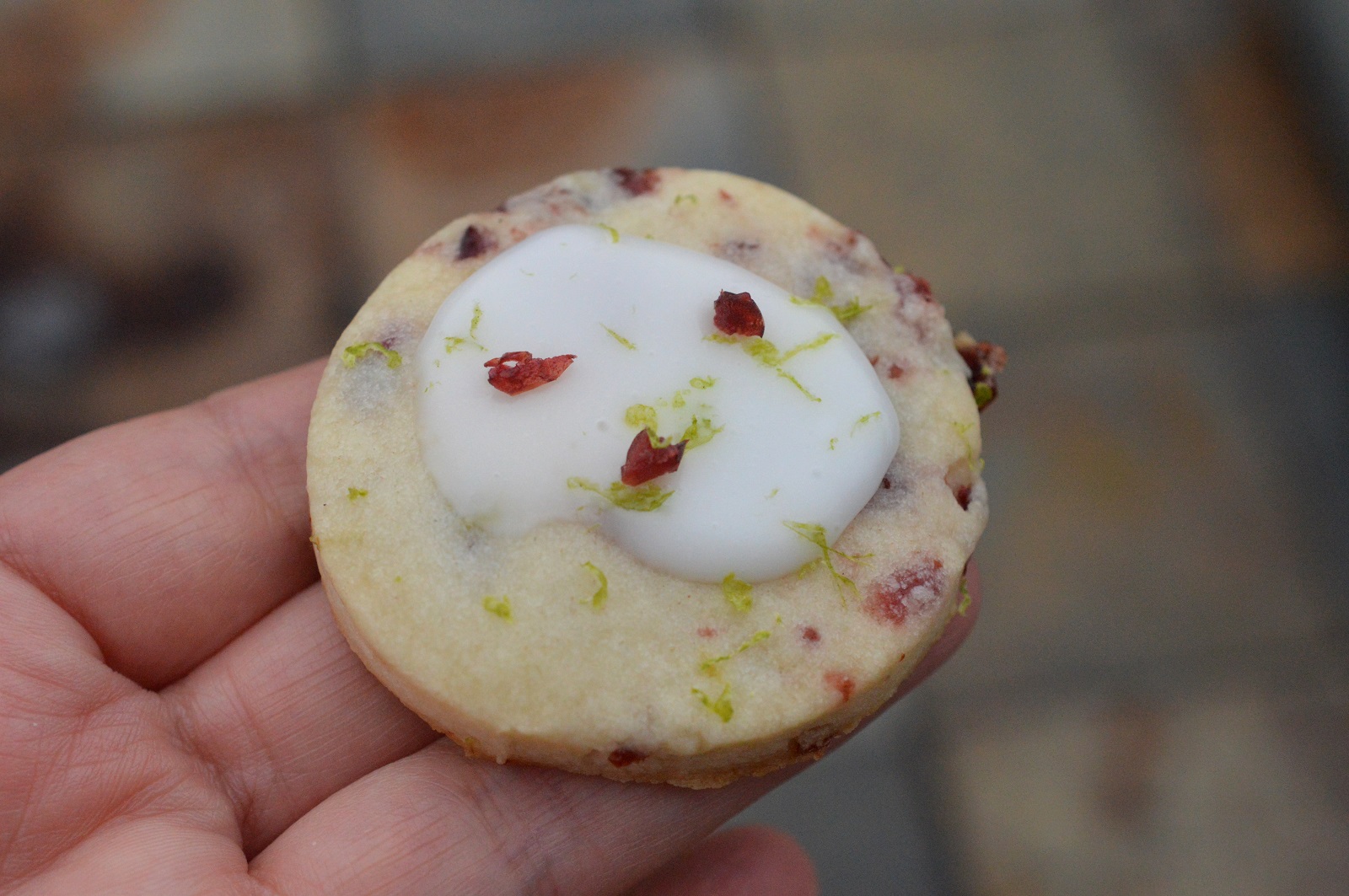 My son's favorite cookie (that I make) are my unique Chocolate Chambord Cookies, his second favorite…Pizzelle's, he is also crazy for Biscotti. I make a variety of Biscotti, take a look here at the various biscotti flavors and recipes I have. Connor is a cookie monster just like his momma. I can always hear the lid to the cookie jar being taken off/put back on and 8 times out of 10…It's Connor, lol! 
I can totally envision me going to the post office weekly to mail him cookies when he goes off to college!
My daughter's favorite cookie is a sugar cookie I/we make which was given to me by a friend years ago. SO many people ask me for the recipe for that however when it was given to me I was sworn to secrecy. Samantha has announced that her second favorite is now these Cranberry Lime Shortbread Cookies. Yay!!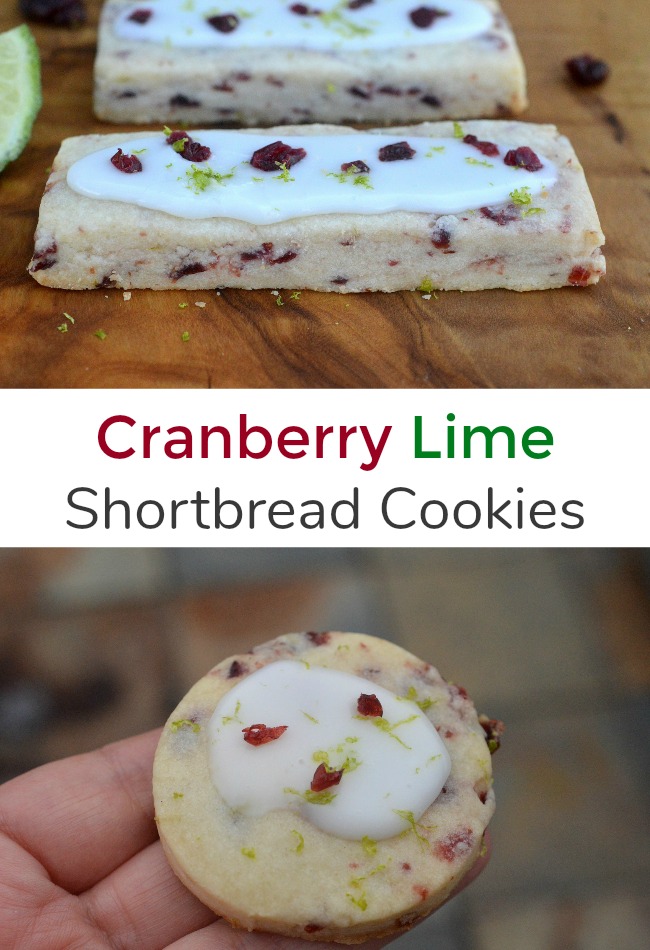 What's your favorite holiday cookie?? 
I also made these smaller using a biscuit cutter. You could use any shape cutter you like. I have pretty fluted biscuit cutters that I have used for these as well, like these. If you want to make these as bars as I also do, you can either free-form shape them or use a cutter like this one.
What Is A Shortbread Cookie
Shortbread is a Scottish "biscuit" that is similar to a sugar cookie. Sugar cookies have more sugar in them than a shortbread cookie so shortbread tastes a little more "crumbly'. Shortbread is associated with Christmas as well as with tea.
Typically you find shortbread made into bars (with a cutter like this or cut/molded freehand), formed in a circle and cut into triangle wedges (like a pizza), or made decorative with patterns/cast iron molds.
How Do You Make Shortbread Cookies?
Typically shortbread is 1 part sugar to 2 parts butter, to 3 parts flour. Shortbread is buttery and delicate. Most often I see it plain.
What Flavors Of Shortbread Cookies Can You Make?
Flavors include lavender, lemon, earl gray, vanilla bean, cardamom, chocolate chip, and cranberry-orange. I decided to do a combo I have not come across and made these Cranberry Lime Shortbread Cookies. There are no rules…come up with any flavor combo you dream up and see what happens.
I love these Cranberry Lime Shortbread Cookies! They are good by themselves however when I decided to add a smattering of icing to them with minced cranberries and lime zest…They became magical and irresistible to me. PLUS…red and green?? Hello, perfect Christmas cookie!!
These Cranberry Lime Shortbread Cookies will become a staple Christmas cookie in my world now for sure! I hope you enjoy them as much as my family and I do!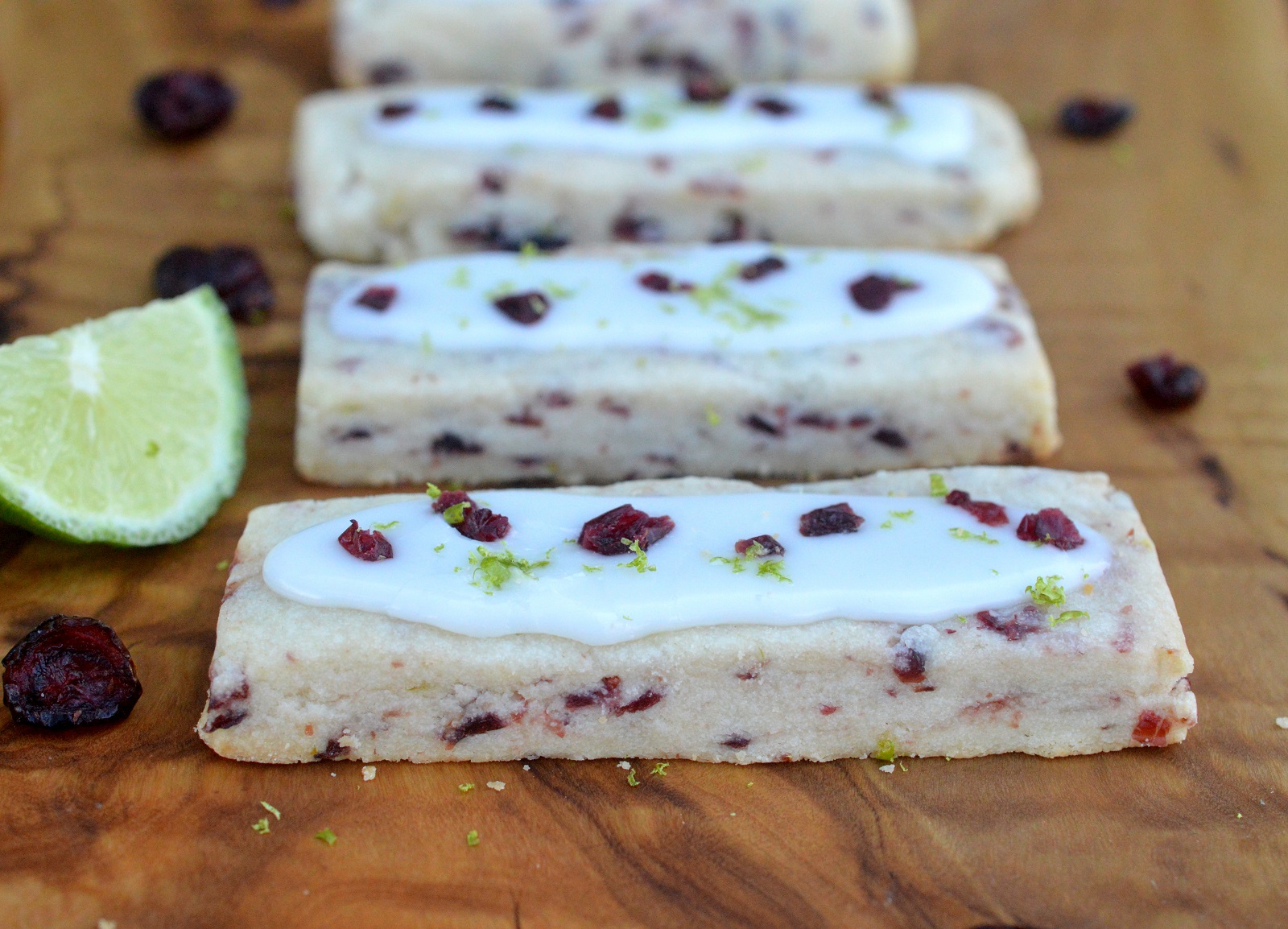 Tag me on Instagram when you make them!
Enjoy!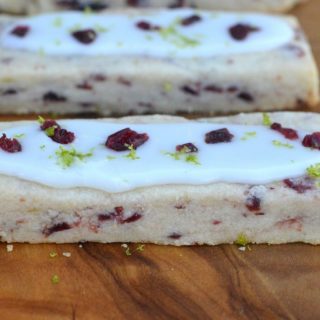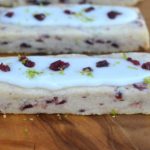 Print Recipe
Cranberry Lime Shortbread Cookies
These festive Cranberry Lime Shortbread Cookies make a delicious <g class="gr_ gr_88 gr-alert gr_spell gr_inline_cards gr_run_anim ContextualSpelling ins-del gr-progress sel" id="88" data-gr-id="88">compliment</g> to any holiday cookie tray!
Ingredients
Shortbread

2 1/4

cup

flour

plus 2 TBS

3/4

cup

powdered sugar

1

cup

butter

cut into chunks

2

TBS

fresh lime juice

Zest of 1 lime

1

tsp

cornstarch

1/2

cup

chopped dried cranberries

Icing

1

cup

powdered sugar

2

TBS

lime juice

Lime zest for garnish

Dried cranberries for garnish
Instructions
Combine flour, powdered sugar and butter in the bowl of your food processor and pulse until the mixture becomes crumbs. (You can also use a bowl and cut the butter in with a pastry cutter or with the back of a fork).

Add in lime juice, zest, and cornstarch. Pulse until combined. Add in cranberries and pulse a couple times to mix them in.

Turn mixture out onto a pastry board, or parchment paper. Knead the dough with your hands until combined.

Form dough into two balls, wrap and allow them to chill for 30 minutes or up to 2 days.

When ready to bake, preheat oven to 325 degrees.

Line a baking sheet(s) with parchment paper.

Work the dough until its malleable and can be formed and rolled out to about 1/4 inch thick. Cut into rounds, rectangles or whatever shape you like. You can also free form into individual bars. You can also roll into a log/cylinder shape and slice into 1/4 inch thick rounds.

Place onto parchment paper lined baking sheet and bake for 12-15 minutes or until set.

You don't want these to brown.

Allow cookies to cool on baking sheet for a couple minutes, then carefully move them to a cooling rack to cool completely.

When ready to ice the cookies, combine powdered sugar and lime juice in a small bowl. Make sure mixture is on the thicker side and coats your spoon, dripping of slower vs super runny. I like to ice these in my cold garage. You can ice in small batches, using a small spoon to drizzle and the back of the spoon to spread. Quickly, zest a lime to get zest falling onto freshly iced cookies and place a few pieces of chopped cranberries on each cookie as well. Repeat with another batch until all are finished. Allow them to set in your cold garage or fridge. Once set, store in a tin, box or cookie jar.
Nutrition
Serving:
2
g
|
Calories:
292
kcal
|
Carbohydrates:
35
g
|
Protein:
3
g
|
Fat:
15
g
|
Saturated Fat:
9
g
|
Sugar:
17
g
This post does contain a few affiliate links, which mean if you do decide to buy an item from Amazon I enjoy myself, I earn a few cents per order.