How about a fun & dangerous Halloween Cocktail?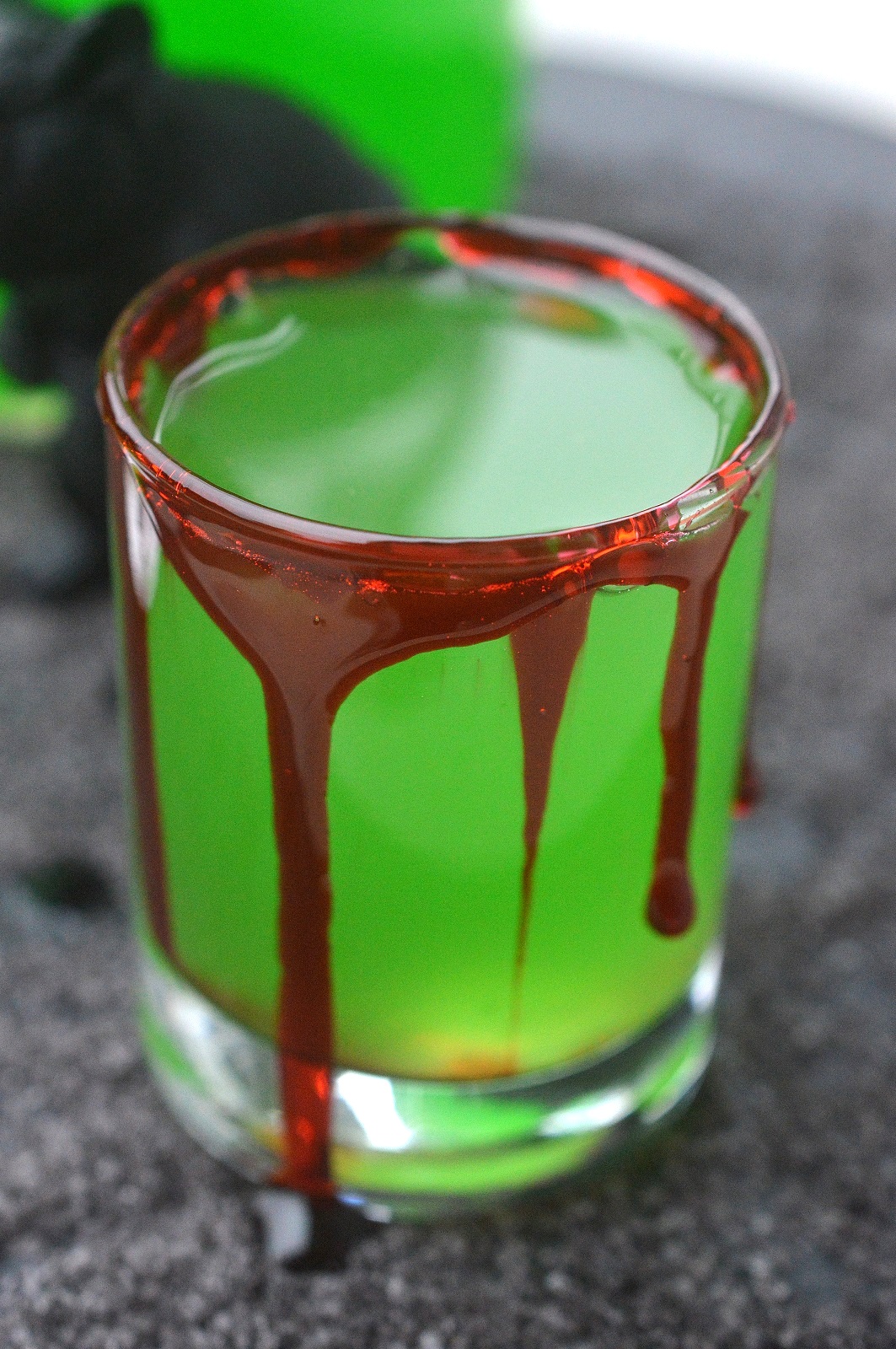 Meet my Halloween Cocktail – The Poison Frog!
There were no frogs harmed in the making of this cocktail 😉 
Halloween lets us get a little crazy with fun foods and cocktails and I love it! Some really get into it (oh you know who you are) and throw parties with every possible Halloween concoction they can bring to life! It's so fun!
We have had our share of costume parties over the years since my son's birthday falls just before Halloween.
This year, we have a couple parties to go to and one thing I always like to bring is a cocktail of some sort. I wanted something green and I thought why not throw a little "blood" into it! So I did!
This is a perfect Halloween Cocktail – The Poison Frog is a shot. A strong and crazy shot. It's akin to moonshine in its strength so be careful! One or two will pack a powerful punch! The flavor of this is Green Apple.
This is simple to make, and people will think you worked harder than you actually did…Gotta love that!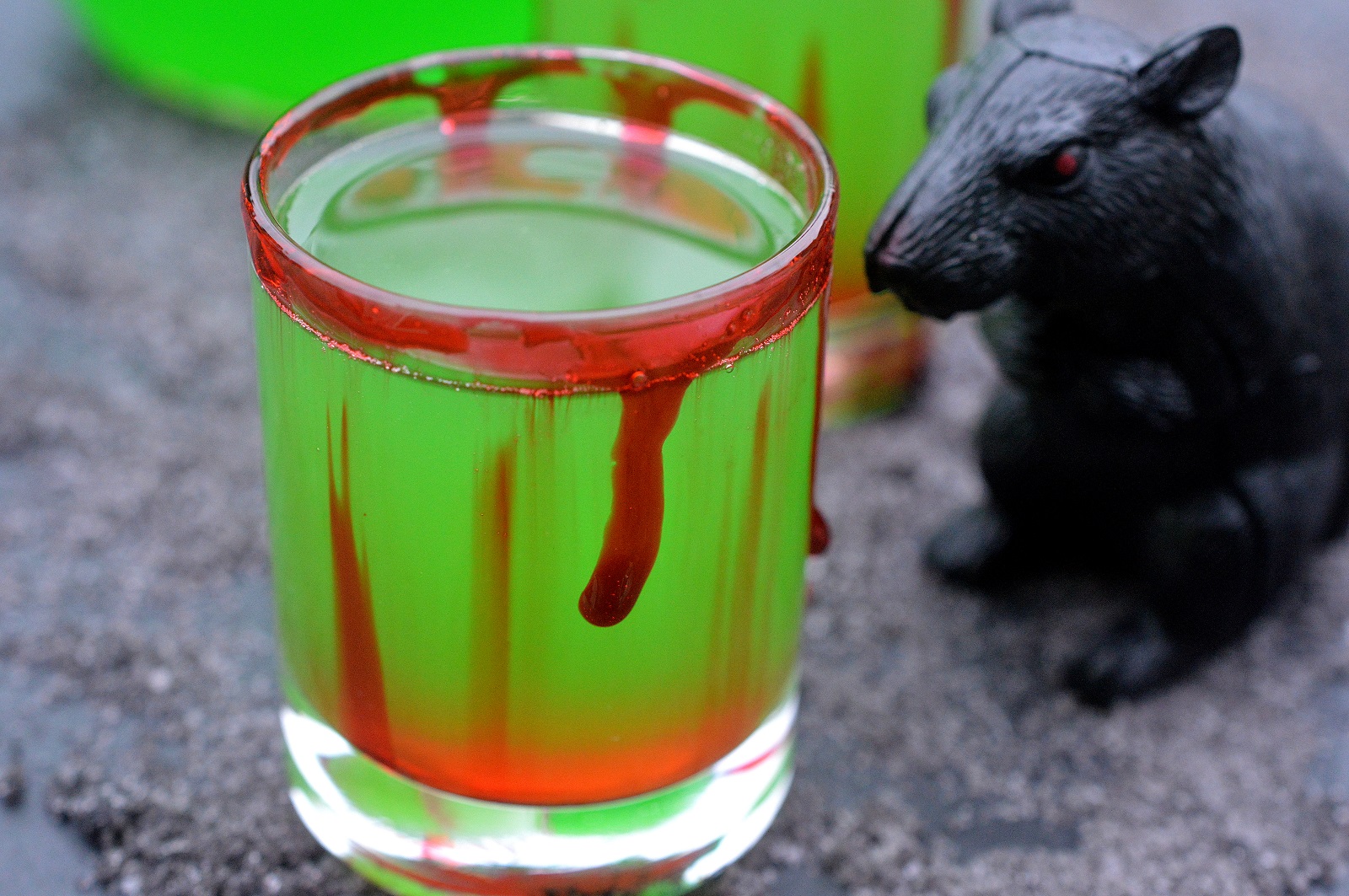 I teamed up with 9 other food bloggers and Dixie Crystals to bring to life this years #TheHalloweenProject! Thanks so much to Dixie Crystals for sending lots of sugar my way! Besides using it to make my Halloween Cocktail – The Poison Frog, I will put it to good use! Pizzelle season will be here before you know it! Mmmmm!
The Poison Frog is easy to make. Grab Granny Smith Apples, chop them up, throw them in a pot with water and Dixie Crystals Granulated Sugar, then bring it to a boil. Mash it up, strain it and there you have your Green Apple Simple Syrup. Let it cool (You can make this days ahead and it will keep in a sealed jar in your fridge for a week or more). Then add in Everclear and DeKuyper Green Apple Schnapps and you are good to go! The color alone will get people wondering!
If you want to make your shots even more fun, make some blood for the rims or put a drop or two into the shot just before people tilt it back for a cool effect.. This blood is sticky sweet and simply made with red food coloring and corn syrup!
I also made some black sugar, by combining red, blue and green food coloring.  Two drops of each did the trick. then I stirred the sugar briskly, shook it up on a mason jar and let it dry out on a paper towel. Black sugar is that easy, now just think of all the uses for Halloween!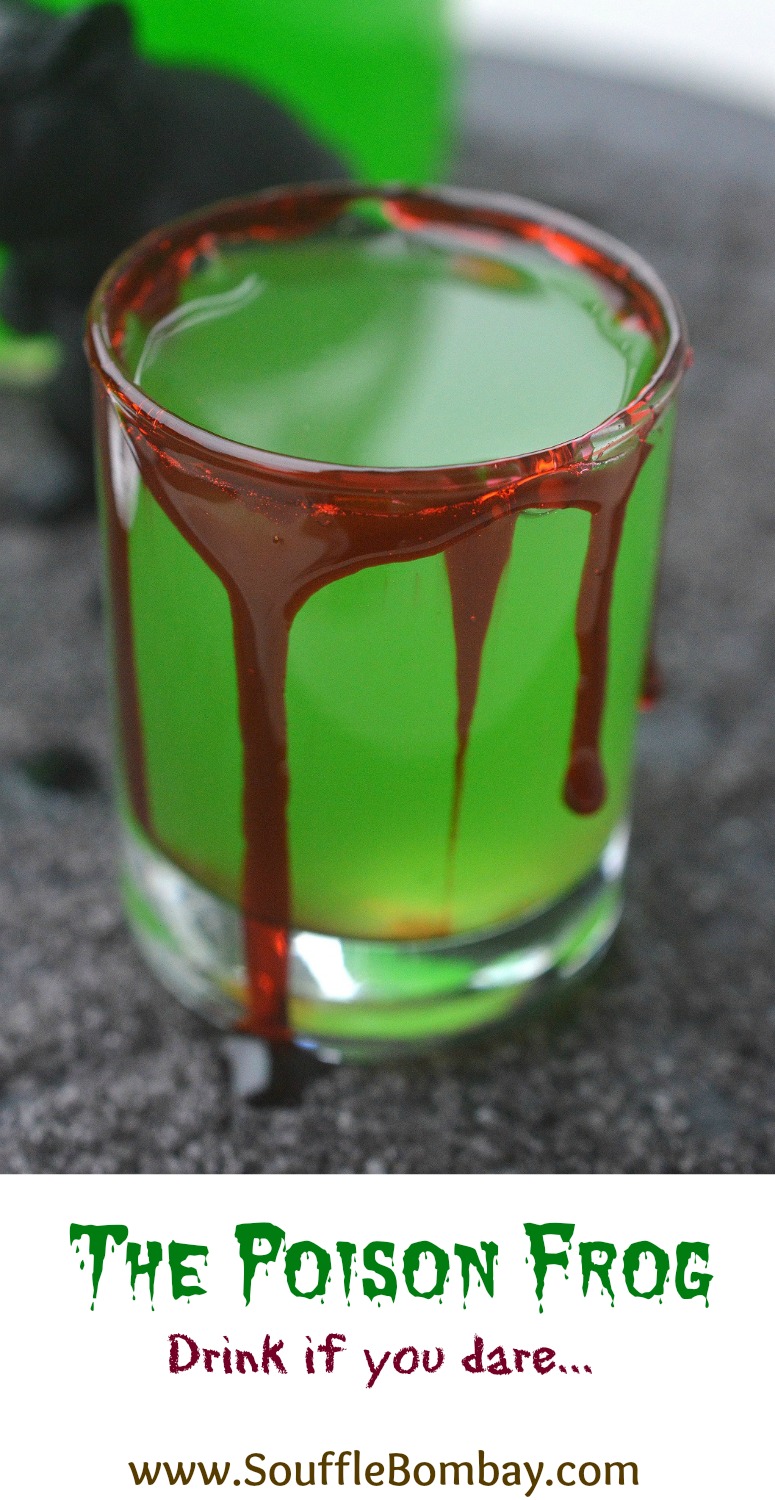 If you like Halloween as much as I do, checklout my "All Things Halloween" Pinterest Board for more ideas and also check out the recipes from this years #TheHalloweenProject from my foodie friends below (I will update the list as their posts go live).
Vampire Hot Chocolate from Big Bear's Wife
La Diabla Cocktail from Cooking in Stilettos
Spider Web Cupcakes from That Skinny Chick Can Bake
Mini Chocolate Ganache Spiderweb Tarts from Feast + West
You may also like my Edible Eyeballs. All the kids look forward to them each Halloween!
Happy Halloween!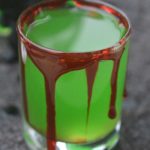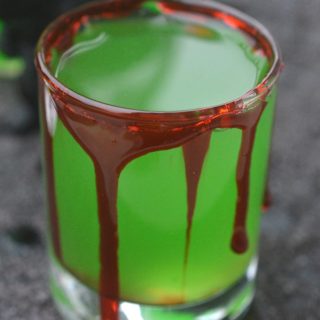 Print Recipe
Halloween Cocktail - The Poison Frog
Ingredients
4

Green Granny Smith Apples

1 1/2

cups

Dixie Crystals Granulated Sugar

4

cups

water

1 1/2

cups

of ice

1

cup

Everclear

grain alcohol

1

cup

DeKuyper Sour Apple Pucker
Instructions
Wash apples, cut and chop, leaving skin on.

Place apples and even the cores into a medium sized pot.

Add in the sugar and water, stir and bring to a boil. Boil for 6 minutes or so, just until the apples start to become tender.

Remove from heat and add in water. Remove the 4 cores and throw away.

Using a potato masher, mash the apples. Let the mixture sit for 15-30 minutes.

Strain out the liquid, which should be 3 3/4 to 4 cups.

At this point you can place the Green Apple Simple Syrup into a sealed jar and store in your fridge until ready to use.

When ready to assemble the moonshine, combine the Green Apple Simple Syrup, the Everclear and the DeKuyper Sour Apple Pucker in a pitcher or pot and stir until combined.

This will have a light green hue from both the Green Apple Simple Syrup and the Pucker. If you want it a bit more vibrant, take 1/2 cup of the mixture and add to it 2 drops of green food coloring, stir vigorously until combined. Strain that back into the jar/pitcher and mix until combined.

Taste and adjust.

This is STRONG, it's supposed to be. It's not really a cocktail, unless want to serve it over ice and cut it with some club soda or Sprite.

Chill and serve in shot glasses. I like it in the freezer 45 minutes or so before serving. You could also use a cocktail shaker filled with ice and shake and pour. Your call.
Notes
To make the Blood, simple combine a few drops of red food coloring with a TBS of corn syrup, mix vigorously until combined.