When you want a sweet treat but making a whole cake or dessert is not what you want (or need) to do, mug cakes are the answer! Whomever first came up with this concept is right up there with the creator of Buffalo Sauce and the chocolate chip cookie as far as I am concerned! If you enjoy pumpkin flavor, this Pumpkin Mug Cake is for you!!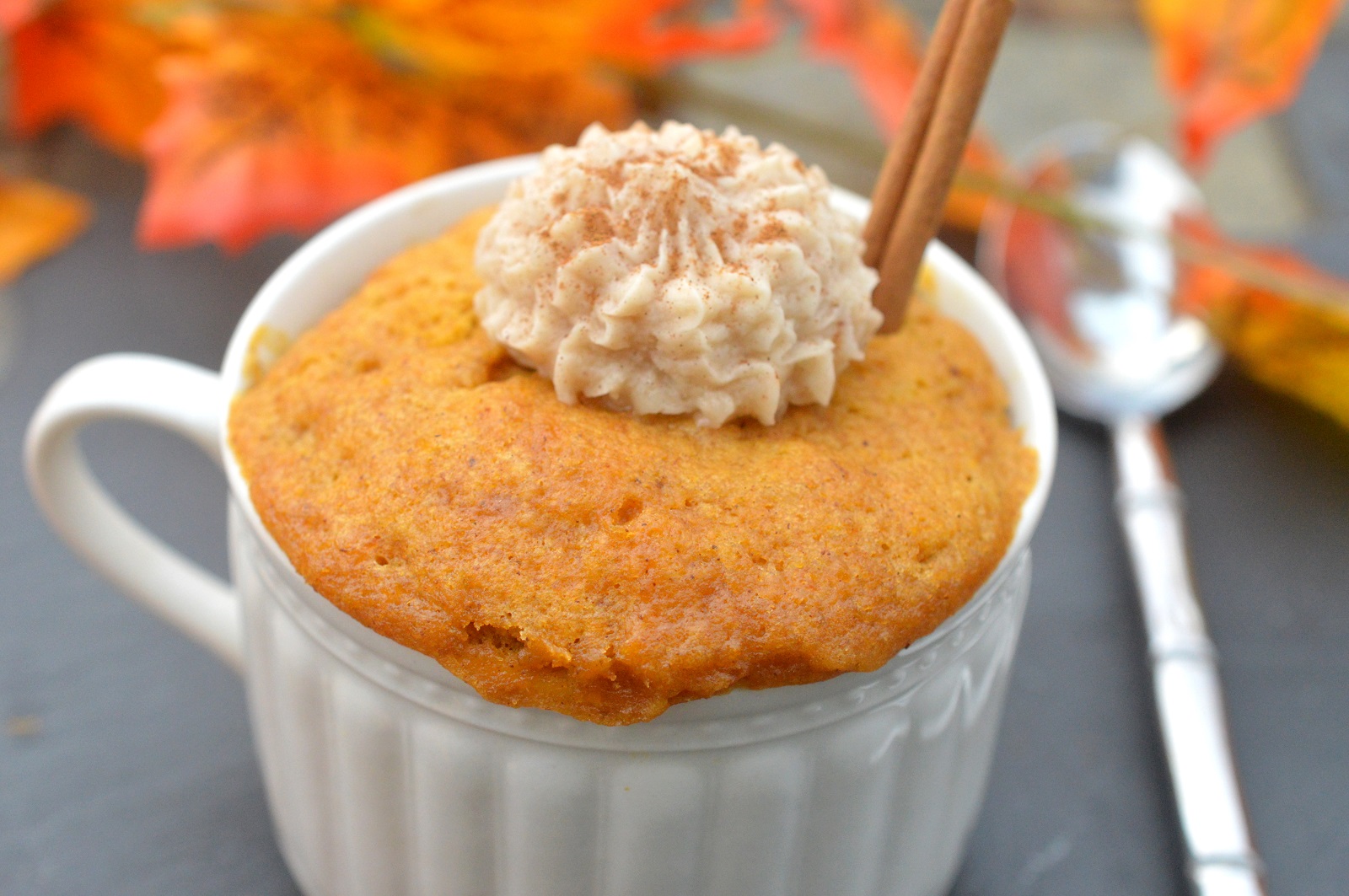 I know some people are like why do "they" have to "pumpkin" eeeeverything?? I am all up for pumpkin bread, cupcakes, muffins, scones, cakes and cookies but that's pretty much it. I really don't want it in my savory foods. I like best in desserts. Kind of funny since I am sure for centuries, it was all about savory when pumpkin was involved.
This month I was at an event with the American Dairy Board in the New York Finger Lakes. One dinner was at the super trendy and award-winning FLX Table and the cheeseboard had small roasted pumpkins on it (see below). I was smitten with slicing chunks of pumpkin and eating it plain. It was actually delicious. Soooo, although today I say leave pumpkin in my sweets, I may change my mind soon, haha! I am so stubborn about food. It takes me forever to decide to like something I haven't previously. Then all of a sudden, wham! I love it.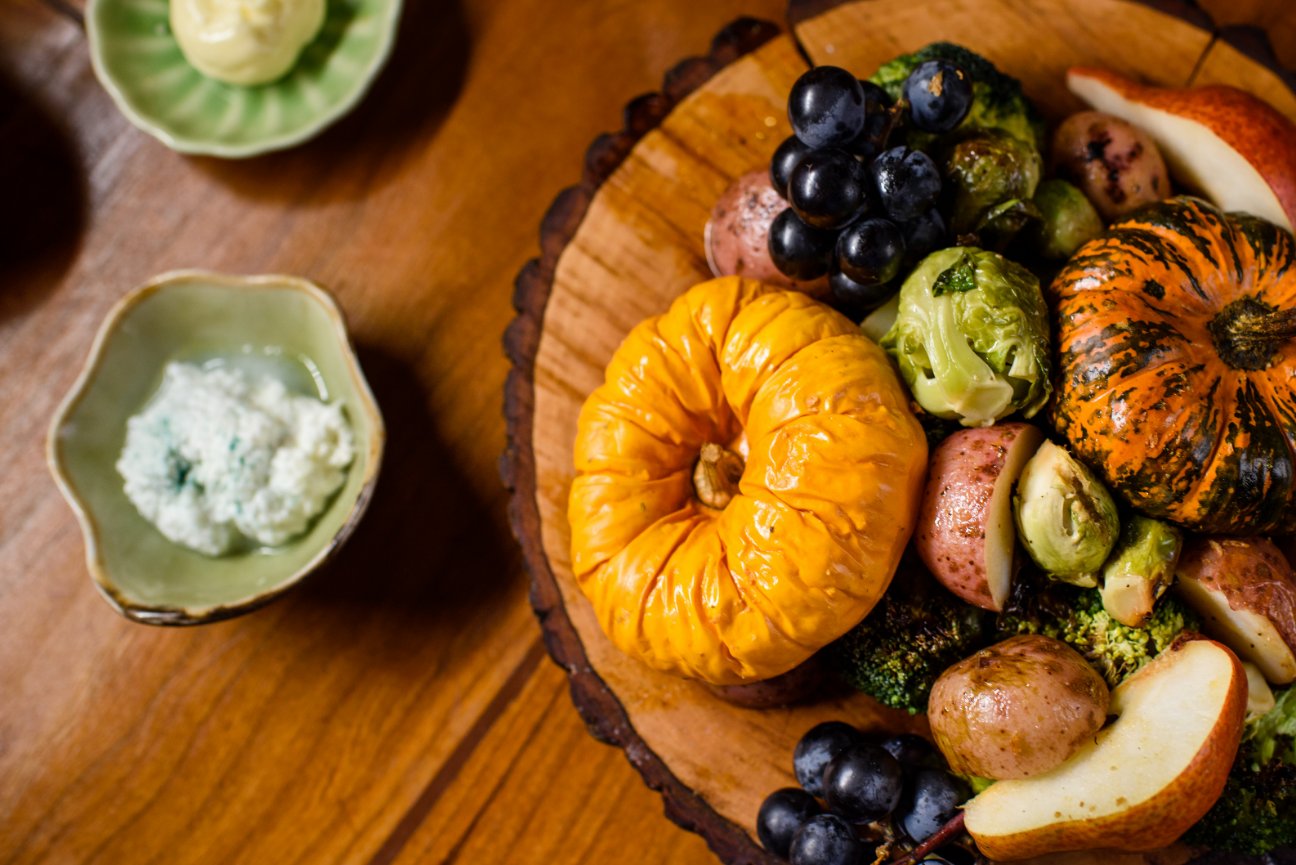 Case in point…All of a sudden, because my 16-year-old son loves salmon, I eat it and actually enjoy it. All my life I said blech and never gave it a chance!! Now I make it all the time! I can almost guarantee however that will never happen with my 2 most dreaded foods….Oysters and beets and. Yuck-o!
How Do You Make A Pumpkin Mug Cake
Making Mug Cake is simple! Grab the below ingredients, mix them up in a small bowl, spoon the batter into a microwave-safe mug and cook for 1 minute and 30 seconds! That's it!
How Do You Cook A Pumpkin Mug Cake
The magic when it comes to mug cakes is that they cook up beautifully in your microwave in under 2 minutes. No baking necessary. Microwaves excite the water molecules in the batter and basically steam cooks the cake into form. Bonus it's such a fast way to get your cake-on and the kitchen smells delicious!
Can You Make More Than One Pumpkin Mug Cake
Sure, Just double the ingredients and spoon into two mugs equally. However, you will need to cook each mug cake separately.
What Do You Top A Mug Cake With?
You can enjoy a mug cake as is (especially if you cook it just a bit less an enjoy it gooey, mmm) or top it with Cinnamon Whipped Cream or Cinnamon Buttercream. I'll show you below how to make just enough Cinnamon Buttercream for one mug cake. If you want to try it for something larger, I have a recipe here on my site for Chocolate Chip Banana Cupcakes with Cinnamon Buttercream that is So good and varies from the instructions below. If you are into ice cream on cake, you can also plop a dollop of your favorite on top as well.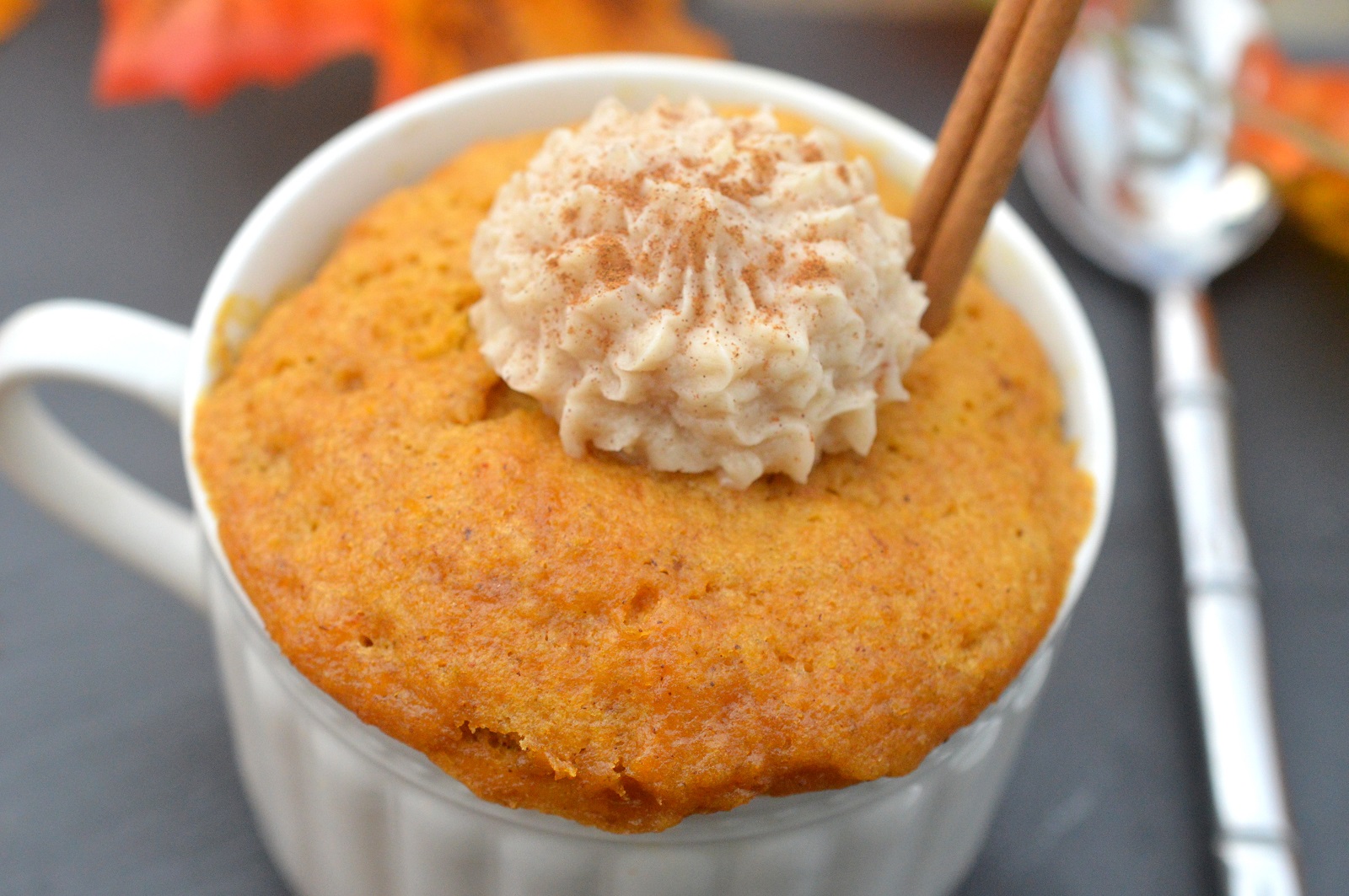 Tips For Success When Making A Mug Cake
So many factors go into making a perfect mug cake. Every microwave seems to vary, the size of your egg, the moisture in your sugar, the size and type of mug you use, elevation, etc. I have found that when you use a smaller mug for this, which I like to do, you need to stop the microwave a couple of times. Just as the cake begins to pop up out of the mug. Stop it for a few seconds, restart the microwave, stop it again and then allow it to finish.
If you are using a larger mug, you can just let it go, since it won't be popping up over the top. For me 1 minute and 30 seconds work perfectly. I do however have a strong microwave. So for you, quickly insert a toothpick into the center of your cake 1 minute and 30 seconds in…If its wet, pop it back in for another 10-20 seconds.
Buttercream Icing for one (or two) mug cakes…depending on how much you use.
2 TBS very soft butter
1/4 cup powdered sugar
1/8 tsp cinnamon
Dash of nutmeg
1/2 teaspoon milk
Whip your butter until creamy with a mixer or by hand, add in sugar and spices and mix until incorporated, add in milk mix well. Taste and adjust for your preference of thickness, spices, etc.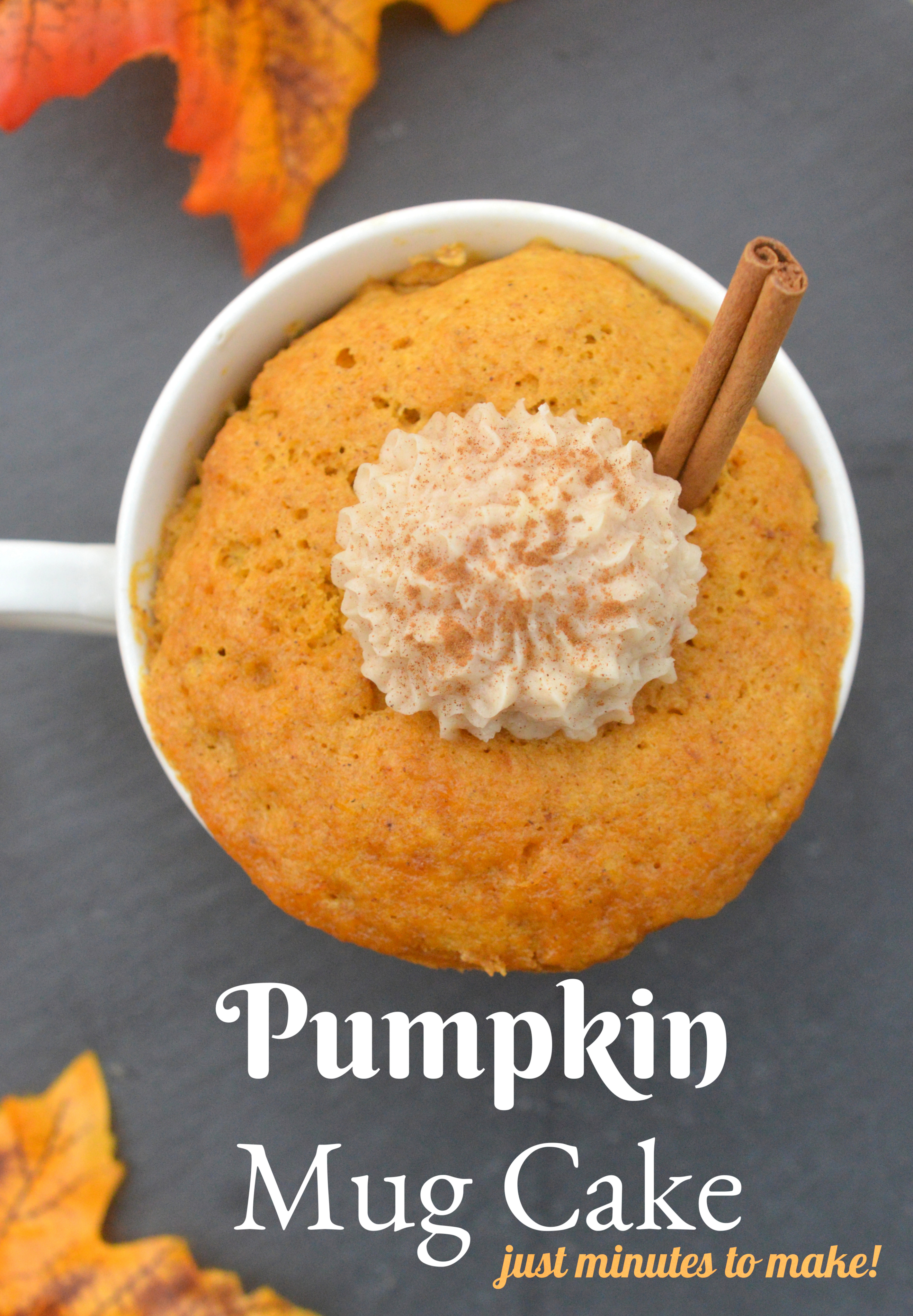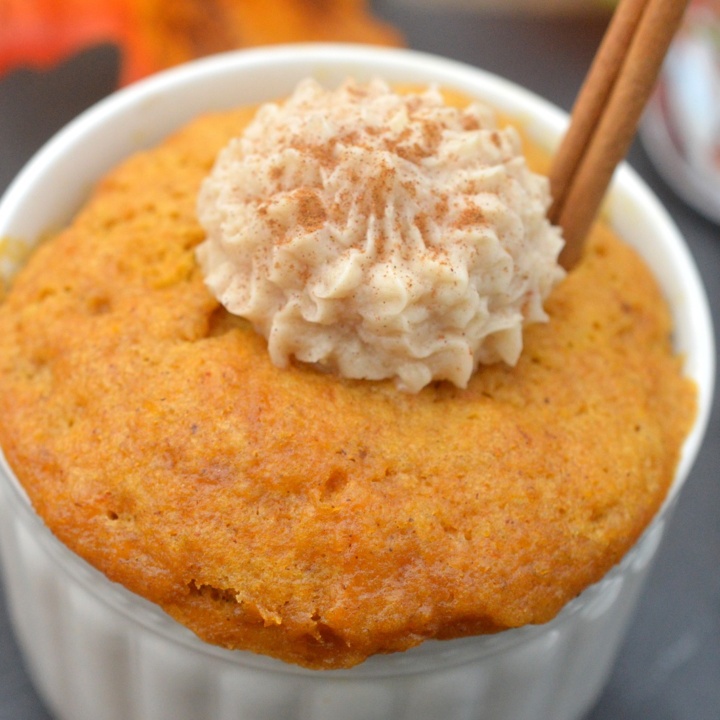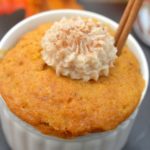 Print Recipe
Pumpkin Mug Cake
When you have a taste for <g class="gr_ gr_126 gr-alert gr_gramm gr_inline_cards gr_run_anim Grammar only-ins doubleReplace replaceWithoutSep" id="126" data-gr-id="126">cake</g> but don't want to make a whole once, make this Pumpkin Mug Cake in minutes!
Ingredients
1

egg yolk

4 1/2

TBS

brown sugar

1/4

cup

canned pumpkin

1/2

tsp

vanilla

1/2

TBS

melted butter

1/2

tsp

cinnamon

Dash or two of nutmeg

Pinch

of salt

1/3

cup

flour

1/8

tsp

baking soda

1/8

tsp

baking powder
Instructions
In a small bowl, combine egg yolk and brown sugar and mix until blended. Add in pumpkin, vanilla, melted butter, spices <g class="gr_ gr_146 gr-alert gr_gramm gr_inline_cards gr_run_anim Punctuation only-ins replaceWithoutSep" id="146" data-gr-id="146">and</g> salt, and mix until combined. Add in flour baking soda and powder and mix until fully blended.

Spray a mug with cooking spray (or grease with a little butter. Spoon batter into <g class="gr_ gr_145 gr-alert gr_gramm gr_inline_cards gr_run_anim Grammar only-ins doubleReplace replaceWithoutSep" id="145" data-gr-id="145">mug</g> (see notes about mug sizes). Place mug in the center of your microwave and set cook time for 1 minute and 30 seconds at full power. if using an 8oz mug, stop cook time once cake pops over the rin. Wait 5 seconds and restart, once it puffs back up, stop, wait 5 seconds and restart until done cooking. Test for doneness.

Top with Cinnamon Whipped Cream, Cinnamon Buttercream or Ice cream and enjoy!
Notes
I like this in a smaller mug. I use an 8oz mug when making it. To ensure it doesn't "spill over" when cooking I stop it twice during the cooking process, just for a few seconds...Just as it puffs up. That way it cooks perfectly without spillage. This works for me since I just put a small dollop of icing atop the mug cake.
If you plan on enjoying this Pumpkin Mug Cake with whipped cream or ice cream, cook it in a larger mug, like a 12 oz mug. That way you have room for your topping and run no risk of the cake spilling over while cooking.
Nutrition