For the love of cheese! Cheese love and or cheese obsession is real, and warranted! Give me cheese in almost any form and I am a happy girl!! Now this Queso Fundido recipe, or Chorizo Queso Dip (whichever you want to call it) is one dip you MUST make, and soon!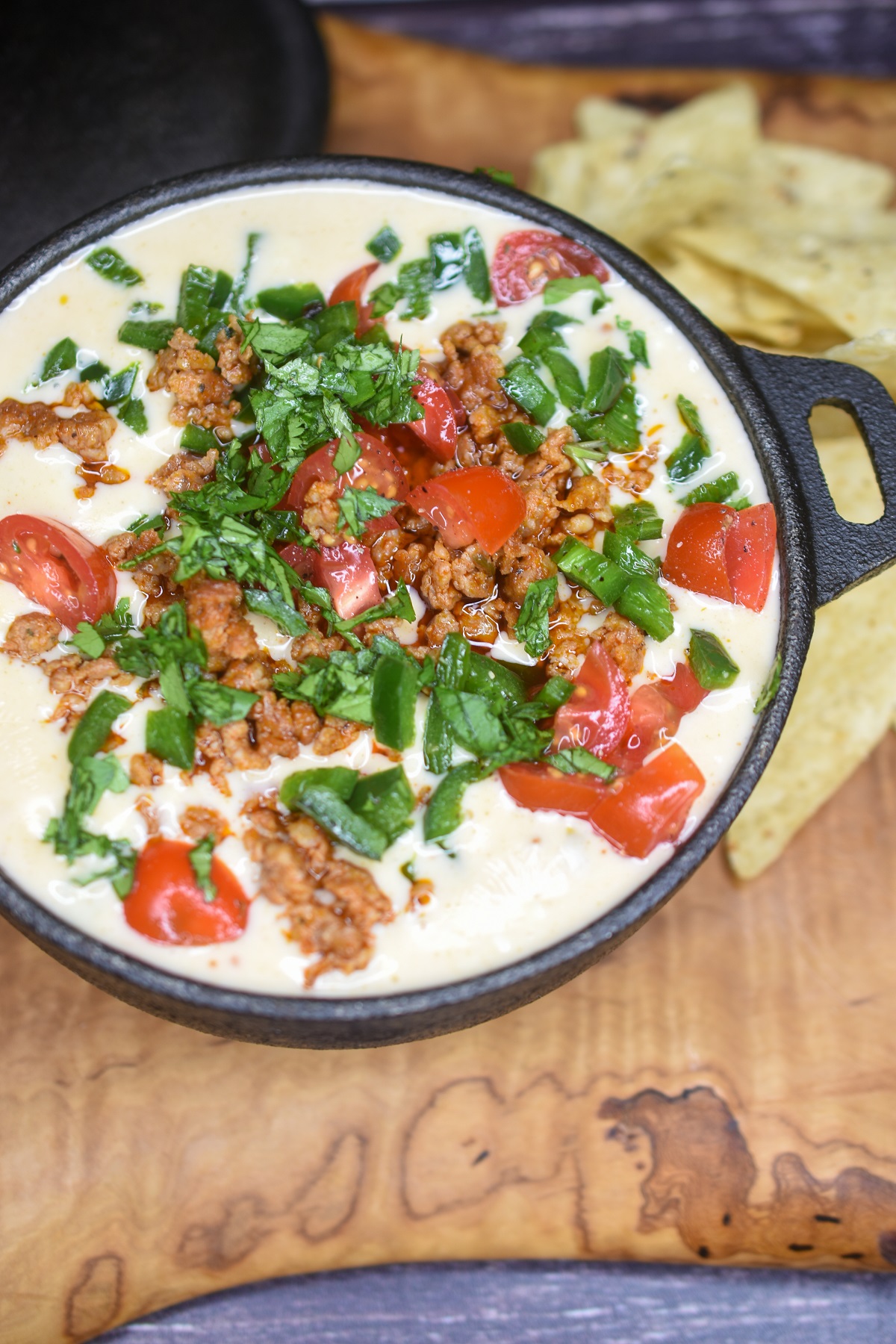 Hot melted cheese and chips?? I mean does life get any better?? And I can't even say that you need someone to make this for you because in my opinion its such an easy recipe. By no means is this hard core authentic, its just how my family and I enjoy it.
Salsa and chips, or pico de gallo and chips are one of the best foods in life (if well made) but hot cheese with all sorts of stuff on top, well now that is what makes life worth living!! (Besides hot crusty bread and butter and ya know all those people you love and who love you)!
What is Queso Fundido?
Queso Fundido is a hot cheese dip typically topped with chorizo or beef as well as grilled or sautéed peppers and onions (if you like), salsa or tomatoes and cilantro.
Queso Fundido is the thicker cousin of Queso or Queso Chorizo. It can be enjoyed with chips or scooped onto tortillas. Folded over with a few extra toppings that is amazing washed down with a good Margarita. My husband spent an afternoon outside at a small place in Playa del Carmen enjoying both while listening to music which is where this recipe comes from. A memory of a good time in Mexico.
Typically this is made with some great Mexican cheese (however it is had but getting easier to find those where I live). Both Queso and Fundido are very forgiving, you can tinker with the cheese used. IF you come across Oaxaca, Asadero, Manchego or Chihuahua, those are good choices for this to be more authentic.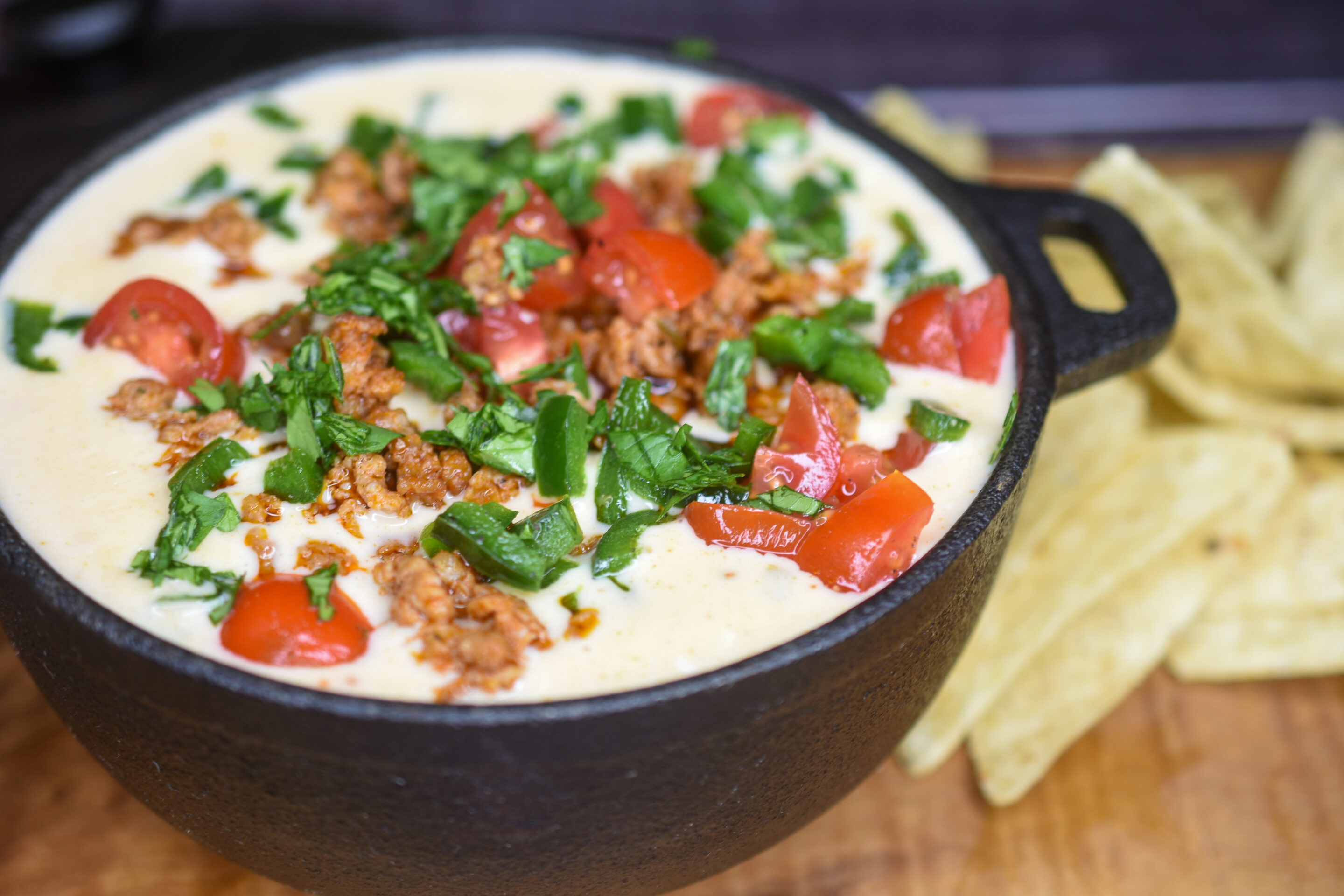 What is Queso Dip
Queso is typically thinner than Fundido and depending where you are it may be made with parts Monterrey Jack, American cheese, Queso Blanco, Oaxaca and sometimes Velveeta. I think the Chopotle Queso Dip made this explode in popularity years ago when they came on the scene.
Unlike Fundido Dip, Queso Dip is usually much more plan with limited toppings. But you know what?? You do do! Just like I did here. I kind of did a hybrid of the two. And its how we like it.
Ingredients
chorizo
poblano or jalapeno pepper or canned chilie's
onions or scallions
cheeses such as Oaxaca, American, Monterrey or Pepper Jack, Blanco,
Tabasco, hot sauce, red pepper flakes
Heavy cream or half and half
garnishes such as chopped tomatoes, pico de gallo, cilantro, etc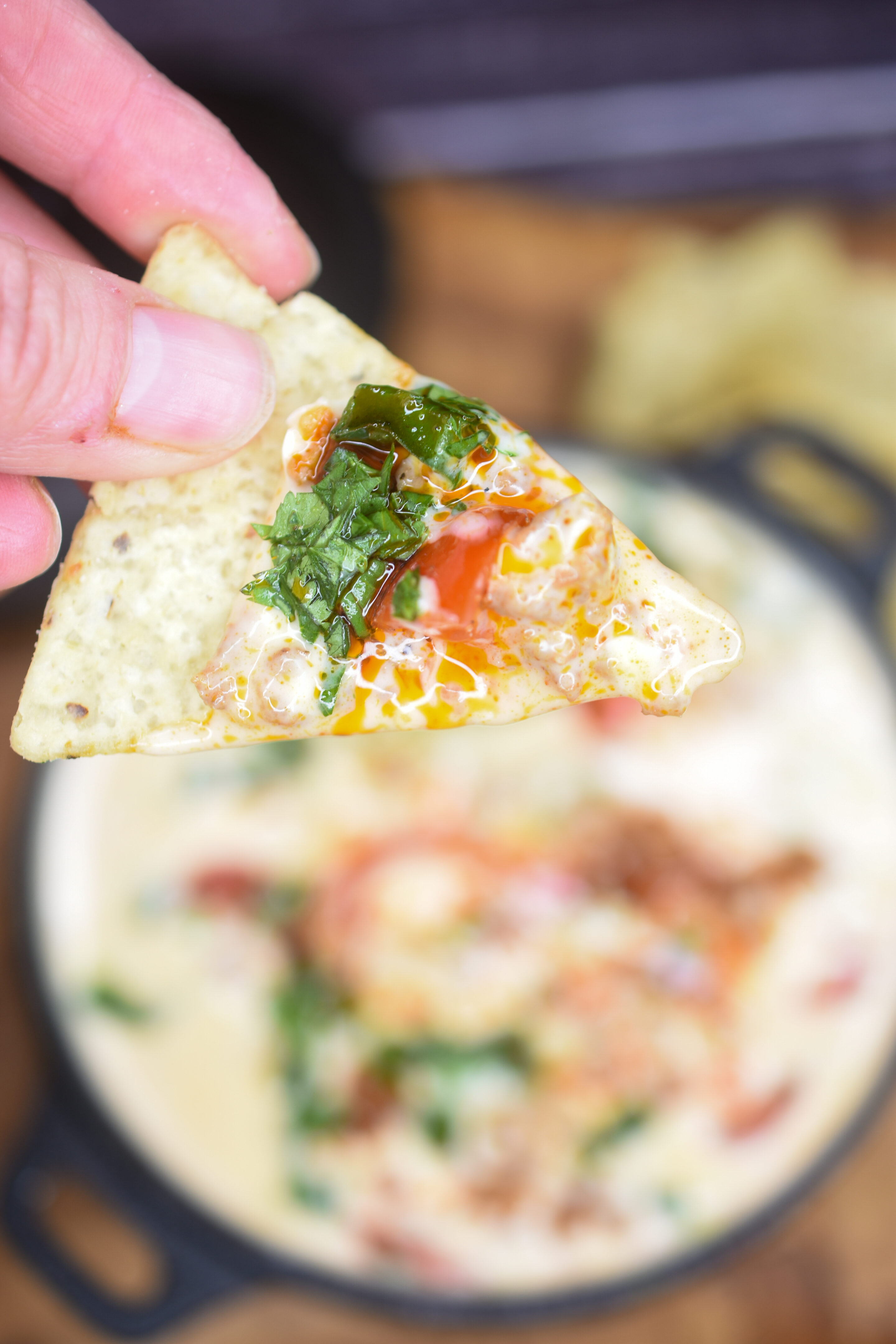 Tips
Have fun with this Chorizo Queso dip recipe, you really can't mess this up! Play around with they types of cheeses you use as well as toppings.
The one thing to watch is to NOT rush the melting of your cheese mixture!! Go slow, its not a race to melt. Allow the mixture to slowly melt and combine, stirring often. That way you do not run the risk of "breaking" your cheese.
Best enjoyed just after preparing. You can make the components ahead and combine just before serving. Just remember when reheating the cheese dip, do not boil or overheat in oven, etc. as you run the risk of "breaking" the cheese (it could become oily).
Mexican inspired recipes to try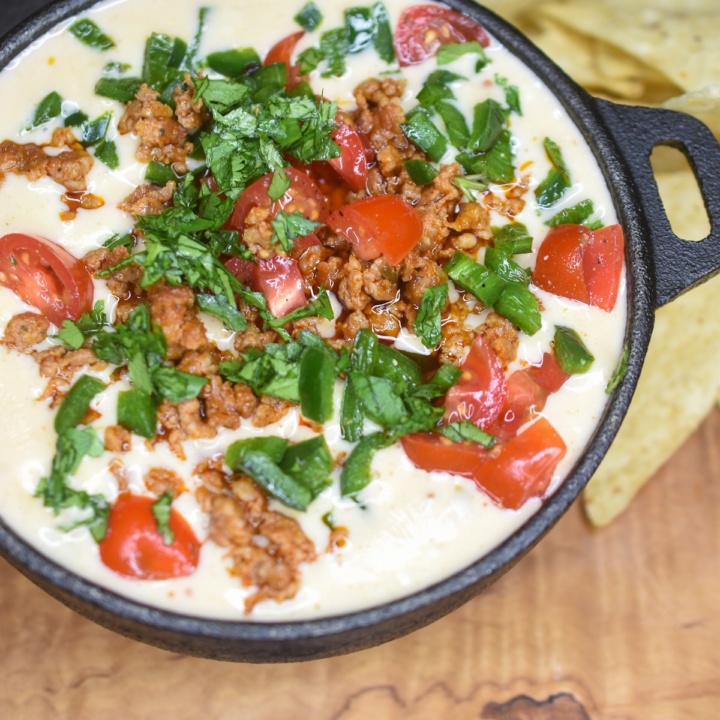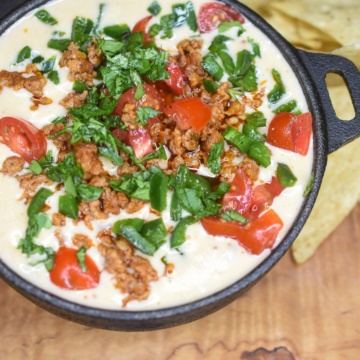 Queso Fundido Dip
Part Queso Dip and Part Fundido with Chorizo, so I say it is a Queso Fundido recipe topped with all the things, its an easy and delicious cheesy appetizer recipe!
Ingredients
1

pound

ground Chorizo (I like Hatfield for this)

or remove casing from Chorizo sausages

1

large

poblano, chopped (or a jalapeno or two if you like spicy)

½

cup

chopped sweet onion (optional)

1

pound

freshly shredded cheeses such as Blanco, American, Pepper Jack, Monterrey Jack, Oaxaca

red pepper flakes to taste

10 or so shakes of Tabasco and a TBS or more of Cholula hot sauce or your fav hot sauce

¾

cup

heavy cream plus ¼ cup water or 1 cup half and half

½

cup

chopped tomato

2

TBS

cilantro

scallions (optional)
Instructions
Cook chorizo in a skillet until done, remove from pan and set aside covered with foil.

sauté peppers and onions (if using) for a few minutes in the same pan in the remnants of the chorizo grease. Remove and set aside covered in foil.

In the same pan, add your cheeses, red pepper flakes, Tabasco, hot sauce and heavy cream and heat over medium until just ,melted. Stirring often. Do not bring to a simmer or boil.

Add in some of the chorizo and stir until combined.

Scrape into serving bowl or cast iron pan, top with chorizo, tomatoes, cilantro, peppers, onions, red pepper flakes, scallions and what ever else you may enjoy.

Serve immediately and enjoy with tortilla chips.
Nutrition
Serving:
8
servings
Calories:
470
kcal
Carbohydrates:
6
g
Protein:
23
g
Fat:
39
g
Saturated Fat:
21
g
Polyunsaturated Fat:
1
g
Monounsaturated Fat:
7
g
Cholesterol:
111
mg
Sodium:
753
mg
Potassium:
153
mg
Fiber:
1
g
Sugar:
2
g
Vitamin A:
1274
IU
Vitamin C:
19
mg
Calcium:
444
mg
Iron:
1
mg
Follow me on Tik Tok for 1 minute videos