Hold on to your hats! This recipe for Shredded Beef Enchiladas recipe is crazy delicious! It is so good, you may just make it twice in the same week (or make a lot of it at once)! You are going to want these beef enchiladas on your plate and in your belly as soon as possible!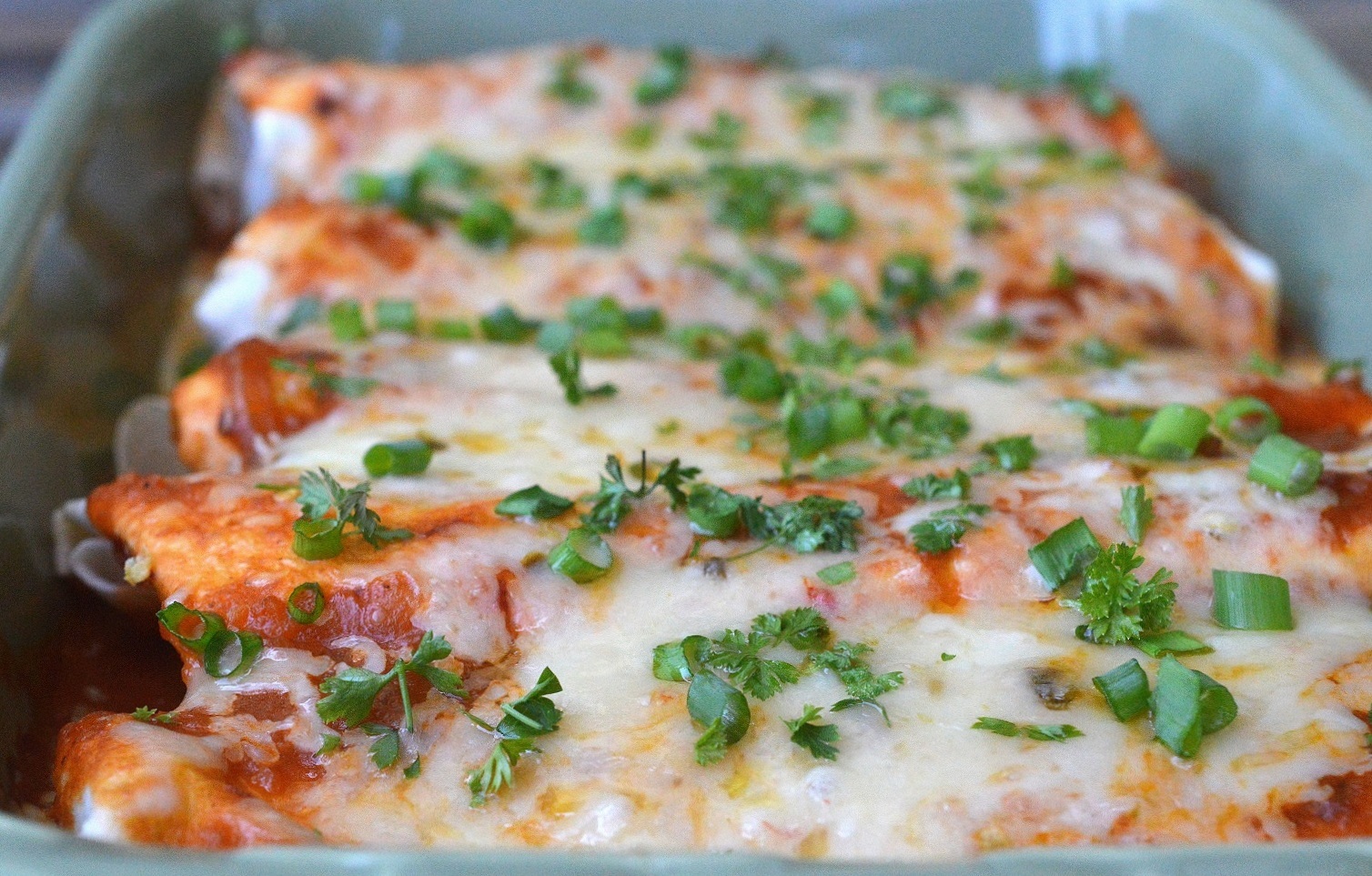 No joke, this recipe for Beef Enchiladas is to die for!
I'll almost wager that for many of you (depending on where you live) this recipe is is going to taste more delicious thank just about any enchiladas you have had. Especially if you live on the East Coat!
The flavor of the sauce mingling with the meat, cheese and spices just works. It tastes like love!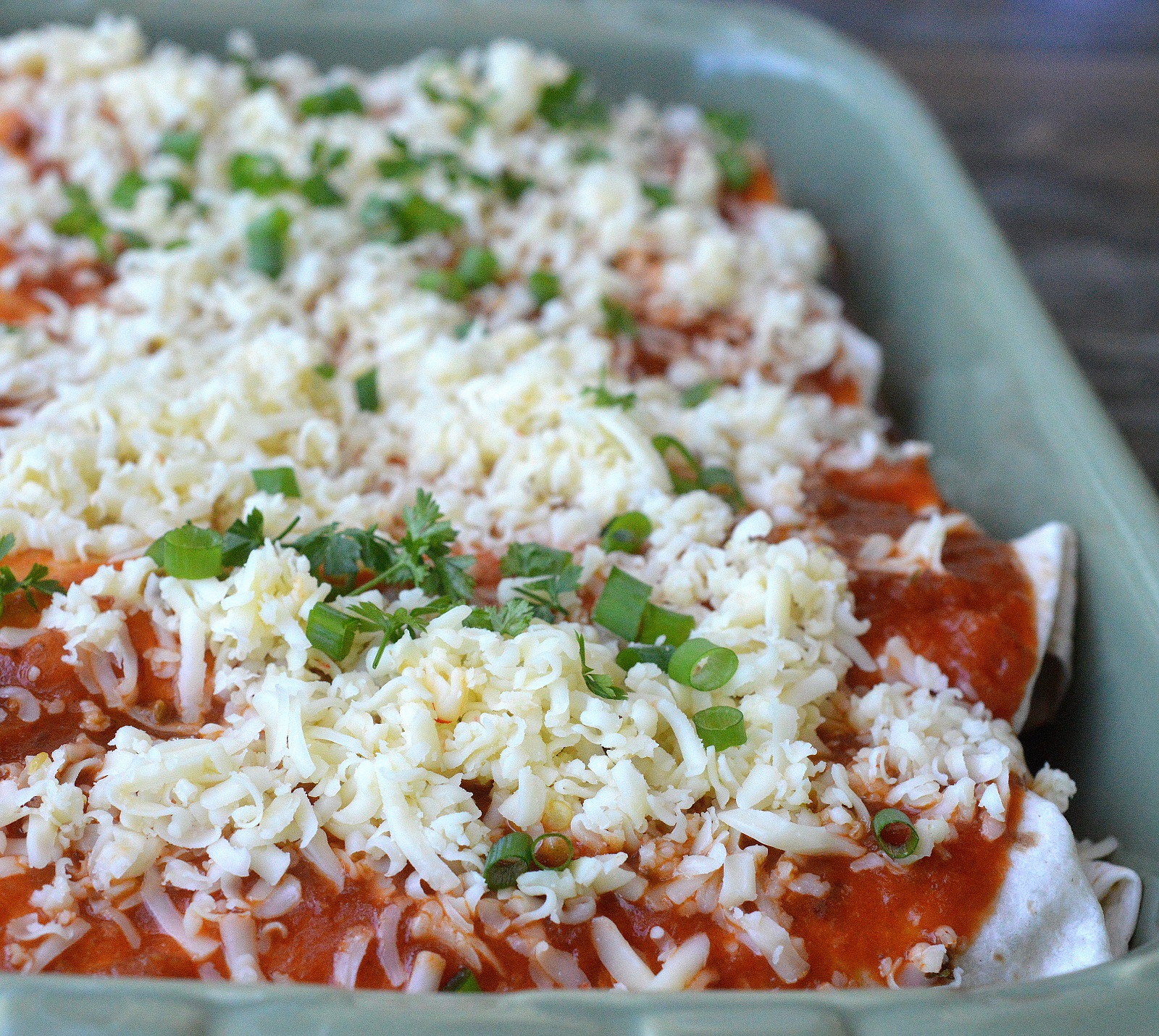 Most of my 700+ recipes here on Soufflé Bombay are on the quick side, this is one of the longer recipes by time, however it's so worth it. If you are looking for an amazing hot cheese dip, try my Queso Fundido recipe. I could swim in it!!
Ingredients
Chuck Roast
S&P
Your Favorite Rib Rub
Tomato paste
Beef broth
Garlic
Grapeseed or olive oil
Vidalia onion
The juice/sauce from your baking dish after meat is cooked meat
1 chilie and 1 TBS sauce from a can of Chipotles in Adobo
Sugar
Green chilies
Cumin
Shredded Monterey Jack or Pepper Jack Cheese
Cilantro parsley and or scallions for garnish
Large flour tortillas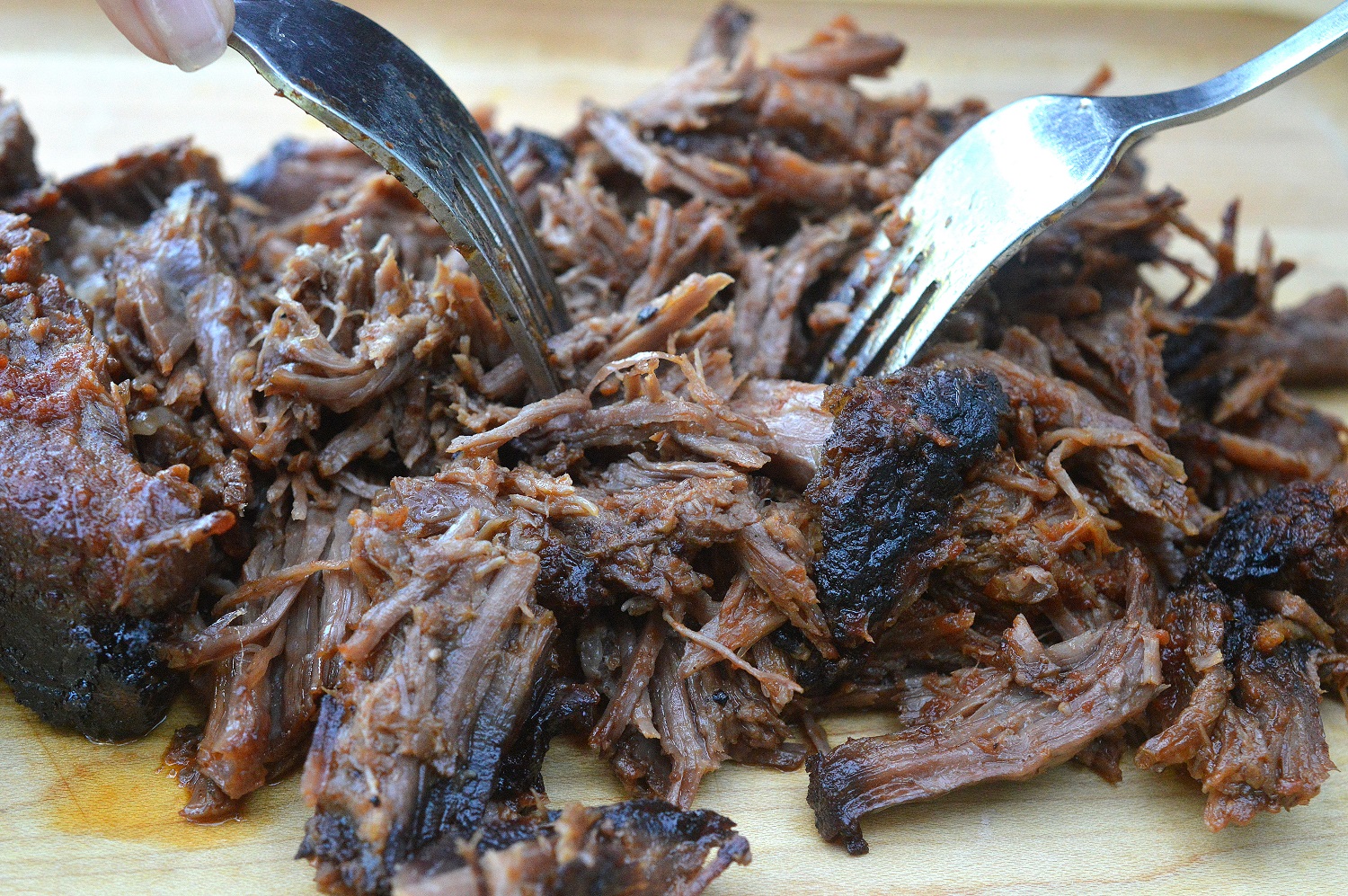 Making this recipe for Beef Enchiladas AND Enchilada Sauce will be the new norm for you once you try it! Nothing compares short of being in Mexico or a top-notch authentic Mexican restaurant.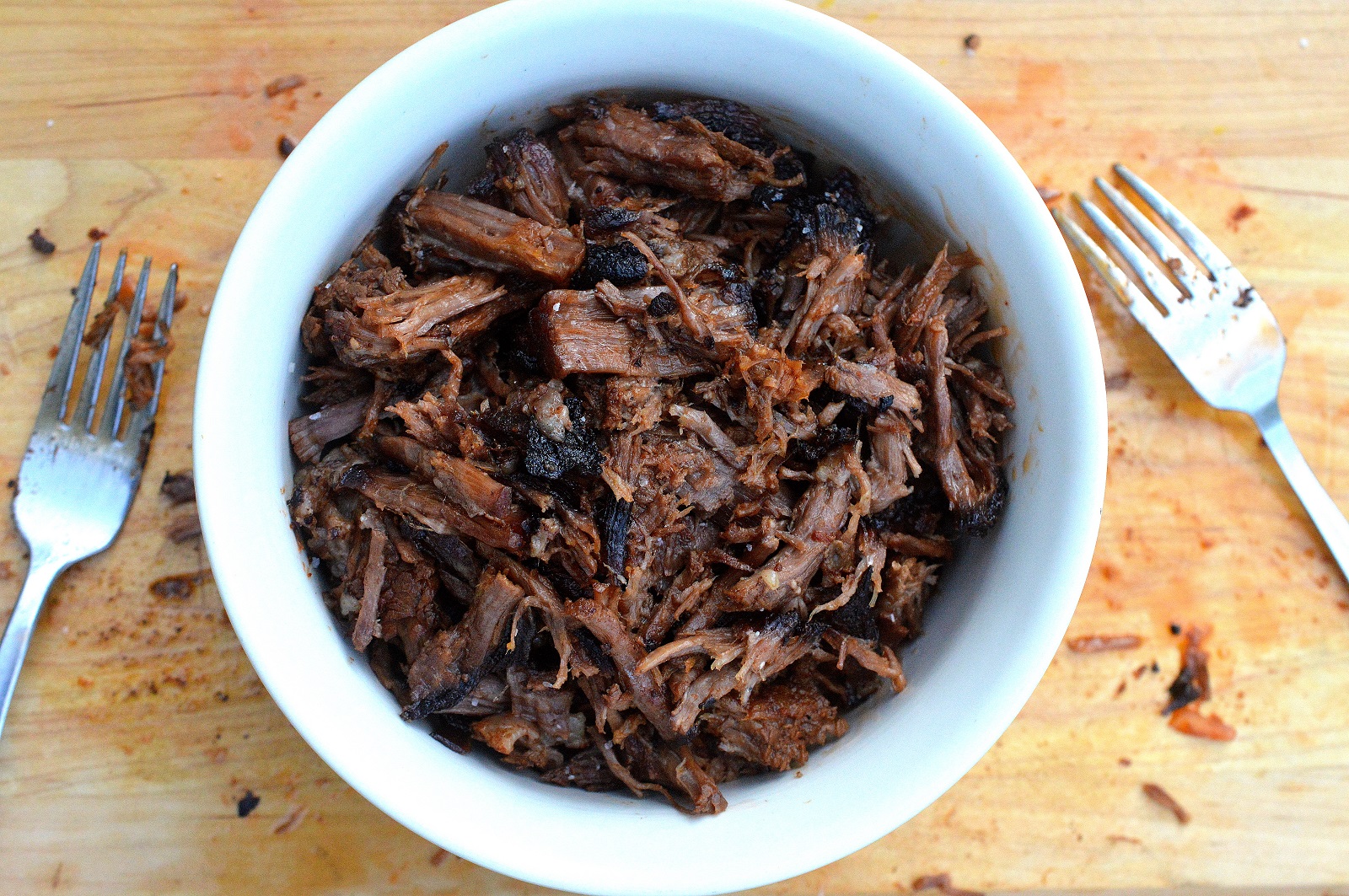 The sauce is rich and has layers of flavor and the meat is moist, full of flavor and delicious! Bite after bite, you may just do the happy food dance wiggle in your seat, go right ahead! Just look at that (below) don't you want to dig in??
Side Dish Serving Suggestion
Guacamole and chips
Salsa and chips
Mexican Street Corn (on the cob as a casserole or as a salad)
Green salad
Pico de Gallo
Mexican Shrimp Cocktail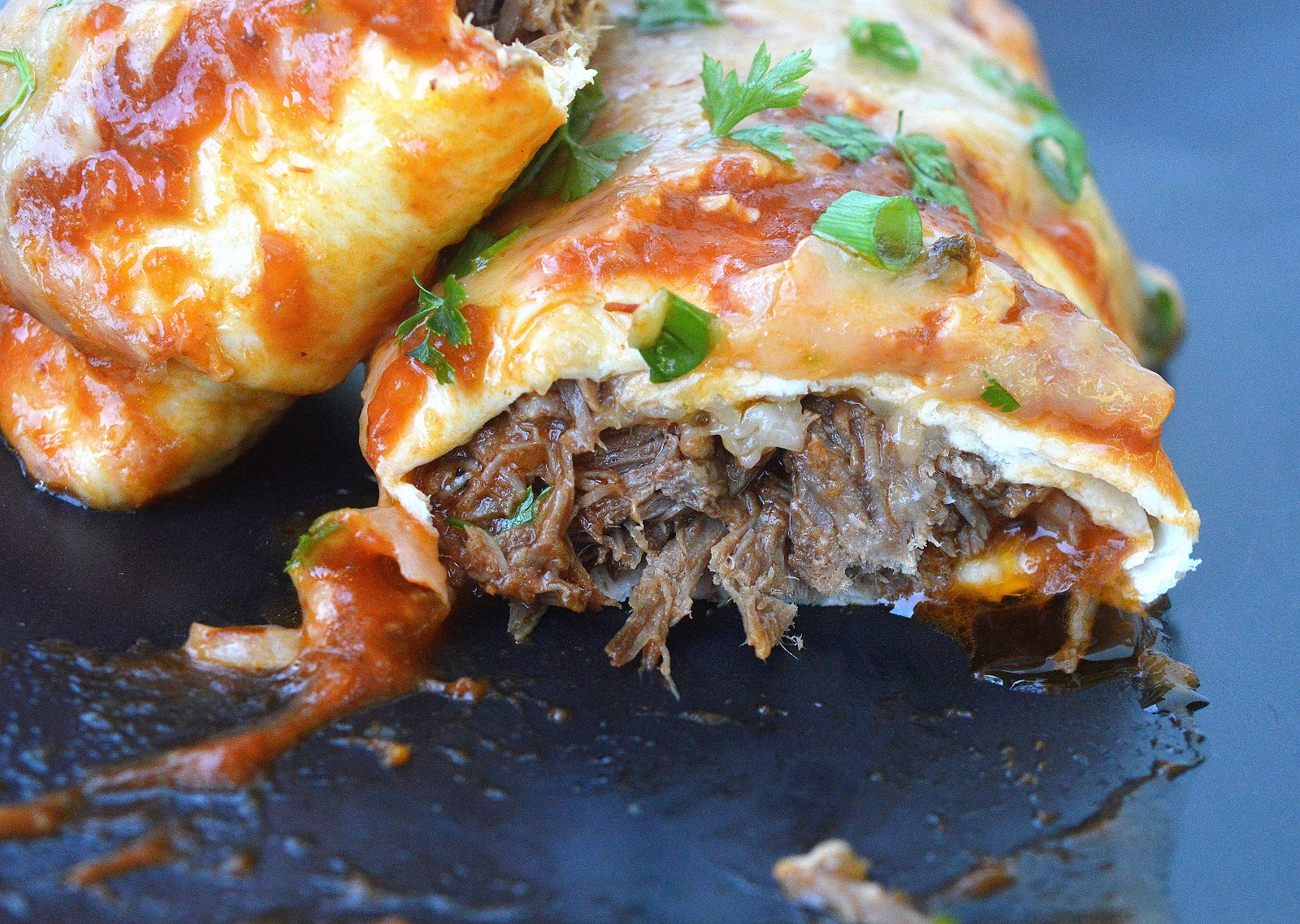 If chicken is your preferred protein in Enchilada's, I have a really delicious White Chicken Chicken Enchilada recipe. It's made easy by using rotisserie chicken shortcut if you choose. In my opinion, they are also better than what you get at most restaurants.
Tag me on Instagram if you make either enchilada's at #SouffleBombay or @soufflebombay! I would love to see your dish!
Since I am not a nutritionist or registered dietitian, I use a WordPress plug in to calculate nutritional information. Recipe originally published in 2017, updated 2022 with additional information.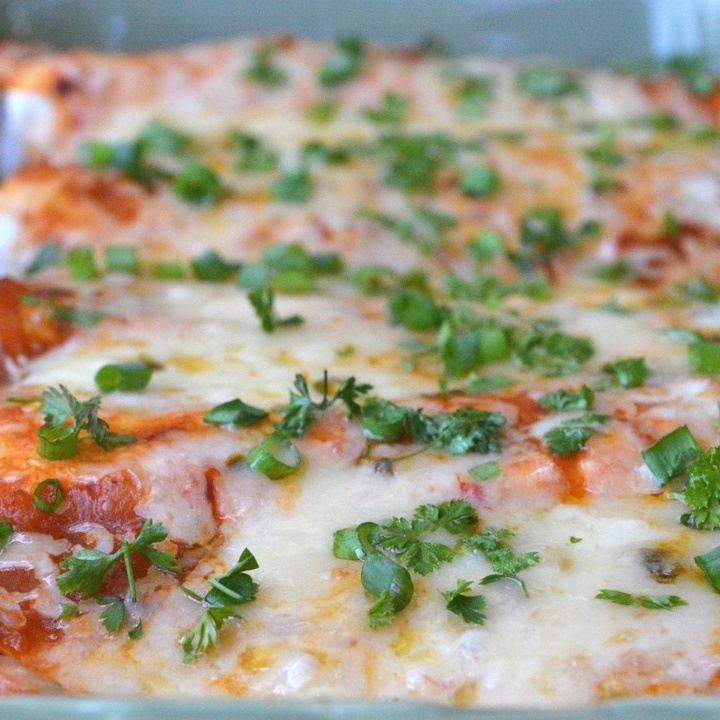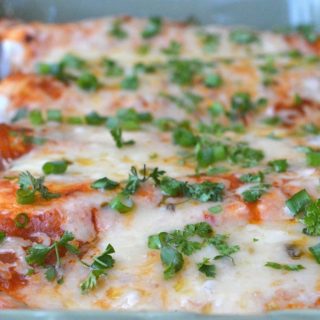 Recipe for Beef Enchiladas (To Die For!!)
This recipe for Beef Enchiladas and Homemade Enchilada Sauce is seriously amazing! It's so good, you may be disappointed if you order it out after you make it!
Ingredients
Ingredients for the Beef
4-6

pounds

Chuck Roast

Kosher salt & pepper

Your Favorite Rib Rub

Mine is Bronzeville Rub from The Spice House (online store) or see Notes for a DIY

2

TBS

tomato paste

1

cup

water

2

cups

beef broth

3

cloves

garlic or 2 TBS garlic paste

½

cup

water

Enchilada Sauce

1

TBS

grapeseed or olive oil

3

large cloves garlic minced

1

cup

diced Vidalia onion

The juice/sauce from your baking dish after meat is cooked meat

4

TBS

tomato paste

1

chile and 1 TBS sauce from a can of Chipotles in Adobo

this is hot stuff, be careful

1

TBS

sugar

1

cup

beef broth

1 4.5

oz

can of green chilies

½

teaspoon

cumin

Additional S&P if needed.

2

cups (or more)

Shredded Monterey Jack or Pepper Jack Cheese

Cilantro

parsley and or scallions for garnish

8-10

Large flour tortillas
Instructions
Pat your meat dry and season with rib rub. Allow meat to come somewhat to room temperature (45 minutes on your counter).

Preheat oven to 350 degrees.

In a bowl, whisk 2 TBS of the tomato paste, 2 cups beef broth and one cup of water.

Add in 2 TBS garlic paste or 3 minced garlic cloves. Season with salt and pepper and whisk until combined.

Place your meat in the oven in a roasting dish, pour mixture into dish and bake for 3-4 hours or until meat is tender and pulls apart easily. You can choose to bake in a dutch oven and place the lid on with 90 minutes to go (or foil) or if you like crispy bits, keep meat exposed.

Once meat is done, place it on a plate (reserve the pan drippings/sauce) and pull it apart with two forks, discarding any fat you may find along the way.

In a pot, heat your oil and saute the onions and garlic for 2 minutes over medium heat, being careful to not burn the garlic.

Add in the sauce/drippings from your meat.

Whisk in tomato paste, stock, chilies, sugar, cumin and any additional spice.

Bring to a boil, lower and let simmer for 10 minutes.

Taste and adjust to your liking.

Puree sauce with an immersion blender or in batches in your blender/Vitamix/Ninja.

When ready to assemble enchiladas, preheat your oven to 350 degrees.

In a baking dish, ladle some of the sauce.

One by one, place a handful of meat in each tortilla, top with a healthy sprinkle of cheese (like in the video), roll it up and place it in the dish. Repeat.

Top with more sauce and more cheese (as much or as little as you like).

Bake for 20 minutes, garnish with cilantro, parsley and or scallions if you wish and enjoy!
Notes
After tasting your sauce, if you want more heat, feel free to add cayenne or more of the chili in adobo sauce. Just be careful...That sauce is potent.
If you find the sauce too spicy, add a little water to it. 
You can make your own rub by combining 2 TBS Kosher Salt, 2 teaspoon brown sugar, 1 teaspoon black pepper, 1 teaspoon red pepper flakes, 1 TBS paprika ¼ teaspoon cumin and ½ teaspoon nutmeg. Blend it together and use as the rub.
Nutrition
Calories:
619
kcal
Carbohydrates:
19
g
Protein:
50
g
Fat:
38
g
Saturated Fat:
19
g
Cholesterol:
167
mg
Sodium:
964
mg
Potassium:
844
mg
Fiber:
2
g
Sugar:
5
g
Vitamin A:
534
IU
Vitamin C:
6
mg
Calcium:
424
mg
Iron:
5
mg
Follow me on Tik Tok for 1 minute videos
Thanks again to Moyer Beef for sponsoring this recipe and video!

Enjoy!!