If you enjoy jalapeno poppers, then I am sure you'll also enjoy this easy Blistered Shishito Peppers recipe with Goat Cheese & Chili Sauce. Shishito peppers are a nice change from jalapenos. They make a great light meal or party appetizer.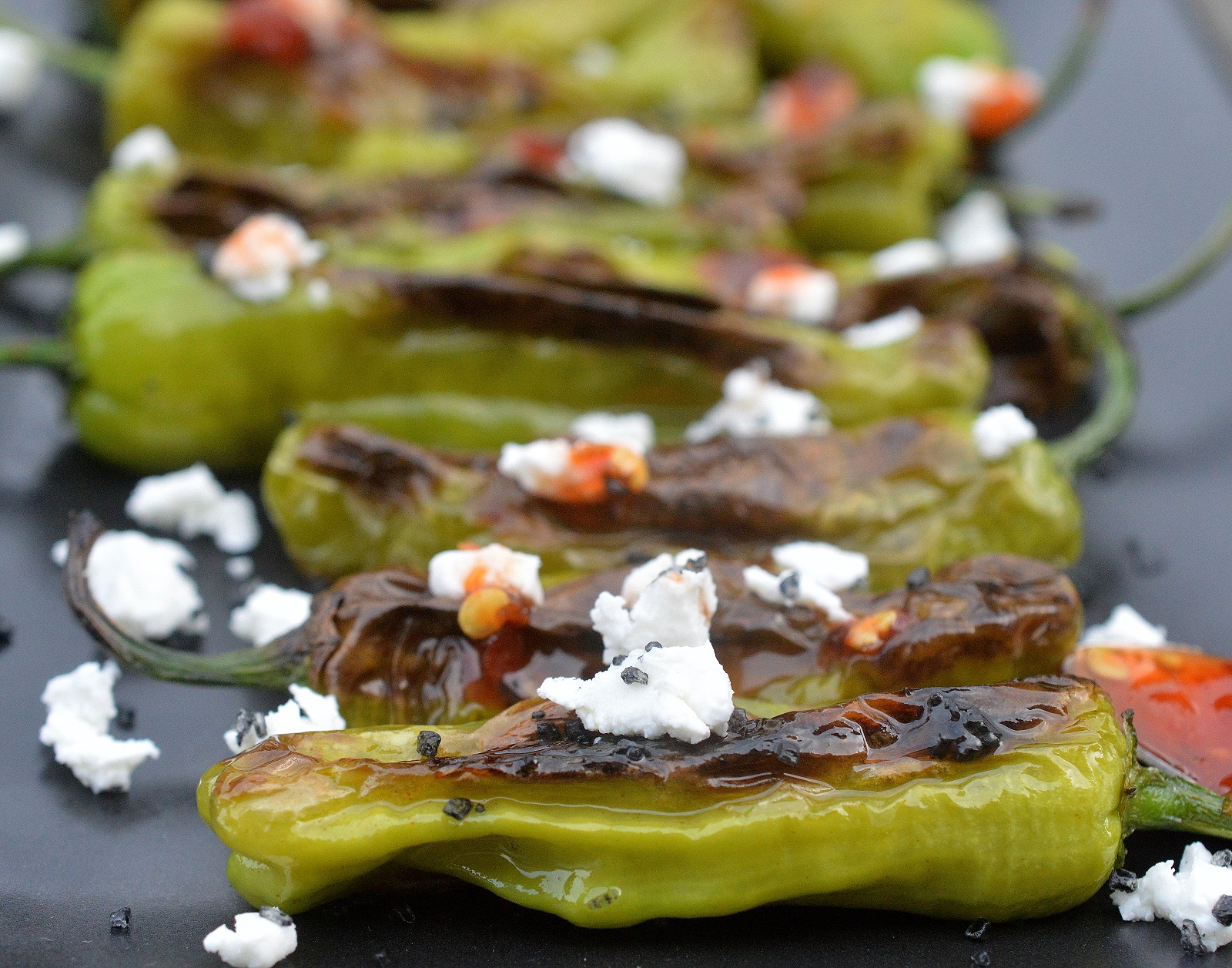 I first had shishito peppers at a local restaurant (that leans a bit towards farm-to-table) and my husband, friends & I immediately fell in love with them!
They weren't serve them with goat cheese, however, every time I went there, I ask them to sprinkle goat cheese over-top, the cheese with the peppers and sauce make sense to me and now I don't want it any other way. And now that is how they serve them lol!
How To Cook Shishito Peppers
You can cook these mild Japanese peppers on the grill, in the oven (roasting at a high temperature), in the air fryer or as shown here in a skillet. You can also use these as an ingredient for meatloaf (I make my meatloaf on the grill, yum) or whatever you typically use peppers for or in salads.
I find shishito peppers at my Saturday morning outdoor farmers market in Wrightstown, Bucks County PA. Farms in NJ and PA have been growing them since they became trendy and if you get to this 4-hour a week market early, you get all the best fresh local produce. I am very lucky to live in such a fertile, farm-filled area. Outside of that, you can find them at Trader Joes and I am sure Wegmans has them as well.
Shishito Peppers with Goat Cheese & Chili Sauce are a snap to make!
Instructions
All you need to do is blister the peppers in a pan or on the grill. Start by heating a pan.
Toss your peppers in a tiny amount of olive or avocado oil.
Once pan is hot enough that a water droplet "dances" across it, add your peppers.
Peppers will begin to pop and move slightly as some of their water content dissipates and they blister. Use tongs to gently move them around to evenly cook.
Pull from heat and add the tiniest drizzle of olive or avocado oil, toss, plate and sprinkle them liberally with black lava salt (sea salt or truffle salt, whichever you have on-hand) and goat cheese.
The dipping sauce is just 2 ingredients and ties it all together so definitely make that. I drizzle it overtop.
For a more robust dish, serve these with crostini rounds and simply scoop some up, drizzle with the sauce and inhale!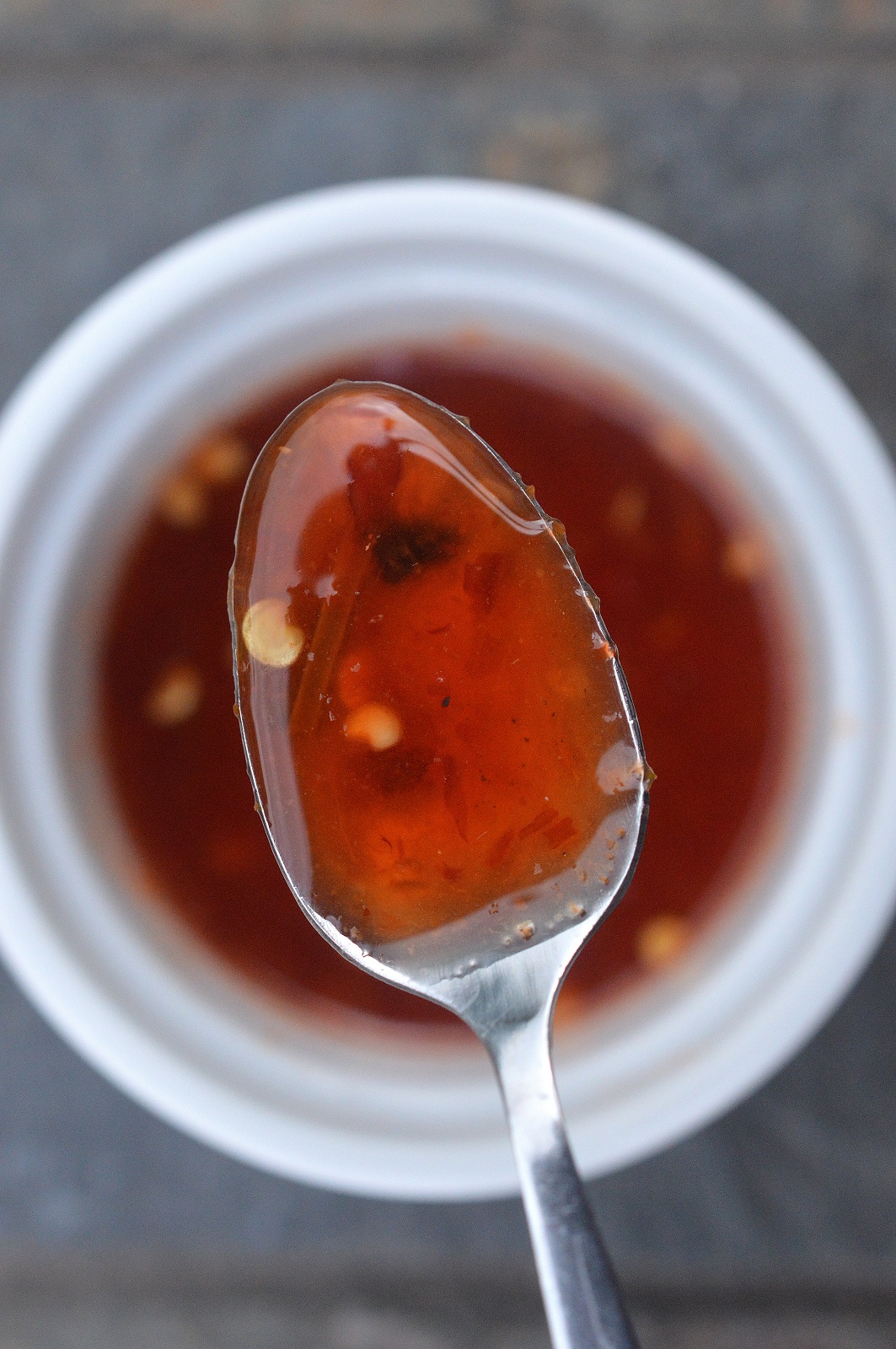 I don't like cooked green or red peppers at all! I don't want them on a sandwich, in soup, omelets, with meat, in rice...yuck. One little piece of a cooked traditional pepper contaminates a dish for me. Meanwhile, my husband loves them. I always make my portion of whatever...without. Poblano and jalapeno are ok, especially if they are stuffed with something.
When it comes to shishito peppers, however...I can eat them all day long! They are mild. Once in a while, you may bite into a hot one but for the most part, they are tame.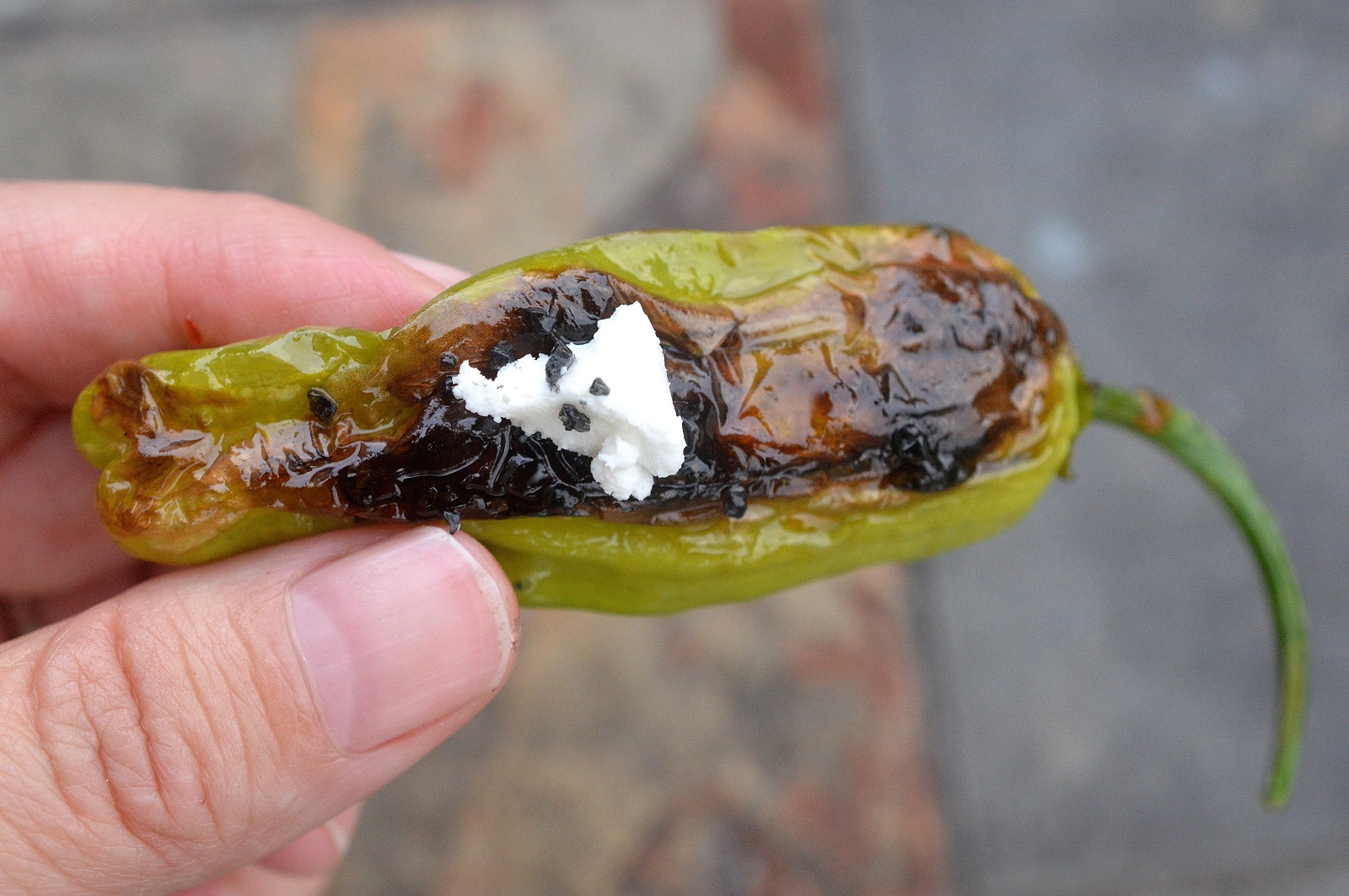 The above is the typical size. Some are smaller. Keep on the look out for these cute Japanese Shishito Peppers and make Blistered Shishito Peppers with Goat Cheese & Chili Sauce! Let me know what you think!
Ingredients
Olive or avocado oil
Shishito peppers
Honey
Chili with garlic sauce or Sriracha
Goat cheese
Black lava salt or sea salt
Variations
Choose to omit the goat cheese if you are not a fan
Serve on crostini. Spread goat cheese, add pepper, whole (with stem removed) or chopped, drizzle with sauce and sprinkle on salt
Enjoy without the sauce or salt and instead dip in your favorite type of aioli.
Pepper Recipes To Try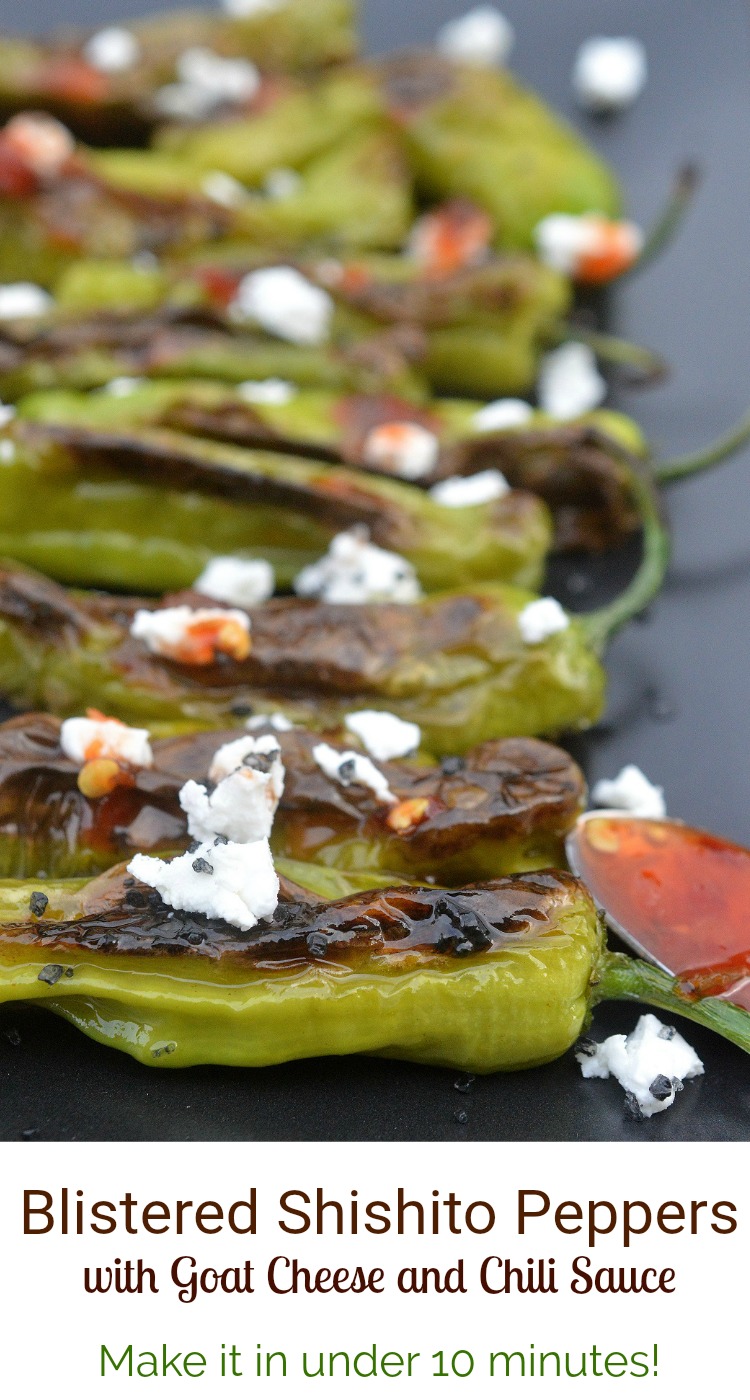 Let me know if you have any questions and enjoy!!
Originally posted August 2017, updated July, 2023.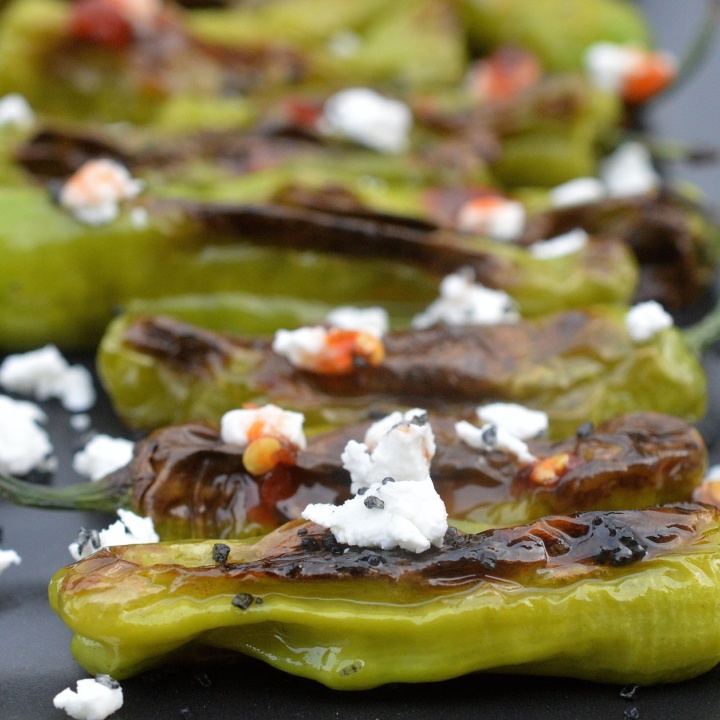 Shishito Peppers with Goat Cheese & Chili Sauce
Blistered Shishito Peppers recipe with goat cheese and spicy honey drizzle. A delicious light meal or appetizer recipe.
Ingredients
½

TBS

olive or avocado oil

the higher the smoke-point the better

24

Shishito peppers

3

TBS

honey

½ to 1

TBS

chili with garlic sauce

based on your preference for heat

2-3

oz

goat cheese

Black Lava Salt

or sea salt

Optional: Crostini
Instructions
Toss peppers with oil in a large saute pan. Heat to med-high heat.

Toss peppers every minute or so, be careful, once they get hot, they pop and sizzle. Remove from heat to toss necessary. You can lower heat to medium heat halfway through as well.

While peppers blister, mix honey and chili with garlic sauce in a small ramekin until fully combined.

Once peppers are evenly blistered (about 5-7 minutes)

Turn peppers out onto a serving dish, sprinkle liberally with black lava salt, drizzle with salt, add goat cheese and enjoy.

If serving with crostini, you can dot the serving dish with them and turn the peppers out on top of the crostini.

Dig in!
Notes
Tips: You can also blister these on your grill in a grill pan or tray or on aluminum foil. The smoky flavor from the grill is a bonus!
Make sure your peppers are dry when adding to the pan to decrease popping.
Nutrition
Serving:
2
servings
Calories:
278
kcal
Carbohydrates:
44
g
Protein:
8
g
Fat:
10
g
Saturated Fat:
5
g
Polyunsaturated Fat:
1
g
Monounsaturated Fat:
4
g
Cholesterol:
13
mg
Sodium:
325
mg
Potassium:
649
mg
Fiber:
6
g
Sugar:
35
g
Vitamin A:
1614
IU
Vitamin C:
287
mg
Calcium:
77
mg
Iron:
2
mg
Follow me on Tik Tok for 1 minute videos