Today I am sharing a recipe for one of my favorite cuts of meat…The humble Pork Belly. Pork belly is something I enjoy making (and eating!!) so I decided to try a new technique when making it and did a Sous Vide Asian Pork Belly.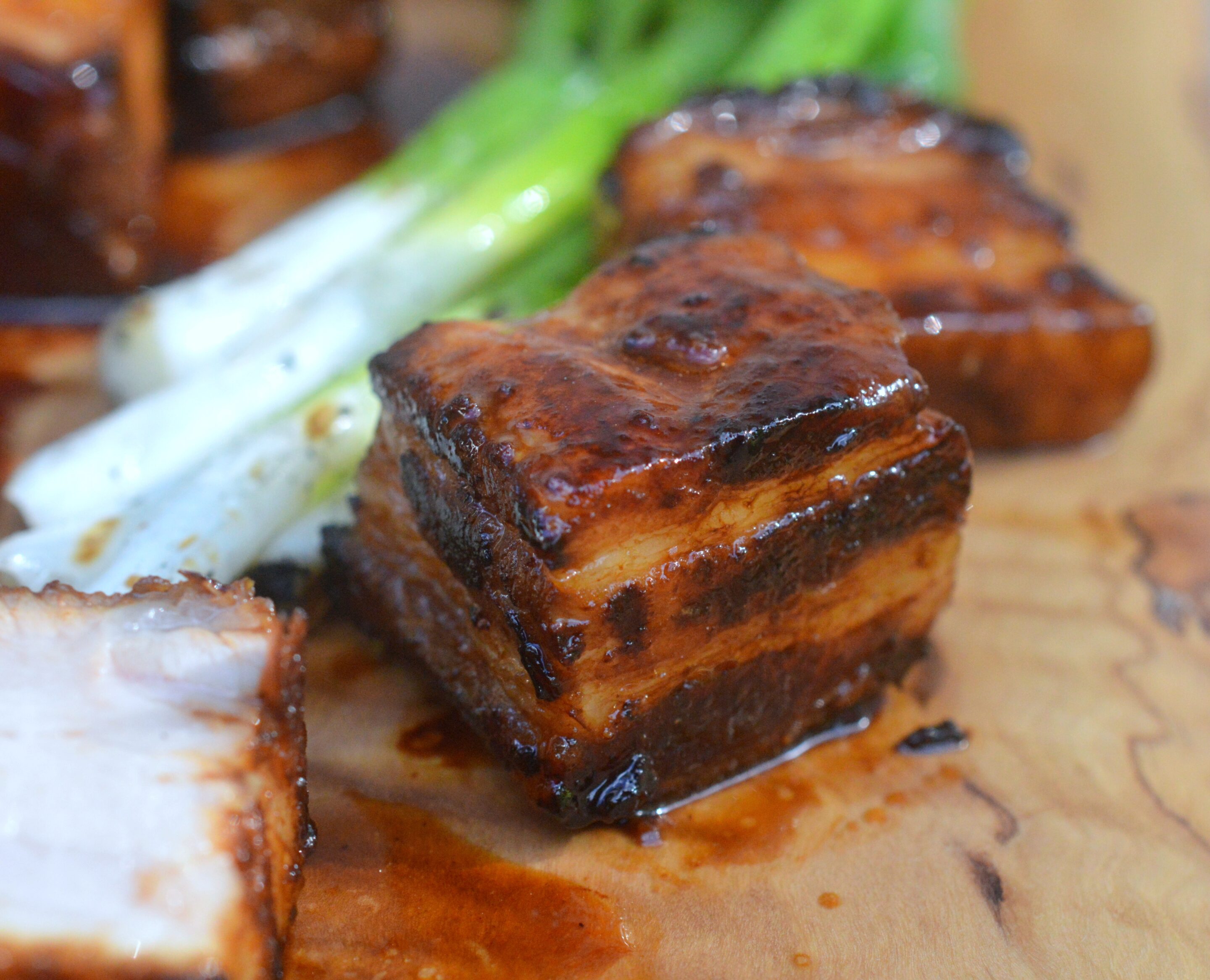 This post is sponsored by Everywhere Agency on behalf of FoodSaver®; however, all thoughts and opinions expressed in this post are my own.
Some people have yet to embrace sous vide cooking, it took me a while. I don't know about you but when new cooking gadgets come out, often I say to myself…I like how I do it or I can do that with what I have, however, once I decide to try the "it" out, I am like what took me so long! Haha! It was the same way with digital cameras for me and sometimes I am like that with new to me foods. Then, the next thing you know I am all about it.
Is it just me??

Here's the thing about sous vide cooking. You end up with incredibly moist, tender proteins (meat and fish). Sure you sous vide other things like eggs, veggies, and even some desserts. However, for me, meat and certain seafood's are what shine.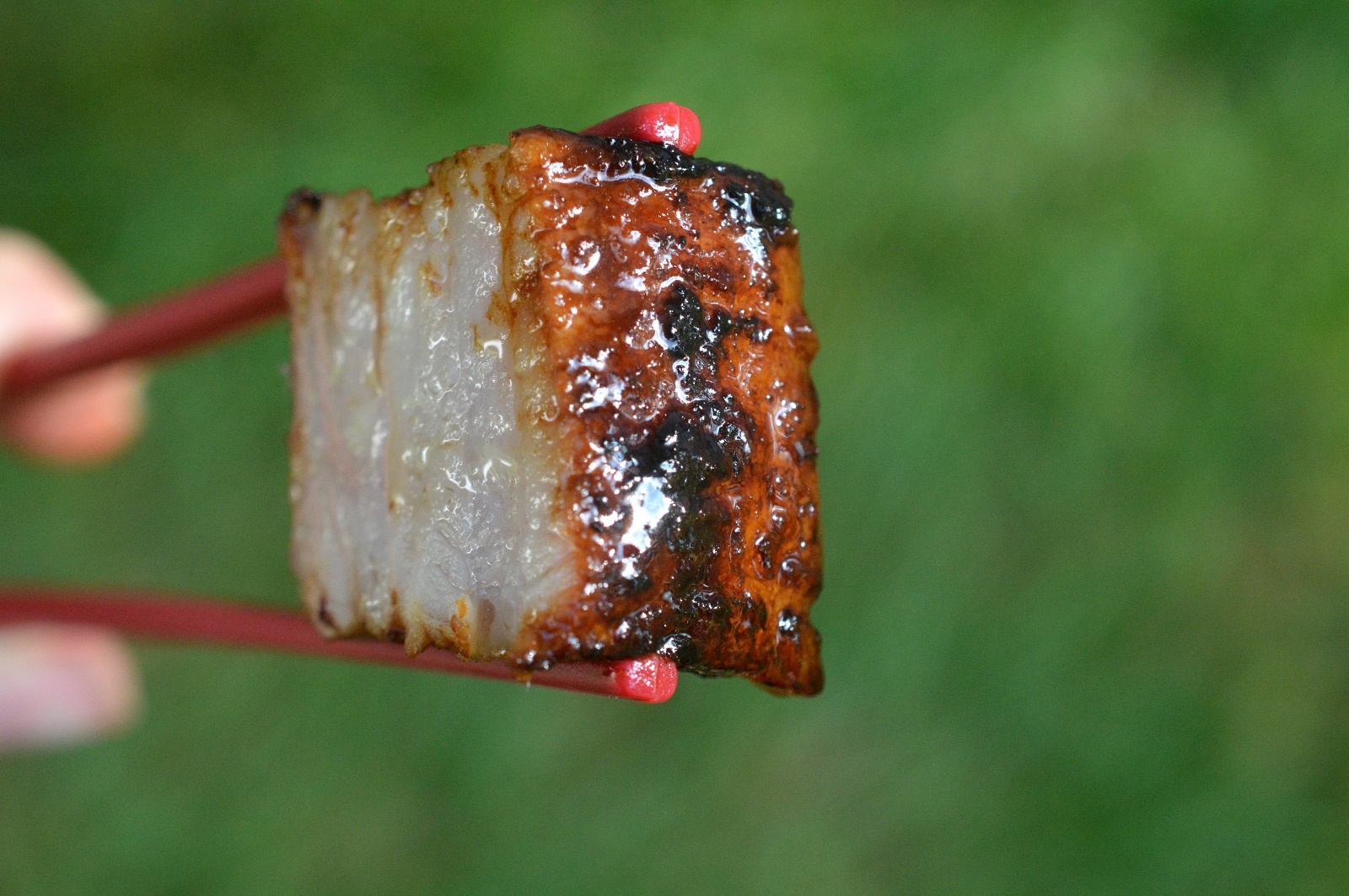 I mean, just LOOK at that sexy bite! Super-moist on the inside and everything you want it to be on the outside! Swoon!
One of the coolest gadgets on the market is a FoodSaver® Vacuum Sealing System. When you cook sous-vide, FoodSaver® FoodSaver® Sous-vide Vacuum Seal Bags are your BFF's! They are air-tight and don't float up which is important when cooking sous-vide. The heat seal is perfect as well, so no worries about anything leaking after it seals.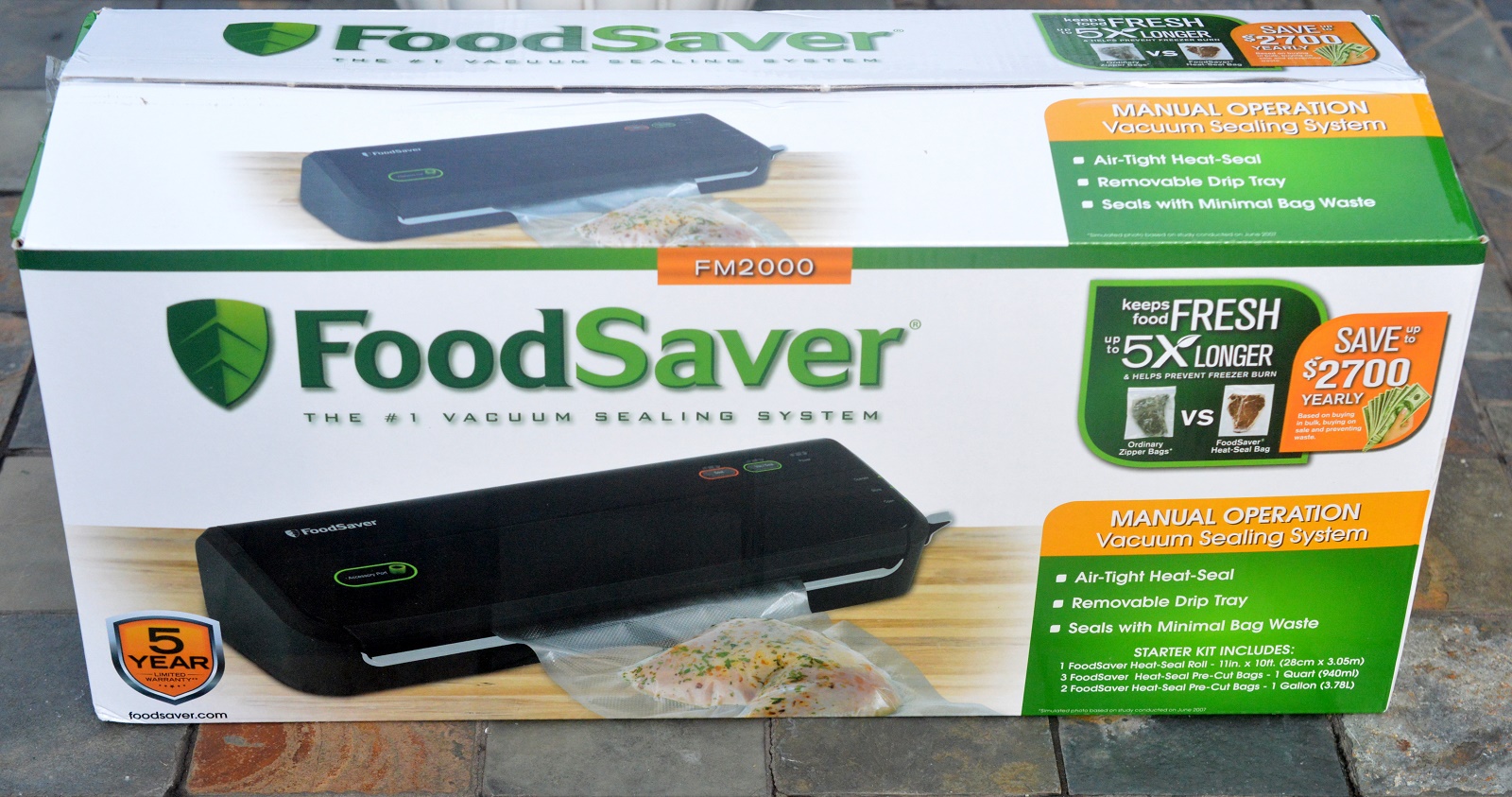 I also really like the removable drip tray inside the FM2000. Most of the time I don't have much (if any) of a marinade when I use it. BUT when I do, it works great! This is seriously one of the easiest small kitchen appliances you will ever use. My 100% Italian girlfriend Maria has had her food saver since it first came out a very long time ago. It still works like a champ! She swears by it for keeping her fresh bought meats and things like prepared raw meatloaf perfect in her freezer for months and months. No freezer burn. She is all about being an efficient homemaker and hates to waste food ever. She sings its praises!
Outside of sous-vide cooking, which not ever home cook does, FoodSaver® Sous-vide Vacuum Seal Bags comes in SO handy for storing meats and veggies so efficiently, you save some serious money! You can easily prolong the life of good buys at the grocery store, farmers market or wherever you shop.
Your garden bounty can live on longer in your freezer and if you are a hunter, this system will ensure your protein is a fresh and delicious on day 100 as it was on day 10. One of the uses that I am particularly excited about is being to buy meat in bulk at Costco and then vacuum sealing and freezing it for later use. The fantastic thing about Freezer burn happens when the surface of the food comes in contact with air and dries out over time. Vacuum sealing eliminates the air, so now my meats don't get freezer burn. I save money because I'm not wasting food.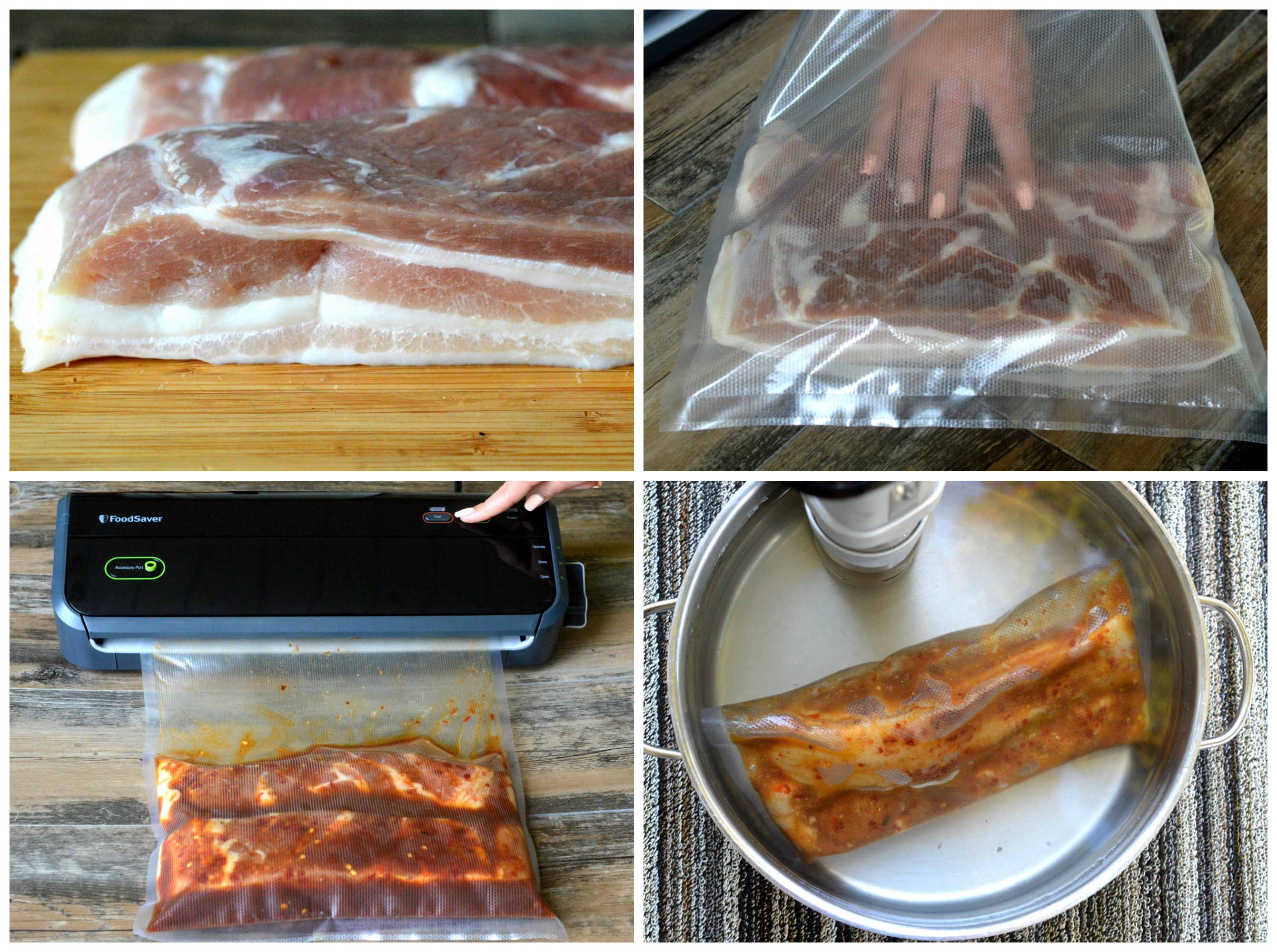 FoodSaver® Sous-vide Vacuum Seal Bags are tough! They can go from your freezer right into a hot water bath via sous vide, no problem.
Another great use for the FM2000 is in marinating meats and veggies. The vacuum sealer removes the air from the sous-vide bags, it also causes the pores of the food to open which allows the marinade to work harder, quicker due to the quick penetration. No need to have your meat marinate for hours. Give it a half-hour after you seal it and you will be good to go.
Another trick of mine to extend the life of garden or store-bought herbs for a bit longer is to quickly seal them in batches, then I use them up within a week and a half or so. FoodSaver® Sous-vide Vacuum Seal Bags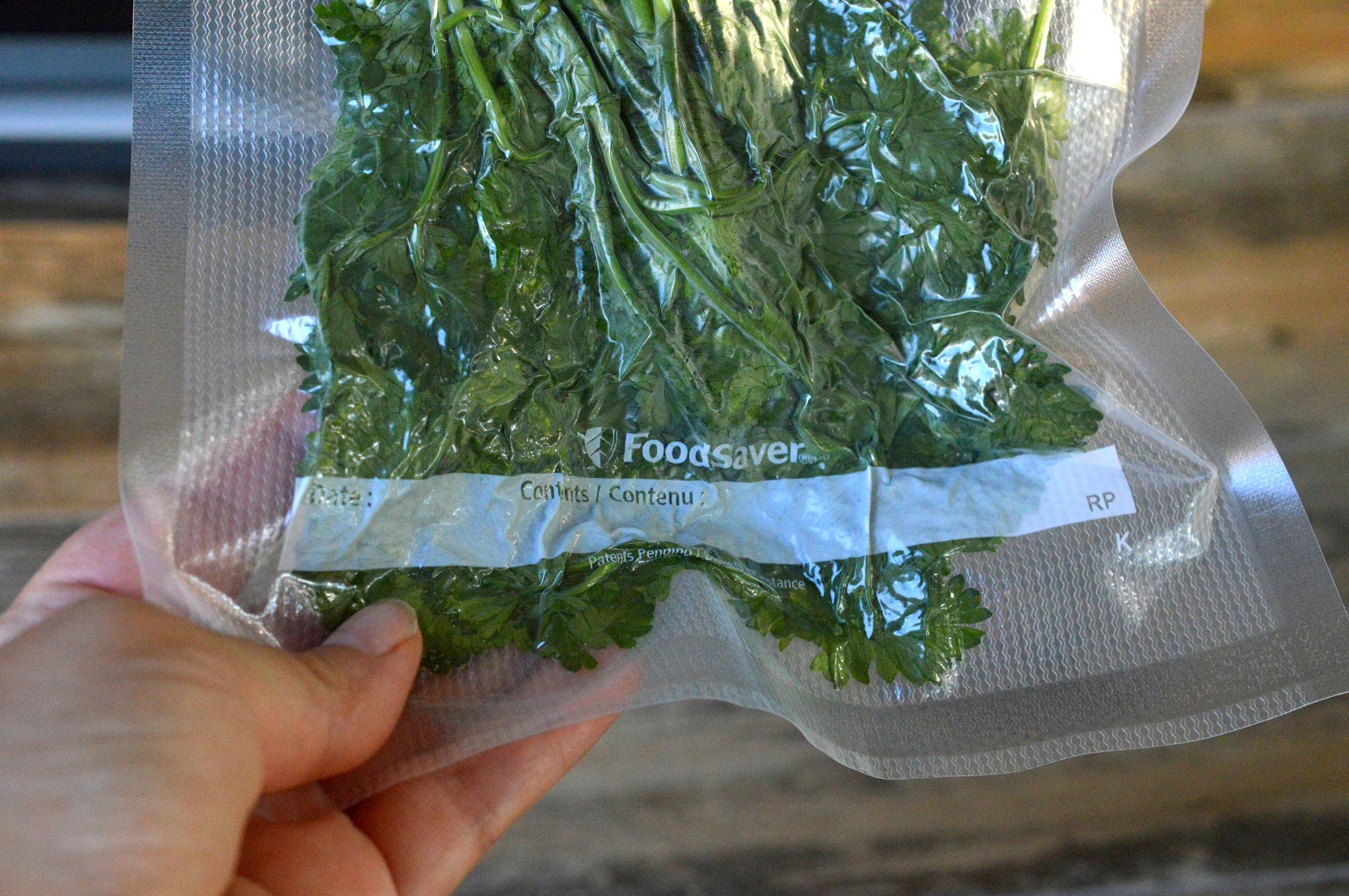 Sous-vide bags are safe for microwave, fridge, and freezer. You can purchase FoodSaver® Sous-vide Vacuum Seal Bags (as well as the FoodSaver Vacuum Sealing System) in-store or online at Target or on Amazon.
I was happy how my Sous Vide Asian Glazed Pork Belly turned out. It was so moist and flavorful. The texture was on-point. After the sous-vide, I placed the pork belly pieces in the fridge overnight. The next evening, I sliced them into chunks and pan seared them. I then made a super simple glaze and served them with some grilled scallions and rice.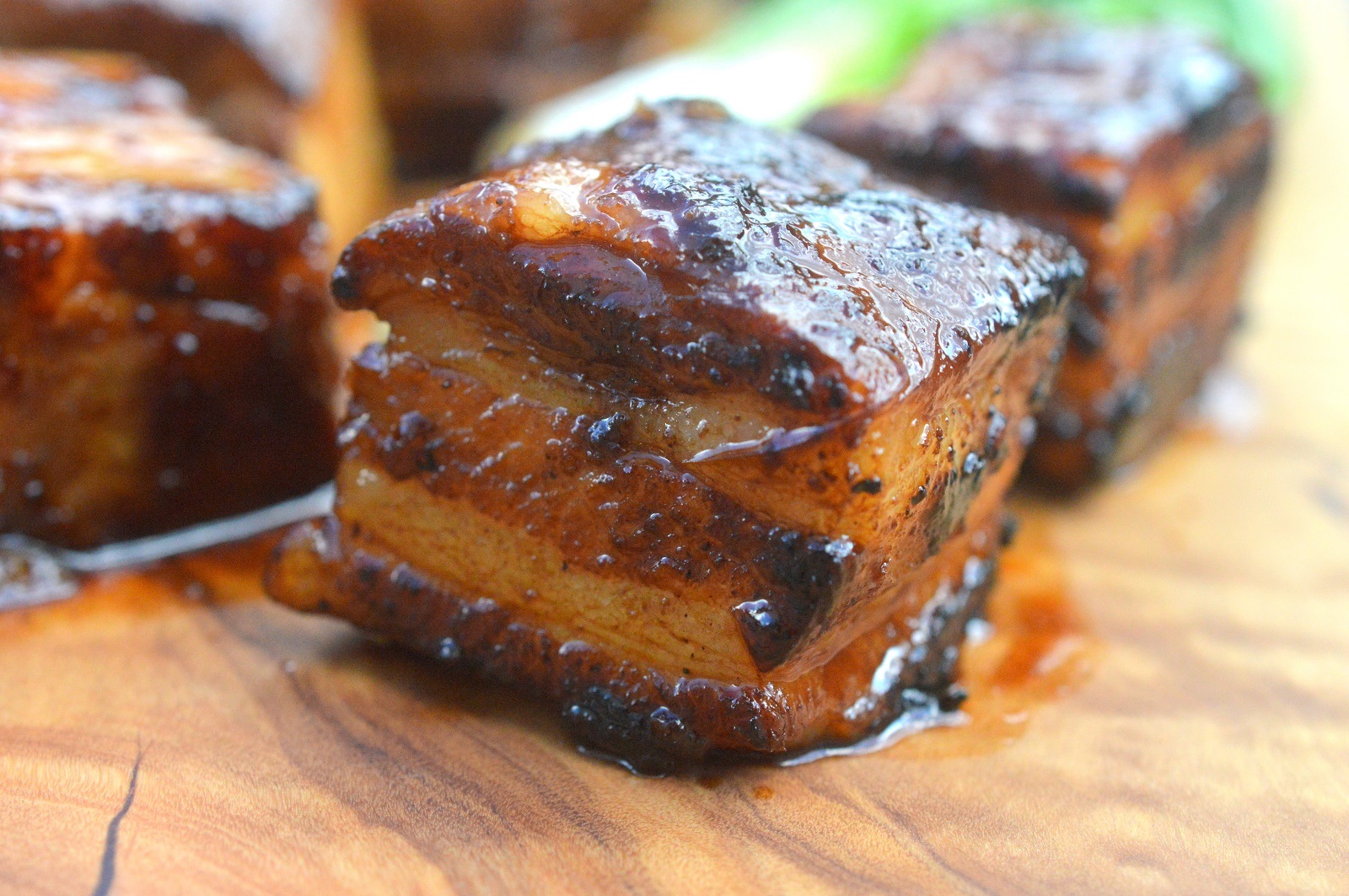 I know not everyone is comfortable cooking sous vide, so if you are dying for some homemade pork belly, check out my recipe for Slow Roasted Pork Belly Bites over Jalapeno Slaw. I didn't want to leave you hanging with no way to enjoy some delicious pork belly! You may also enjoy this kitchen hack involving bacon.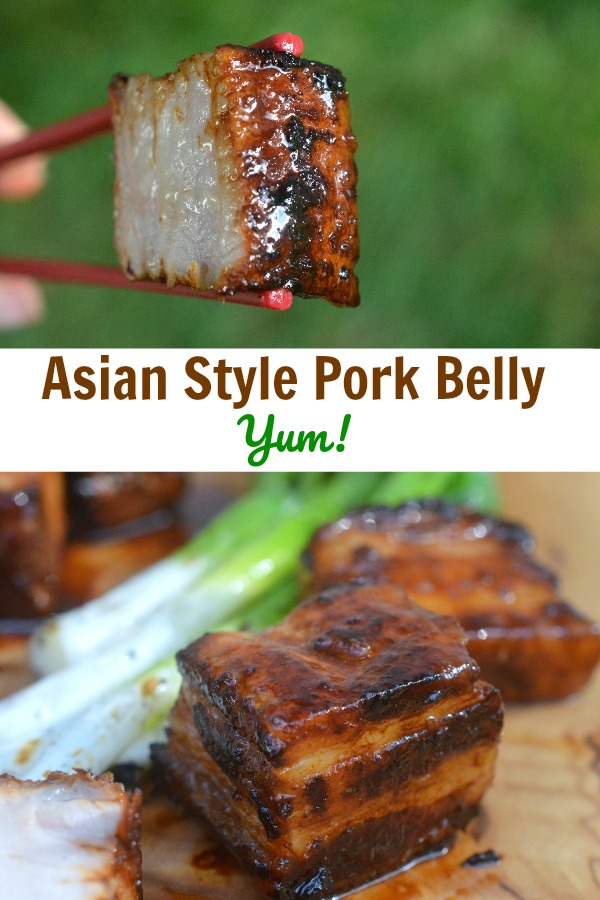 You may also enjoy my Slow Roasted Pork Belly Bites over Jalapeno Slaw, mmmm!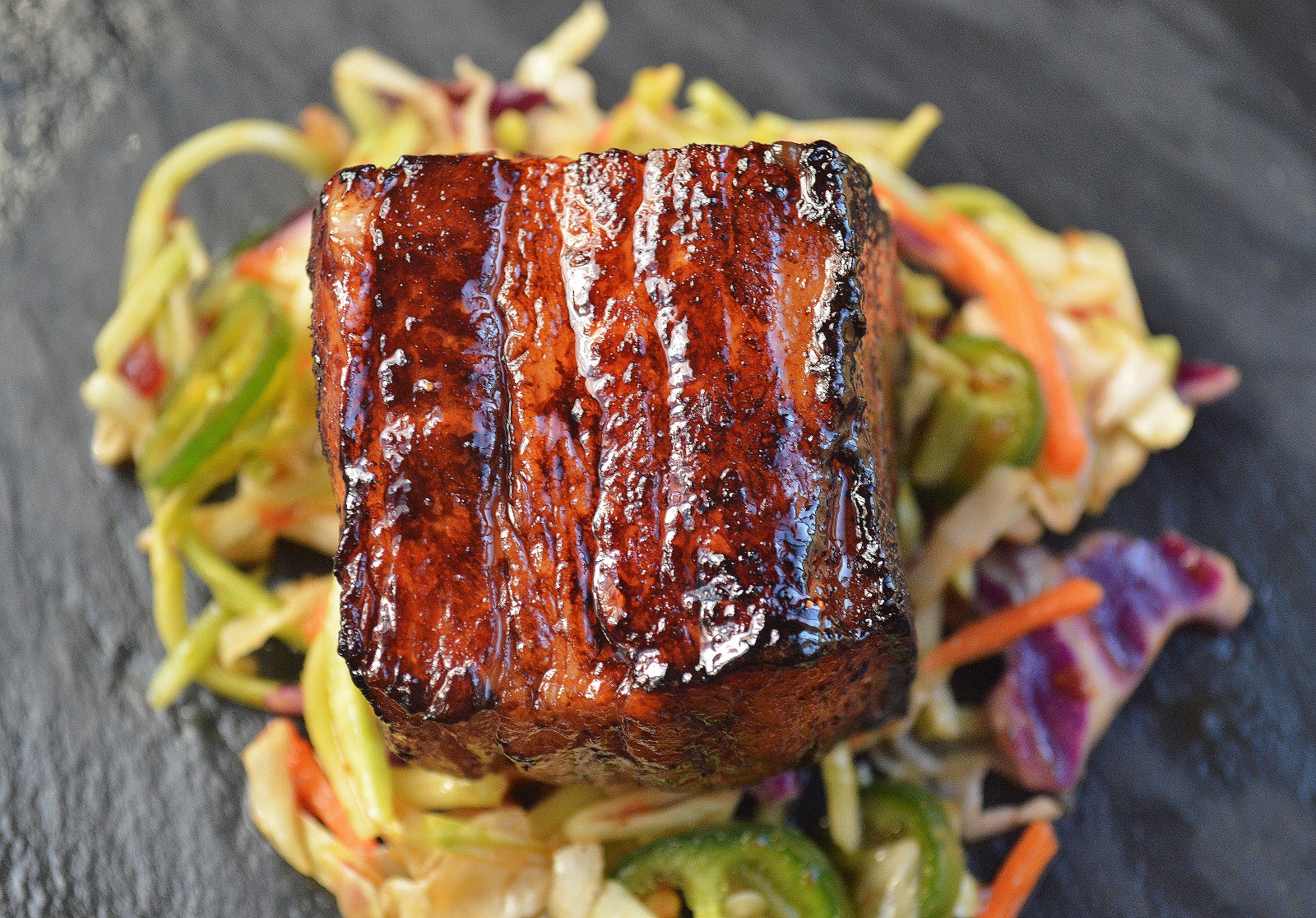 Shop this Post:

Since I am neither a registered dietitian or nutritionist, I use a WordPress plug in to calculate the nutritional information. This post contains affiliate links, which means if you click on one and happen to purchase something, I may receive a small commission.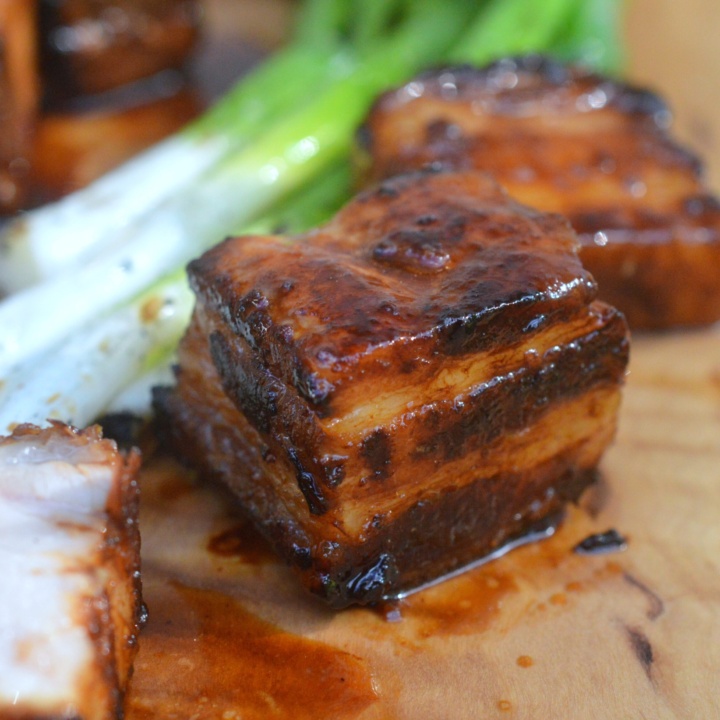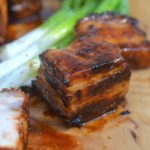 Print Recipe
Sous Vide Asian Pork Belly
Once I discovered pork belly, I was smitten! This recipe for Sous Vide Asian Pork Belly is delicious and easily adapted to the grill.
Ingredients
2-3

pounds

pork belly

either one piece or two smaller ones

Cooking Liquid

1

cup

soy sauce

2

TBS

garlic paste or minced garlic

1

tsp

ginger paste or minced ginger

2

TBS

sesame oil

3

TBS

chili with garlic sauce

1

TBS

brown sugar

Glaze

2

TBS

brown sugar

1/4

cup

soy sauce

1

TBS

sesame oil

2

TBS

chili with garlic sauce

1

tsp

fresh lime juice

¼

tsp

cornstarch

for a stickier glaze
Instructions
If your pork belly has actual skin on the fattier side, slice that off. You can cut your pork belly into two strips or leave it whole. Your choice. My belly actually was purchased in two strips.

Combine all cooking liquid ingredients and whisk until combined.

Slide your meat into a sous-vide bag. Pour in the cooking liquid.

Use your FM2000 and vacuum seal your bag.

Prepare your sous-vide water and circulator.

Heat water to 170F and set the timer for 10 hours.

Once done, allow it to cool down for an hour and then place it in your refrigerator overnight.

When ready to enjoy, open the bag discard the marinade and pat your pork belly dry with paper towels.

Cut your pork belly into chunks…about 1 ½ - 2-inch pieces.

Make your glaze by combining all ingredients except the cornstarch.

Heat your glaze in a small pot to a boil. Scoop out a TBS or two into a ramekin and add the cornstarch, mix it well and return it all to the pot, bring to a boil and then remove from heat.

In a non-stick pan, place just a very small amount of oil (just enough to barely coat the pan. Heat the oil and add half of your chunks fattiest side down first. Allow the fat to cook and crisp up. Then add a small amount of the glaze to the pan. About a TBS or so and allow the fat to caramelize.

Watch it, because the sugar will allow it to burn if you are not careful. Some blackened bits are delicious, just control it. Working quickly, use tongs and allow each side of the pork belly to caramelize. No side will take as long as the first fatty side.

Repeat with the second batch (wiping the pan out and starting over is best).

Once finished. Brush with glaze and serve.
Nutrition
Serving:
8
servings
|
Calories:
684
kcal
|
Carbohydrates:
9
g
|
Protein:
15
g
|
Fat:
65
g
|
Saturated Fat:
23
g
|
Cholesterol:
82
mg
|
Sodium:
2277
mg
|
Potassium:
302
mg
|
Fiber:
1
g
|
Sugar:
6
g
|
Vitamin A:
11
IU
|
Vitamin C:
2
mg
|
Calcium:
22
mg
|
Iron:
2
mg