I am SO excited to share this Veggie Cakes recipe with you! I bet even the kids will like this one! These little cakes are filled with all sorts of goodness and flavor.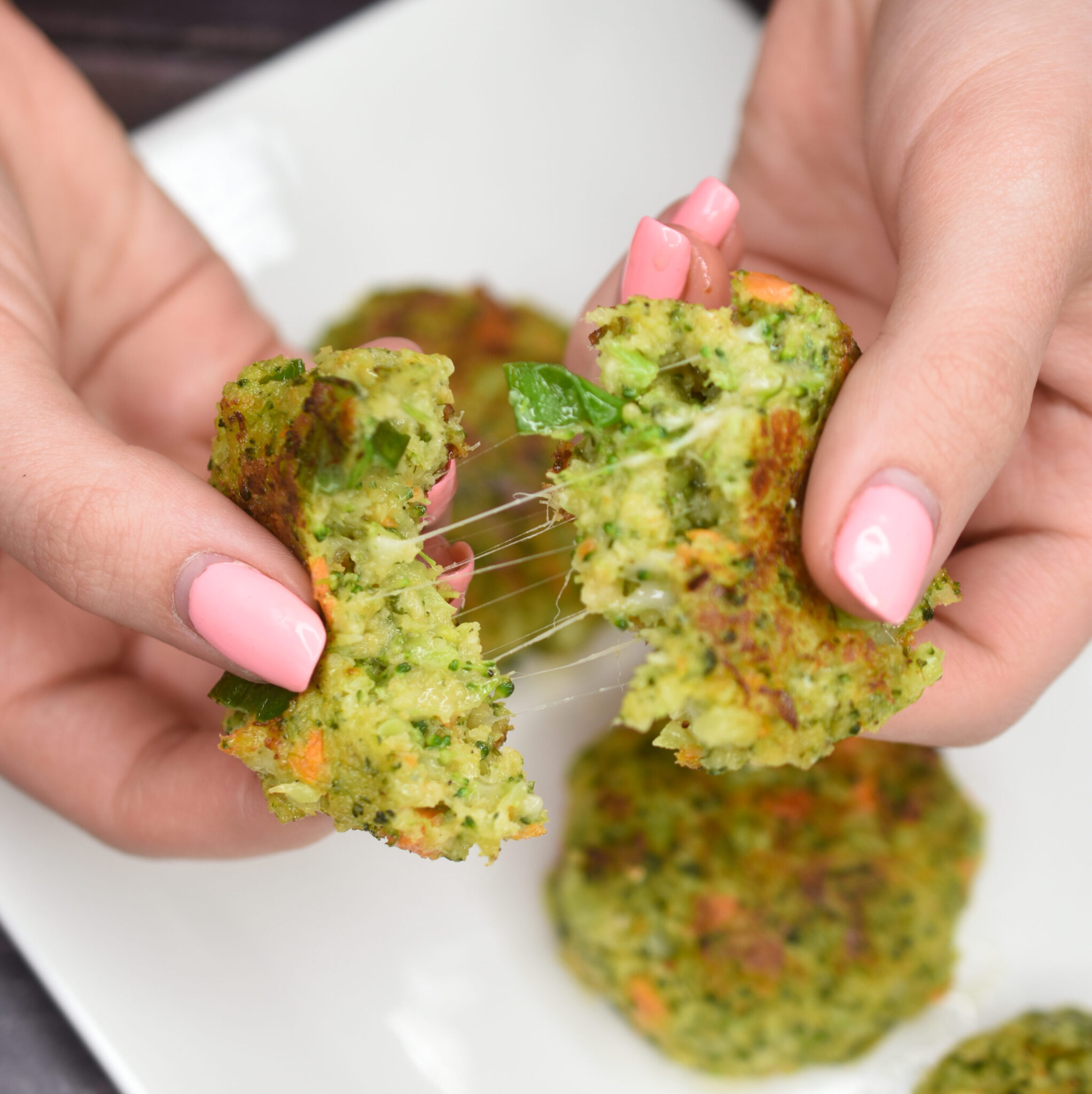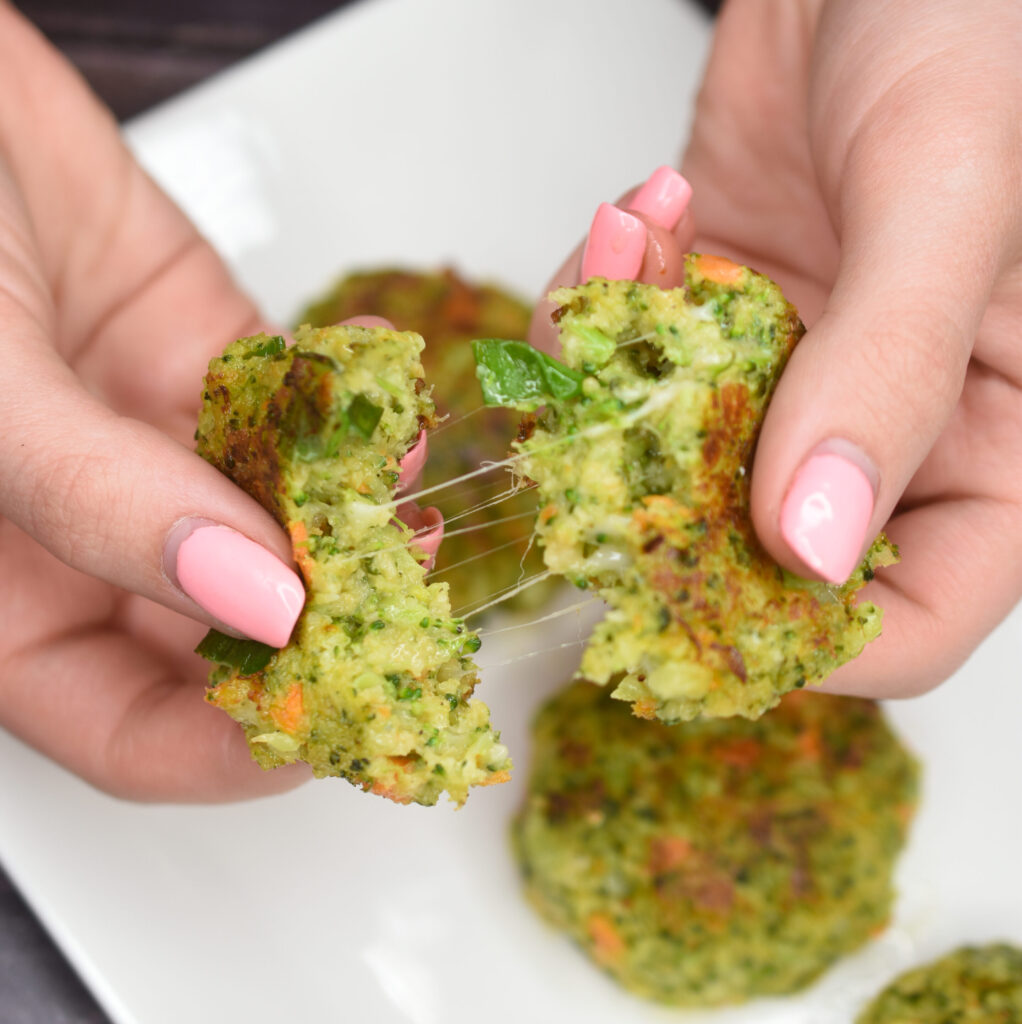 Why you'll love this recipe
If you enjoy broccoli fritters, vegetable fritters or zucchini fritters you will love these veggie cakes. I really don't know what makes something like this a fritter vs a cake (like a crab cake). These are not flat like some I have seen, more like a crab cake. These are so tasty, you get vegetables and cheese bite after bite. They are meant to be enjoyed nice and warm just after you make them for that cheese pull, yum!
I modeled these little veggie cakes after my Zucchini Cakes (everyone in my circle of life loves those) as well as after a vegetable casserole my Aunt Bernie and Uncle Roy used to make (which we all loved).
Ingredients
carrots
garlic paste (or minced garlic)
cheddar cheese
mozzarella cheese
salt and pepper
red pepper flakes (optional)
1 egg + 1 yolk
fresh lemon juice
breadcrumbs or Panko
scallions
oil for cooking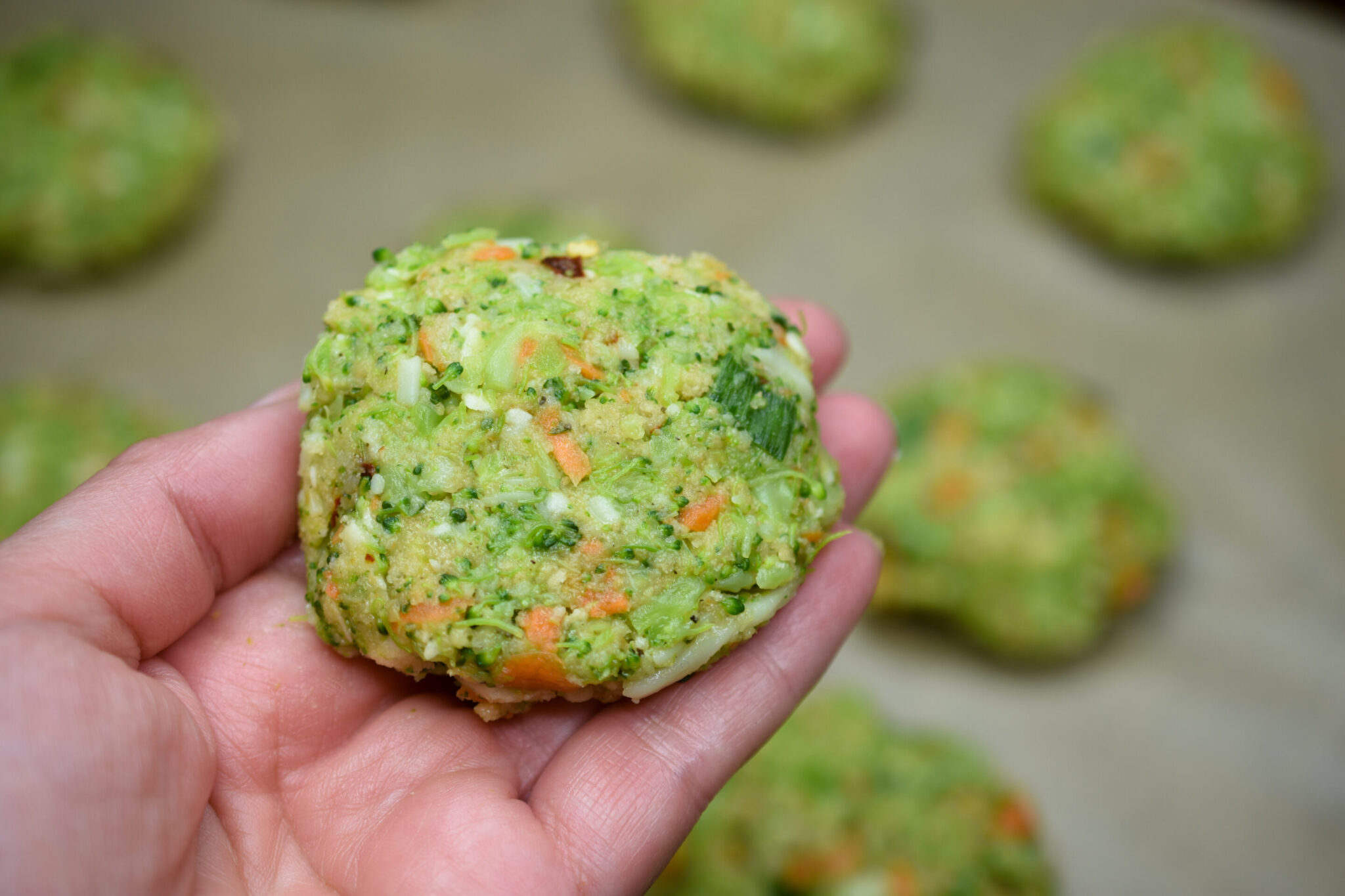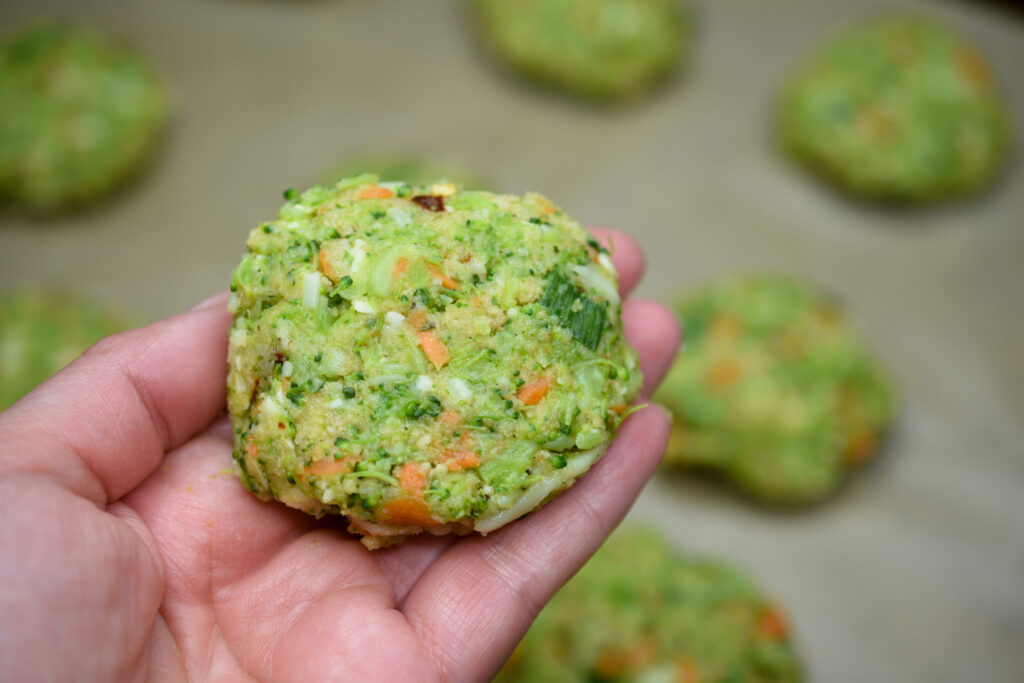 Recipe Variations
You can add in cauliflower if you like (If you buy a medley bag of broccoli, carrots and cauliflower you can use that)
Carrots can be omitted
Grated onion can be used in place of scallions
You can swap cheeses. Instead of cheddar, use Parmesan or another melty cheese you have on hand
Make these more spicy by adding in minced jalapeno or more red pepper flakes
Play around with vegetable ingredients until you land on what you enjoy most
I did successfully make these without panko / breadcrumbs however its not as easy, if you aren't experienced (and use a quality nonstick pan) you may end up with a goopy mess.
Tips
Remove most of the stems from the broccoli and break into florets
Steam broccoli for 4-5 minutes
I do not steam the carrots since I don't like the taste of cooked carrot (you totally can though), I pulse them small in food processor so that they do partially cook in the pan PLUS it gives nice texture to the cakes in my opinion
Pulse carrots in food processor first, then add in slightly cooled steamed broccoli and pulse a few times
Place carrot broccoli mixture into a work bowl and add the remaining ingredients
I suggest you cook off a small "test" cake to taste for seasoning before forming all into cakes. That way you can add more salt/cheese/pepper or whatever you desire if necessary for your preference
Make sure oil is hot before adding cakes, once cakes are in and the crust begins to form on the first side, lower heat so they don't cook on the outside and not the center
Make these smaller or larger like a crab cake, your call. Made smaller they will make 10 cakes
You can choose to make these as straight up Broccoli Fritters / cakes
Be sure to get them right out of the pan after they finish cooking or they may absorb any excess oil
Best enjoyed just after cooking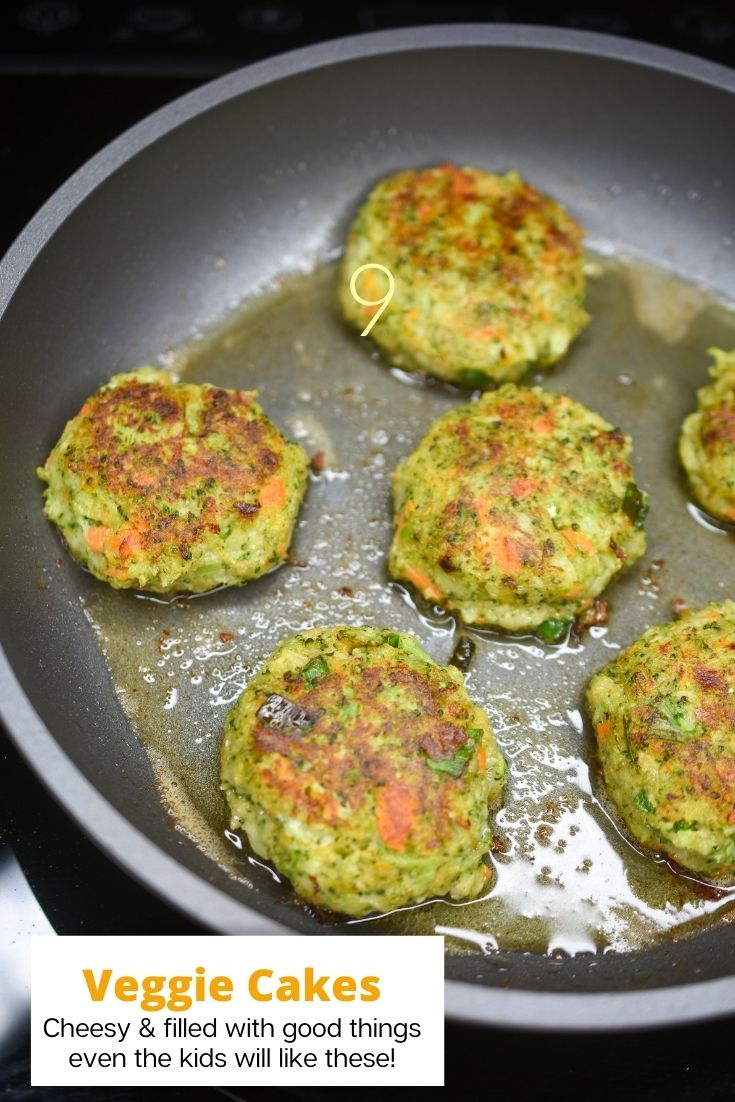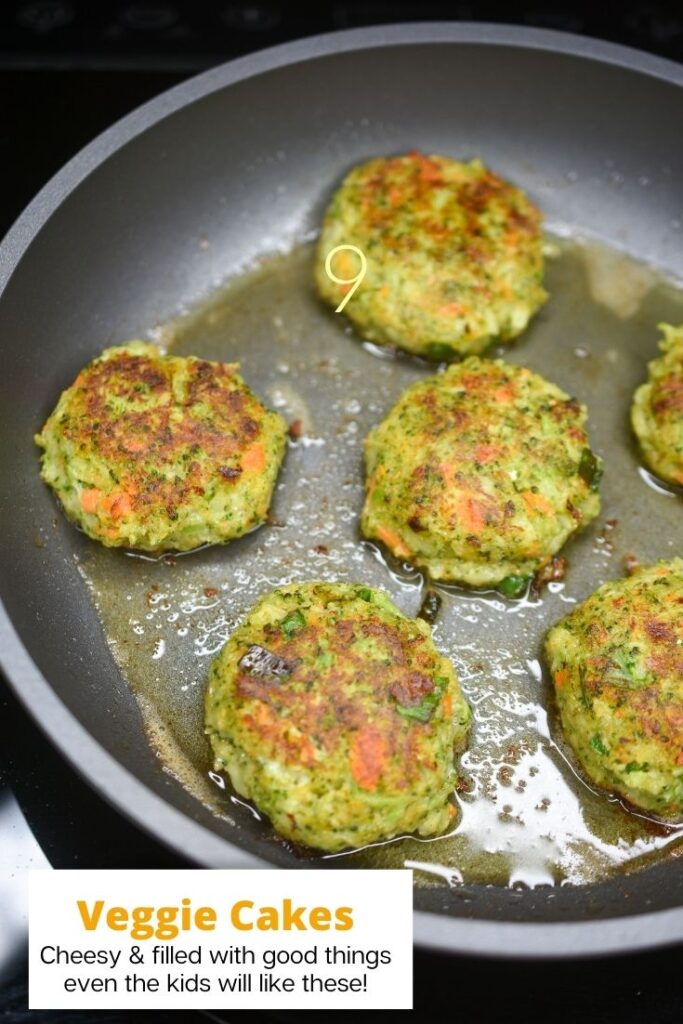 Can I make Vegetable Cakes in an air fryer?
I am so excited to say YES!!! I knew people would ask so I tested that out and it worked perfectly! I could not believe it!
To make Veggie Cakes in the air fryer all you need to do differently is after you form them into small cakes, lightly spray both sides of the cakes with oil as well as spray air fryer pan. I will do a separate post on the tips and full instructions for that soon.
Air fry for 10-11 minutes at 390 degrees, flipping gently after 7 (don't crowd).
Serving Suggestions
Serve this with any meat or fish entrée as a side dish or enjoy as the main course alongside a light soup or salad.
Other vegetable based recipes you will enjoy
I hope you enjoy this vegetarian recipe! Check out my 1 minute Tik Tok Video to see how I make them.
– Colleen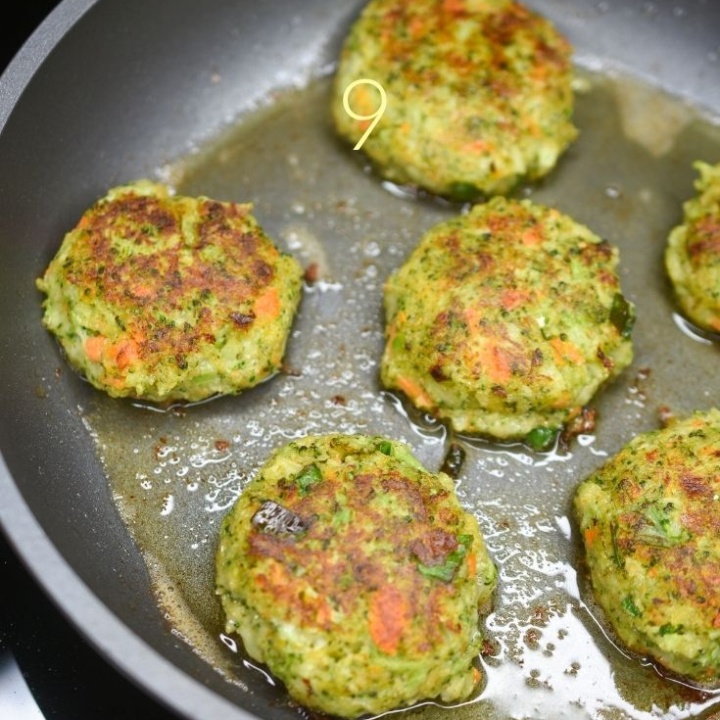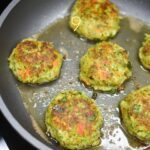 Print Recipe
Veggie Cakes
These Veggie Cakes are a perfect side dish. Cheese and full of vegetables, they can be easily customized to your preference.
Ingredients
1/4

cup

chopped carrot

3

cups

broccoli florets

1/4

cup

sliced / snipped scallions

or grated onions

1

TBS

garlic paste

or minced garlic

1

egg

plus 1 egg yolk

3/4

cup

freshly shredded cheddar cheese

1/2

cup

mozzarella cheese

salt & pepper

red pepper flakes

1

TBS

fresh lemon juice

1/2

cup

panko or breadcrumbs

grapeseed/avocado oil for cooking
Instructions
Pulse carrots in food processor until small bits

Steam broccoli florets for 4-5 minutes, allow to cool slightly

Add broccoli to food processor and pulse a few times until broccoli becomes small bits.

Scrape carrot broccoli mixture into a work bowl and add in the rest of the ingredients (except oil)

Allow mixture to mingle for 10-15 minutes if possible.

Heat a nonstick pan over med-high heat, add a bit of oil (you can add more if neccessary) and once oil is hot add veggie cakes and cook a few minutes per side until browned. Lowering heat shortly after you place them in the pan.
Nutrition
Serving:
5
servings
|
Calories:
241
kcal
|
Carbohydrates:
14
g
|
Protein:
16
g
|
Fat:
14
g
|
Saturated Fat:
6
g
|
Polyunsaturated Fat:
2
g
|
Monounsaturated Fat:
4
g
|
Trans Fat:
1
g
|
Cholesterol:
207
mg
|
Sodium:
353
mg
|
Potassium:
326
mg
|
Fiber:
2
g
|
Sugar:
2
g
|
Vitamin A:
1968
IU
|
Vitamin C:
52
mg
|
Calcium:
258
mg
|
Iron:
2
mg