This refreshing and vibrant Watermelon & Avocado Pizza (with  jalapenos, feta and bacon) was so surprisingly delicious that even my husband who initially gave it the stink eye
could not stop eating it!

I drizzled the "pizza" with a Honey-Lime Vinaigrette and of course, because of my balsamic glaze obsession, drizzled some of that on as well.  I was so smitten with this dish, I quick ran some to my next-door neighbor as well and they loved it too!
I was eating this  up faster than I could chew, lol! My brain just kept saying more, more, more as the watermelon juice dribbled down my chin as I munched and crunched my way to an explosion of flavor .  Now THAT is a photo I wish I had to share with you...well maybe it's better that I don't!
This is such a fun appetizer to set out or a fabulously healthy lunch or snack! 
You have the powerhouse that is a  California Avocado nestled atop a sweet and juicy watermelon slice.  Both are perfectly in season at the moment. Add in the bacon (BACON!), feta and jalapenos for punch and wow, wow, wow! The vinaigrette and the balsamic glaze tie it all together.
I have eaten SO much avocado and watermelon this summer that I should be looking like Christmas...all red & green! But hey, when the getting is this good...GET  IT while you can!
This post was sponsored by California Avocados, which by the way are still in their peak season.  Avocadosare delicious on their own, however when used creatively...the options are as endless as they are delicious!
Oh and there are 35 fabulous days of summer left....No fall thoughts for me just yet.  
I am not letting go of summer!!! How about you?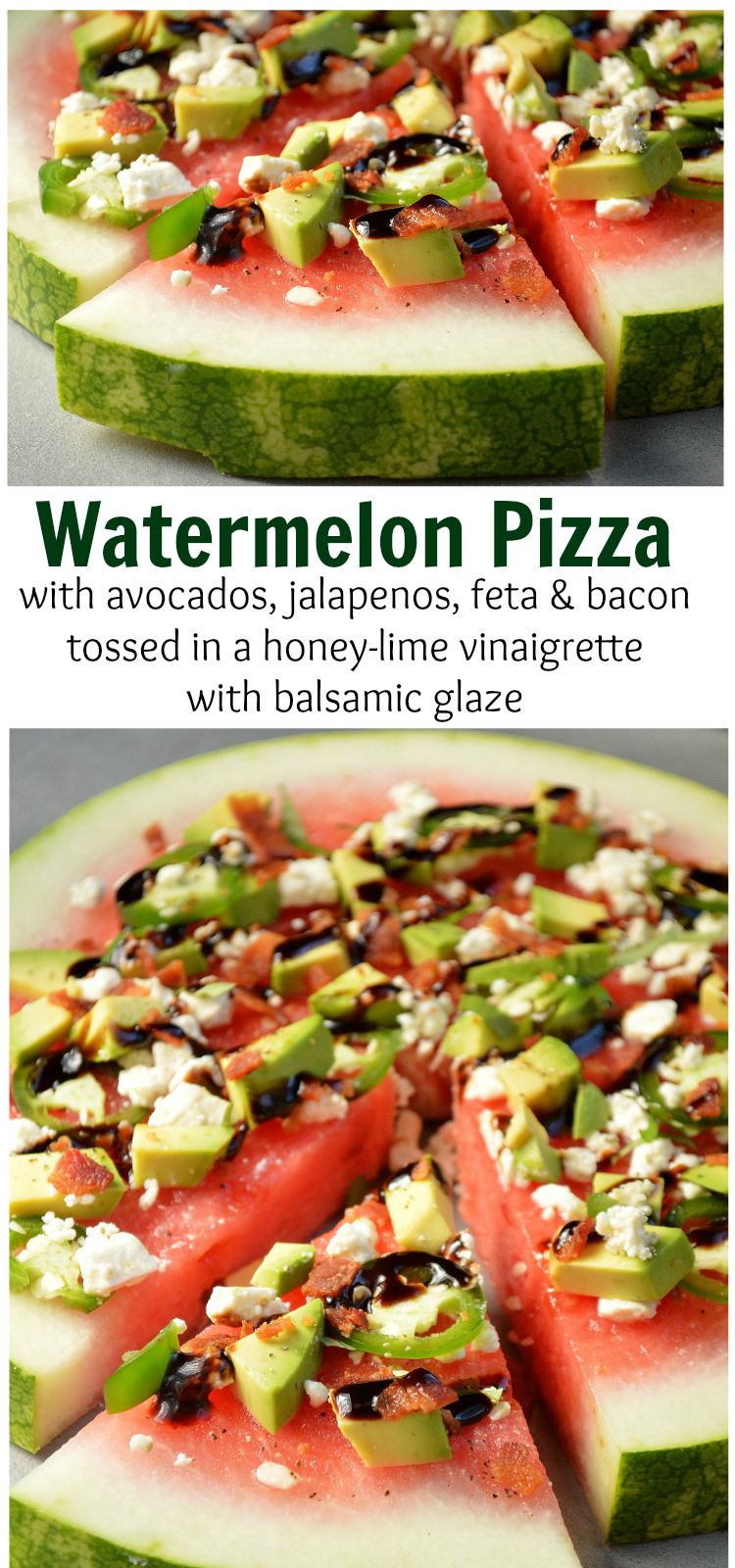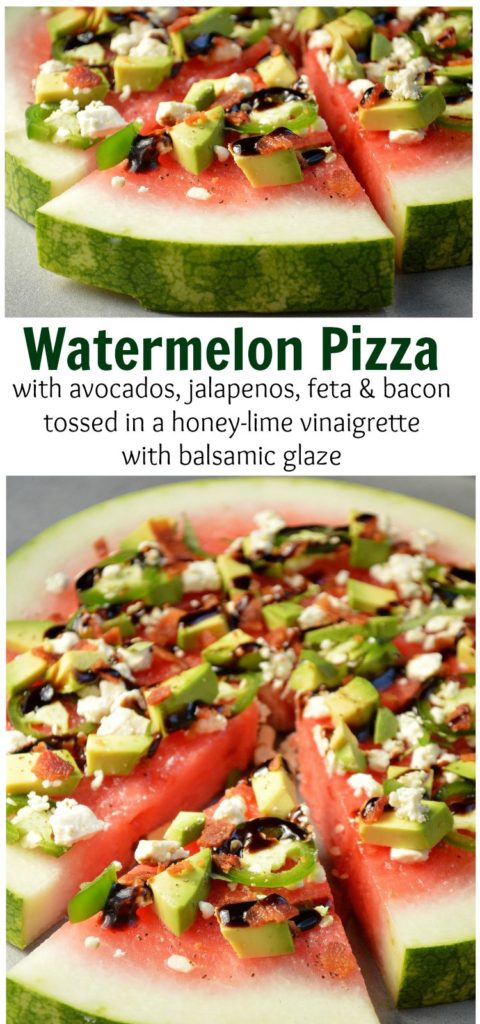 Here are some of my avocado favorites:
California Garlic Bread With Sauteed Spinach & Avocados
Eggs Benedict with Avocados Sriracha Hollandaise & Avocado Cream
Avocado Crab Cake Sandwiches With Bacon & Avocado Aioli
Tequila Avocado Salsa
Spicy Chicken Cakes with Avocado Cream
And a few from some of my food blogger friends: Baked Salmon Meatballs with Avocado Cream, Guacamole Bacon Bites, Spicy Shrimp & Guacamole Tostadas and all the avocado recipes you can dream of over on The California Avocado Pinterest Board!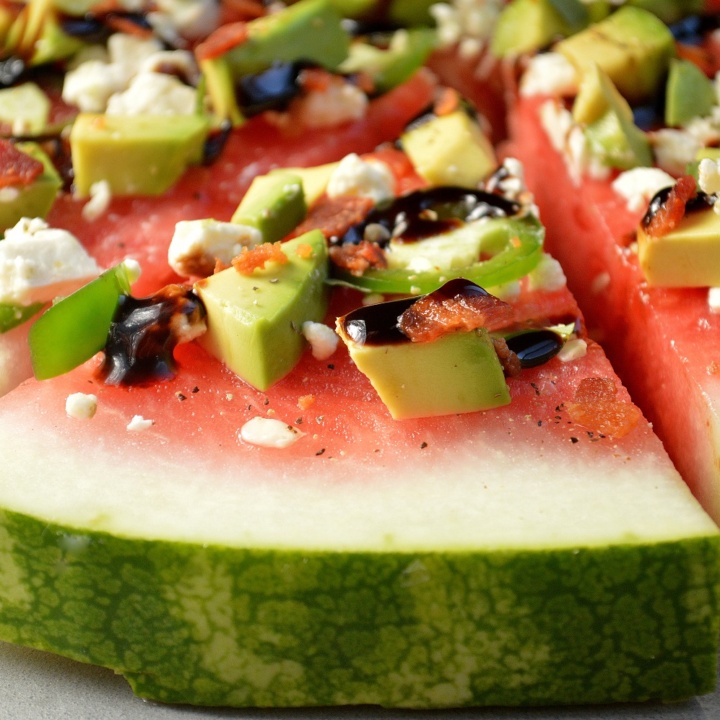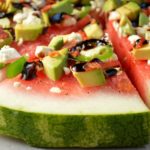 Print Recipe
Watermelon Pizza with Avocado, Jalapenos, Feta and Bacon
Ingredients
1 - 1 /1/2

inch

thick slice of a whole watermelon

1

avocado

diced

1

jalapeno

sliced thin

4

slices

of cooked crispy bacon

crumbled

½

cup

crumbled feta cheese

Honey-Lime Vinaigrette

Balsamic glaze

Honey-Lime Vinaigrette

¼

cup

olive or grapeseed oil

½

TBS

honey

½

TBS

lime

Salt & pepper
Instructions
Make the vinaigrette, taste and adjust to your preference for sweetness. If you would like some heat to it add in some Cayenne pepper.

To assemble the Watermelon Pizza, cut the watermelon "pizza" round into slices, but allow it to stay pushed together.

Season the avocado with a little salt & pepper and toss it with a small amount of the Honey-Lime Vinaigrette,

Add the avocado, jalapeno, bacon and feta to the pizza.

Drizzle with the vinaigrette and the balsamic glaze and serve. Combine all ingredients in a small bowl or mason jar and whisk or shake until combined.