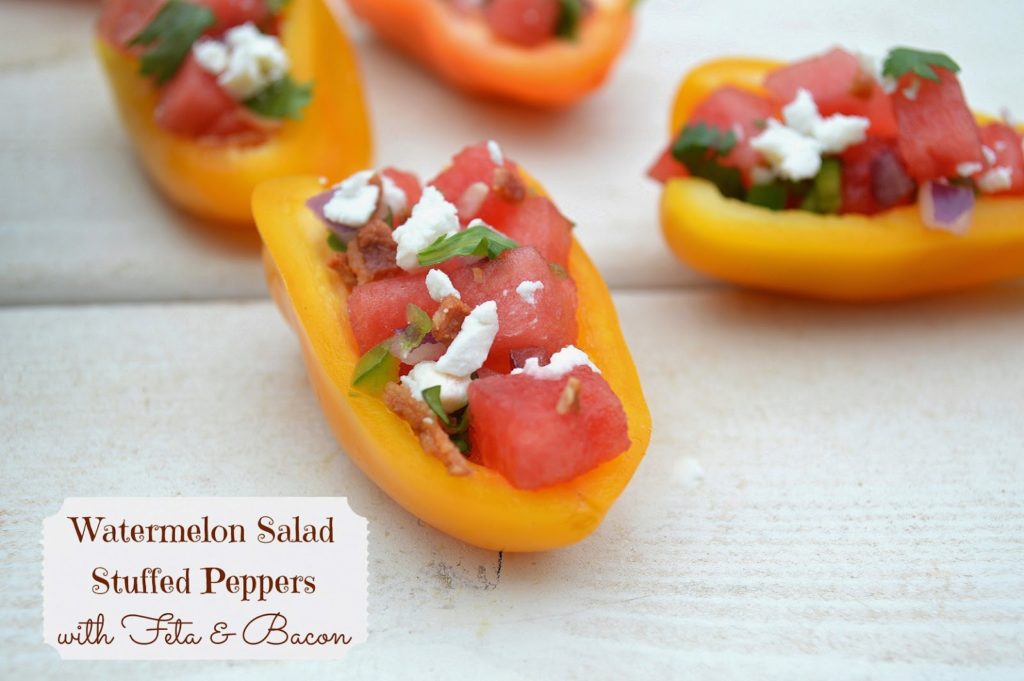 In just under a week, I am headed to Eat Write Retreat. This is its 4th year and my third time attending. I am SO looking forward to a weekend of learning, being surrounded with like-minded food bloggers and tasting whatever may be coming our way!
One of the brands that will be there is Watermelon.org and we were asked to come up with a watermelon dish. I am crazy for watermelon, when I get a really perfect one I want to take it and hide in a closet and eat it up allll by myself. Umm, that never happened...but it totally could! A couple of our recipes will win a 2-3 video segment on how to prepare our dish. If you see a video segment on Souffle Bombay soon...you will know I won...fingers crossed!!
Once I had a minute to think about what I would make, I instantly "saw" in my head mini peppers stuffed with a spicy watermelon salsa. As I tinkered with this great summer pick-me-up, I decided to add some crumbled feta over top and I also added a little bit of crumbled bacon.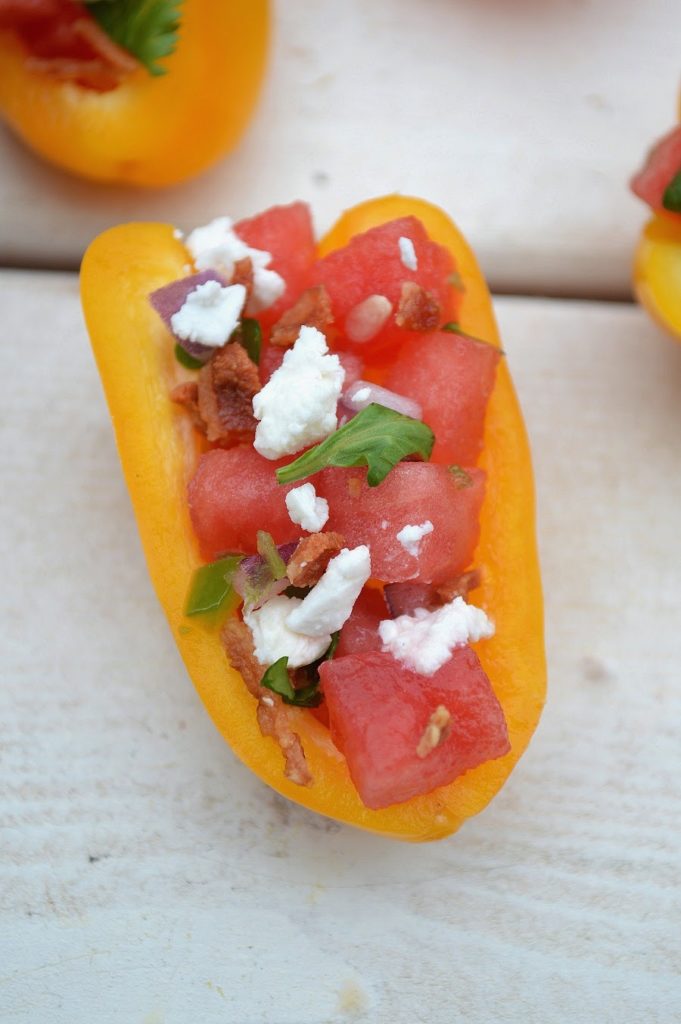 Oh-My-Gosh...the sweet, the salty, the crunch and the spice to me were a wonderful combination! The beautiful burst of watermelon flavor that dances across your tongue bite after bite is incredible! Not only would this be extremely refreshing appetizer at a summer BBQ this is also fabulous for people watching their waistlines!
I kinda love it!!


To me watermelon is one of the best things about summer, not only is it ridiculously delicious...you can do SO much with it! AND its a favorite of kids 2-to 102! Really! If you love watermelon as much as I do check out their FB Page for recipes, watermelon sculpture ideas & more or follow them on Twitter!
I can not wait to serve this at the very next gathering we have or go to! This is a quick dish to make, it is crisp, light, refreshing and can be either a vegetarian offering or with the sprinkling of a little bacon...not. You can stuff all of your mini peppers before you serve them OR serve the mini peppers as "chips" and let people just scoop up the delicious watermelon salad....SO good! Let me know if you try it out!!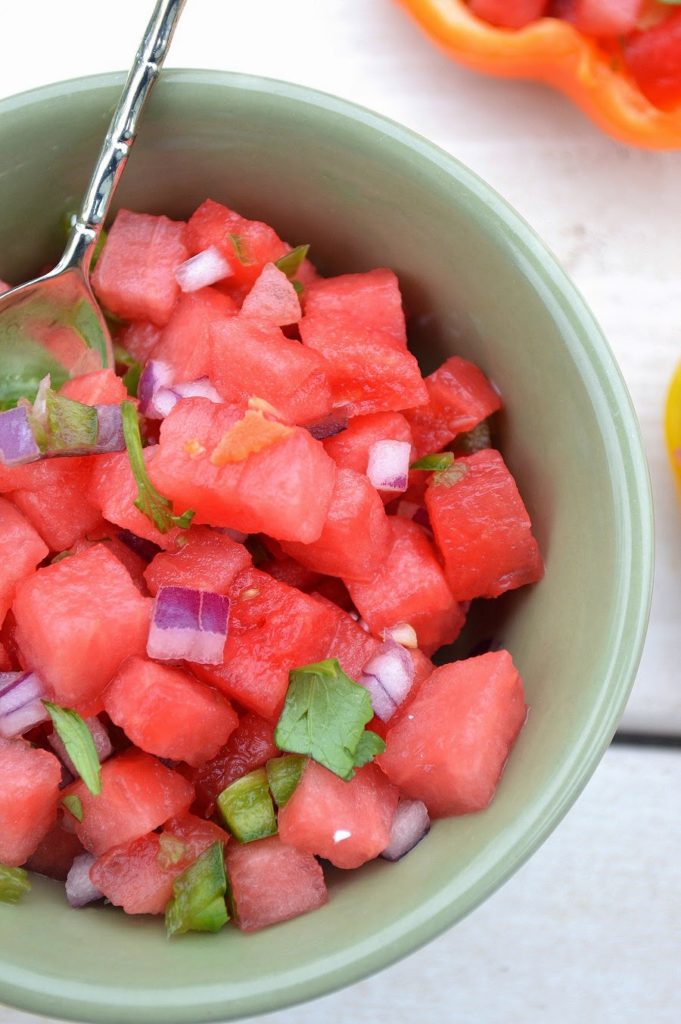 Watermelon Salad Stuffed Peppers with Feta & Bacon


2 cups of chopped watermelon
¼ cup chopped cilantro
1-2 TBS minced jalapeno (depending on your heat preference)
¼ cup chopped red onion
2 TBS fresh lime juice
½ cup crumbles Feta cheese
¼ cup crumbles crispy bacon (optional)
12 sweet little peppers (come in prepackages bags in produce area red, orange & yellow combo)


Gently toss the watermelon, cilantro, jalapeno, red onion and lime juice. Halve your peppers, gently trim away the stem area and scoop out any seeds. Fill each pepper half with a spoonful of salsa, sprinkle feta and bacon over top and enjoy!! You can also set the watermelon salsa out as a dip alongside the pepper halves...almost like chips & dip. Just sprinkle the feta and bacon over-top.

Colleen's Notes: The above recipe is just a guide, just like with salsa...there really is no recipe you need to stick to. If you want more watermelon...add it, more or less heat?? Increase or decrease the amount of jalapeno. I like to leave the stems and seeds in for extra heat. If you don't like cilantro, omit it and maybe add in some parsley and or basil. If you want it sweeter, add in a bit of honey or some chopped mango. If you want it crunchier add in some bell peppers. Take this wherever you want it to go, let me know what you come up with!
My personal opinion about feta is to buy a brick of it vs the pre-crumbled package. The brick is SO most and delicious while the pre-crumbled is much drier. If you are lucky enough to have a farmers market by you (like I do) that sells fresh feta (multiple varieties too!!) THAT is what you want.
Enjoy!!