Here is a recipe for my Chocolate & Caramel Cheesecake that always get's rave reviews. It makes a fantastic dessert during the holidays. It's so easy to make too, people will think you worked harder than you actually did 🙂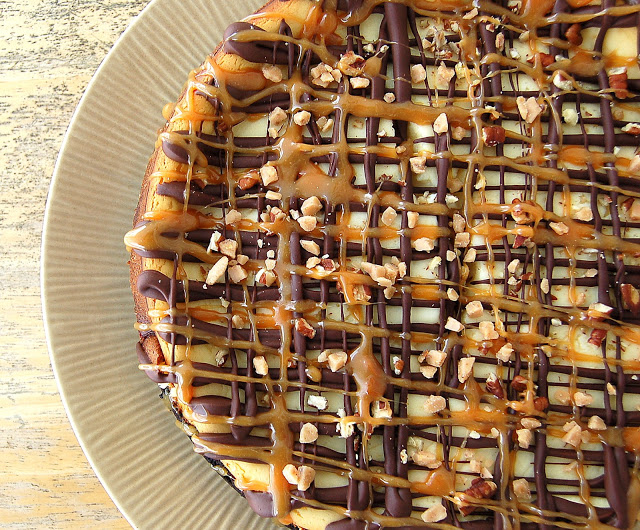 Recently, I went back to the 80's for a day by way of a potluck lunch with a group of girls from high school.  Most of the girls I actually have been friends with since elementary school.  We talked and laughed about the fun we had and the mischief we got into "back in the day".  We brought boxes of old photos, yearbooks and heck, I even had my high school ID, notes we passed to each other (Oooh the drama) and even a demerit.  I have to admit I held the demerit record in our group, by far.  Wait, before you judge, my demerit count was mostly due to wearing super cool 80's belts with my summer uniform, trendy earrings, and my endless supply of 80's band (mostly Duran Duran) buttons. Not my behavior 🙂  One day I want to find "the room" that the nuns and teachers put all of that "contraband" into and get back all of my glorious items!
That would be so fun!
Big hair...yup I had it.  Here is proof...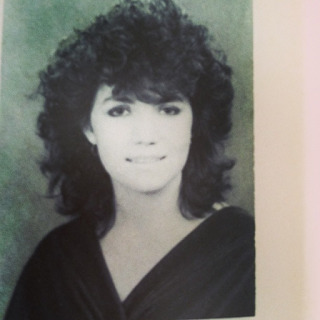 One of my friends said it was impressive that "that hair" fit int the frame...that cracked me up!
Everyone in the group has now hit 40.  We all have kids, some in college and some yet to hit double digits. Two have survived cancer and three have buried a parent.  Life is so surreal sometimes.  A minute ago I was a teenager.  Sometimes I wonder at the speed of life. For me at least, it seems to be going by so very quickly, that is until I start telling stories and only then...then I believe that all those memories are mine and revel in the fun, experiences and people I have had in my life.
I wonder what our former-selves would have thought if they had a 25 year glimpse into the future?
My potluck contributions to the lunch were this Creamy Guacamole Dip that I have been making this Chocolate & Caramel Cheesecake (aka Turtle Cheesecak) since I was in my early 20's.  It is always a hit wherever I bring it.
This Chocolate & Caramel Cheesecake is a perfect potluck, party or holiday contribution. It always leaves an impression!
It would make an awesome Valentine's Day Dessert!!  Just sayin'!
Now I have to think of what to bring to our next lunch 🙂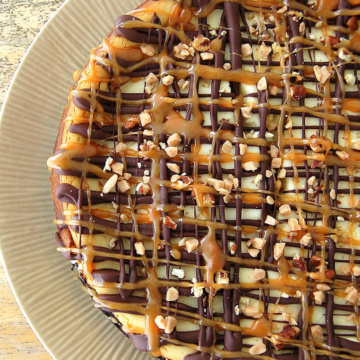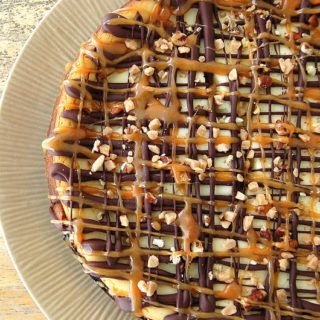 Chocolate & Caramel Cheesecake
Ingredients
2

cups

of crushed chocolate cookies

I use Famous Wafers but you could also use Oreo's

½

stick butter

melted

20

ounces

of cream cheese

2 ½ packages, softened

1

cup

sugar

1 ½

teaspoons

vanilla

1 ½

tablespoons

of flour

3

eggs

2 ½

tablespoons

heavy or whipping cream

Topping

10

ounces

caramels

¼

cup

heavy or whipping cream

1

cup

of chocolate chips

½

cup

chopped pecans
Instructions
Preheat oven to 450 degrees

In a food processor, pulse cookies to crumbs. If you don't have a food processor, I have also used 2 metal bowls and mashed the wafers/cookies by putting them in the big one a dozen at a time and crushing/grinding them. Or, why not get your kids involved and have them whack away at them in sealed plastic baggies. Combine cookie crumbs and butter in a medium bowl, stir well.

Pour into a greased 9 inch spring form pan. Use your fingers to evenly spread and mash down the crumbs.

In a mixing bowl beat cream cheese and sugar until creamy. Add in vanilla, flour and eggs one at a time. Beat well. Blend in the cream. Pour the batter over the crust.

Bake 12 minutes at 450 degrees then lower oven temperature to 200 degrees for an additional 30-35 minutes or until set. (Cheesecake Center should wiggle a bit when removed from the oven.)

Once removed from the oven, cool for 10 minutes, and then gently go around the side of the pan with a butter knife to loosen any parts sticking. Loosen pan gently and remove rim. Cool and refrigerate. Cool for at least 2 hours before topping. Then refrigerate cheesecake for a minimum of 6 hours total prior to serving.

Melt chocolate in the microwave for 40-60 seconds depending on your microwave. (Start with 30 seconds…nothing worse than burnt chocolate) Stir until smooth.

Scrape chocolate into a small seal-able plastic bag, snip off a bit of one corner and squeeze chocolate across the cake…any pattern you want.

In a small saucepan heat the caramels and cream over medium heat stirring constantly until smooth. Remove from heat, let cool for a few minutes (melted caramel is hot!!) then do the same as the chocolate to squeeze onto the cake. Sprinkle pecans over cake.

*If you are taking the cake on the road…put the rim back on to protect it during transport.
Follow me on Tik Tok for 1 minute videos
Here are a few other desserts you may enjoy:


Enjoy!!