This Easy Chicken Noodle Soup recipe for kids is a great one to get you kids in the kitchen either assisting on or taking the lead on. Whether they are 2 or 12, they can help! And most likley enjoy chicken noodle soup, with or without actual chicken!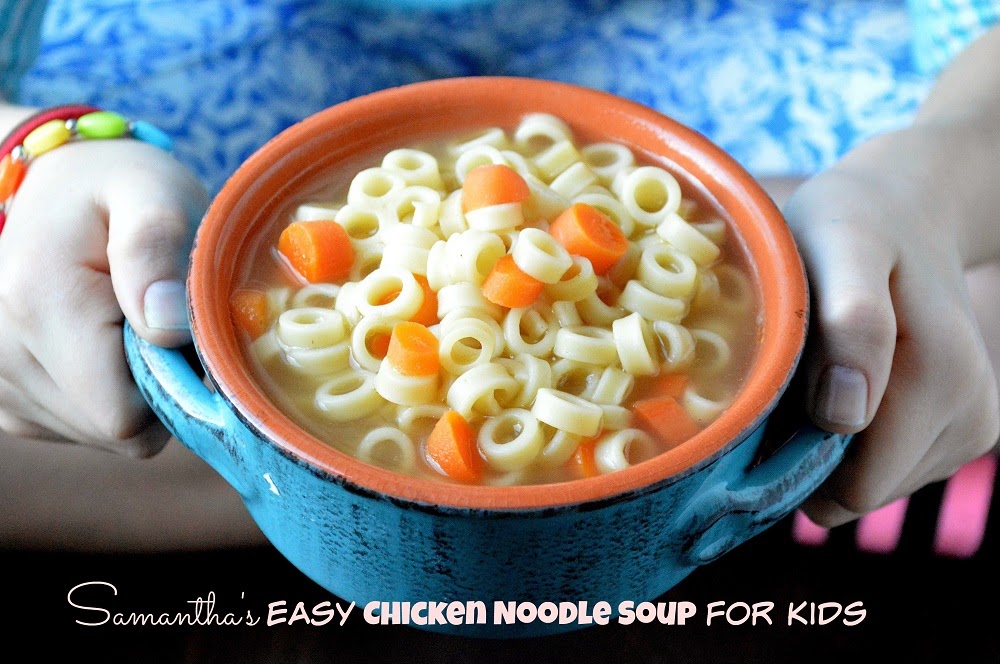 One of the best parts for me as a passionate home cook and now as a mom, is watching my kids blossom in the kitchen. Samantha turned 10 recently and I was reflecting on who I was at that age. I was making cookies, cakes from a box and I was always put in charge of mashing the potatoes and making the Russian salad dressing for my dad's salad. But that was about it in the cooking department.
I love that I have empowered my kids to think for themselves in the kitchen and come up with ideas on what it is they want to eat…and therefore make. From simple chicken noodle soup to a stretch like Apple Fritters or Stuffed Chicken Breasts, I enjoy letting them try their ideas out as well as assisting me in whatever I am making..
Samantha took over the homemade stock making (chicken, turkey and vegetable stock) at our house when she was 9, really!
Whenever I am working with a chicken, she stalks me for our bones, skin and any other parts she can get her hands on. I will never forget the day at the age of 7 she said to me while shopping one day, "hey mom can I buy one of those chickens to make stock?" I was like "Ummm, aaah sure sweetie."
Of ALL the things for a 7 year old to ask for at the grocery store…Mine wanted a whole chicken, lol! Samantha has even taught her cousins to make stock as well and their parents happily report back that their kids have been puffed up and excited about what they can do. (ages 8, 9 & 10). I love it!!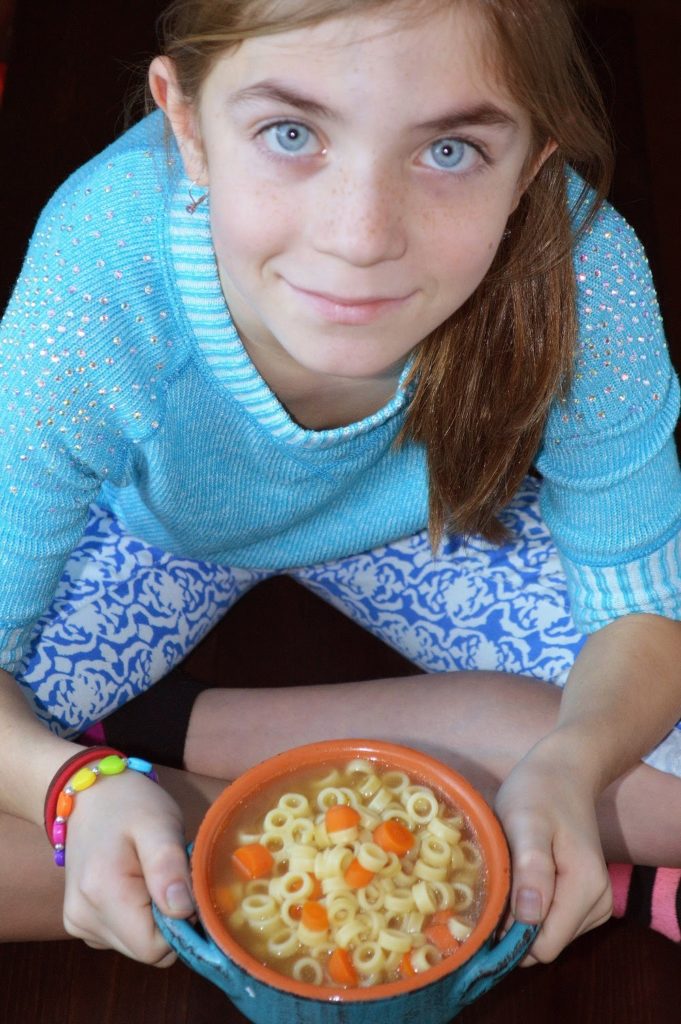 Today Samantha shares her Simple Chicken Noodle Soup Recipe with you, minus the meat. She wants nothing to do with meat in her soups (but YOU can add as little or as much as you enjoy, lol).
She also loves making Chocolate Candy Apple Slices and Homemade Potato Soup with lots of crumbled bacon and scallions on top!!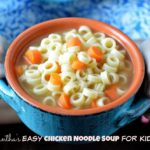 Print Recipe
Kid Friendly Chicken Noodle Soup
Every kid should know how to make a simple Chicken Noodle Soup Recipe. Let them customize their soup and then gobble it up!
Ingredients
5

cups

chicken stock

yours or store-bought

1

cup

sliced carrots

1

cup

small noodles like ditalini, elbow macaroni, ABC's or small egg noodles

1

TBS

minced parsley or Gourmet Garden Italian He
Instructions
Pour chicken stock/broth in a pot,, add in your carrots and bring it to a boil (if adding in chipped celery or onions do so now as well).

Add your noodles once the stock is boiling, cook according to package instructions or until they are the way you like them. Turn off your soup and let it sit on the stove for a bit to cool. If you are adding in shredded cooked chicken, do so now.

Taste it and add in anything you think it needs such as a little salt or black pepper. Add in your chopped parsley and enjoy,
Notes
Notes:  You can add leftover shredded chicken in, just add the cooked shredded chicken at the end just as you take it off of the heat so the chicken does not dry out.
If you like cooked celery, you can 1/2 cup of sliced celery into the pot when you add the carrots, you could also add onions in then too if you enjoy them onions too if you want. If you like rice in your soup, check out my recipe for Chicken Rice Soup
From Samantha- "Mom always says to taste and adjust, taste and adjust.  She teaches me that I can always change the way food I make tastes to make it taste how I want, so you can too." Hope you love this!
Nutrition
Serving:
4
servings
|
Calories:
219
kcal
|
Carbohydrates:
33
g
|
Protein:
11
g
|
Fat:
4
g
|
Saturated Fat:
1
g
|
Cholesterol:
9
mg
|
Sodium:
453
mg
|
Potassium:
476
mg
|
Fiber:
2
g
|
Sugar:
7
g
|
Vitamin A:
5430
IU
|
Vitamin C:
4
mg
|
Calcium:
25
mg
|
Iron:
1
mg