If you enjoy nuts, especially warm sweet and salty nuts like you find from street vendors or at theme parks, you will FLIP for these Gebrannte Mandeln aka German Burnt Sugar Almonds.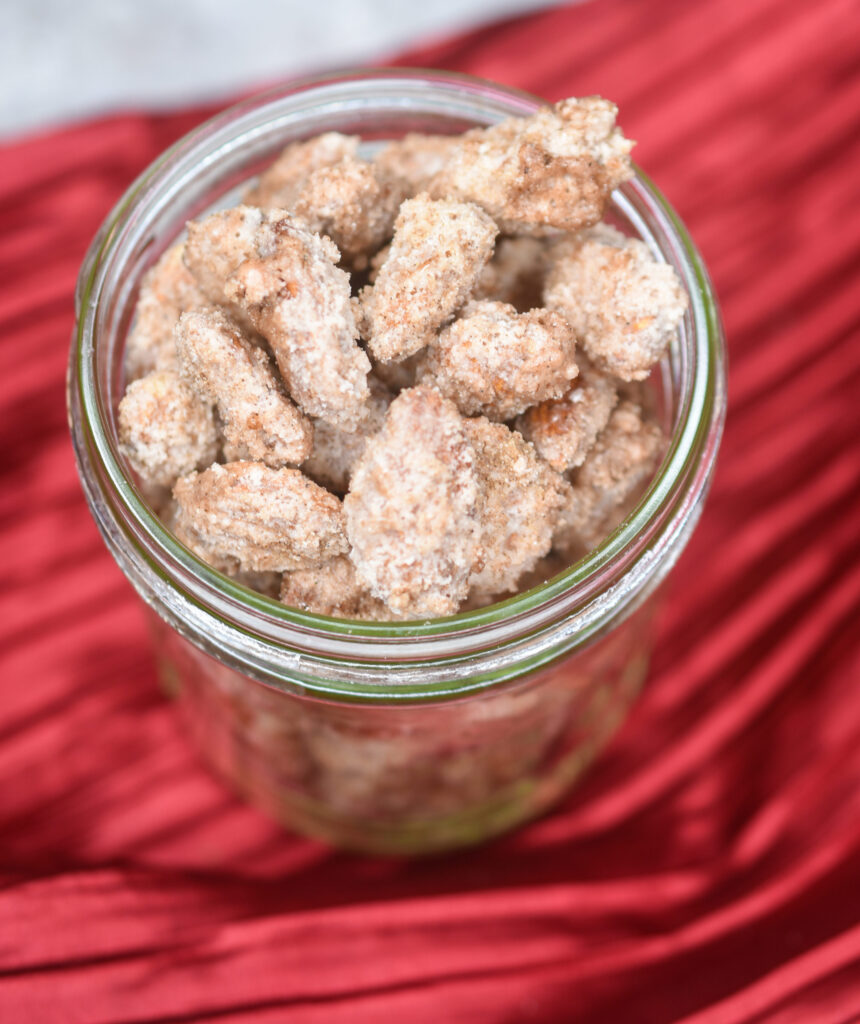 Just about every year, just before Christmas, my family and I visit Hershey Pennsylvania aka "The Sweetest Place on Earth".  We ADORE that town during the holidays.  We always stayed at The Hershey Lodge (however now that our kids are teens we do The Hershey Hotel), go to Hershey Park (which this time of year is called Christmas Candylane) at night. You get to see all the amazing Christmas & holiday lights at night!
And guess what?? They have reindeer! Actual reindeer. THAT right there was always worth it for me!
We guzzle down cups of their ridiculously delicious hot chocolate, usually getting "The Works" so yummy!  The thing that I am always excited to enjoy at the park?? The Burnt Sugar Almonds they sell – oh good Heavens they are delicious!! While we stroll around bundled up, hopping on a few rides here and there, listening to Christmas music and watching the dancing lights over the water. I crunch on those amazing nuts. Meanwhile my husband and kids devour their hot seasoned potato chips! The four of us walk around  munching and crunching (and occasionally dancing) enjoying ourselves immensely! Love it so much!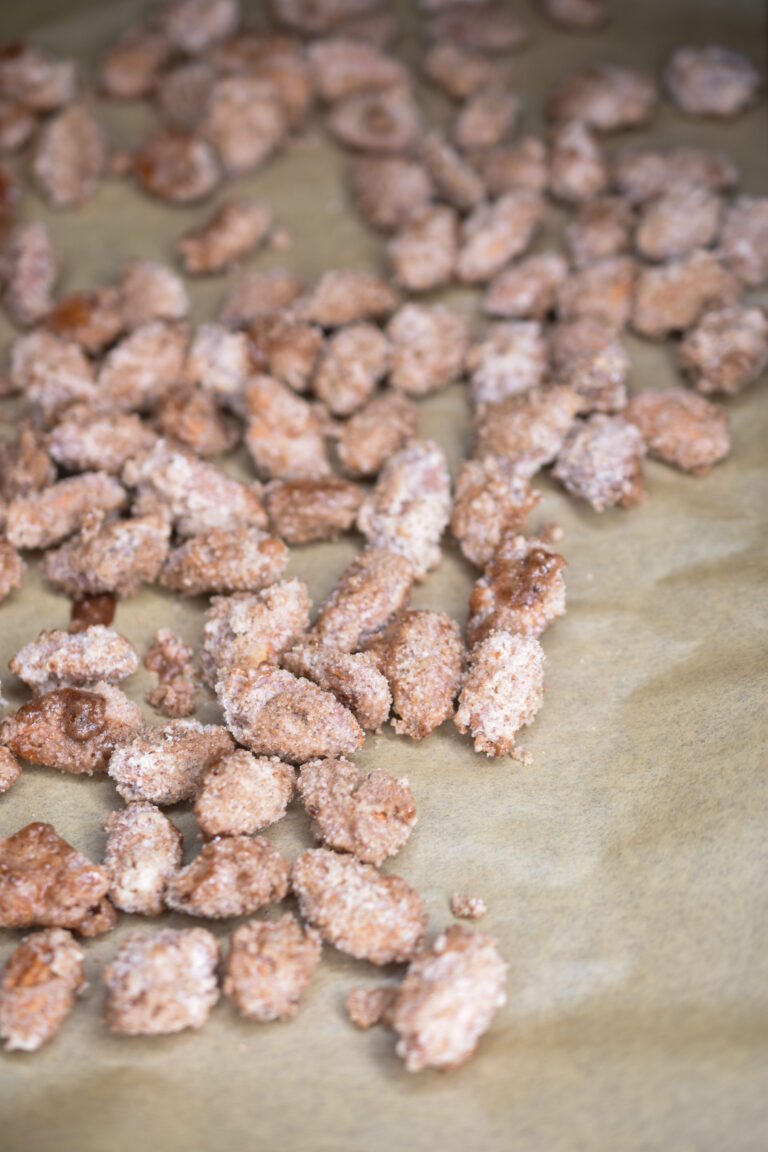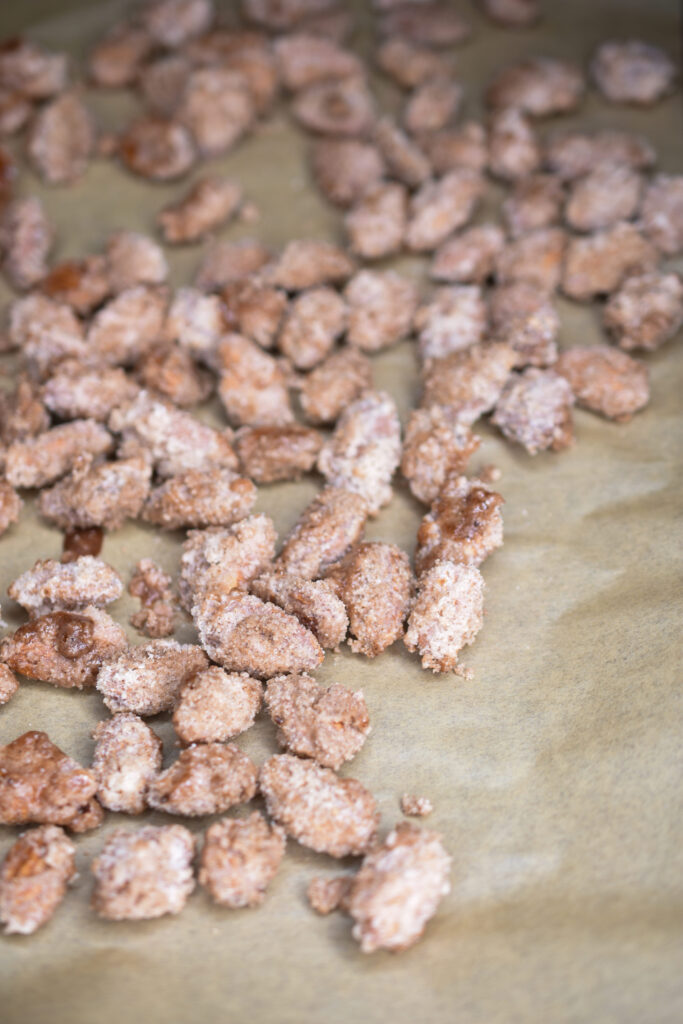 This easy recipe for Gebrannte Mandeln or Sugared Almonds, whatever you wish to call them, makes a fantastic holiday food gift too!
Package the almonds up on a cute bowl in a cellophane bag tied with a ribbon or in mason jars (large or small) or in baggies. Whatever you think up. I guarantee these will be enjoyed! Also a great host/hostess gift!
While in Hershey, PA we hit the The Hershey Story Museum, Houlihan's (which Hershey's owns) for lunch one of the 2 days and we always end with a visit to their huge Chocolate World store. So much candy, an amazing candy house each year, Santa, Plus there is a free ride telling you the Hershey story and choclate production etc. We do that like 5 times lol!
Also not to be missed there is the trolley ride – it's so fun and you ride past Milton's home and you-know-who makes an appearance on the trolley.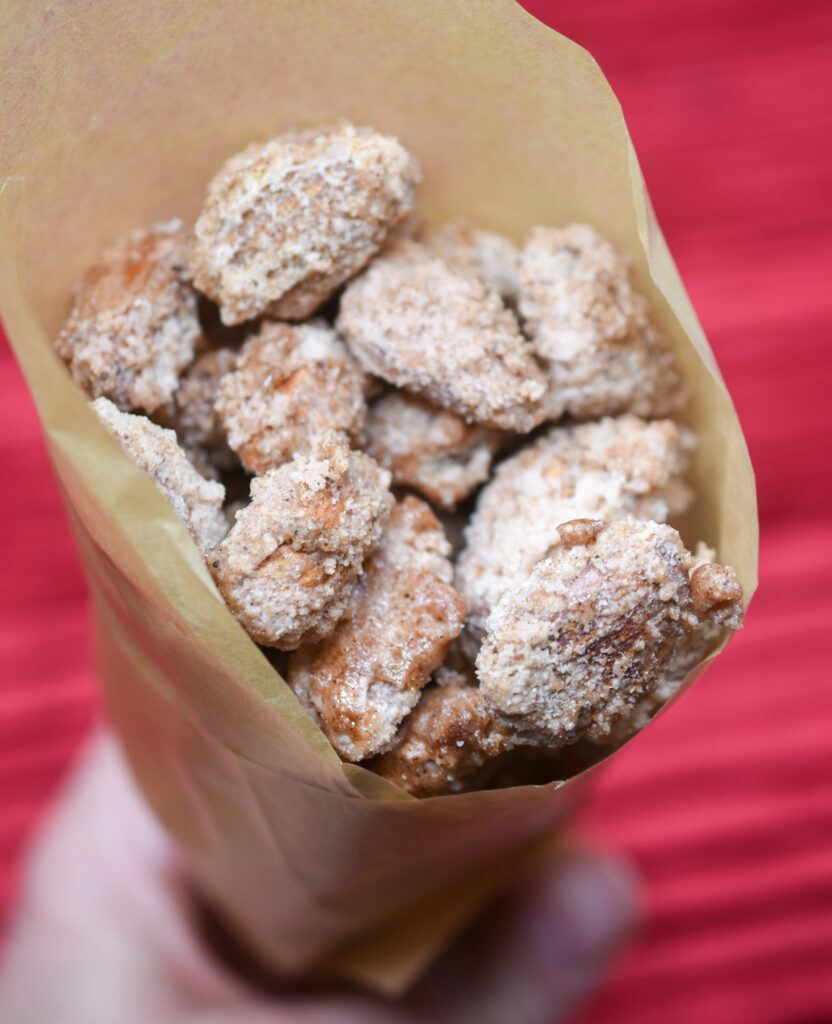 Milton & Kitty Hershey have long been idols of mine for a couple reasons. For one Milton failed SO many times and never gave up. And look what happened. I adorfe Milton & Kitty's love story, the town's story (and how it rallied around Milton after Kitty's death). Most of all I love what Milton & Kitty did…all the good they did (and still do) when they started The Milton Hershey School.  It's actually mind-blowing when you think about how many lives they (and the school) touched and in so many cases changed the path of their lives for the better.  
Do you know who has controlling interest in Hershey Corporation…and Hershey Park?  The school. THINK about that for a minute….The school, amazing!
When Kitty died way too early – Milton signed everything over to the school, to honor the idea she gave him about helping children, since they themselves couldn't have any.  The man behind the Hershey's chocolate bar is my idol…but the woman behind that man is my idol as well.  If you want to learn more about their story here is a place to start.
Tips when making Gebrannte Mandeln
Make in small batches as the recipe states. If you try to double or triple the batch, you rish burning the almonds.
I like adding in Vanilla Sugar or my favorite sugar called Spiced Vanilla Sugar from the Spice House at the end. You can also add plain sugar mixed with cinnamon, cardamom if you have it or even spice it up with a bit of red pepper (cayenne) and a pinch of salt.
Tinker with flavors and come up with your own signature sugared nuts.
Allow to cool completely, then store in airtight container (I like large mason jars for storing). Trust me they never last long.
These nuts are delicious enjoyed on their own, used to decorate cakes, as part of a cheese or charcuterie board or used in recipes in place of plain nuts.
If you like making holiday food gifts, check out Homemade Vanilla Syrup for coffee and more or Homemade Sriracha Salt.
Enjoy!
Post originally published in 2013, updated December, 2021 with new photos and recipe card. Nutritional info is calculated via a WordPress plug in.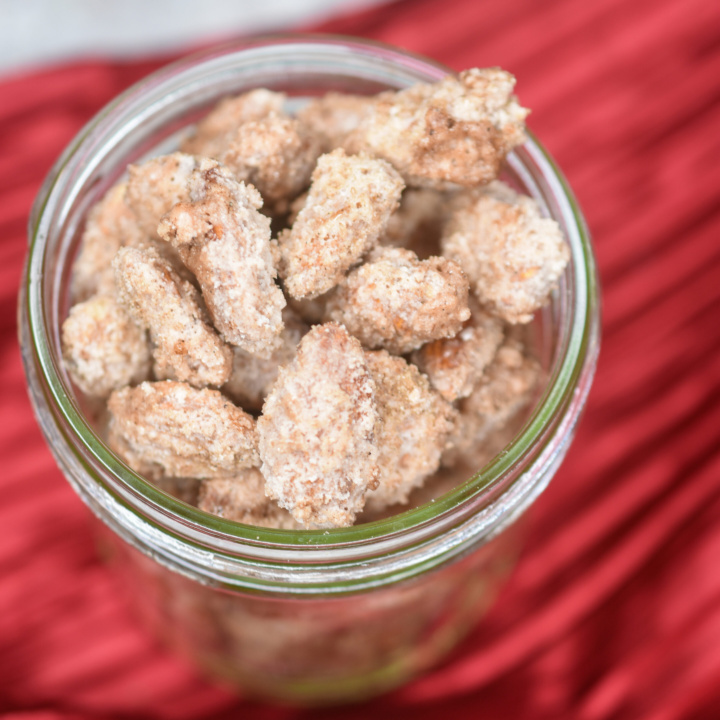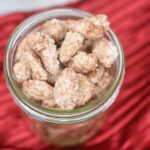 Print Recipe
Gebrannte Mandeln aka German Burnt Sugar Almonds
Recipe for delicious warm sugary crunchy nuts just like street vendors make!
Ingredients
1/3

cup

water

plus 1 TBS

1

TBS

vanilla

1

cup

sugar

2

cups

whole almonds

1/4

cup

vanilla sugar or Spiced Sugar or cinnamon sugar
Instructions
Add the water and 1 cup of sugar to a heavy bottom saucepan or skillet with sides.

Bring it to a boil over medium-high heat.

Once boiling, add in the almonds and stir CONSTANTLY until the water is boiled away. The sugar will begin to dry out a little and start to stick to the almonds. Keep stirring them around, so that the almonds don't have a chance to burn on the bottom of the pan.

One the almonds begin looking dry, turn the heat under the pan to medium-low, to keep the sugar from browning too fast. Keep stirring until the almonds start to get a little shiny in spots.

You are getting a serious arm workout making these – but its all good! It means you can eat extra!!

Now remove your pan from the heat for a minute, add in the extra 1/4 cup of sugar (or flavored sugar mixture). Keep stirring.

At this point, there might be some noise ensuing from your pan. Some crackling and popping, but hopefully not to much. It depends on how fresh your almonds were. Really fresh almonds will make a popping noise and the coat may start to crack. That's the water in the almonds escaping. If the almonds are older, that will not really happen.

Keep stirring until the almonds are a little shiny, but still a bit lumpy and coated. T

he best ones are the ones that are shiny in some areas with some delicious lumps of cinnamon sugar on other parts of the almond. As soon as you see that happening, take them off the heat and transfer the almonds to a sheet of parchment paper. Spread them apart as much as you can, but don't worry about some of them sticking together initially.

BE CAREFUL, however. These are extremely hot, so use a spoon. The coating on the almonds will harden up more after they are completely cooled.

Watch my 1 minute TikTok video to see how it is done.
Nutrition
Serving:
8
servings
|
Calories:
331
kcal
|
Carbohydrates:
39
g
|
Protein:
8
g
|
Fat:
18
g
|
Saturated Fat:
1
g
|
Polyunsaturated Fat:
4
g
|
Monounsaturated Fat:
11
g
|
Trans Fat:
1
g
|
Sodium:
1
mg
|
Potassium:
255
mg
|
Fiber:
4
g
|
Sugar:
33
g
|
Vitamin A:
1
IU
|
Calcium:
95
mg
|
Iron:
1
mg