I enjoy both making and eating appetizers, usually choosing to order 2 appetizers when dining out instead of an entrée (more to try!!). While at gatherings, when I spy a hot dip, I make a b-line towards it. I plant myself right next to it, the attraction is real!! Not only is this Cheesy Hot Jalapeno Chicken Dip appetizer recipe I am sharing today easy to prepare, you can also use it in a variety of ways. I call that a two-fer!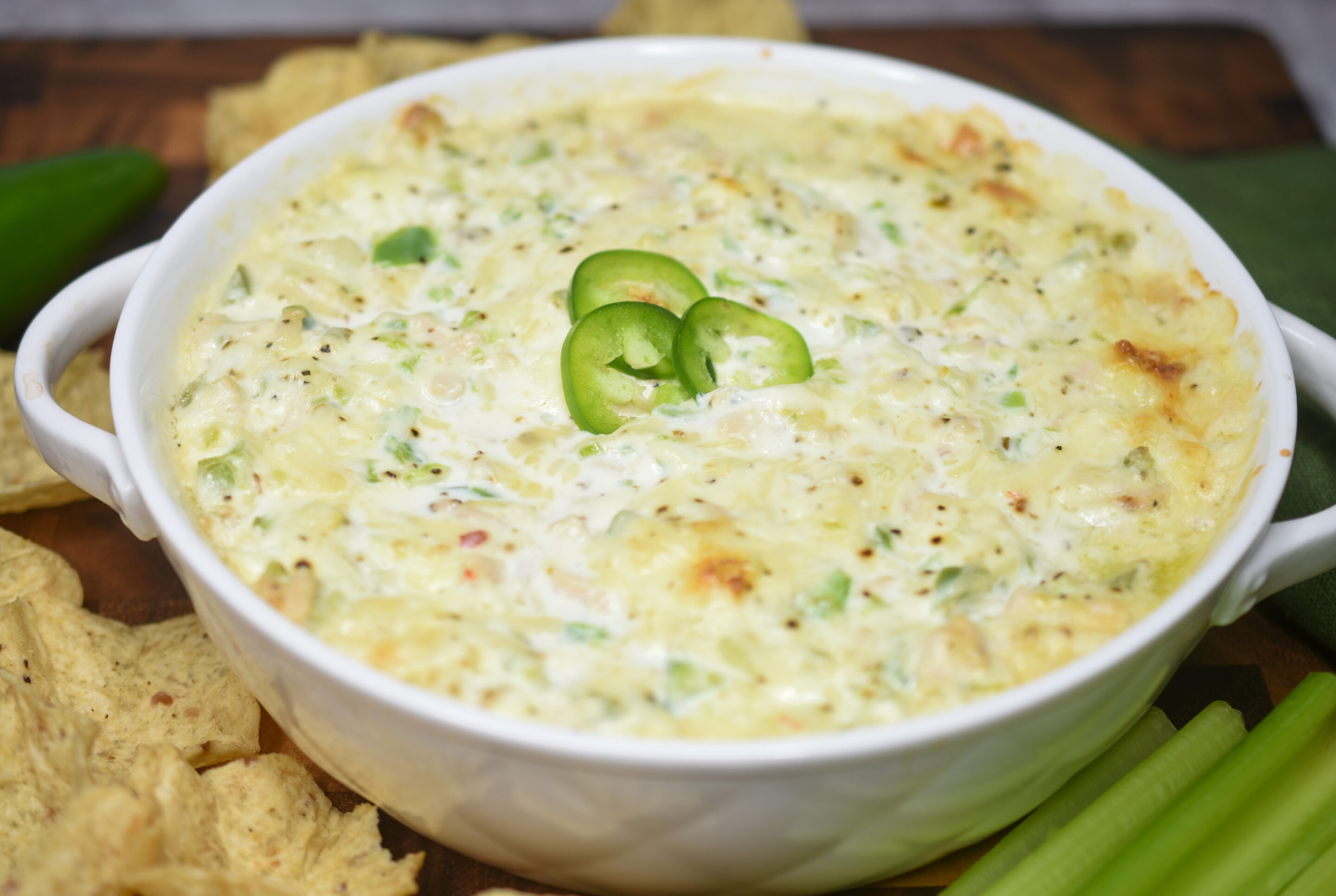 Easily prepared, this Jalapeno Chicken Dip is assembled and ready for the oven in under 10 minutes.
It can even be made ahead of time and baked when ready. This dip goes great with tortilla chips, pretzels, toasted bread slices (homemade or store-bought crostini) or raw veggies like celery or thick cut pepper slices. You can also customize this Cheesy Hot Jalapeno Chicken Dip in a number of ways which I list below.
Even before I started my food blog, I cooked and or baked almost every day. What excites me about cooking is that it doesn't need to be complicated to be delicious and to get others excited. SO of course I get seriously excited when I find food items or ingredients that deliver on taste and save on time. From spot-on spice blends to shortcut ingredients that I feel good about feeding my family. Especially if they are better for you or save me time and effort in the kitchen. Couple those ideals with my being an advocate for America's farmers and NAKED TRUTH® Premium Chicken is a home run for my family and I hope for yours as well. I'm excited to partner with them to share both this recipe and their story.
My family & I are loving Naked Truth's cooked-to-perfection ready to eat chicken. Conveniently packaged in sous vide bags they are simple to heat and enjoy on their own or use as an ingredient like I did here. Farm raised and family focused, their chickens are raised by farmers right here in the USA. Naked Truth farms are 100% independently owned and operated by the farmers, supporting the families that work them. And the chicken worked great in this Hot Jalapeno Chicken Dip.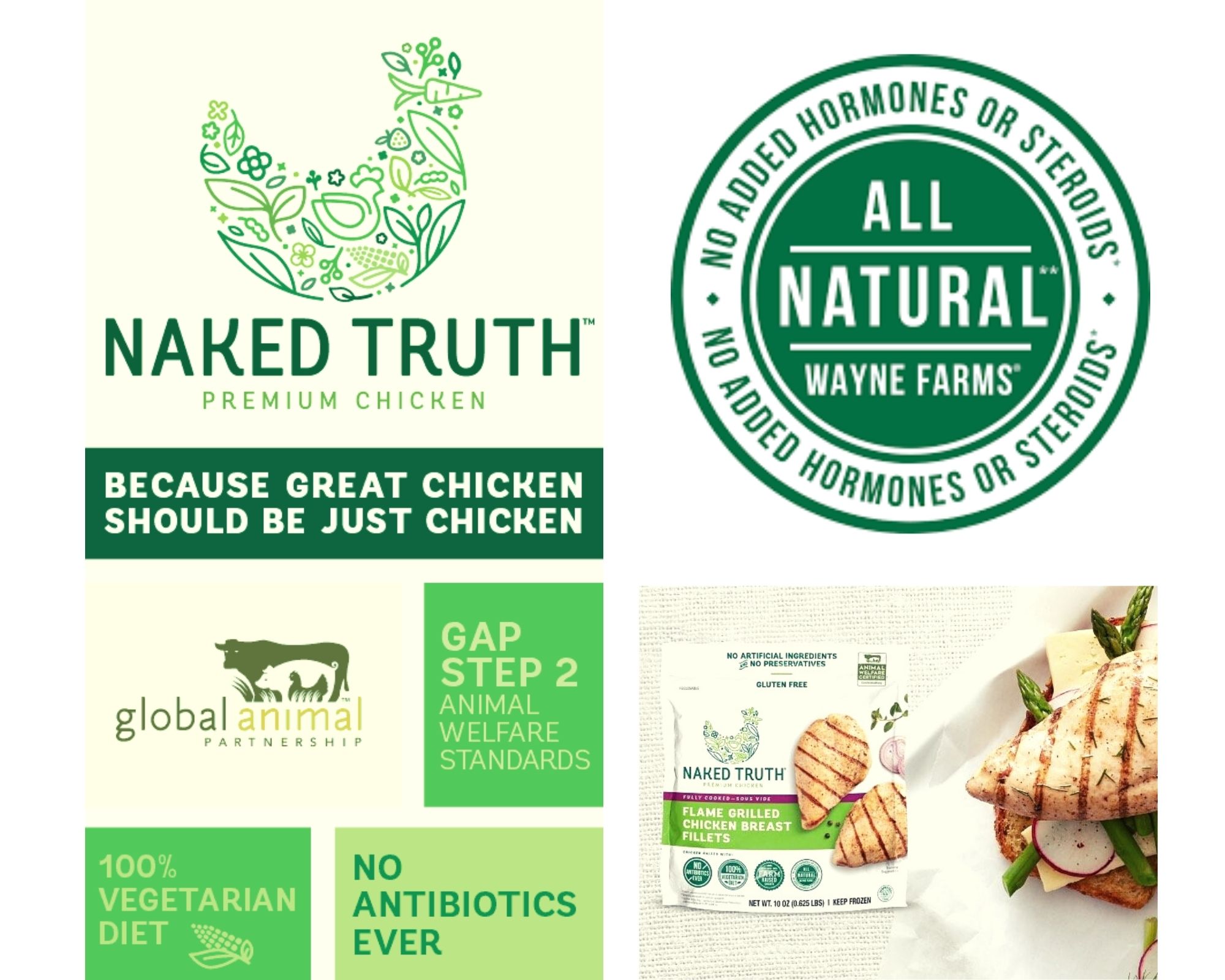 Naked Truth Products include:
Flame Grilled Chicken Breast Fillets

(which I used in this recipe). Grilled and lightly marinated they are ready to enjoy. Great on their own as an entrée or part of an entrée, used for paninis, salads, casseroles, tacos, nachos and more.

Grilled Chicken Breast Chunks

also grilled and lightly marinated. Great for use in salads, charcuterie boards, sandwiches or on their own. Also perfect lunch for the kiddos, I love that the ingredients are straightforward, natural ingredients which contain no antibiotics. If this is how you introduce "nuggets" to your kids and stick with it, you are ahead of the game.
Stay tuned for a fun Zoom cooking night using Naked Truth Premium Chicken! If you want to be a part of it, shoot me an email (colleensoufflebombay@gmail.com) or message me on Instagram or Facebook and I will alert you once the social media is live for the sign-up! The first 25 will receive some free swag. Zoom cook-along nights are always a great time!
Based in Georgia, Naked Truth Chicken is owned by Wayne Farms who have been around for over 100 years. They pride themselves on simple yet GOOD chicken. Cooked to perfection via sous vide technology, ready for you to enjoy on its own or as a component of an endless array of recipes from soups, salads, entrees, appetizers and more!
Naked Truth takes pride in the raising of their chickens. Animal welfare is a top priority:
More room to roam

Access to natural light

Environmental enrichments
As far as their finished product:
No Antibiotics Ever

100% Vegetarian Fed

All Natural *Minimally processed, no artificial ingredients or flavors

Sous Vide Cooked (Fillet) – means "under vacuum" in French, refers to the process of vacuum-sealing food in a bag, then cooking to a precise temp in a water bath. Ensures that the food is moist, juicy and tender
The Convenience of Naked Truth Chicken:
Thaw overnight in the fridge so you can eat it cold the next day

Can microwave from a thawed state in just 90 seconds

Can easily slice and serve to add protein to any hot or cold meal

Reheat multiple ways (oven, pan, water bath) or enjoy right out of the bag to use on salads, sandwiches, soups or stews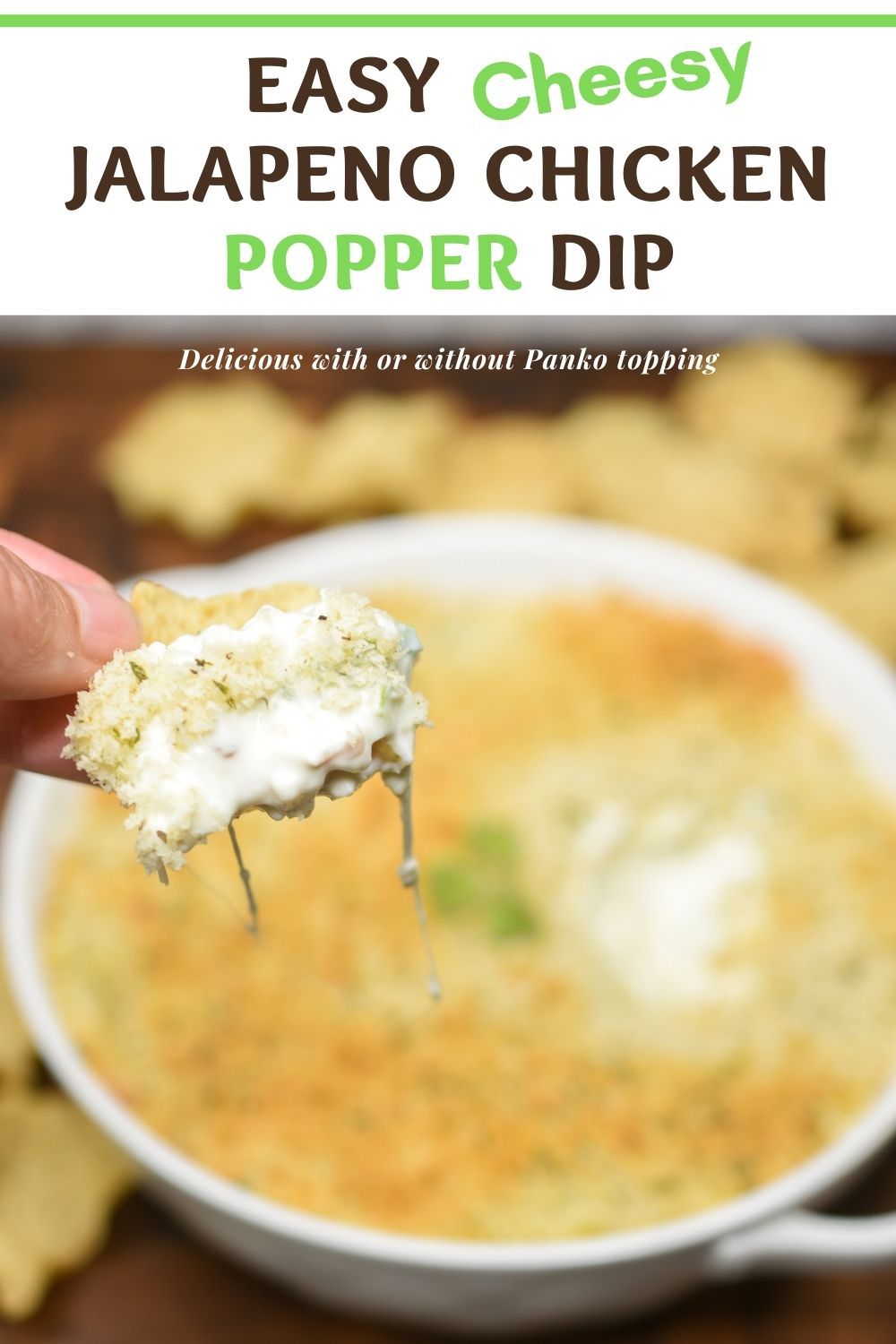 Find Naked Truth Premium Chicken at your local Whole Foods Market in the freezer section.
How To Make Hot Jalapeno Chicken Dip:
Gather your ingredients: chopped jalapenos, chopped cooked chicken, cream cheese, Parmesan Cheese, Pepper Jack cheese (or Monterey Jack), mayonnaise and black pepper. Panko if using. Mix everything in a bowl until incorporated and then bake at 375 for 20-25 minutes until lightly browned and bubbly.
How can I customize Cheesy Jalapeno Chicken Dip?
Lighten it up by cutting the mayo in half and substituting sour cream

Feel free to swap the Parmesan cheese for all Monterey Jack or Pepper Jack cheese or use Cheddar cheese or half Cheddar and half Monterey Jack or Pepper Jack . Or use whichever cheese you may feel works for you.

No jalapenos? In a pinch, use canned, however, fresh is best.

If you like it spicy, leave the seeds and stems (or some) in or add in some Tabasco.

Choose to top with Panko breadcrumbs for a little crunch (or leave plain) I make it both ways yet seem to prefer without the Panko.

Add in fresh herbs you enjoy or chopped sweet onion or scallions.
What other recipes can I use Hot Jalapeno Popper Dip for?
Stuffed Mushrooms! Clean large mushrooms and remove the stems. Stuff with the dip and bake at 375 until mushrooms are done to your liking. You can also choose to chop the stems (after cutting off the tough bottom) and add them into the dip for no waste cooking (cook time will vary based on size of mushrooms used).

Stuffed Mini Peppers! Use dip to stuff small peppers as I did below. If spicy is your thing, you could also use jalapeno or poblano in place of sweet peppers. Just bake at 375 in the oven for about 20 minutes or until peppers are done to your liking (cook time will vary based on size of peppers used).

Killer Grilled Cheese! Butter slices of sourdough bread, top one with shredded cheese (I use Pepper Jack however, use what you prefer), top with additional chopped or sliced chicken, top that with a few TBS of the dip. Heat a pan, place both slices of bread butter side down. Place a lid overtop for a few minutes. Next, place the empty slice onto the slice with the ingredients and continue to cook, flipping carefully once until done to your liking. Slice and enjoy. THIS was delicious!!

Use this as the base for Jalapeno Chicken Macaroni and Cheese. Soooo yummy! Cook macaroni, drain, toss with this and bake it up.

I also made a crescent roll ring and stuffed it with this mixture, a hit!
I hope you try out this simple yet scrumptious Jalapeno Chicken Dip and I hope you pick up a few bags of Naked Truth's Premium Chicken at Whole Foods to enjoy any way you like. Follow Naked Truth on Instagram and Facebook to learn more. for recipes and updates. To locate where to purchase near you use the convenient store locator found at the top of the page here.
You may also enjoy this 5 Ingredient Hot Onion Dip or this amazing simple Seafood Soup recipe!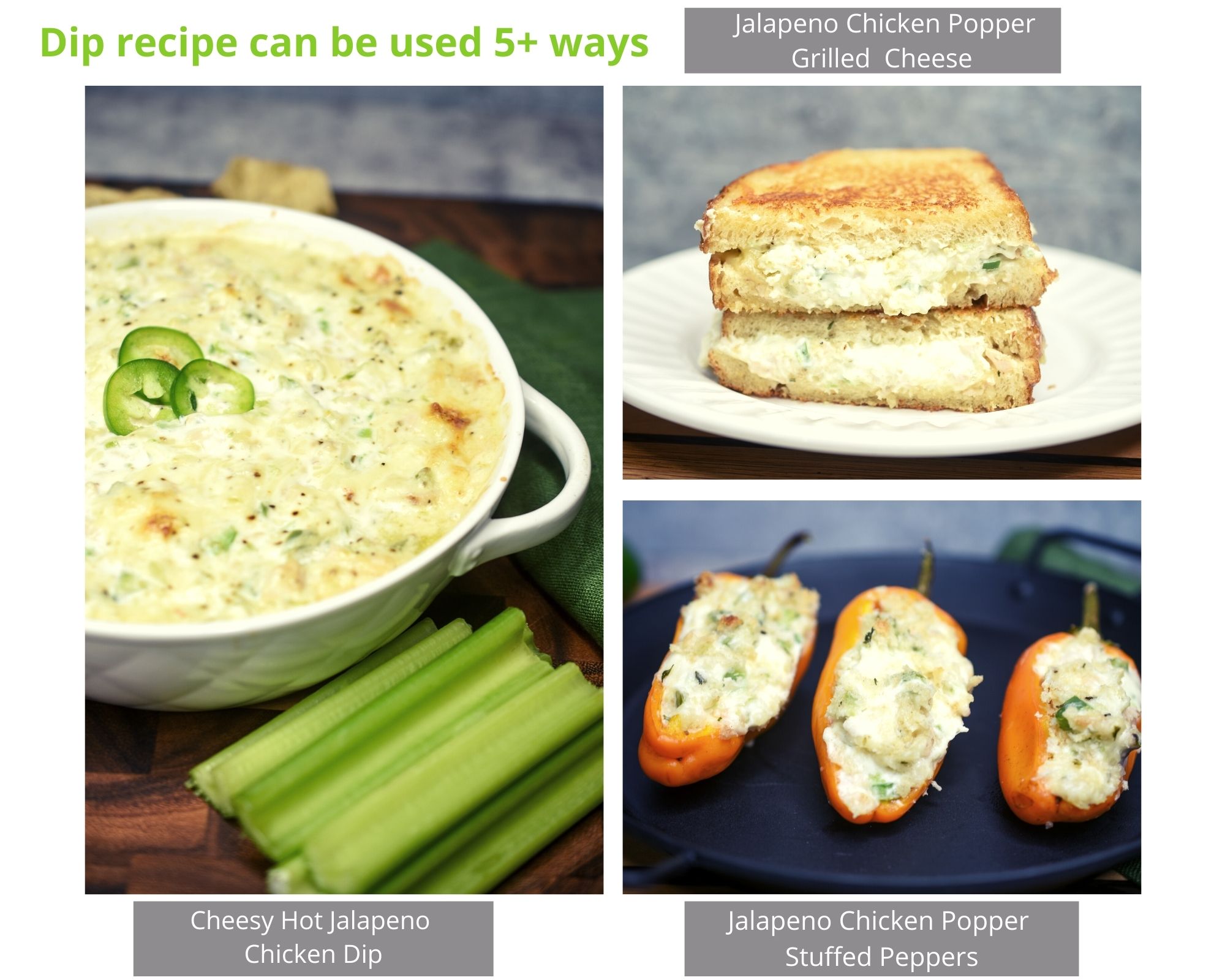 Recipe originally published March, 2011. Updated July 2021 with new photos and a tweaked recipe.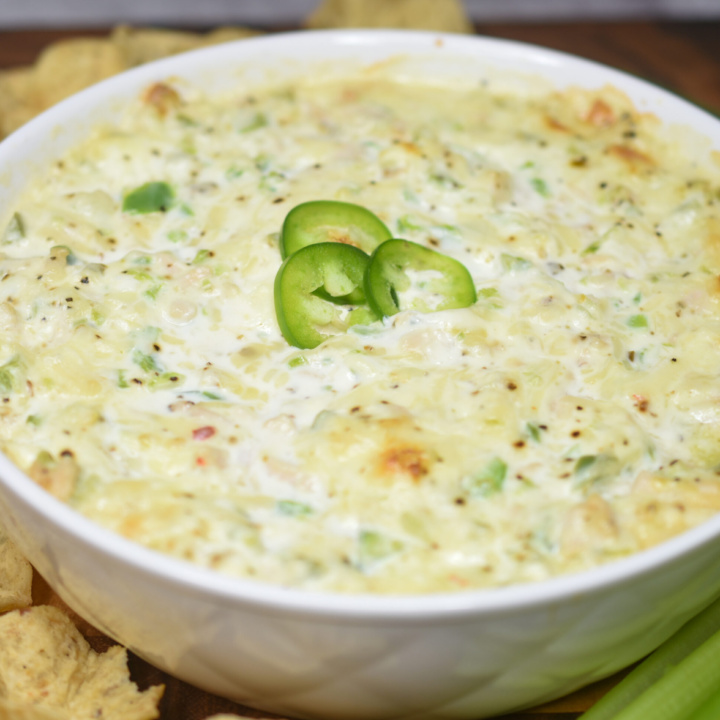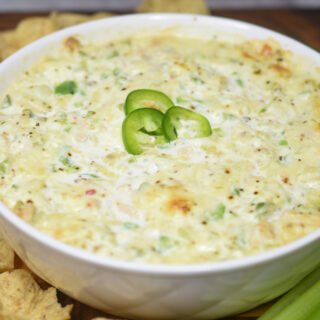 Hot Jalapeno Chicken Dip
Easy to make, hot & cheesy. This Jalapeno Popper Dip with chicken is great as a dip, on a grilled cheese, stuffed into mini peppers or mushrooms and more!
Ingredients
8

oz

of softened cream cheese

½

cup

mayonnaise

3-4

whole Jalapeno peppers, minced or chopped

Stemmed and seeded (leave a few seeds in if you want it spicier, most of the heat is in the stems and seeds).

¾

cup

chopped cooked chicken

½

cup

shredded Parmesan cheese

1

cup

shredded Pepper jack cheese

see notes

Black pepper
Optional topping
¾

cup

Panko

Japanese breadcrumbs – Don't substitute with regular breadcrumbs. You can add herbs to the topping if you choose.
Instructions
Preheat oven to 375 degrees.

Combine the cream cheese, mayo, jalapenos, chicken, cheeses and pepper in a bowl and mix until smooth.

Bake for 20-25 minutes or until the top is browned and begins to become bubbly.

Baking it a dish that the dip is spread out shallow vs deep is best in my opinion.
Notes
I prefer this dip without the Panko topping, however my husband enjoys it with the topping. Either way is delish! If you do choose to use the Panko, you can jazz it up with fresh or dried herbs or garlic powder, salt and pepper. You can also add chopped scallions to it as well as addition al minced jalapenos.
Full fat cheese is best for this recipe. I like the combination of cream cheese, Parmesan cheese and Pepper jack cheese for this. However cheddar works in place of the Pepper jack and if Parmesan cheese is not your thing you can omit it and use only the Pepper jack, Monterey jack or Cheddar (in addition to the cream cheese).
Lighten the dip up a tad by swapping sour cream for the mayo.
Don't rush the dip by baking it at a higher temperature, you un the risk of the cheeses "breaking" and becoming oily/separated.
Nutrition
Serving:
6
servings
Calories:
412
kcal
Carbohydrates:
8
g
Protein:
15
g
Fat:
36
g
Saturated Fat:
15
g
Polyunsaturated Fat:
9
g
Monounsaturated Fat:
9
g
Trans Fat:
1
g
Cholesterol:
84
mg
Sodium:
551
mg
Potassium:
180
mg
Fiber:
1
g
Sugar:
2
g
Vitamin A:
811
IU
Vitamin C:
9
mg
Calcium:
293
mg
Iron:
1
mg
Follow me on Tik Tok for 1 minute videos