My Summertime Marinade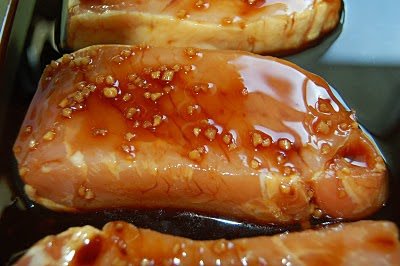 I think my favorite thing about Spring, Summer and Fall is sitting out back reading a good book while the grill is working it's magic on the tasty morsel of the moment!!
This is my go to marinade for chicken and or beef kebabs with mushrooms, onions, tomatoes etc…I use it in tuna steaks and pork chops as well. I boil down the reserve and serve with the meat and often drizzle it over rice.
I think I was a teenager when a good friends of my parents from CT had come for a weekend visit. They brought with them some beef in a huge Tupperware container that had been in a marinade for a day or so – I remember the lid being opened and getting smacked in the face with a wonderful smell. I remember asking WHAT IS THAT and being told it was soy sauce, sherry and garlic…or so I remember and have been whipping it up ever since! Thanks Suzie!
I have never measured anything when making My Summertime Marinade and don't really think you can go wrong here….
My Summertime Marinade
1 cup of soy sauce
1/4 cup Worcestershire sauce
2 TBS sherry
4-6 cloves of garlic smashed or 2 TBS (or more) of minced garlic from a jar.
Combine all ingredients and let meat marinate for 2 -6 hours.
For Tuna let marinate 1 hour.
Make a separate batch for your veggies.
YUM!!! I hope you enjoy it!!
Colleen