If you love Pecan Pie but don't really want to make an actual pie, try baking up these decadent Pecan Pie Cookie Bars instead!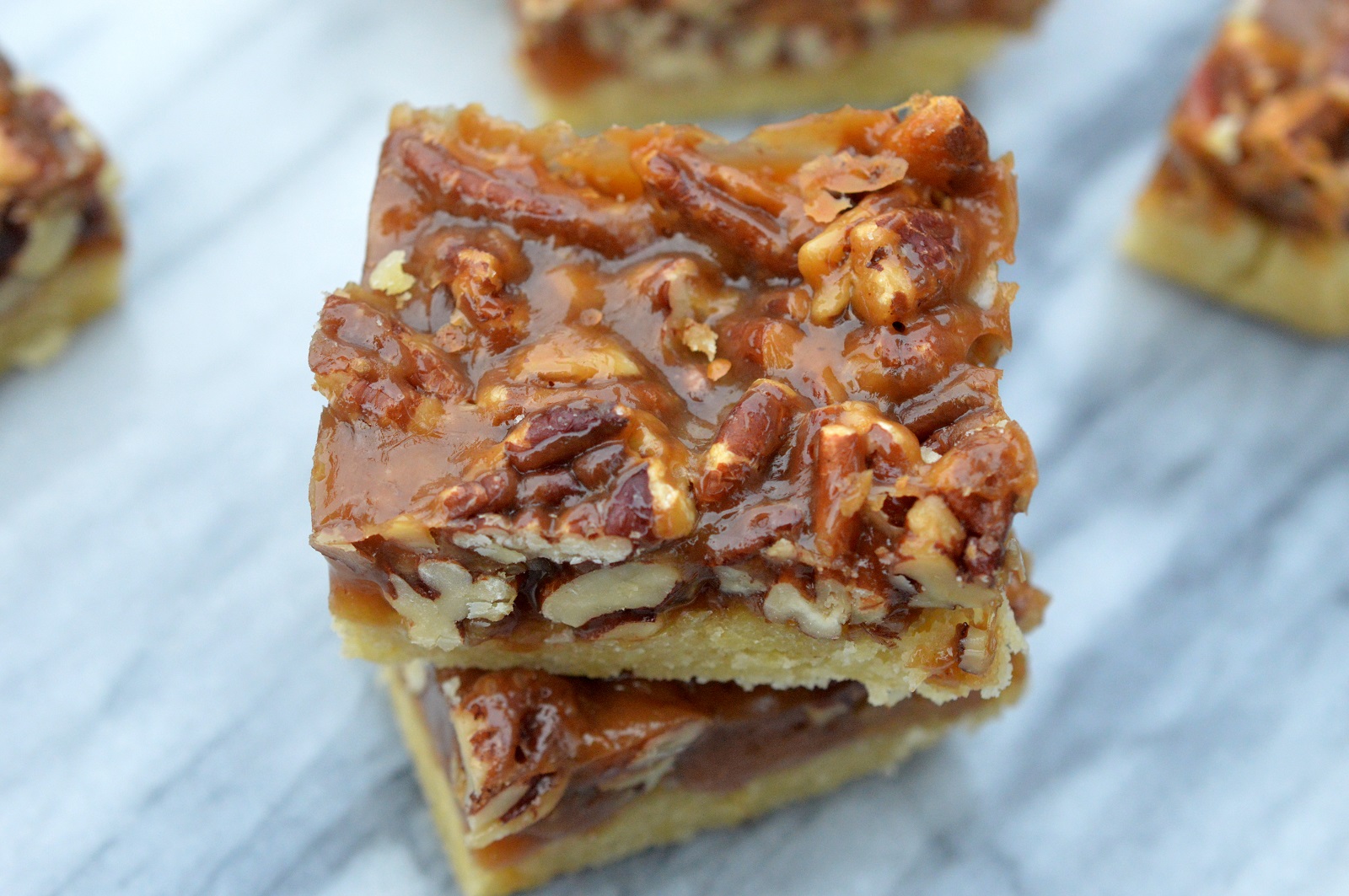 Growing up I never had pecan pie or even saw it as far as I can remember. Maybe it was there and I just never took notice. Once I did have a slice (in my 30's...lol), I was like "where has this been all my life??")
Everyone has their culinary superpowers right?? Some are amazing at grilling, some baking, some cake decorating, some pie making. I don't care who you are, even if you think you can't cook...There is something you make incredibly well, even if its a kick-ass grilled cheese or bowl of oatmeal...Go you!
I can make pies but, I am not amazing at it. But cookies?? Cookies are my jam!! I mean I freaking love a homemade cookie, like looooove! A good cookie (or who am I kidding, like 3-4 cookies) trumps just about any fancy dessert for me. I am after all a self-proclaimed cookie monster, haha! I really do need a Cookie Monster t-shirt, pajamas, or slippers OMGosh, slippers!! If there is such a thing...gasp just thought of those for the first time ever, slippers are my favorite thing in the whole wide world!!!).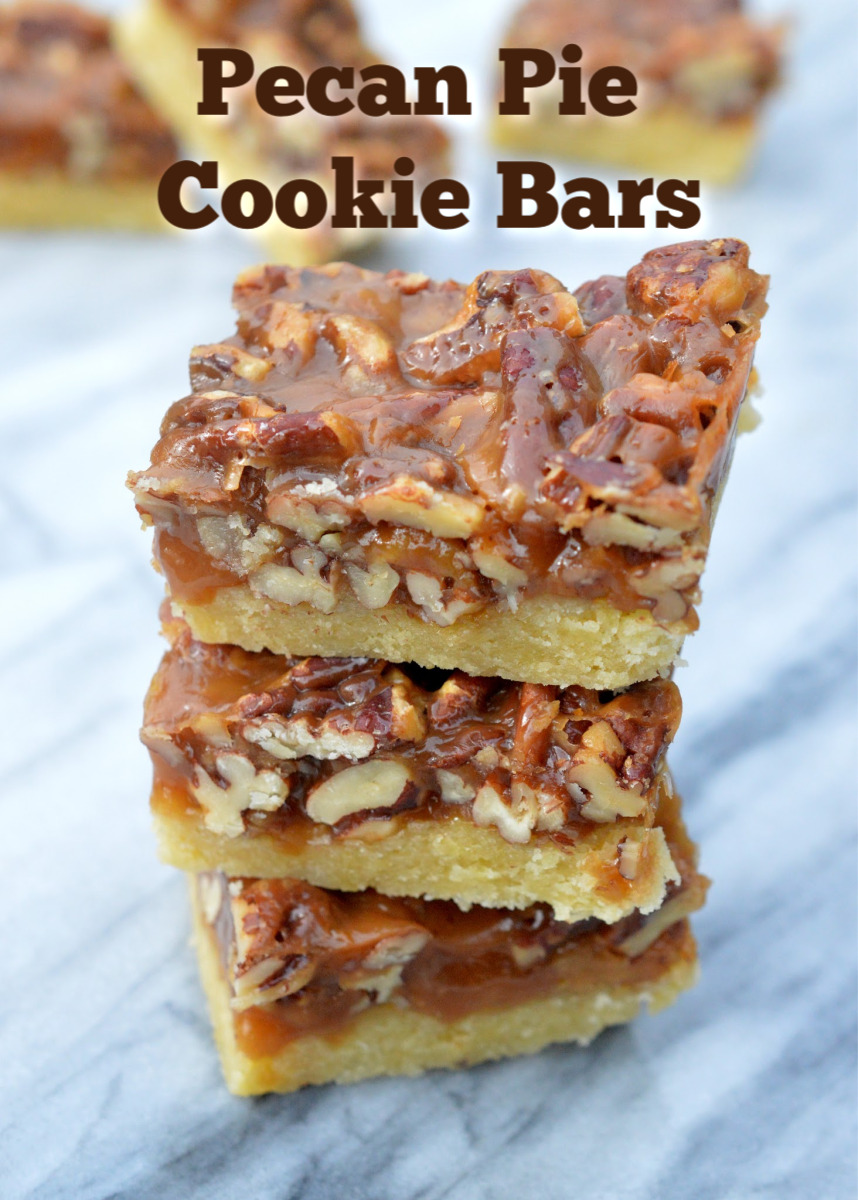 What Are Pecan Pie Cookie Bars?
Pecan Pie Cookie Bars have a shortbread bottom and a traditional Pecan Pie topping, they are the perfect bite to get that classic pecan pie flavor without actually making a pie!
What Do I Need To Make Pecan Pie Cookie Bars?
To make Pecan Pie Cookie Bars all you need are some basic baking staples like butter, sugar, brown sugar salt and flour and then a few more ingredients that you don't use as often; pecans, corn syrup
How Do I Make Pecan Pie Cookie Bars?
First, you make the shortbread cookie part, which is super easy. I use my food processor which makes it so quickly. Then you head to the stove to make the topping. After that, you pour the topping overtop the cookie base and bake until cooked through. You allow your Pecan Pie Cookie Bars to cool completely to set and cut them into bars or bite-sized squares and gobble them up! Ok, ok...you should share! You can also use a brownie pan for these as well, I line the pan with parchment paper.
Can I Freeze Pecan Pie Cookie Bars
Yes, wrap them in parchment paper, then store in a freezer safe container or double freezer bags (a bag inside of a bag). They will keep well for up to 3 months.
Can I Halve The Pecan Pie Cookie Bars Recipe?
Yes! You totally can, I have even cut this recipe down into a fourth when the mood strikes yet I just want a few bars.
Pecan Pie Cookie Bars make an excellent and attractive addition to a cookie tray or even a cheese or grazing board. They never last long once people try them.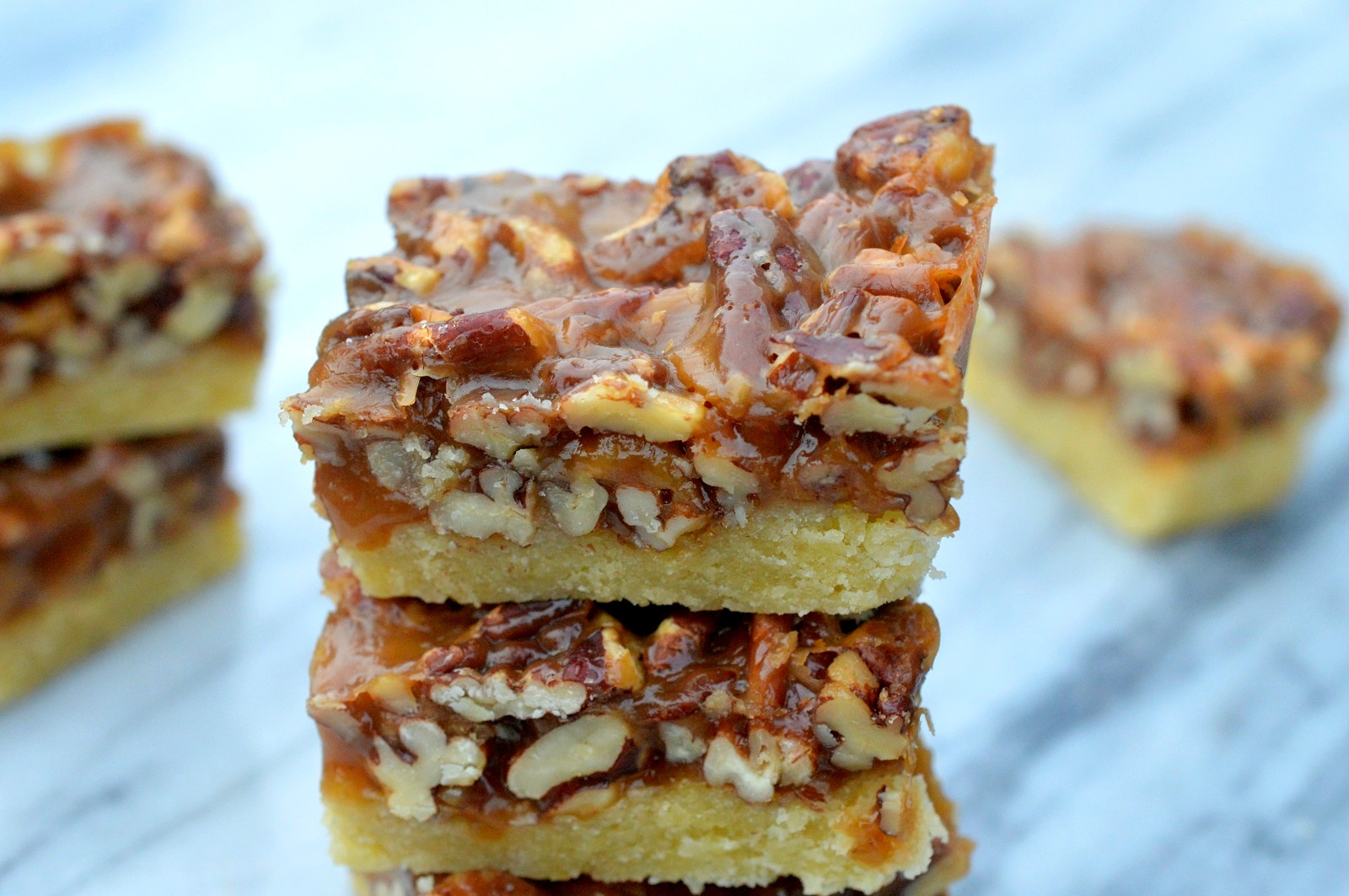 Let me know what you think if you try these out! This is a Martha Stewart recipe from quite a while back, it has a ton of positive reviews. I just changed it up a smidge. Thanks Martha!
Enjoy!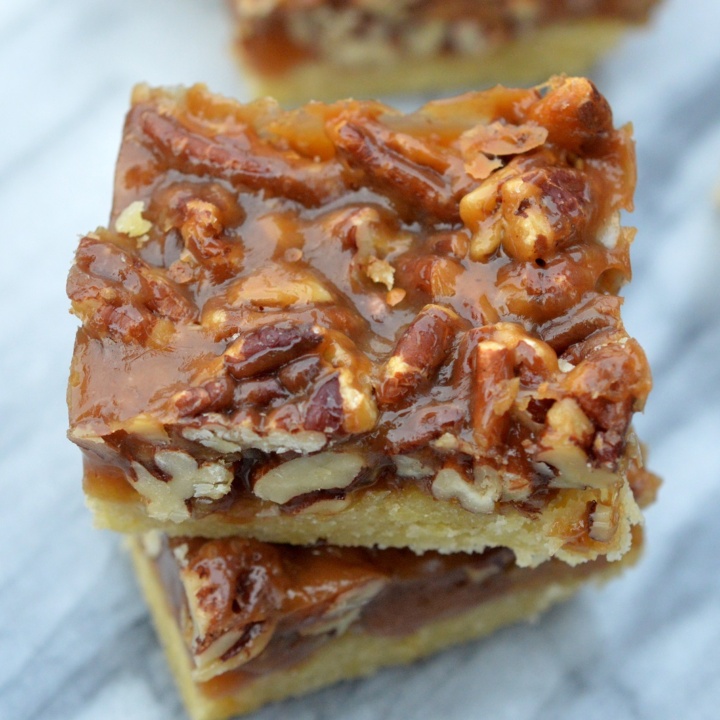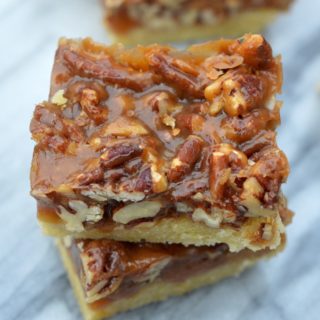 Pecan Pie Cookie Bars
If you enjoy Pecan Pie, you will love these scrumptious Pecan Pie Cookie Bars!
Ingredients
Shortbread Crust

1 ½

cups

flour

1

stick of cold butter

½ cup, cut into pieces

¼

cup

sugar

Pinch

of salt

1

large egg

lightly beaten

Topping

¾

cup

brown sugar

packed in

¼

cup

light corn syrup

¼

cup

heavy cream

2

cups

chopped pecans

1

stick butter
Instructions
Preheat oven to 375 degrees.

Line a 9-inch square baking pan with parchment paper, allowing the paper to come up two of the four sides for easy "pick up" after baking.

Make the crust by first pulsing your flour, sugar <g class="gr_ gr_116 gr-alert gr_gramm gr_inline_cards gr_run_anim Punctuation only-ins replaceWithoutSep" id="116" data-gr-id="116">and</g> salt once or twice, just to blend it and then adding in the butter chunks and pulsing until crumbly.

Add in the egg and pulsing until a dough forms.

Turn out the dough mixture into your parchment paper lined pan and press with your fingertips to line the pan evenly with the dough.

Bake shortbread crust for 20 minutes, remove from the oven and allow it to cool for 10 minutes or so.

In a saucepan, combine butter, brown sugar and corn syrup. Bring to a boil over med-high heat whisking almost constantly. (mixture will grow a bit as it bubbles up so use a large enough pan). The mixture will become smooth, continue whisking over the heat for another 2-3 minutes. The mixture will darken slightly.

Remove pan from heat and carefully whisk in the cream and the pecans.

Quickly turn out the mixture onto your shortbread crust and spread it evenly with a silicone spatula, pressing down firmly once it's even.

Bake until bubbly and golden, about 18-20 minutes.

Cool for an hour and then lift it using the parchment paper, transferring it to your counter or pastry board. Using a sharp chef's knife, cut into bars or squares. Press firmly in long cuts to cut cleanly and evenly.

Make sure bars are completely cool before placing them in a container (I line it with parchment paper). Store in a cool place for up to a week. I store in a parchment paper lined container, if you have 2 layers, place a piece of parchment paper in between.
Follow me on Tik Tok for 1 minute videos