Last week I shared an easy Pepperoni & Cheese Stromboli recipe with you and as promised...Here is the Philly Cheesesteak Stromboli I also make.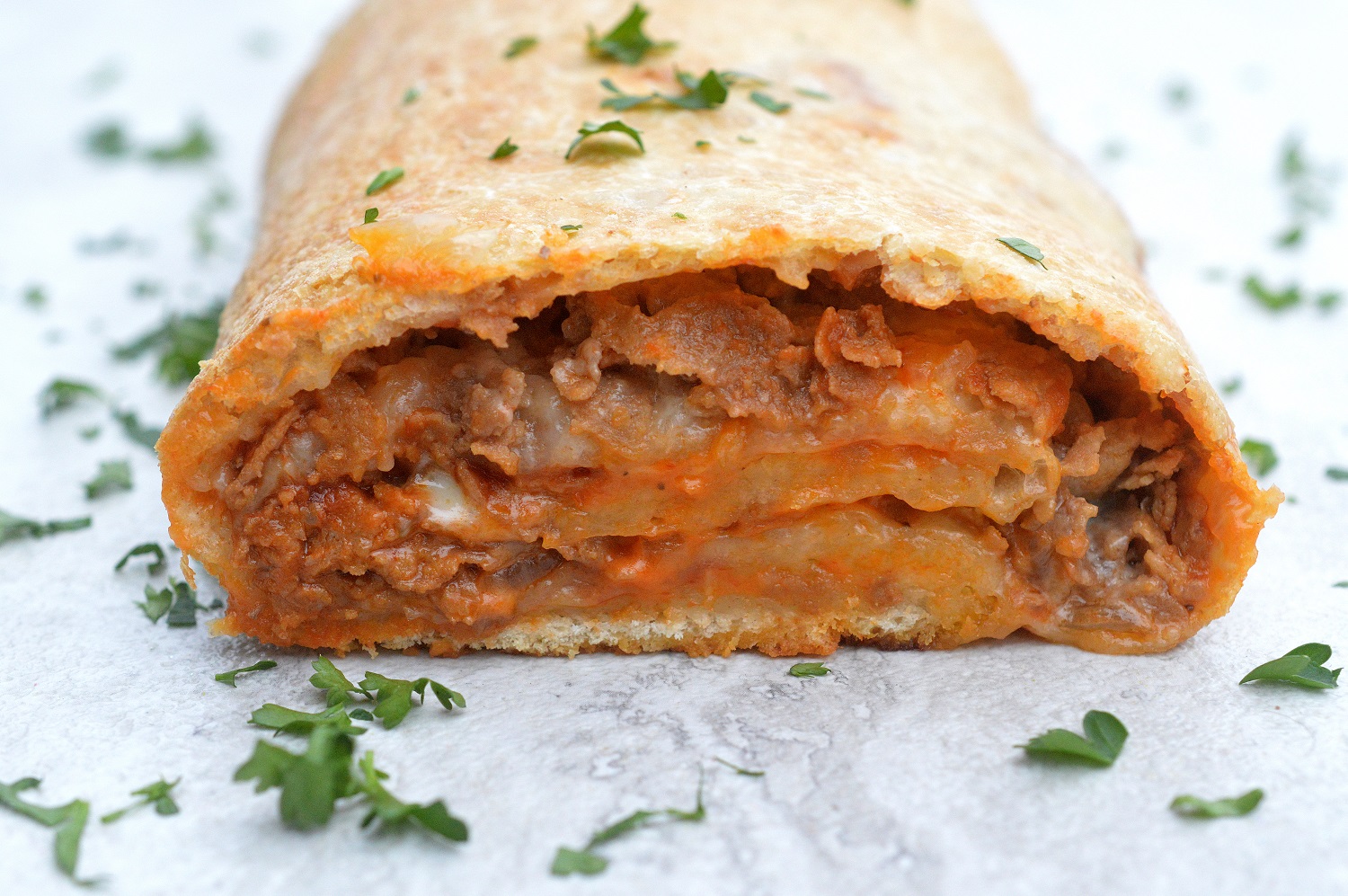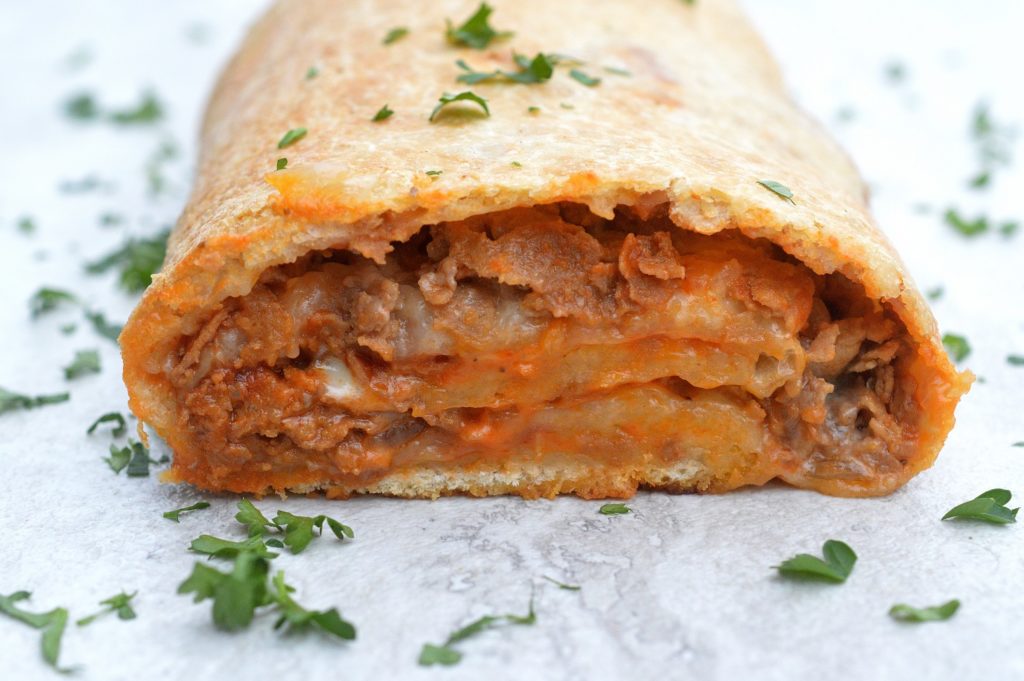 Growing up in Philly meant lots of cheesesteaks, pizza and hoagies. I had one of those three weekly as a kid. It's been very interesting to watch all three of those dishes change over the years and become elevated since my childhood.
I can vividly remember the first time friends were ordering a non-traditional pizza about 22 years ago. I was like what?? Eeeew!!! That sounds awful!! Denise if you are reading this it was at your place and it's burned forever in my mind, lol!  It involved pineapples and chicken on a pizza. I though the world had gone mad at the very thought, and wanted noooo part of it!
One thing I have always enjoyed, is a Cheesesteak Stromboli.  Mmmm! The crust, the meat, the cheese...dipping it in the sauce. I really dig that from time to time! So years ago I began making them at home and it's really easy!
You can add stromboli-making to your pizza night...it's almost the same thing! The whole family can get into making them as well.  You can make a few varieties if you like, any size you want!
If you want to give my Pepperoni & Cheese Stromboli a whirl, here is the recipe.  If you want to stay in the sandwich lane and enjoy a straight up Philly Cheesesteak...You have to try this recipe I did for SABER Grills using Fillet Mignon...It's a game-changer!  I can not believe how scrumptious it came out! Who knew fillet mignon would help make the most fantastic Philly Cheesesteak??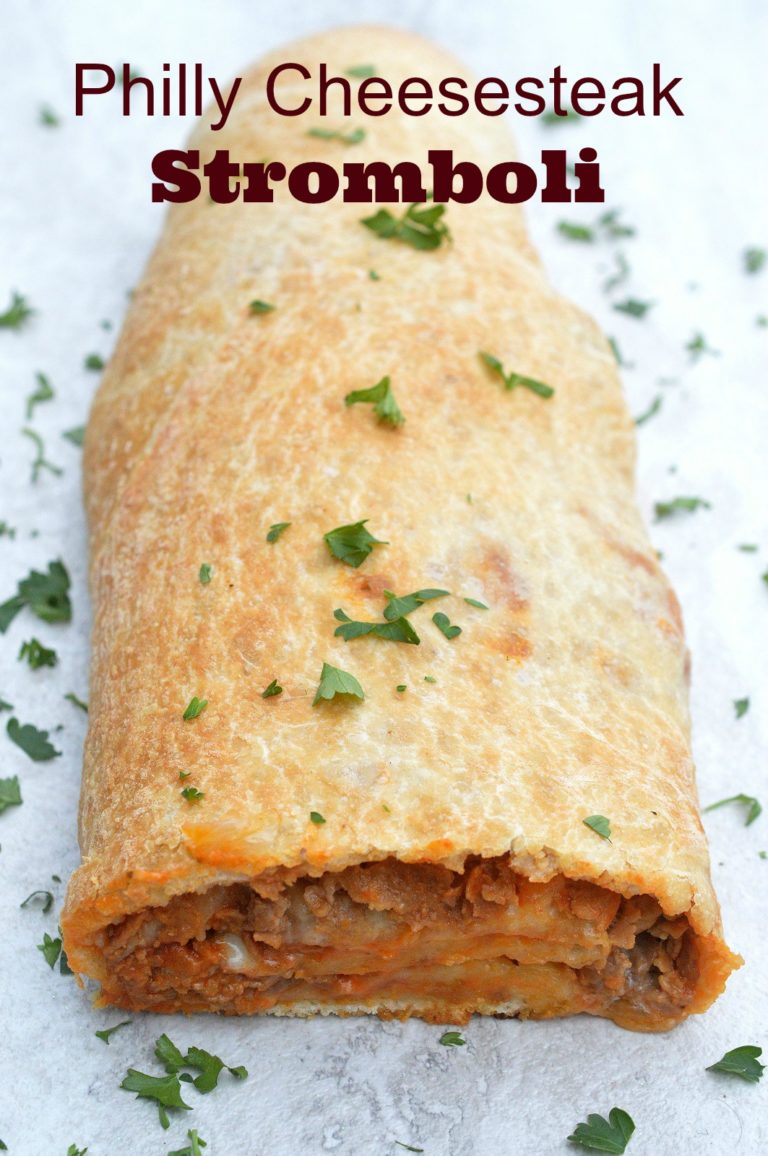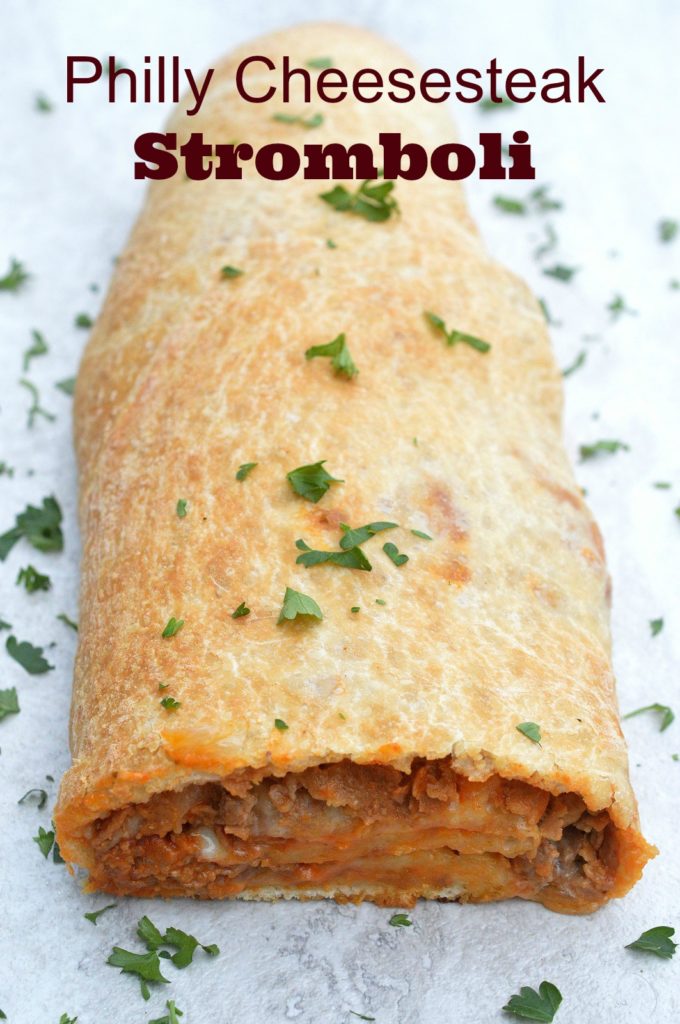 Try this stromboli (the above is only ½ of it)!  All you need are pizza dough, which I always buy from my local pizza shop...it's fresh and in my opinion, they are the experts! They make it all day long and its only $2.50 for me to buy a disc! I can't beat that plus no mess and no waiting for dough to rise!
Besides the dough, you need steak meat (which you can even buy frozen), cheese, onions and sauce.  That's it! Add a side salad and you are good to go for dinner.  Make a huge stromboli and slice it down for a party offering.  easy-peasy! The only think you need to know when it comes to successful stromboli-making at home is one...make sure your oven is hot and two...not too much wet ingredients inside.
If you are not into onions, leave them off. In Philly, its all about the "wit" which translates to with onions or with cheese...depending what you are ordering, lol! Feel free to add sauteed peppers to this as well or even pepperoni. My sister and 11 year old niece both love a pepperoni cheese steak, so why not??
In addition to the Buffalo Chicken Stromboli and the Pepperoni & Cheese Stromboli...if you love pizza dough as much as I do, you may also like this crazy-Pulled Pork Pizza or this Spinach & Artichoke Flatbread with Sriracha...Let me know what you try!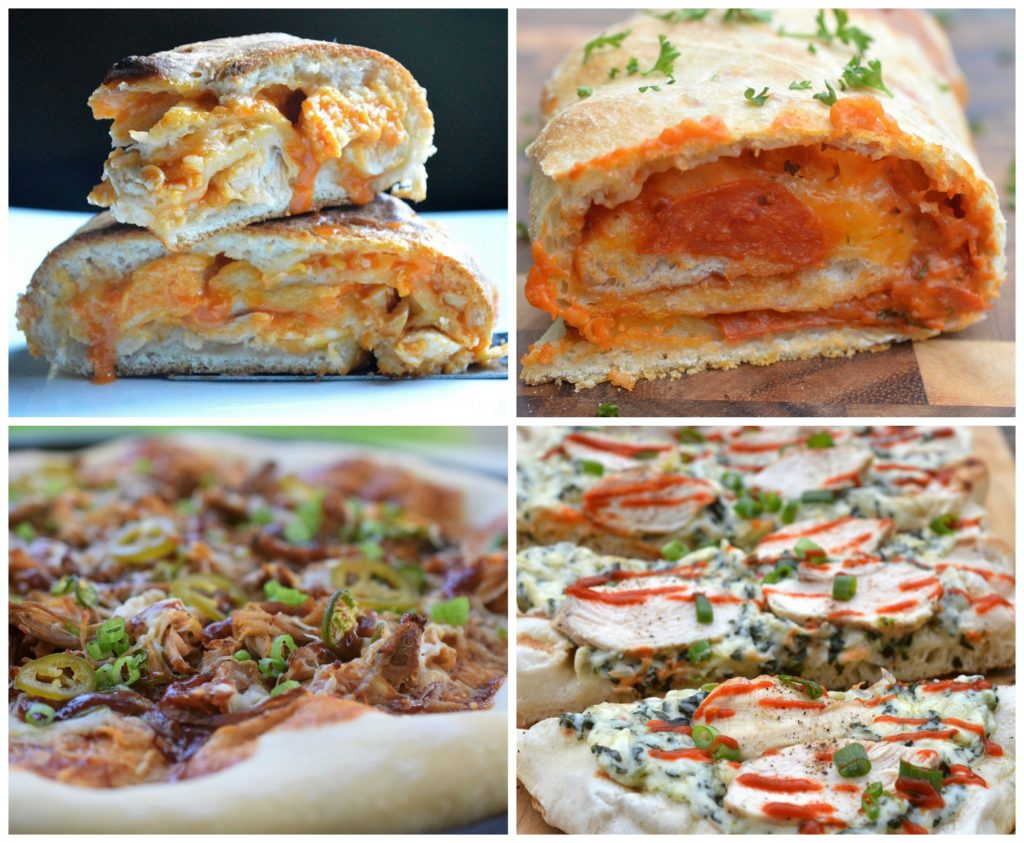 Do you make variations on stromboli??  I'd love additional ideas a whirl if you have them 🙂 Can you tell I like to eat??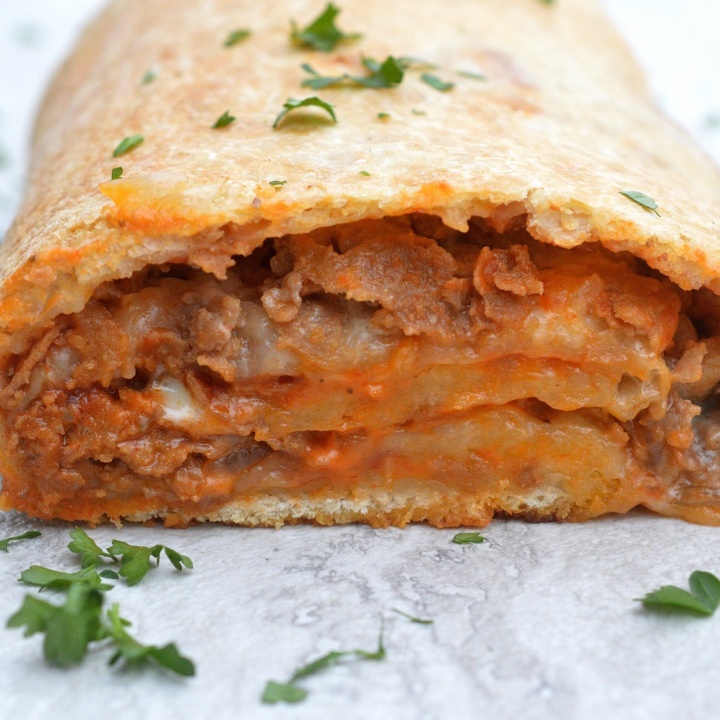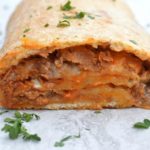 Print Recipe
Philly Cheesesteak Stromboli
Ingredients
Pizza Dough

homemade or from your local pizza place

½

a large Vidalia onion

optional

2

TBS

butter

12

oz

of chipped steak** or Steak-umm's

American or Provolone cheese

Salt & pepper

Pizza sauce
Instructions
Preheat oven to 400 degrees.

Lightly grease a large baking sheet.

Saute your onions in the butter until golden, set aside.

Cook your meat just until done, season with salt and pepper.

Work your dough gently into a rectangle shape. I find quickly turning it (like a steering wheel) and allowing the dough's own to weight stretch it into a rectangular shape while it hangs briefly, works for me.

Once dough is shaped to your liking. place it on a large piece of parchment or waxed paper.

Season the inside area if the dough with a bit of salt and pepper,

Scatter your fried onions over-top the dough, keeping ½ inch or so of the perimeter of the pizza dough bare.

Place the steak slices across the stromboli top, allowing for a ½ inch bare perimeter of dough.

Season with salt & pepper.

Place slices of American or Provolone atop the steak.

Gently begin to roll (from the long edge) until you form a stromboli. Pinch seam and ends closed.

Bake for 25-30 minutes or until the top is golden brown and crisp.

Allow the stromboli to sit for a few minutes, then slice into pieces and serve with pizza sauce for dipping.
Notes
My farmers market sells very thin sliced steak that they call chipped steak. I live in the suburbs of Philly, so a lot of places sell that type of thin-slices steak. You can use the frozen Steak-umm brand or you can but a Ribeye, place it in the freezer for 30 minutes and slice it very thin.
I personally like American cheese for this.
If this sounds like too much food, simply halve the recipe and only use half of your dough. You can make my DELICIOUS Loaded Garlic Knots with the rest of the dough!
If you are into peppers, saute some to add to your stomboli...same goes for mushrooms. However make sure they are not too wet. If you have wet ingredients the innards of the stromboli will be a bit doughy. Which is fine if you like that.