If you enjoy a hearty yet healthy breakfast, look no further than this simple Potato, Onion, Mushroom and Egg Breakfast Hash.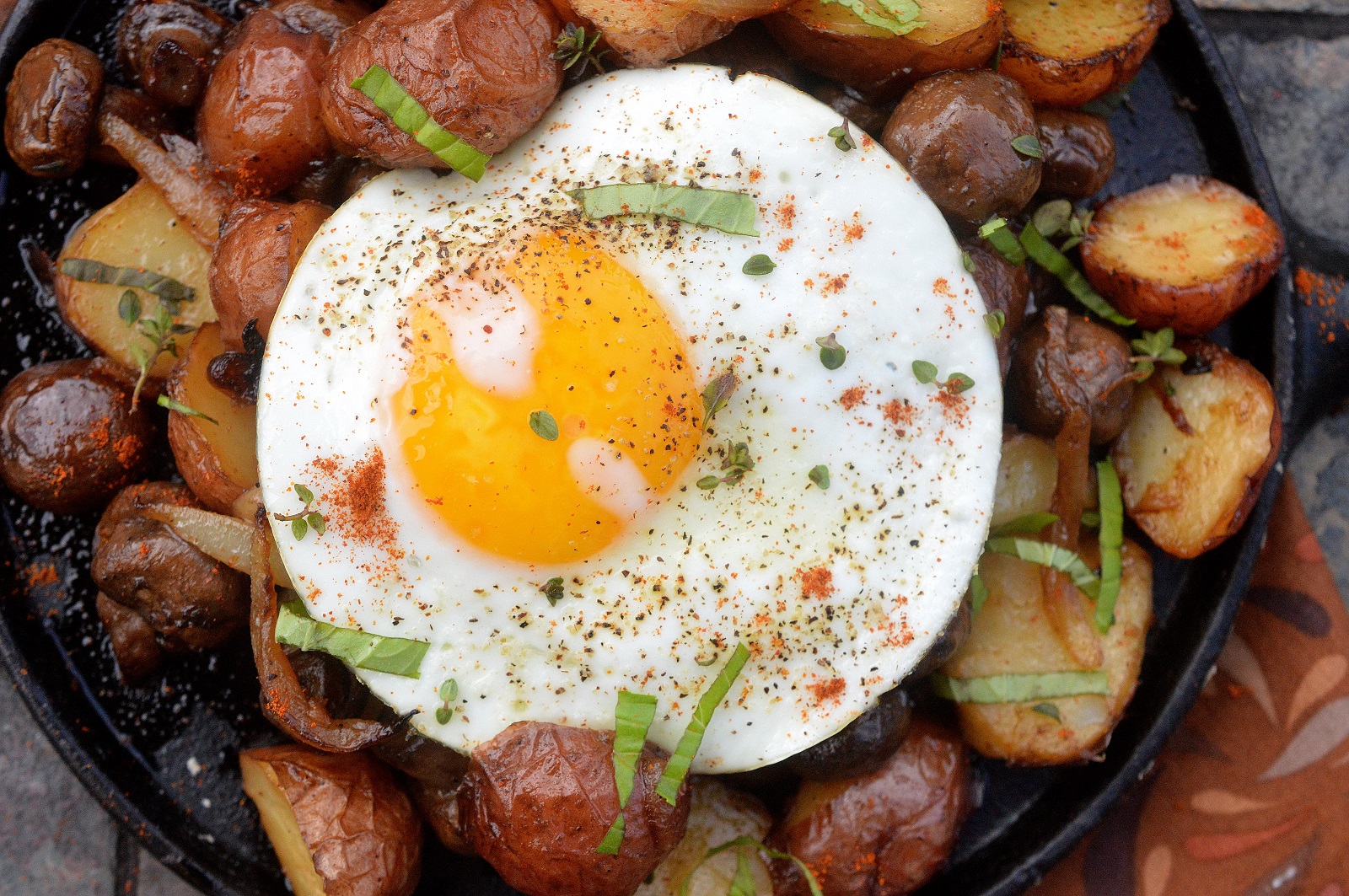 This Potato, Onion, Mushroom and Egg Breakfast Hash breakfast will give you all the energy you need to conquer your day, whether its a jam-packed day of meetings or yard-work. This breakfast will fuel you up!
The first time I whipped this up for my husband, I had leftover potatoes and mushrooms from our farmers market.  I opened the fridge and though…let me use these up.  I proceeded to grab and onion and look for the Andouille I knew I had (someone must have gobbled that up…looking at you babe). So I thre what I had together sauteed it up and topped it with an egg. It was delicious!
Now when I decide that a hearty family  breakfast is needed, this is one of my go-to's.
This Potato Onion Mushroom and Egg Breakfast Hash is fantastic if you are looking for a Whole 30 Breakfast dish to make. Eat it for breakfast, lunch or dinner.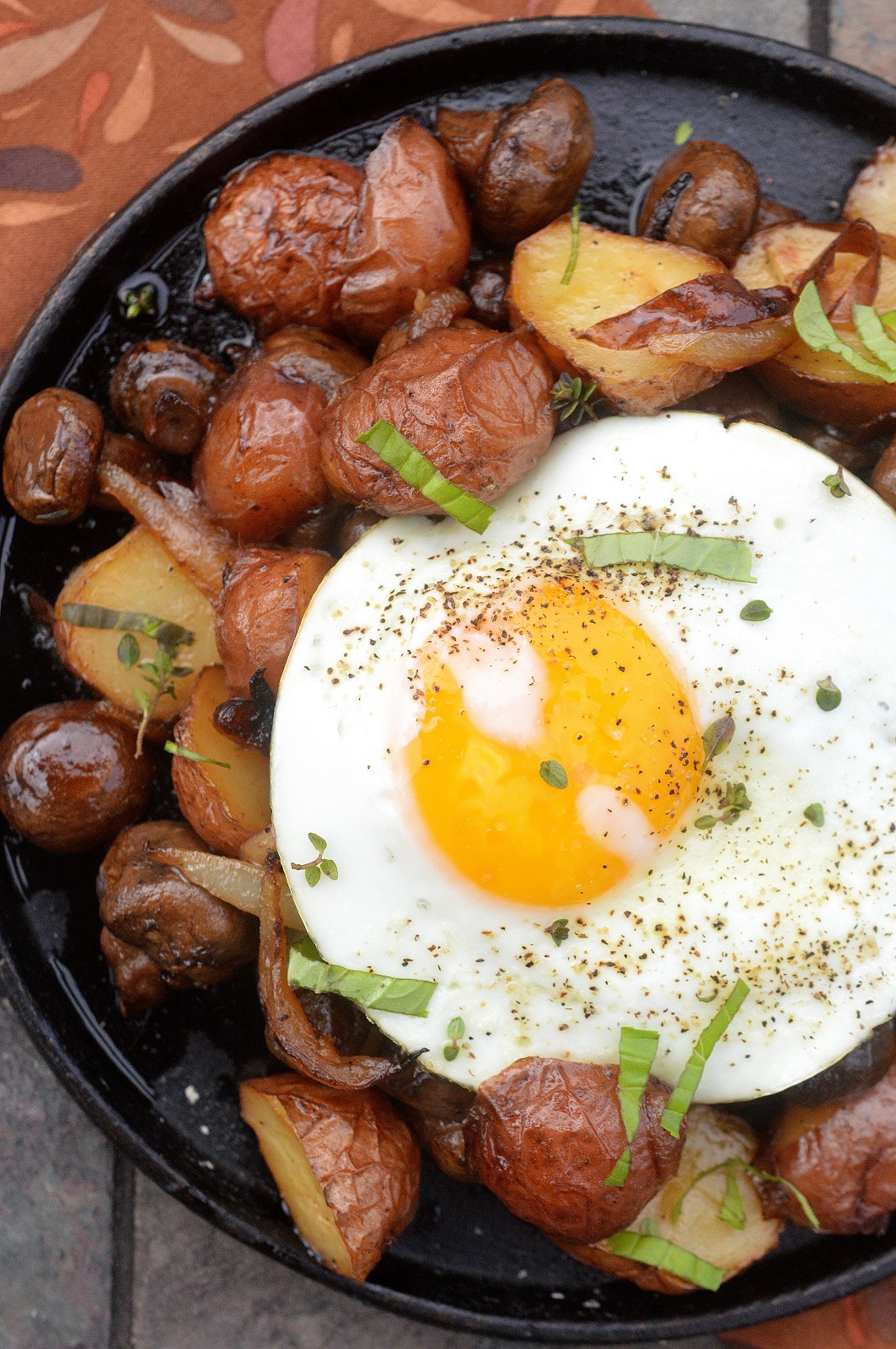 If you love potatoes as much as I do this hits the spot as well.  Feel free to top it with some freshly shaved Parmesan or Asiago…Yum! You can also spice it up with some red pepper, add some meat like andouille or chorizo or keep it meatless like I did here.
However you make it, you are going to like it.  Don't be shy with the seasonings, either, that's what helps the dish sing.
For the fat you can choose butter, oil or bacon fat. I always save bacon fat and I like using it for this dish. Whichever you choose, it works.
Look for little potatoes and little mushrooms. That size helps this breakfast come together quick. Top this Potato Onion Mushroom and Egg Breakfast Hash with as many eggs and fresh herbs as you like.
Check out a few of my favorite breakfast recipes like Easy Breakfast Pie, Avocado Breakfast Pizza or Eggs and Black Beans in a Spicy Tomato Sauce. Now I'm hungry!
Enjoy!!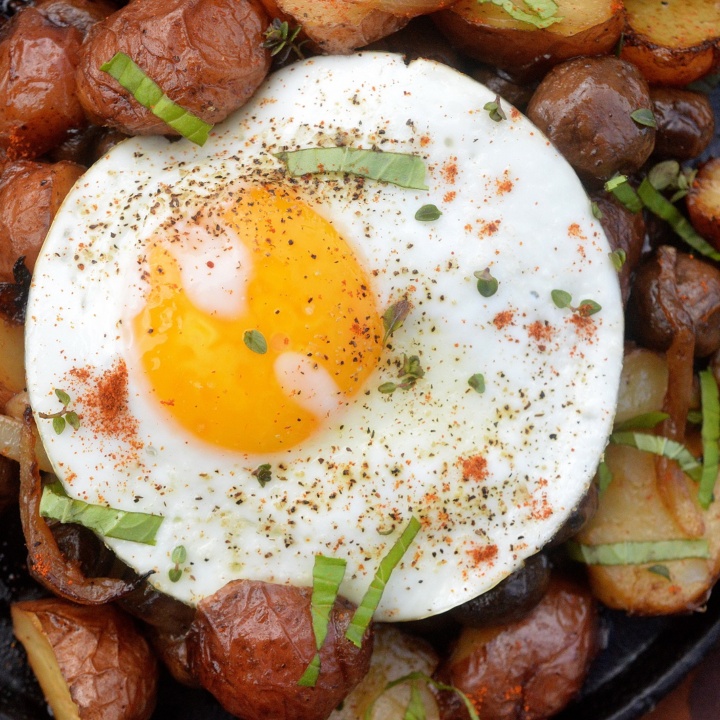 Print Recipe
Potato Onion Mushroom and Egg Breakfast Hash
Ingredients
1

pound

small potatoes

1

cup

small young mushrooms

1/2

Vidalia onion

sliced

Bacon fat

butter or oil for cooking

Salt & pepper

Splash of Worcestershire sauce

optional

Egg

s

Cayenne pepper

optional

Fresh herbs such as Thyme or Basil

optional

Shredded Parmesan cheese

optional
Instructions
Prick your potatoes once with a fork and microwave them in a bowl for 4 minutes.

Saute onions in your bacon fat, oil or butter until tender, add mushrooms and saute for 2-3 minutes.

Add in potatoes and continue to saute adding in extra fat when necessary until potatoes are done to your liking.

Add in a splash or two of Worcestershire and toss. Season along the way.

If adding in Cayenne, do so here.

Cook egg(s) to your liking and place over-top the hash when ready, scatter herbs and/or cheese over-top and enjoy!
Enjoy!