Salted Caramel Brownie Bites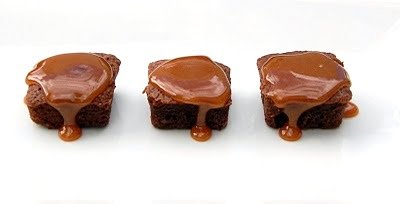 A few months ago I saw a picture of Salted Caramel Brownies on The Pioneer Woman's site…OMGosh the caramel just grabbed me!
I mean who doesn't love a brownie…right BUT adding caramel with a sea salt kicker…genius! These were made famous by Amelies French Bakery in Charlotte NC and since many have replicated. Don't be intimidated. Just whip up your favorite brownies – or even a box mix will do. Making the caramel is a snap…you just need about 15 minutes to do it right….and the payoff is magnificent!
Seriously, you have no idea how many times I dipped a spoon into my caramel in a 3 day period…to heck with the brownies…lol!
This is my standard caramel sauce with an addition of sea salt.
Salted Caramel Brownie Bites
6 ounces sweetened dark chocolate broken into pieces
3/4 cup unsalted butter, very soft
1 cup sugar
2 eggs
3/4 cup flour
2 TBS cocoa
Melt your chocolate in your microwave for 45 seconds, stir and continue in 15 second intervals until almost melted. Stir until smooth.
Mix in the butter, stirring until smooth. Stir in the sugar and eggs then the flour and cocoa powder and stir until just combined.
If you have a brownie pan or mold use that, I happen to have the Wilton 24 sectioned brownie mold and I can't say enough good things about it!!
Money very well spent!
If you do not, line your 9 x 13 banking pan with foil and grease very well.
Or make a double batch and line a baking sheet (with sides) with foil, grease it well.
Bake at 350 in the mold for 12-15 minutes. Bake in your pan (single recipes) for 20-25 minutes or until a toothpick inserted comes out with bits of moist (not wet) brownie)
Salted Caramel Sauce
6 TBS heavy cream
2 tsp fine sea salt
1/4 cup water
1 1/4 cup sugar
2 TBS corn syrup
2 TBS unsalted butter
Dash or two of vanilla
In a small bowl combine cream and sea salt, stir well.
In a small saucepan add water, then sugar and corn syrup. Stir together just a bit. Cook over medium high heat…undisturbed for about 10 minutes…every so often you can swirl pan but do not stir. Sauce will begin to turn amber. Swirl your sauce every so often and keep on heat until it has a nice amber color…maybe another 3-6 minutes. Carefully remove from heat, quickly whisk in the cream mixture – be careful as sauce can expand quickly…be sure you are whisking while your pour in the cream. Scrape any bits of salt from the bottom of the bowl and add to your sauce. Stir in butter and vanilla…let sauce come to room temperature. At that point you can cover and chill for later use…keeps well in a sealed jar for 2-3 weeks in the refrigerator.
The trick with the sauce is to be patient, you really want the amber color…the payoff is huge…it's great tasting and you know what is in it!
Once your caramel sauce thickens up a bit spread s bit on top of each brownie bite and dig in…and about the spoon…don't say I didn't warn you!
When you want to use the sauce again after it's been refrigerated, just microwave for a few seconds to loosen it up again.
Enjoy!
Colleen