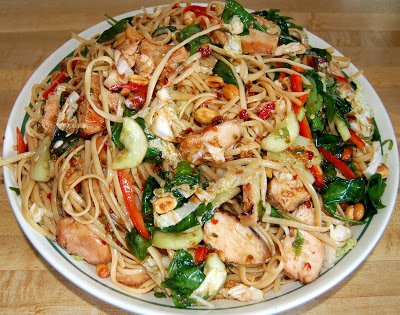 One of my staple side dishes is Asian Noodles – I simply take linguine, thinly sliced red pepper, scallions and add in the sauce I make and it is a hit every time.(Except the time I made it at my brothers request…I had recently emptied a full salt container for my daughter to bring into Pre-K, as requested, and placed the contents into a gallon sized Ziploc bag…naturally that day when I was running low in my sugar container I had assumed the contents of the bag were sugar – all I can say is Yuck, Yuck and Yuck – The dish looked as it always did but one bite and eeew -the light bulb came on and I realized what I had done…we had a good laugh!!) So I decided to combine that with grilled chicken and a salad and the result was wonderful. Each time I have made this I have changed it up a bit. My daughter loves to help me prepare this one.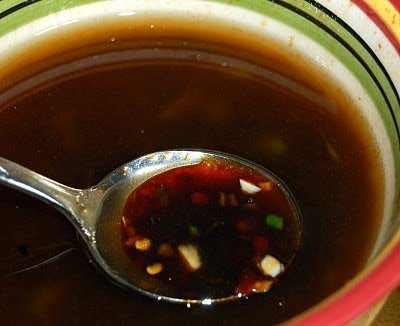 The sauce is very different from what I use for my previously mentioned Asian Noodle side dish – wonderfully different – in the end, I still have two completely different dishes. This is wonderful for a girls night in, simple dinner or to take for lunch. This may look complicated…trust me…it comes together quickly and it is worth it!!
Asian Noodle Salad
– adapted from The Pioneer Woman
1 box of linguine noodles (cooked and rinsed with cold water – toss with a bit of olive oil to keep pasta from sticking while you prep)
1/2 head of thinly sliced Napa cabbage
1/2 bag of baby spinach
1 red bell pepper, sliced thin
4 scallions sliced (white and green)
1 cucumber, peeled and cut into chunks
1 1/2 cups of chopped cilantro
1 cup of honey roasted peanuts
1 1/2 pounds of boneless chicken breasts
Marinade for the Chicken
1/2 cup soy sauce
1/4 cup honey
1 1/2 TBS chili garlic sauce (Asian section)
Dressing
2 TBS honey
1 TBS fresh lime juice
1/2 cup extra light olive oil
3 TBS sesame oil (Asian section)
1/2 cup soy sauce
1/4 cup brown sugar
2 tablespoons fresh ginger, peeled and chopped
1 clove garlic chopped
1 jalapeno pepper, chopped
1 TBS chili garlic sauce (Asian section)
For Marinade
Whisk together the 3 ingredients, pour over chicken and refrigerate for 30 minutes up to 4 hours. Tossing every so often.
Once ready, preheat grill cook chicken over medium-high heat for about 10 minutes. Flipping once to achieve some nice grill marks.
Watch for flames from the honey.
Let chicken rest a bit then slice down.
For Salad
Combine all ingredients with the pasta. Toss well.
For dressing
Combine all ingredients, whisk well until incorporated. Pour dressing over just prior to serving. Toss very well.(If you have juice from your chicken after you slice it down…throw it into the dressing as well)
This dish is best served at room temperature.
Enjoy!!
Colleen