This recipe for Brussels Sprouts Chips with Quick Lemon Aioli will rock your world (and your palate)! If you are one of those people who give Brussels the side-eye, I am pretty sure this recipe will change your mind!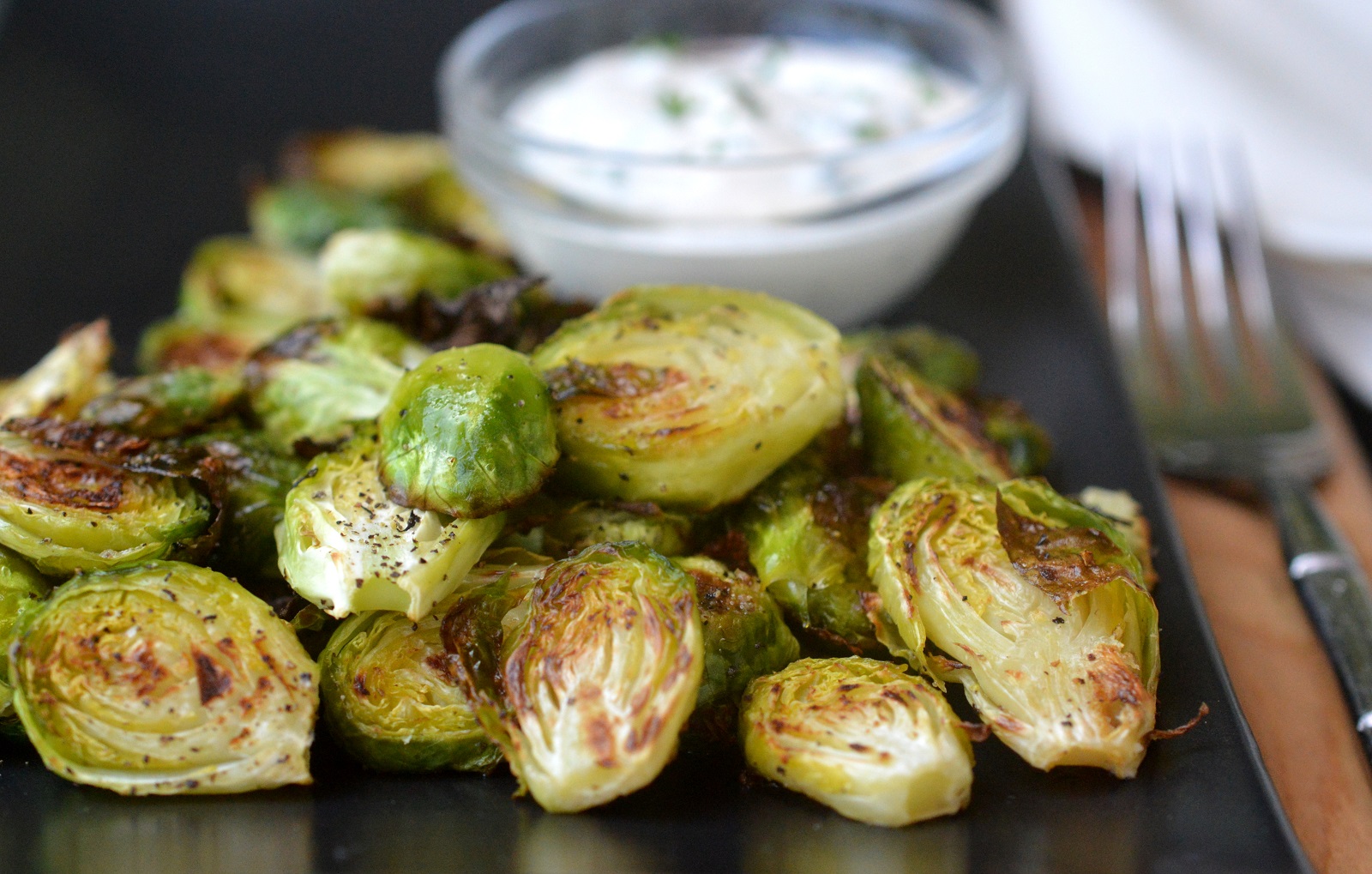 Raise your hand if you hated Brussels sprouts when you were a kid...My hand is held up high! I mean, I love my parents dearly BUT they boiled most vegetable to death. The result was mushy yucky green things I wanted nothing to do with.
Later in life when I discovered oven-roasted asparagus and oven-roasted Brussels sprouts, I couldn't get enough.
Both of my kids liked both Brussels and Asparagus from a young age. My youngest's favorite foods include Brussels sprouts with bacon and sauteed cabbage with bacon. She's been making both of those, on her own for herself or the family, since she was about 8 (that's my girl xo!!).
This recipe for oven roasted Brussels Sprouts Chips with Quick Lemon Aioli for dipping just may be your new go-to lunch, side dish and/or appetizer offering. It's also a delicious & healthy addition to a cheeseboard, antipasto platter or grazing table. Y-U-M!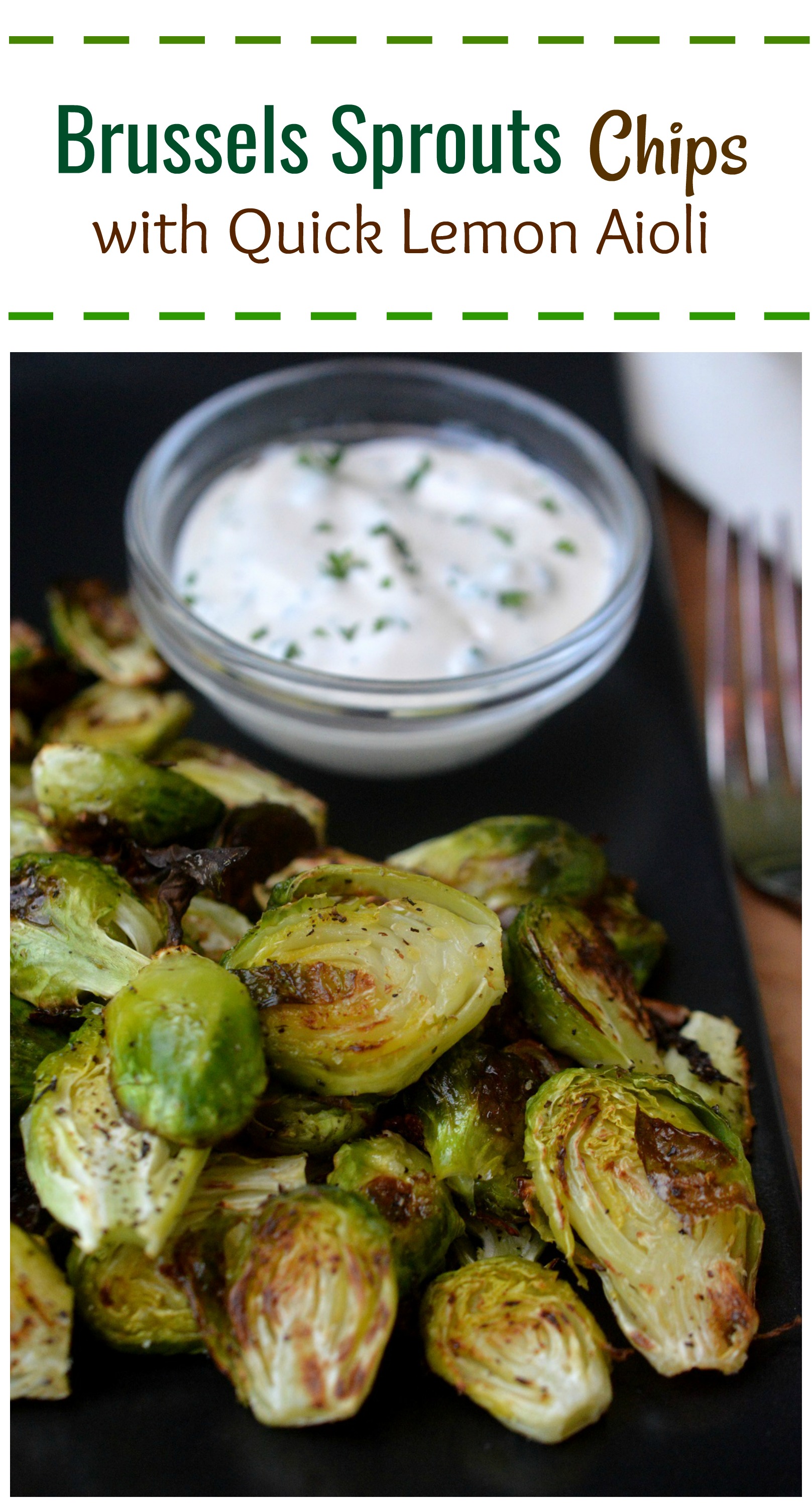 What Is The Best Way To Cook Brussels Sprouts?
You can make Brussels sprouts, in a pan, in the oven or on the grill (just please don't boil them, lol). When you roast or cook Brussels sprouts at a high temperature, it brings out the best in them and you get bits of crisp leaves, tender insides, and a nutty flavor. They really are a delicious vegetable! In my opinion, the best way to cook Brussels sprouts is by first halving them and then pan sauteeing them in some bacon fat with salt & pepper. Once they get browned, pop them in the oven to finish them off to the way you enjoy them. Toss them with some crispy bacon and YUM!
What Variations Can I make To This Brussels Sprouts Chips Recipe?
Since these Brussels sprouts are meant to be picked up and dipped, you really don't want to add bacon (unless. You will be enjoying them with a fork)  can, however, add crumbled crispy bacon to the aioli, or change lemon aioli to a sriracha aioli for some heat (in that case I would also sprinkle a little/cayenne pepper onto the Brussels as you toss them in the oven.
Another option is to separate all the leaves and flash fry them in oil. For about 30 seconds. The scatter them onto a platter or board and serve aioli alongside or drizzle aioli overtop, lightly. These should be served hot.
Can I Serve Brussels Sprouts Cold?
Yes, you can serve Brussels sprouts cold. They are not bad that way, just not as good as crisp and warm as they begin to wilt. In my opinion, they are best out of the oven or at room temperature. I wouldn't refrigerate them but, if you wanted to make them an hour in advance, that's fine.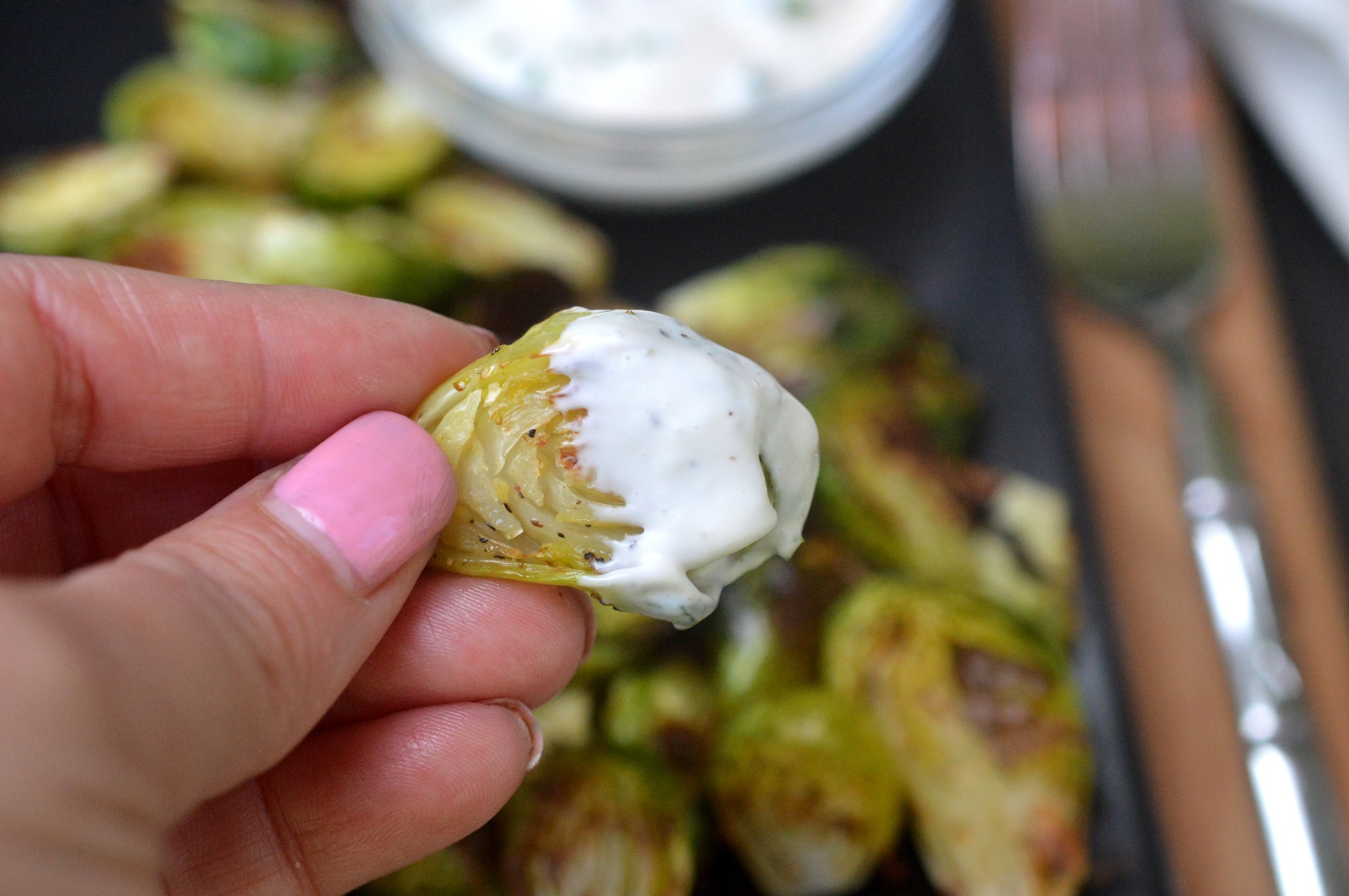 Enjoy!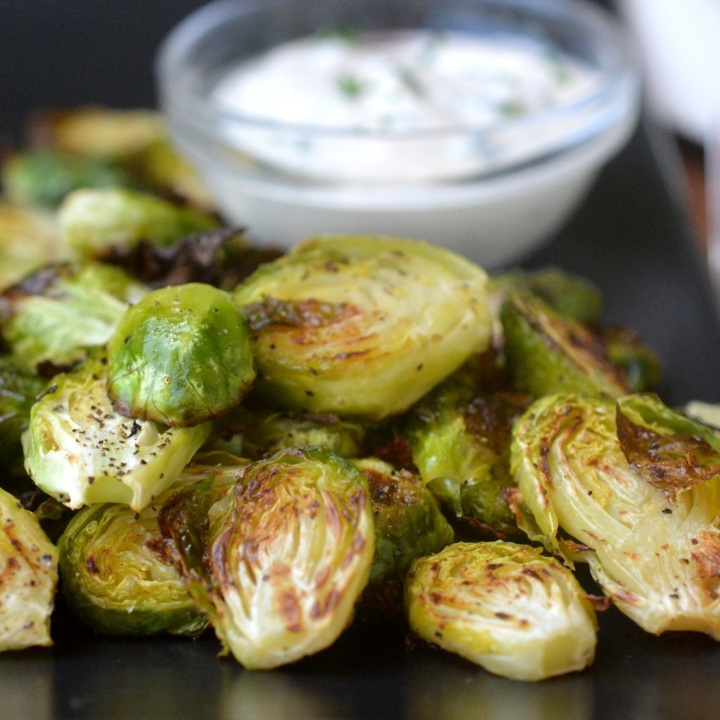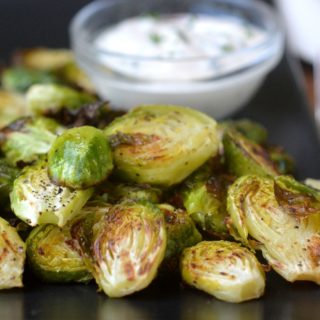 Brussels Sprouts Chips With Quick Lemon Aioli
Ingredients
1

pound

of Brussels sprouts

½

TBS+ grapeseed or olive oil

Kosher salt & black pepper

½

cup

mayonnaise

1

TBS

fresh lemon juice

½

teaspoon

lemon zest

1

teaspoon

garlic paste

optional

2

dashes black pepper

2

teaspoons

chopped parsley
Instructions
Preheat oven to 425 degrees F.

Brush a baking sheet lightly with grapeseed or olive oil.

Cut the stems off of your Brussel sprouts and peel off any brown or yellowed outer leaves. Cut each sprout into ⅓ (one-third) lengthwise. Place onto the prepared baking sheet.

Drizzle a little additional oil over sprouts (about ½ tsp) season liberally with salt and pepper and toss them around gently with your hands to evenly coat. Sprinkle a little additional seasoning on and bake for 10 minutes.

Meanwhile combine mayonnaise, lemon juice & zest, garlic, pepper and parsley in a small bowl and mix until incorporated, set aside.

Remove the tray and lower oven to 400 degrees F.

Quickly turn sprouts over to the other side using a small spatula or tongs. Place back into the oven for an additional 7-8 minutes or until done to your liking.

Use a spatula to plate sprouts and serve the lemon aioli alongside. Toothpicks are a great way to pick these up and dip.
Nutrition
Serving:
4
g
Calories:
122
kcal
Carbohydrates:
14
g
Protein:
4
g
Fat:
7
g
Saturated Fat:
1
g
Cholesterol:
4
mg
Sodium:
715
mg
Fiber:
4
g
Sugar:
3
g
Follow me on Tik Tok for 1 minute videos