There is just something about a refreshing lemon dessert, am I right?? This super easy to make Lemon Pie recipe is always a crowd-pleaser! Plus, this creamy lemon pie is ready to enjoy, nice and cold just a couple hours after you make it.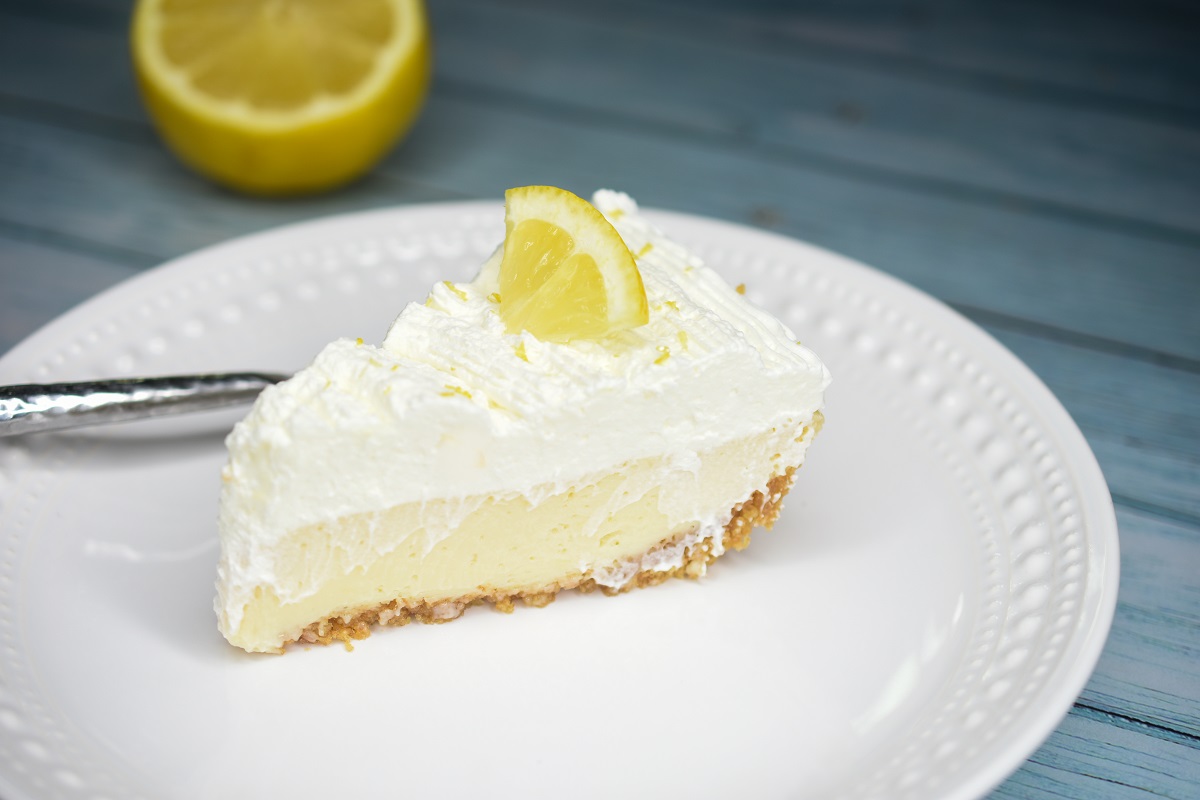 Why you'll love this Easy Lemon Pie recipe
This recipe takes just a handful of ingredients to make, you really cant mess it up! People seem to gravitate towards lemon desserts, especially on holidays and in the warmer months.
This recipe is so easy to make, you can let your kids take the lead. If you enjoy Key Lime Pie, you will enjoy this creamy lemon pie. This pie also holds up well, so you can make it a day or two ahead of time.
I am known for my Key Lime Pie recipe, it's actually a prize winning pie recipe. So if lime is more your flavor, or you want to close your eyes and pretend you are in the Keys, check that recipe out!
Ingredients for Creamy Lemon Pie
Graham crackers, butter & sugar OR a store-bought graham cracker crust
Sweetened condensed milk
Fresh lemon juice
2 egg yolks
Sour cream
Optional: lemon zest
Whipped cream (homemade preferably. It literally takes 2 minutes to make and the taste is the best.)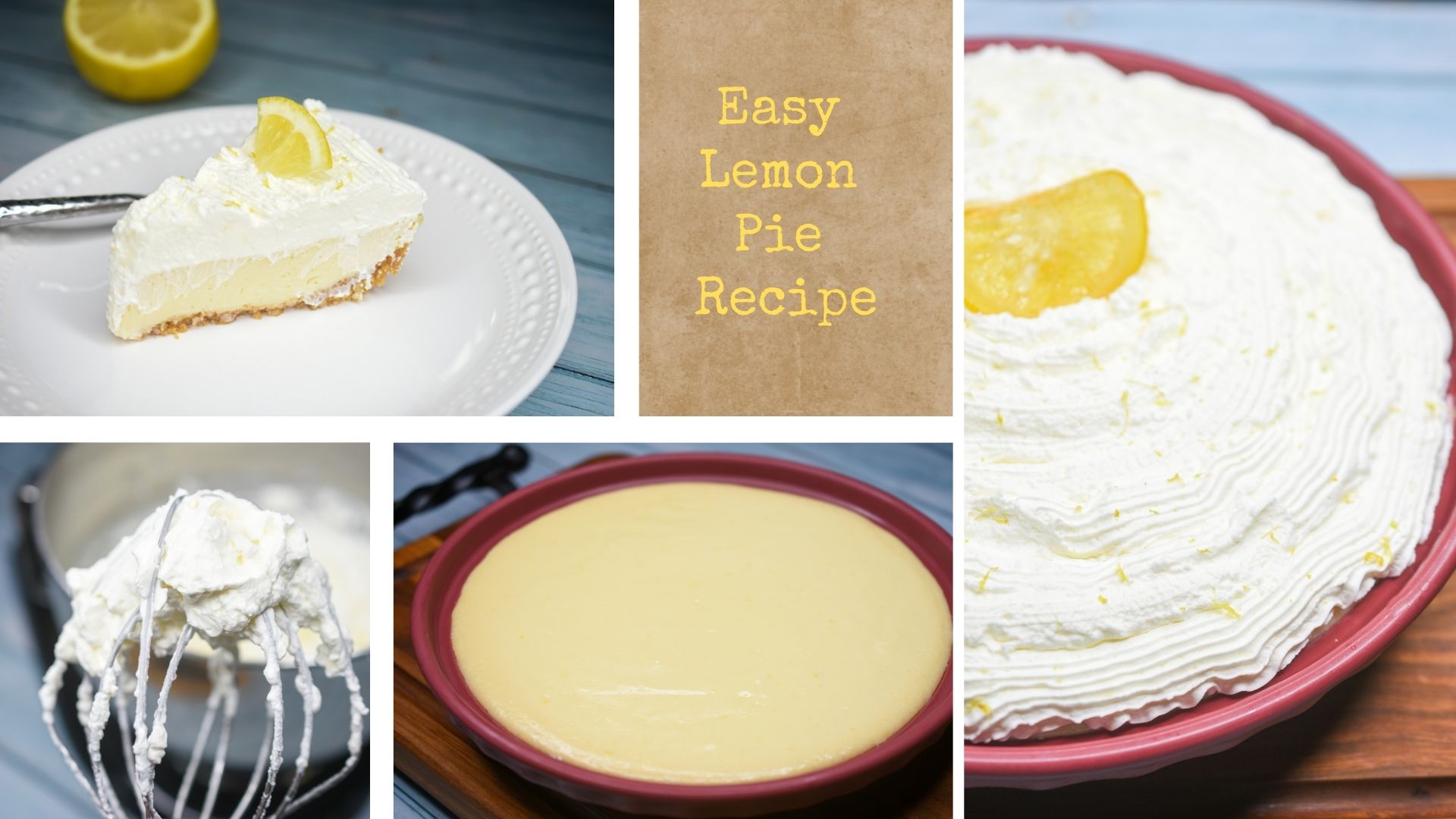 Equipment
Instructions
First make the graham cracker crust by crushing the graham crackers (a food processer makes that easy), then adding in the sugar and melted butter.
Partially bake the crust, then let it cool a bit.
In a mixer combine the sweetened condensed milk, egg yolks, fresh lemon juice and sour cream and mix on medium for 2 minutes until nice and creamy.
You can choose to add in lemon zest as well for even more lemon flavor.
Storage
This recipe for lemon pie is great leftover as well. Store in an air tight container such as a cake carrier or pie carrier for best results. Try to not use plastic wrap or aluminum foil as those will stick to the pie and whipped cream messing it up. It will still taste good but not appear pretty.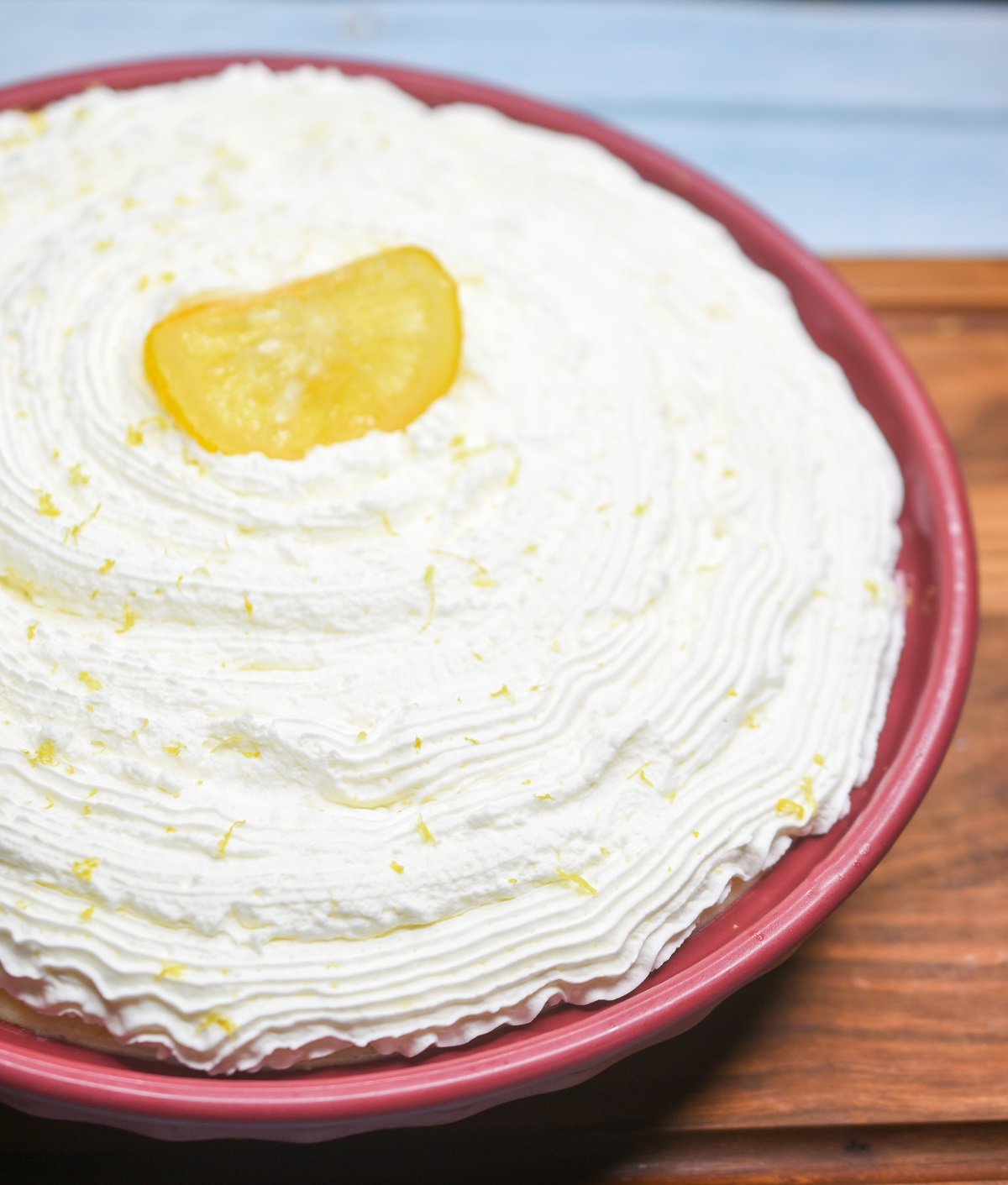 Tips
Only use FRESH lemon juice for this recipe.
TRUST ME and bake this pie ON a baking sheet. You can not believe how many times I have put a thumb in it otherwise, lol!
You can use a store-bought crust if you are short on time.
If your pie dish is small, you can easily use any overflow batter and make a small ramekin or two, placing some graham crackers on bottom.
No need to spray your pie plate, this always comes out easily.
Make homemade whipped cream, trust me. It only takes 2 minutes.
If you want to get fancy, you can make candied lemon peel or slices to accent the dessert.
BEFORE placing in fridge, allow pie to cool for 1 hour at room temperature.
For the fastest chill, place pie on the lowest shelf in your refrigerator (cold falls).
Pie will be ready to enjoy after 2 hours of chilling.
For whipped cream topping, either make a pattern or decoration on top of the pie, serve alongside or even spread over the top.
Variations
Swap out the fresh lemon for another citrus fruit for a different flavor such as key lime juice, lime juice, orange juice calamondin juice or even grapefruit juice.
Easy Dessert Recipes
Hope you love this easy lemon pie recipe and share it with someone you love! xo Colleen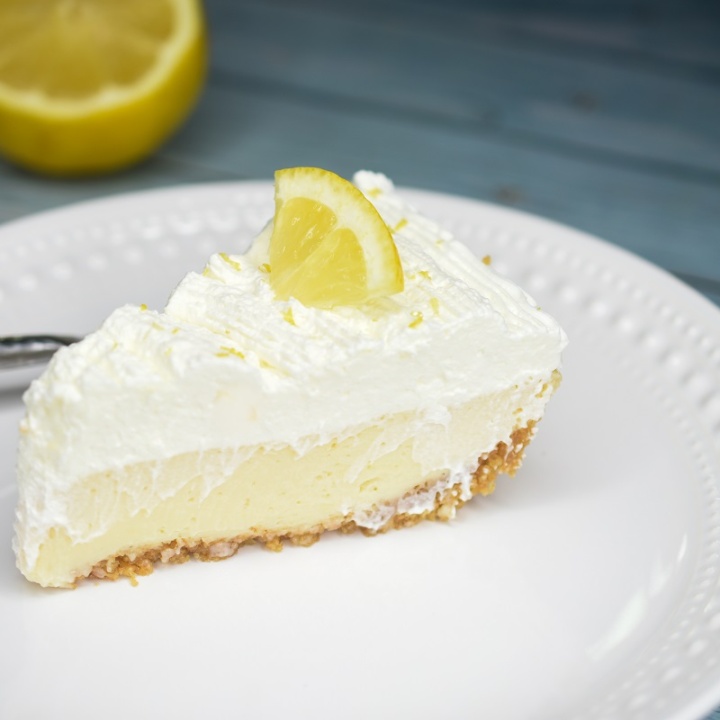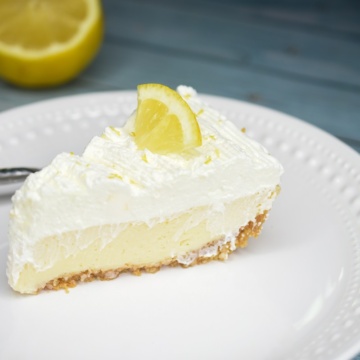 Lemon Pie
Recipe for Lemon Pie. Cream Lemon Pie recipe is easy to make and refreshing. It can me made and enjoyed the same day.
Ingredients
9

whole graham crackers 1 sleeve 8-9 crackers

¼

cup

sugar

5

TBS

melted butter

28

oz

sweetened condensed milk 2 cans

2

egg yolks

¾

cup

fresh lemon juice

½

cup

sour cream

lemon zest optional topping
For Homemade Whipped Cream
2

cups

heavy cream or more if you want extra

3

TBS

powdered sugar more or less to taste
Instructions
Preheat oven to 350 degrees F

Turn crackers into crumbs in your food processor or smash them with a rolling pin (or other method) in a zip baggie.

Add in sugar and melted butter and pulse or mix until combined.

Place crumbs in your pie dish, patting them down on the bottom at partially up the side of the dish.

Bake for 10 minutes, remover from oven and allow to cool for 20 minutes.

In your mixing bowl, combine condensed milk, egg yolks, lemon juice and sour cream and mix on med-low for 2 minutes.

Scrape batter onto cooled crust and place pie dish on a baking sheet (trust me) and bake for 16-20 minutes or until pie is hardly jiggly in very center when you wiggle tray.

Allow pie to cool for 1 hour at room temperature. Then place in your refrigerator (the lower shelf, the colder and quicker the pie will be).

When ready to place whipped cream on pie, whip cream on high for 45 seconds or until cream is stiff, add powdered sugar and beat another 5-10 seconds. Spread or pipe on pie and enjoy!
Notes
Calories will most likely be lower. I say 2 cups heavy cream for the whipped cream however you will not use it all. You can certainly cut that in half. Same with the powdered sugar.
Chill low in your fridge for fastest set up. Wait until pie cools on counter then place in fridge uncovered or in a pie carrier. Since cold air falls (while heat rises), the lower in your fridge you place it. The colder it will be.
Add whipped cream just before serving for prettiest presentation. The cream will hold nicely in fridge for a day or two if you do choose to top it before.
If you have pastry tips, use a nice bug star tip to pipe the whipped cream.
Nutrition
Serving:
8
servings
Calories:
747
kcal
Carbohydrates:
79
g
Protein:
12
g
Fat:
44
g
Saturated Fat:
27
g
Polyunsaturated Fat:
2
g
Monounsaturated Fat:
12
g
Trans Fat:
0.3
g
Cholesterol:
181
mg
Sodium:
320
mg
Potassium:
502
mg
Fiber:
1
g
Sugar:
70
g
Vitamin A:
1558
IU
Vitamin C:
12
mg
Calcium:
358
mg
Iron:
1
mg
Follow me on Tik Tok for 1 minute videos