This simple dish combines 2 of my favorites…Corn & avocados, yummo
Great homemade guacamole is one of those foods you either can't get enough of or have no interest in because you never really gave it a chance.  
It's such a great app to whip up for a snack, a light meal or as party food.  And it always vanishes!
A few simple fresh ingredients and you will soon be happily dipping and digging away, and hey…if you want to do your thing with a spoon.  I say heck yes!
And if you want to make a pitcher of my Chambord Margarita's, frozen or on the rocks, while your at it…well go right ahead! And invite me over!!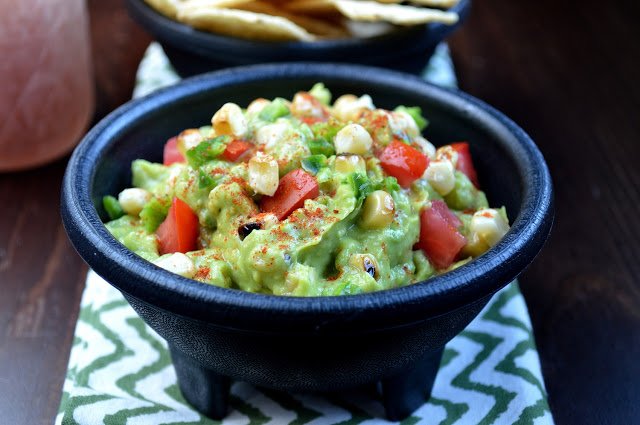 I haven't met a guacamole I didn't like.  Plain, spicy, chunky or smooth, I'll take it any way you set it down in front of me! I have made Guacamole with Bacon & Tomatoes which is ridiculously addictive as well as a Tequila Avocado Salsa…why not!
I particularly love this Spicy Creamy Guacamole Dip.  I literally hog the bowl every time I make it, so do some of my friends. We tend to elbow one another out of the way until its gone, lol!
I've made Pomegranate Guacamole, which is so refreshing and even a Chunky Lobster Guacamole.
My website is in the midst of a redesign…I just now decided I need an area for all of the avocado recipes I have on here…I have a ton!  Just search avocados or click this link for now and you may be pleasantly surprised!
I decided to throw some delicious late-July corn on the con on the grill and add it into some freshly prepared guacamole and the result was delicious.  I really enjoyed the texture the corn gave the dish and before I knew it it wads g-o-n-e!
Spicy Guacamole With Grilled Corn
3 avocado's
2 tsp fresh lime juice
2 tsp minced  jalapeno*
2 cloves garlic ground into a paste
Kosher salt to taste
Black pepper to taste
1 ear grilled corn
1/3 cup chopped tomato
Optional: Red (Cayenne) pepper for added heat
Mash your avocado's in a bowl with the back of a fork, add in your lime juice and mash a bit more. Add in your jalapenos, garlic paste, salt & pepper (*I throw seeds in as well for extra heat), and mix until incorporated.  Cut the kernels from your cob of corn and add them to your guacamole, add in the tomatoes serve.
To grill the corn: Heat your grill to med-high heat.  Brush you corn with some melted butter, season with salt and pepper and grill for 10 minutes or so, rolling it around so that various areas have the opportunity to char a bit.  Let the corn cool down for a few minutes, then slice off the kernels and add them to the guacamole.
Serve with tortilla chips and enjoy!
Colleen's Notes: To make this really spicy (the way we like it), add in a whole jalapeno with seeds as well as some red (Cayenne) pepper.  Yummmm!