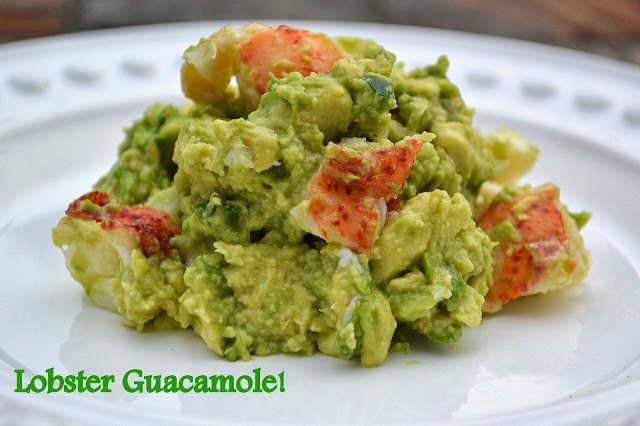 If you are a regular reader of my Souffle Bombay then you know I love being in the kitchen and whipping things up.  Most of what I post on here are dishes, that in my opinion, anyone can make.  To me, food doesn't have to be super time consuming to be fabulous and the way I see it anyone can cook…they just have to want to.
Food brings people together, whether it's a surprise baked treat for your kids when they get home from school, apps for a Friday night neighborhood hangout or a 4 course anniversary dinner.  "Breaking bread" brings people together, creates memories and makes people happy.
Do you have a favorite food?  One that you crave and only get on special occasions or have to travel far to get and enjoy?  Me…I love a great appetizer – I could probably go along the rest of my life happily eating one small plate after the next (and if shrimp were in involved…I'd be a happy, happy girl).
My husband's favorite…favorite…favorite is lobster.  He doesn't have the opportunity to have it often but man…when he does get it he is so freaking happy!  So when I was contacted by LobsterAnywhere.com to try out their service – what do you think I said??
A resounding Y-E-S because after all I do love making my sweetie-pot-pie happy!
Within 48 hours of saying yes, I received the a box full of tasty goodness!  2 lobster tails, a half dozen of the biggest shrimp I have ever seen, a bag of delicious New England Clam Chowder, a supercute lobster towel and a box of ridiculously delicious box of chocolates!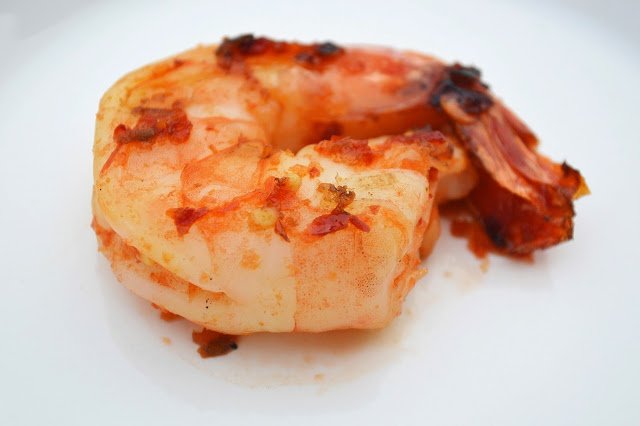 The shrimp I received were SO big that I wish I had placed a quarter on the plate to show you the actual size…if I form my thumb and pointer finger into a big "c"…THAT is how big they were – and they were so delicious that I may be dreaming about them for weeks!
LobsterAnywhere.com offer us a taste of New England.  Beautiful live lobsters, lobster tails or lobster meat plucked fresh out of the cold North Atlantic waters or the coast of Main!  They offer 5 soups/bisques and so much more like stone crab claws (swoon) lobster cakes, clams, mussels and shrimp – I'm getting giddy just talking about it!  Can you imagine live beautiful lobsters just showing up at someone you loves front door on their birthday, anniversary or "just because I love you on a Wednesday afternoon"?  What a fantastic gift – and the prices of LobsterAnywhere.com's live lobster I think is incredible!!  I KNOW how much we pay when we are out to eat for lobster when my husband orders it.
Earlier this year we were out to dinner in downtown Philly with 4 other couples.  My husband ordered a steak and on a whim since we had a sitter (were staying the night in the city and "living it up") both he and one of his pals at the last minute each ordered a lobster tail to go along with their entree.  The price wasn't on the menu and when the bill came we almost died – EACH tail was $100.00 that my friends is not a typo… sigh!  Needless to say in the future he will never do THAT again, lol!  I honestly don't think he's ever even paid half that for a lobster or a tail in his life – who knew!  So when I see a service like LobsterAnywhere.com I get a little excited knowing I now have a new idea for him when I want to do something special.
They offer so many choices that just about anyone would be thrilled with a box from them showing up at their front door!  Can you just imagine surprising someone your love or what to thank (parents, grandparents, newlyweds, employees, etc) with a 5-6 pound lobster or a traditional Lobster Pot?? THAT is memorable!!   I am a huge fan of having dinner gatherings at home…especially out on the patio – what could have been a dinner out that costed a fortune (and often lasts too short) turns into a full night with family or friends at home…much better in my book!!
My husband ate his lobster tail the way he likes best – simply dipped in butter.  Me, I decided to turn mine into an app.  I was going for a deconstructed guacamole – I lined up the elements on a plat,e almost like a salad, but then I decided to just mash it all up, add the lobster and have at it and MAN was it good!!  My husband who was prepared to not like it (since he wants his lobster straight up) was like wow…wow!  I am SO going to remember to make Lobster Guacamole for special occasions!!
Guess what??  Guess What!!
Joe (from LobsterAnywhere.com) and I hatched a plan to give one of YOU a chance to taste some of their incredible lobster!!  I'm so excited!!
Raise your hand if you have ever heard of a Lobster Roll!!  Ever had one??  I have heard and read so much about Lobster Rolls all my life and finally had my first (and only) one from a food truck in DC that people always line up for.  Let's just say this will make you do the happy food dance!
One lucky winner will win 2 pounds of premium lobster meat, 8 authentic split top rolls (you need to have the right roll!!) and a box of Maine salt water taffy – how fun is that!!!!  Good Luck!
Lobster Guacamole
1 cup cooked lobster meat cut into chunks
2 avocados
Juice of half a lime
Koster salt to taste
2 TBS minced red onion
2 TBS minced jalapeno
Optional: Red pepper to taste
Mash your avocados with the lime and salt, add in the onions, jalapeno and red pepper if using.  Fold in the lobster and serve.
It's that simple…it's that special!  I ate this with a fork, however you can certainly serve with chips.  This serves 1 as a meal or 2 as an appetizer.
Disclosure:  I received a box of product from LobsterAnywhere.com and was so impressed I just had to do a post about it.  I was not paid to write this post, I just wanted to share my high opinion of the product/service.  After the fact, I approached them to do a giveaway and they happily agreed.
Colleen's Notes: My husband detests Cilantro, lol!  If I was making this just for me, I would have added a TBS or so of chopped Cilantro in, however it was delicious without it 🙂
I used a lobster tail for the meat in the guac which yielded about a cup of lobster chunks.  Meat yield will depend on the size of lobster tail you purchase.  If your tail is frozen, thaw completely.  The bring a pot of salted water to a boil, plop in your tail(s) and boil for about 6-7 minutes or until shells are bright red and meat is cooked through.  Once you remove it from the pot, run it under cold water until it is cool enough to handle.  Cut the inside or "belly" of the tail with kitchen shears and slide the meat of the tail out in one piece, then chop into bite sized chunks.
Be careful to not overcook the meat – you want it tender and succulent!  You could grill it as well – but I have found this way (just like you would cook a whole live lobster) gives me the best taste and texture.
Enjoy!!