Ever wonder just what you could do to that store-bought or homemade cheesecake to take it from good to great?  I've got 10 Cheesecake Topping ideas for you!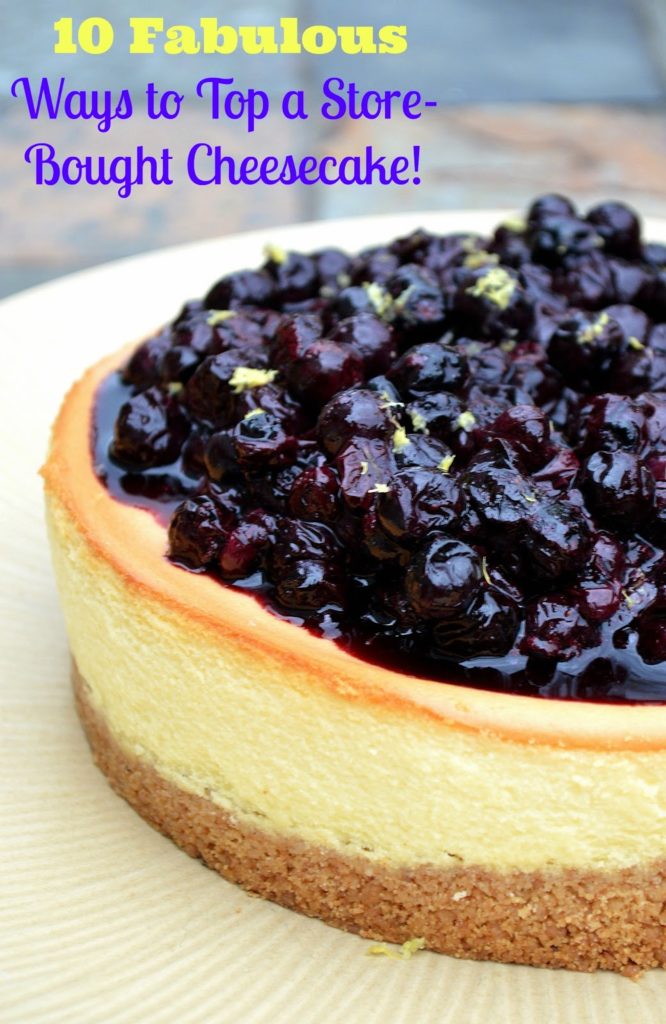 Throwing a party, hosting a dinner or simply a Sunday meal? We can only do so much! Instead of making a dessert from scratch, when not pick up a store-bought cheesecake or two and add your own toppings?
Here are some ideas.
10 Ways to Top a Store Bought Cheesecake
This decadent blueberry and lemon topping (recipe below)
Simply top with fresh fruit – just scatter your chosen fruit(s) on top of the cheesecake. If you want to get fancy, you can make a design with multiple varieties of fruit. The better the fruit the better the flavor.
Top with candy – spread a layer of whipped cream on top of the cheesecake and scatter chopped peanut butter cups, Heath Bars, Snickers or your favorite chocolate candy bar over-top. Yum!
Make a quick puree of strawberries, garnish with some mint sprigs.
Melt 1-2 cups of chocolate chips, place the melted chocolate into a piping bag (or snip off one corner of a baggie) and make a lattice design. Place Whopper candies (malted milk balls) in a circular design. It makes for a striking presentation!
Drizzle melted caramel and chocolate over-top the cheesecake in a crisscross pattern. Sprinkle a handful of chopped pecans on top and you now have a "Turtle" Cheesecake!
Smooth a layer of melted caramel over-top, mmmmm…caramel!!
Black & White Chocolate Shavings – using a potato peeler, shave a milk or dark chocolate bar over-top and then shave part of a white chocolate bar over-top for a pretty presentation.
Hollow out 2 dozen strawberries and fill them with whipped cream – use drops of melted chocolate to adhere them to the cheesecake…Pretty!
Crushed Oreo Cookies, or better yet, Thin Mint Cookies… with chocolate syrup drizzled over-top!
What's your favorite way to top a cheesecake?

Enjoy baking?? Take a look at these delicious & somewhat different desserts:

 My Prize Winning Key Lime Pie (seriously, I win a trip to the Florida Keys with this…It may be the best you've ever had AND it is SO easy!!)
Baked Double Glazed Chocolate Donuts (Mmmm!)
My Irish Soda Bread (THIS is not your typical ISB!) It's been featured by the TODAY Show!Irish Soda Bread is a delicious quick-bread for all-year-round!
Cranberry Pie aka Nantucket "Pie" is an easy, different vintage recipe that everyone will love!
And this Blueberry Lemon Yogurt Cake with Blueberry Compote is a showstopper! It has such flavor is so moist and one of my favorite desserts!
Hope you try these out and enjoy them! Let me know if you do! I love seeing peoples creations on Instagram! Tag me at @SouffleBombay!

10 Cheesecake Toppings
Ingredients
2 pounds blueberries
⅓ cup water
1 TBS freshly squeezed lemon juice
½ cup sugar
A couple dashes cinnamon (and if you have it a pinch of cardamom)
Lemon zest for garnish
Instructions
In a medium saucepan, combine blueberries, water, lemon juice, sugar and spices.
Heat over medium heat until berries begin to burst and juice starts to thicken about 10 minutes. Allow the berries to cool (unless you wish to serve them warm... not hot.)
When ready to serve your cheesecake, spoon the berries over-top (make a bit of a mound.) Garnish with lemon zest and enjoy!!
Enjoy!