I will be the first to admit that I don't use my microwave that often, sure I warm things up and make the occasional Mug Brownie, however, one thing I do use it for more often is to make this super simple 5 Minute Microwave Omelet. You will be blown away at the efficiency, ease, and taste of this recipe!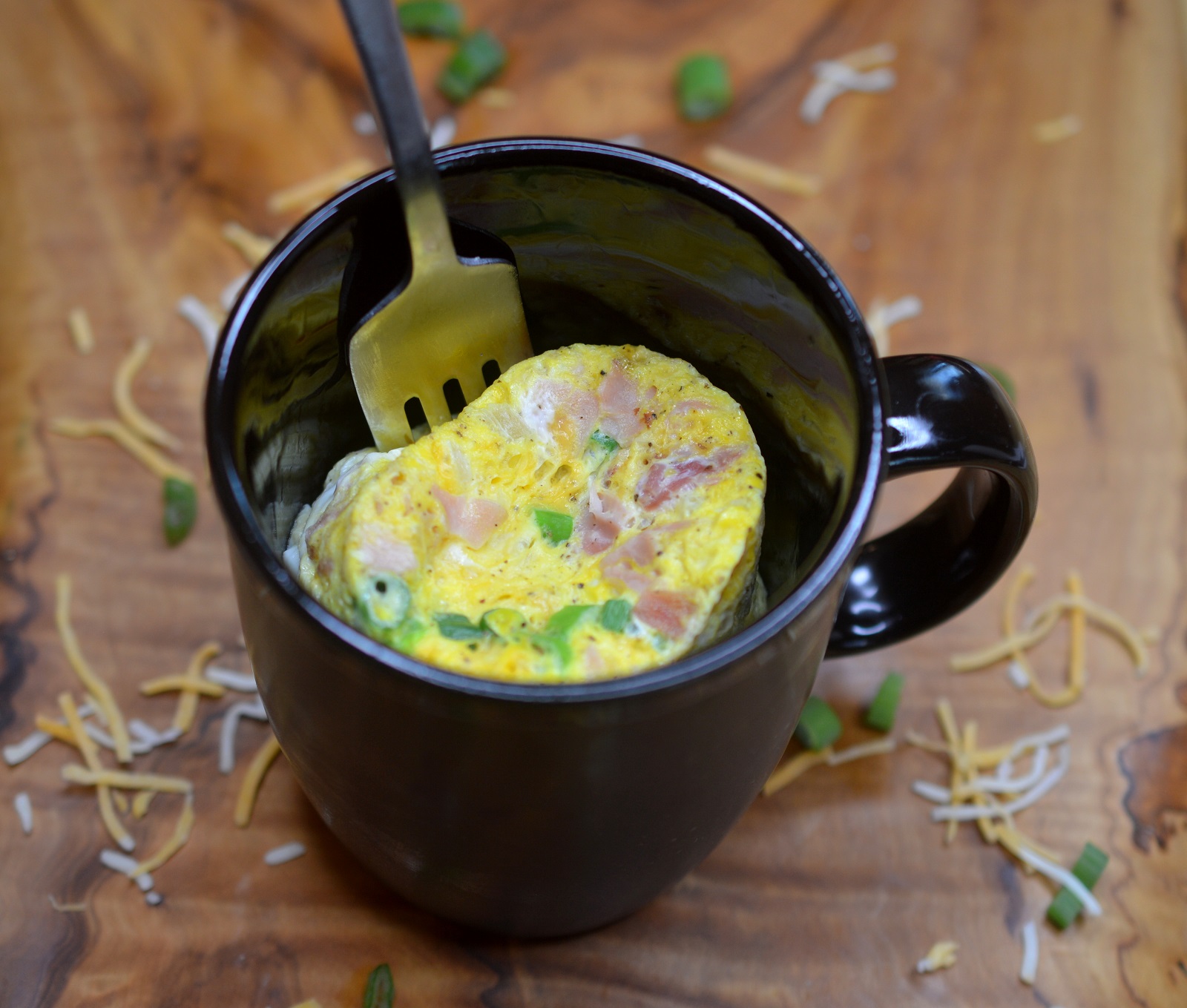 Getting the kids off to school, getting yourself off to work and on the weekends getting everyone off to activities, etc often causes whirlwind mornings. Making sure we get a decent breakfast to start the day off with a proper boost can be a challenge.
Unless I am traveling for business or had to attend an early morning meeting, I have always made my kids breakfast before school, its just the way I like to send them off. Now that they are in high school, I still do. Even if it's just a piece of toast as they rush out the door. This 5-Minute Microwave Omelet is one of the easy breakfasts I make for one or both of them.
This easy microwave omelet recipe makes for a great after school or late-night snack as well! 
You can add whatever you enjoy in your omelet to this recipe, where the real instruction comes in is first, the addition of a little liquid to the eggs to allow the eggs and vegetables to steam properly and second the size of the microwave-safe mug you use. You need to use a mug double the size of the egg mixture inside of the mug since during cooking it will puff up and out and then shrink back down. I typically use 2 extra-large eggs so the size mug I use is 16 ounce.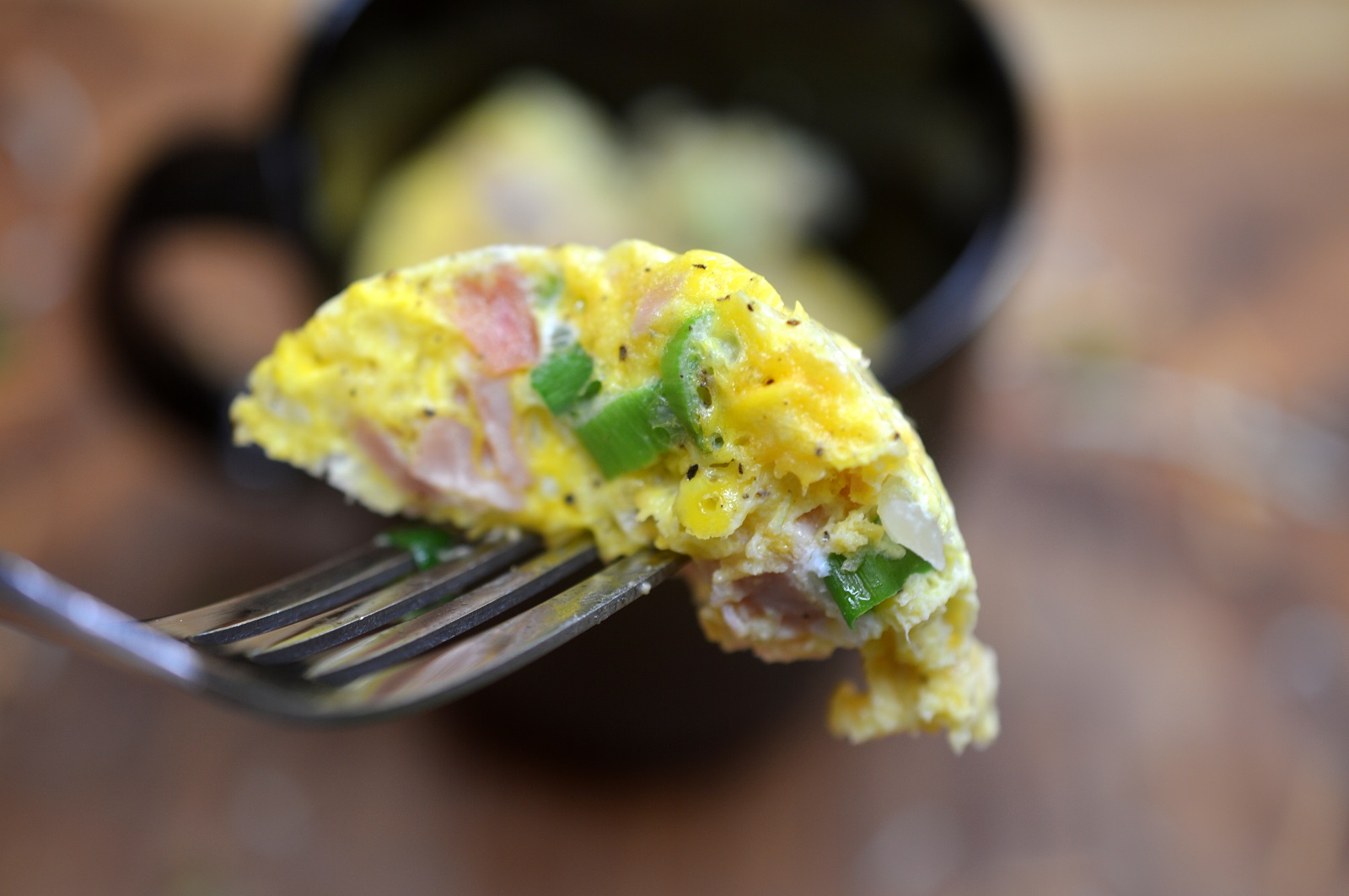 Many people have a microwave-safe omelet pan like this one that they use to make omelets in the microwave. I however tinkered with making them in a mug a few years back. Save difference as far as I am concerned, unless you are looking for a more flat omelet. If that is the case, you can simply use a pie plate that is microwave safe.
How Do I Make An Omelet In The Microwave?
To make a microwave mug omelet, simply whisk together 2 eggs in a small bowl. To that add chopped ham, cheese, onion and if you like peppers. Add in a tablespoon of milk and some black pepper. Spray a 16-ounce microwave-safe coffee mug with cooking spray, pour your mixture in and then microwave it for 2 minutes. That's a 5-minute hot breakfast!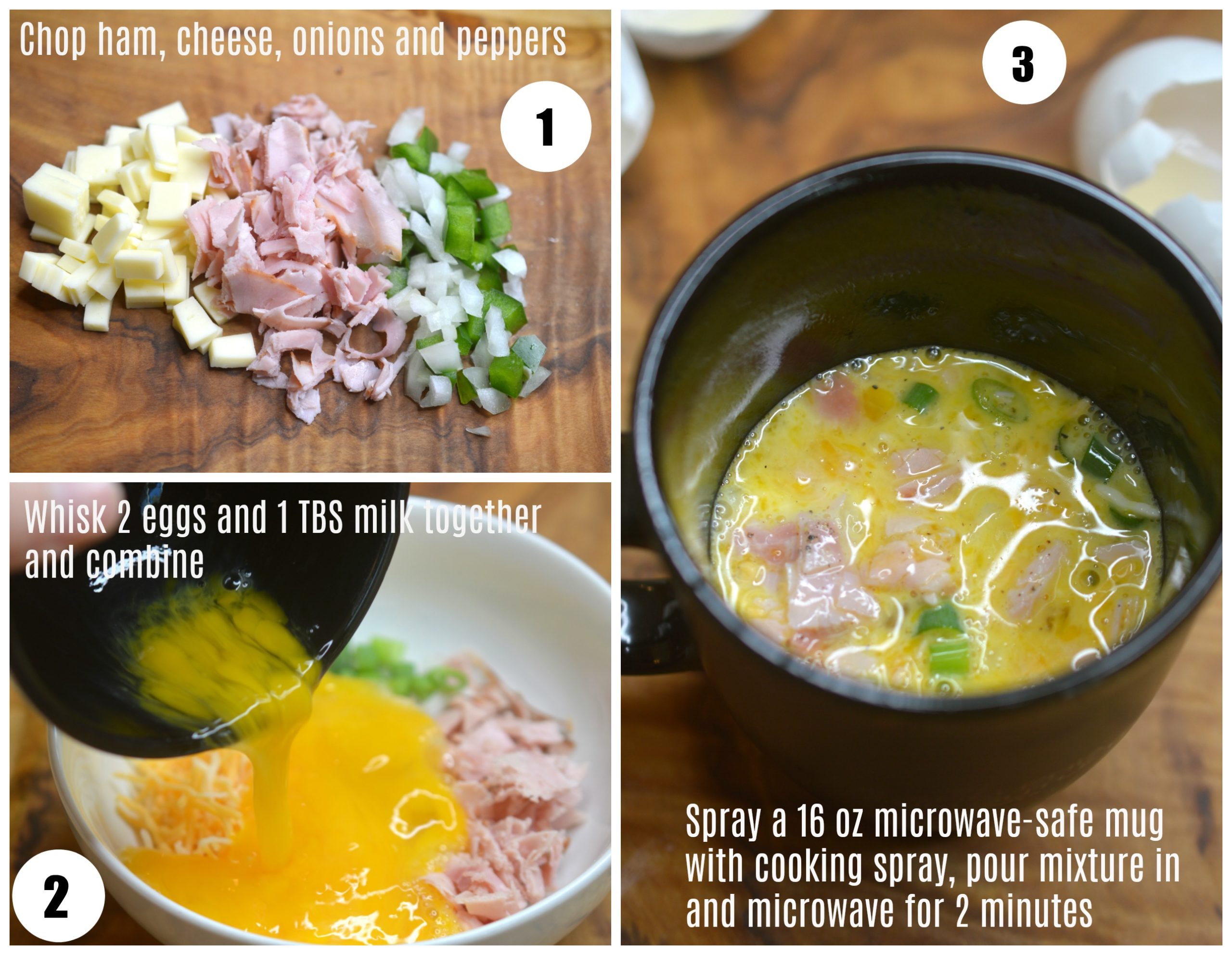 What Omelet Variations Can I Make?
Change the omelet up any way you enjoy. Add in chopped mushrooms, slices of scallions, ramps, cooked spinach that has been squeezed dry. Add in cooked crumbled bacon, chopped cooked sausage or leftover meats. Change up the cheese, the variations are almost endless.
What Can I Use Besides A Microwave-Safe Mug To Make An Omelet In The Microwave?
I like using a mug for this (which makes a muffin-like omelet), however, you can use the microwavable omelet maker I linked to above or you can use a glass or microwave-safe pie plate to create a flat omelet. Once you experiment a little with ingredients and methods, you will quickly land on what you enjoy most.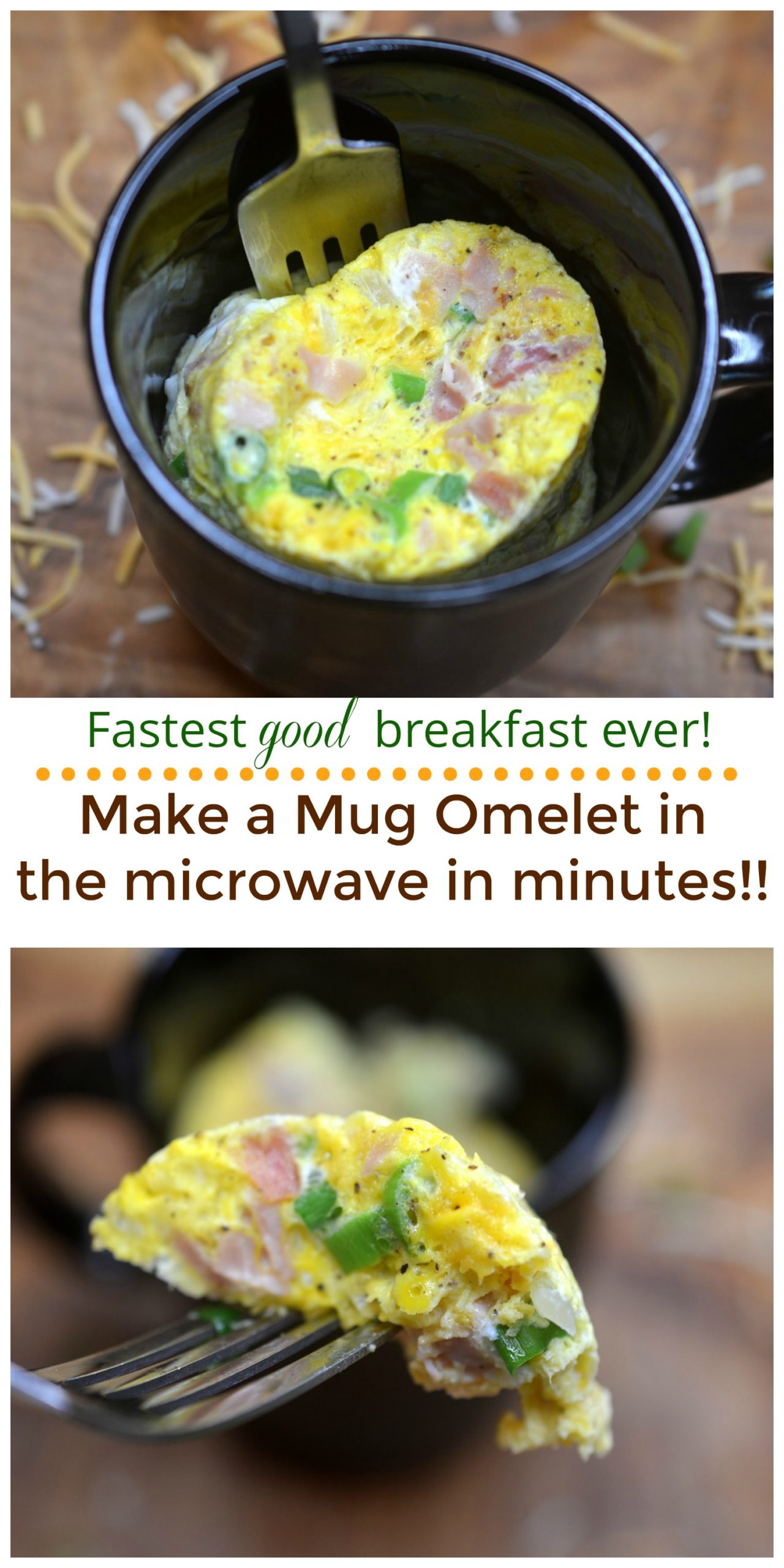 Does This Omelet REALLY Take Just 5 Minutes To Make?
YES!! It really does. I grab the eggs, chop chop chop the ham, cheese and onion whisk it together, add the milk, spray the mug, cook it for 2-2.5 minutes, depending on the size of the eggs used and that is it!
When you have more time for breakfast, these are a few family favorites:
My kids and I are crazy about these Norwegian Flat Cakes with a quick Blueberry Compote called Lapper. They are a cross between a crepe and a pancake. My son would eat them on the daily if he could!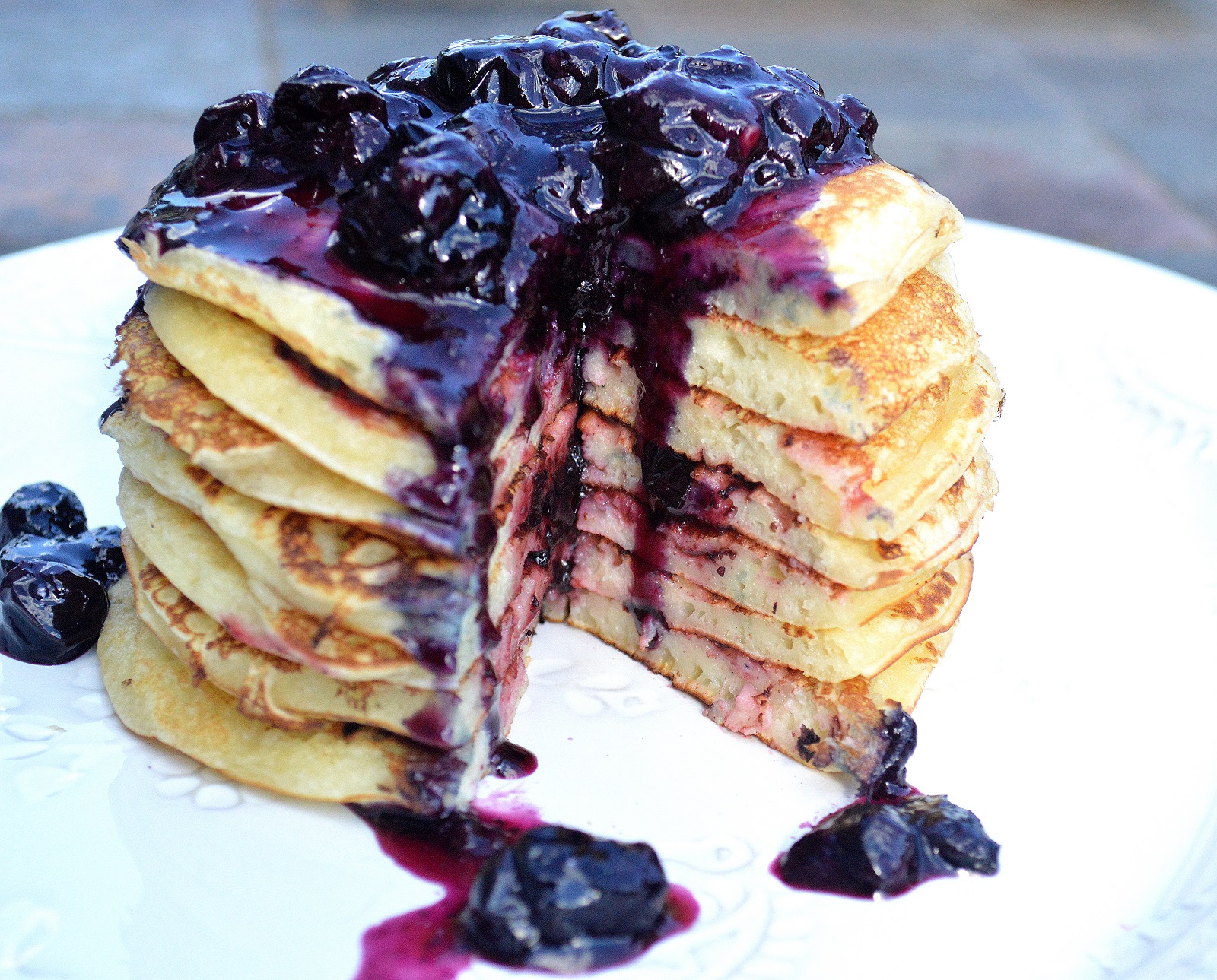 Another favorite of my son - Breakfast Muffin Cups! What I love about things like this is that since you use a muffin tin to make them, you can customize a few for every member of the family. Yummo!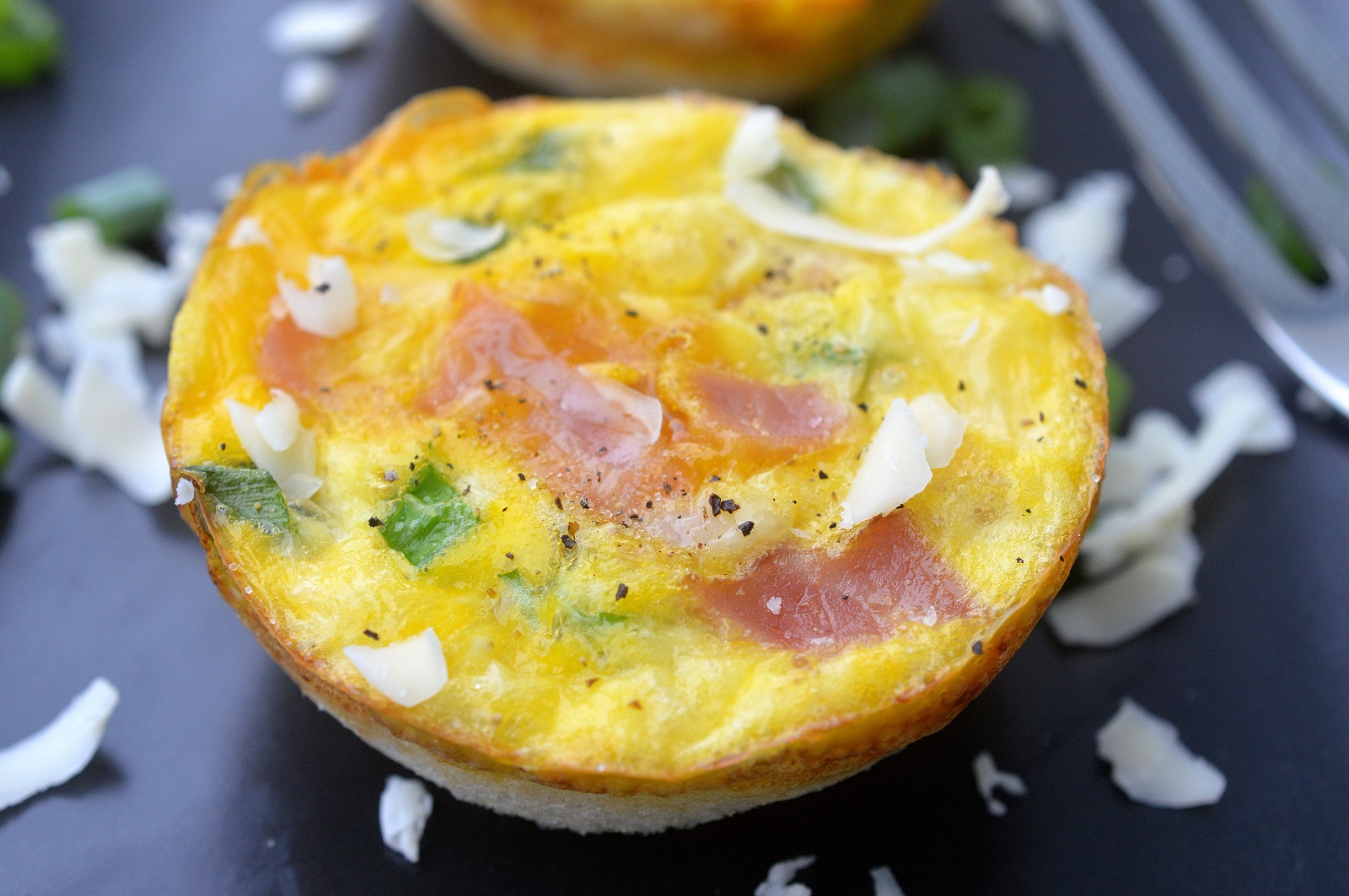 This Easy Breakfast Pie has long been a family favorite, it reheats well too!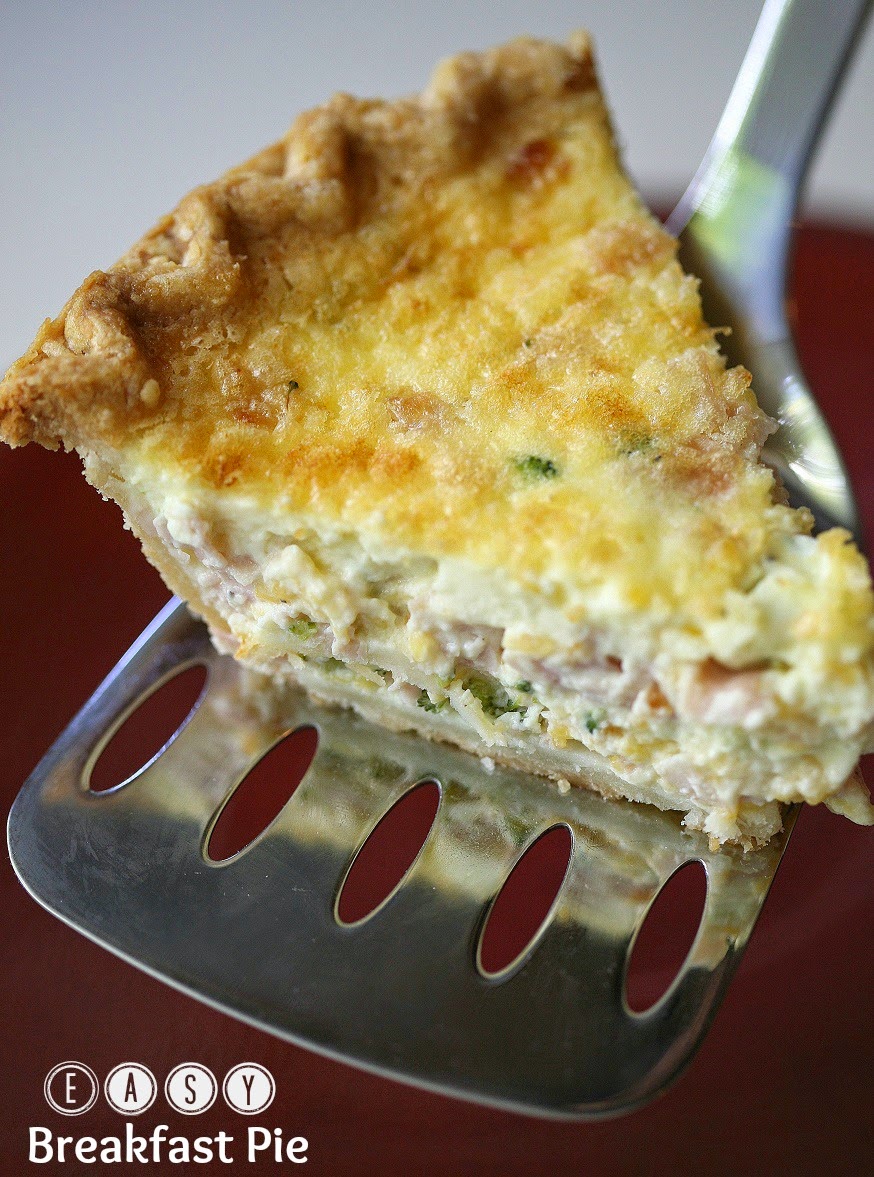 For additional breakfast recipes, click here for my Breakfast Recipe index.
Enjoy!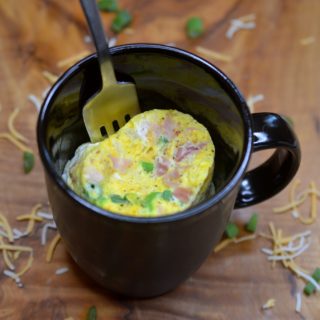 5 Minute Microwave Omelette
Breakfast in a hurry can be healthy too with this simple recipe for a microwave omelet made in a mug. Add in what you enjoy and in 5 minutes or less, you will be enjoying a warm, nutrient-filled breakfast in a mug!
Ingredients
2

eggs

1

TBS

milk

¼

cup

chopped ham

2-3

TBS

cheese

1-2

TBS

chopped onion

Optional: 1-2 TBS green pepper

Optional: 2 TBS scallions

sliced thin

Variation ideas include crumbled crispy bacon

chopped cooked sausage, cooked spinach that has been squeezed dry, minced jalapenos,
Instructions
In a small bowl, scramble 2 eggs with a fork.

Whisk in 1 TBS of milk.

Add in your chosen ingredients like chopped ham, onion and cheese and mix well.

Season with black pepper and if you wish a pinch of salt (however I the ham and cheese are already salty).

Spray a 16-ounce microwave-safe mug with cooking spray and then pour in the omelet mixture.

Microwave on high for 2 minutes.

Allow to cool for a minute or so and enjoy it.
Notes
Microwave strengths vary. 2 minutes always work for me and I typically use extra-large eggs. If I use large eggs I microwave for 1 minute and 50 seconds.
Nutrition
Serving:
1
g
Calories:
208
kcal
Carbohydrates:
5
g
Protein:
198
g
Fat:
13
g
Saturated Fat:
4
g
Cholesterol:
389
mg
Sodium:
492
mg
Fiber:
1
g
Sugar:
3
g
Follow me on Tik Tok for 1 minute videos