I think my favorite part of Thanksgiving may be the desserts! Who is with me? Here are 10 amazing Thanksgiving Dessert Recipes for you to take a look at. And none are an actual pie! I just know one of these will catch your eye! 
There are so many things to love about Thanksgiving dinner. So many traditions rest on the table waiting to be enjoyed by all. Whether the food is simple or a little more gourmet, Thanksgiving recipes are cherished by so many families.
Why You Will Love these Thanksgiving Dessert Ideas
Festive and perfect for Thanksgiving dessert, Christmas dessert or fall in general!
A great selection of recipe ideas.
Unique recipes, some with Thanksgiving history.
The Pumpkin Pie Shooters pictured above are a fantastic Thanksgiving dessert recipe to compliment full cakes and pies. Personally I want to taste a number of desserts, so mini's are for me!
The recipe for the Pumpkin Pie Shooters is below in the recipe card.
Tips
You can use disposable shooter cups like these they even have spoons!!
Making mini holiday desserts is a great way to allow people to taste a number of things easily with less waste, plus they are ready to go. Just pick them up and dig in!
I'm pretty sure I never let myself become full at dinner just so I can taste as many desserts as possible! It's how I came up with some of these Thanksgiving dessert recipes.
Every year that I host Thanksgiving, I ask my kids as well as my nieces and nephews (11 in all) to each make a dessert for Thanksgiving. That way, they each contribute to the holiday. Plus they get a moment in the spotlight when they share what dessert they brought and then puff up at the resulting ooh's and ah's, love that! It's a great tradition as well.
What are your favorite Thanksgiving desserts?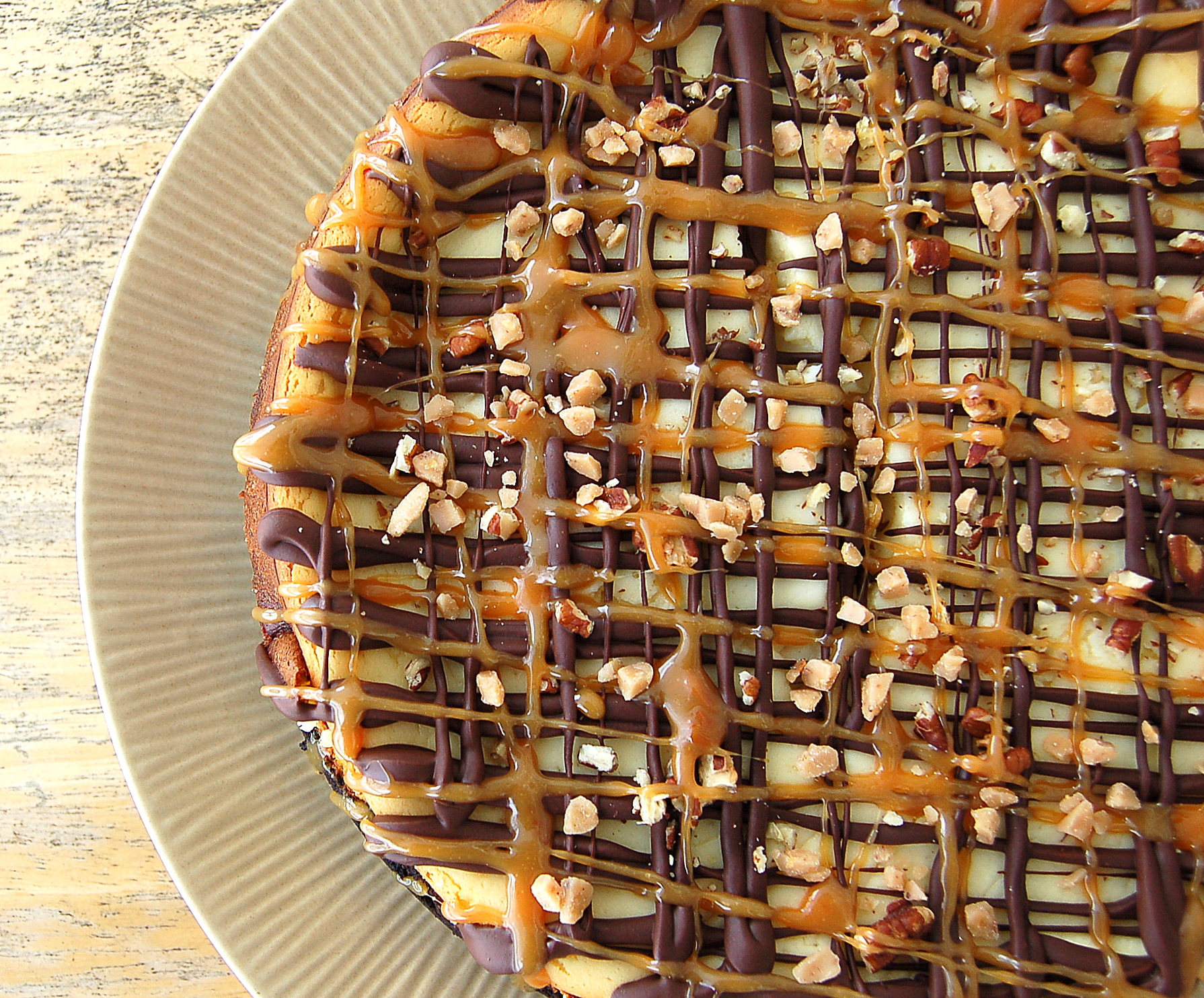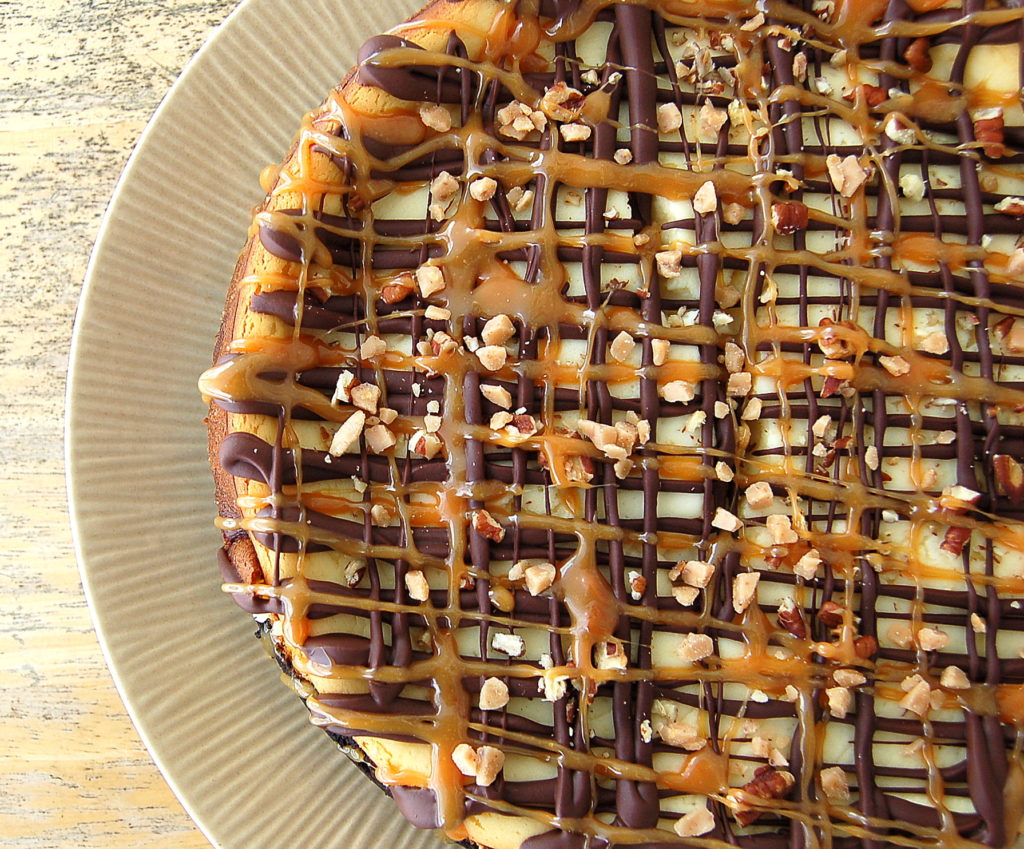 You can not go wrong with a cheesecake on Thanksgiving! I have been making this "Turtle" Cheesecake / Chocolate & Caramel Cheesecake (above) since I was about 20 years old. It is always a hit. If someone is allergic to nuts (like my kids are) just leave them off.
This next one is a show stopper! Think of it as an edible history lesson AND a centerpiece dessert all-in-one!
Quite a few teachers have written me over the years after trying this with their classes, seriously love that! AND it went viral on TikTok last year, so many people have now made this since I first posted it 8+ years ago.
The Pilgrims did not have flour to make pumpkin pie as we know it. What they did however was fill pumpkins with a custard filling, and roast the pumpkins in the fire. An idea I am sure they got from the indigenous people.
As you serve the chilled custard, bits of the remaining roasted pumpkin mingle with the custard and its just so delicious!
This is my take on the Original Pumpkin Pie the way the Pilgrims made it.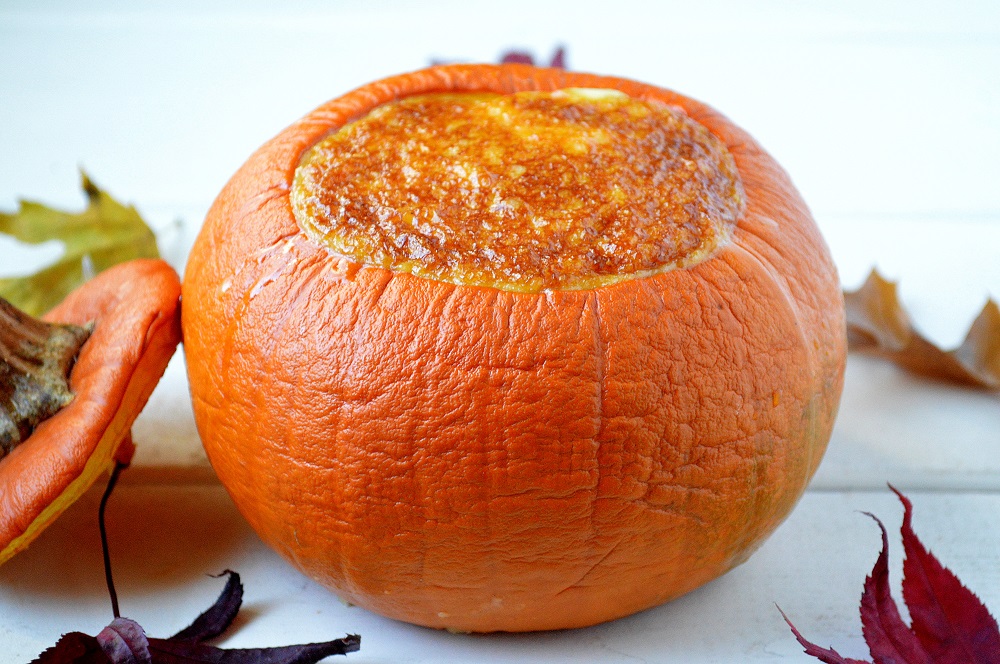 It doesn't matter what time of year it is or what holiday it is. My Prize Winning Key Lime Pie is always a hit! You can't beat the creamy, tart-sweet, refreshing taste plus, its SO darn easy to make!
I like to have a variety of textures and flavors out for Thanksgiving and Christmas desserts.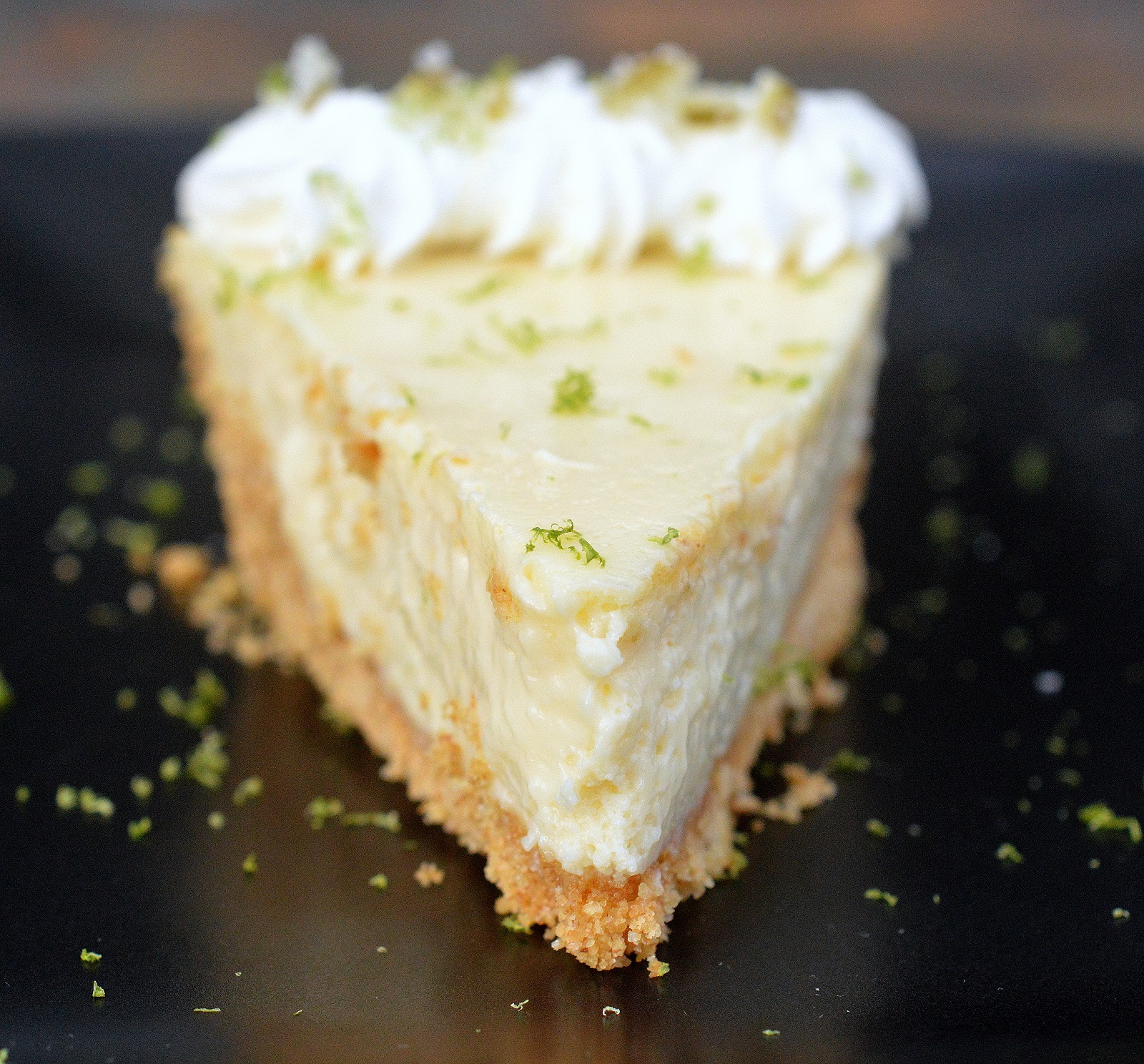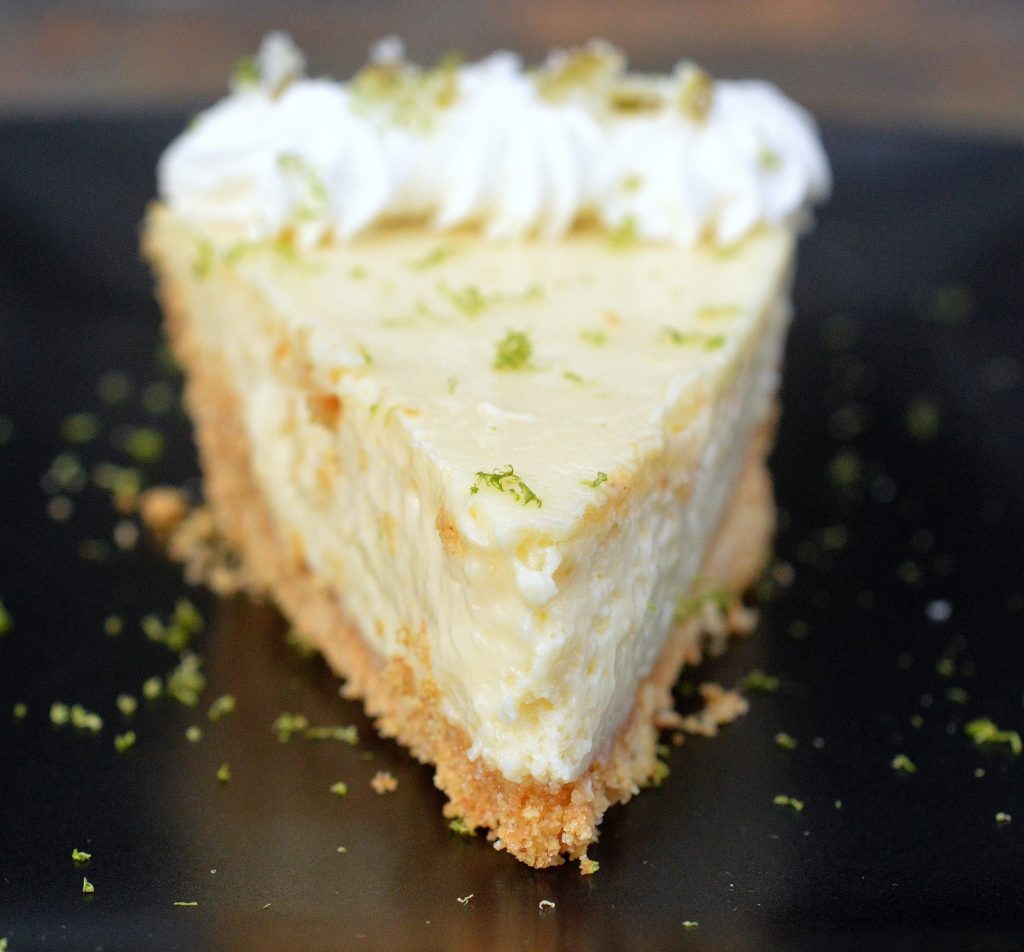 Call it Nantucket Pie or Cranberry Pie, the funny thing is its not actually a pie! It is suck a festive Thanksgiving dessert recipe.
This vintage New England dessert recipe always wows the room on Thanksgiving and Christmas! Its super easy to make and one bite will have everyone asking you for the recipe!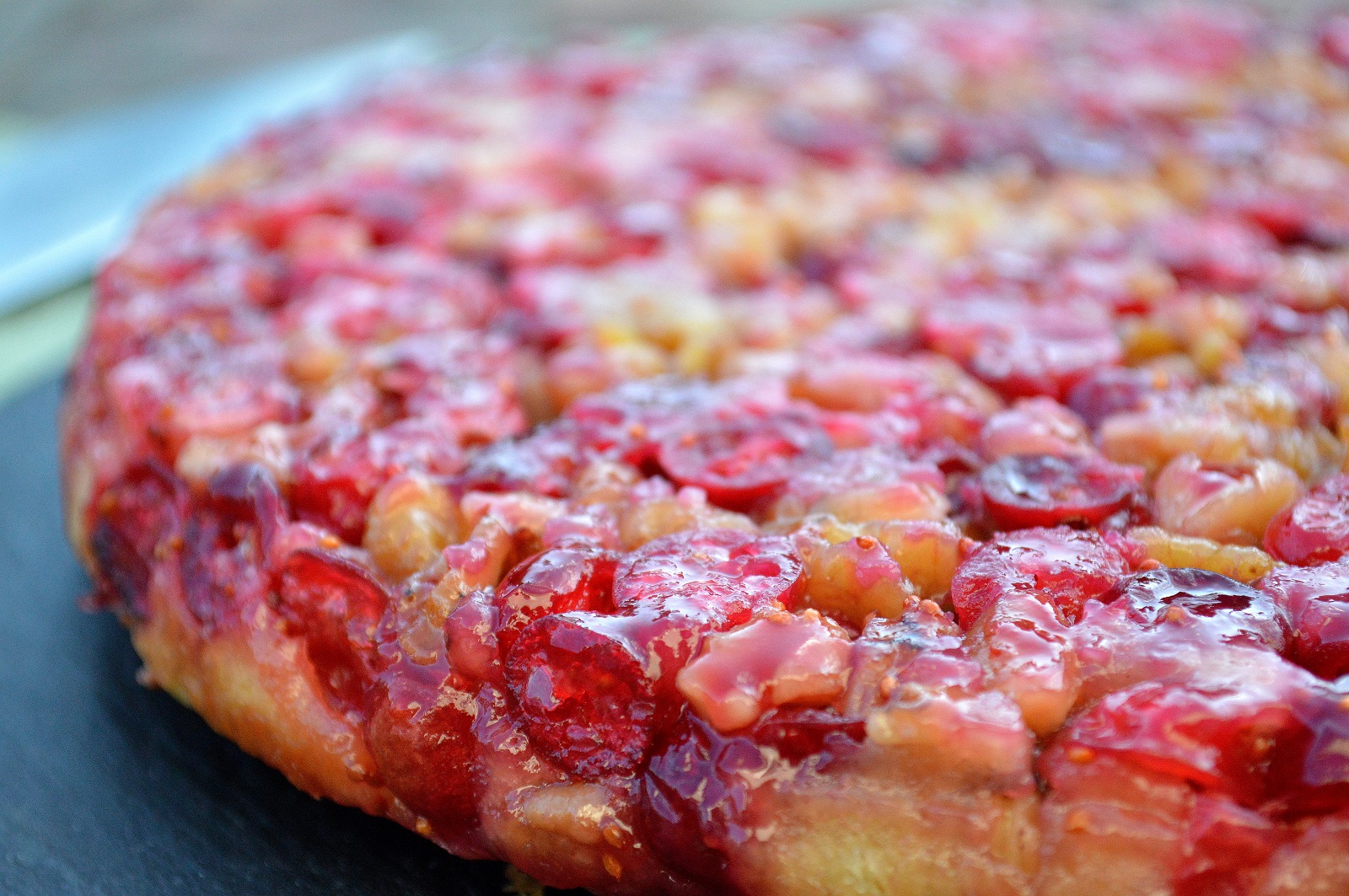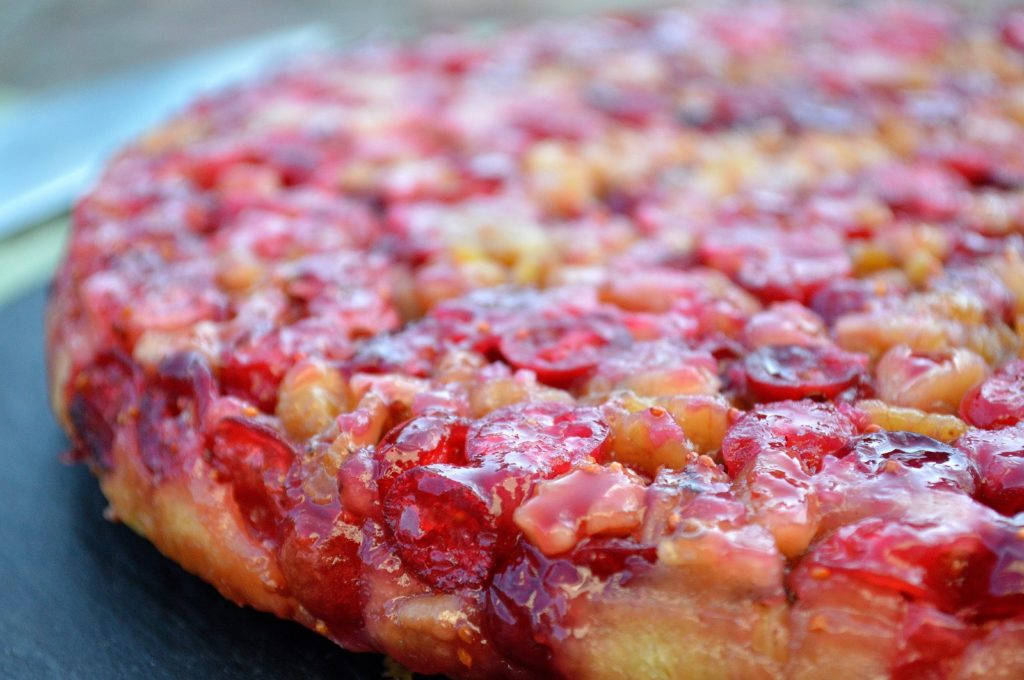 More Amazing Thanksgiving Dessert Recipes to try
Mini Apple Raisin Bread Puddings with Whiskey Sauce (yum!), for the kiddos these Chocolate Candy Apple Slices, this Pumpkin Crunch Cake goes fantastic with Thanksgiving breakfast, brunch, coffee or tea, and if you are short on time, here are 10 ways to top a store-bought cheesecake. Your secret is safe with me!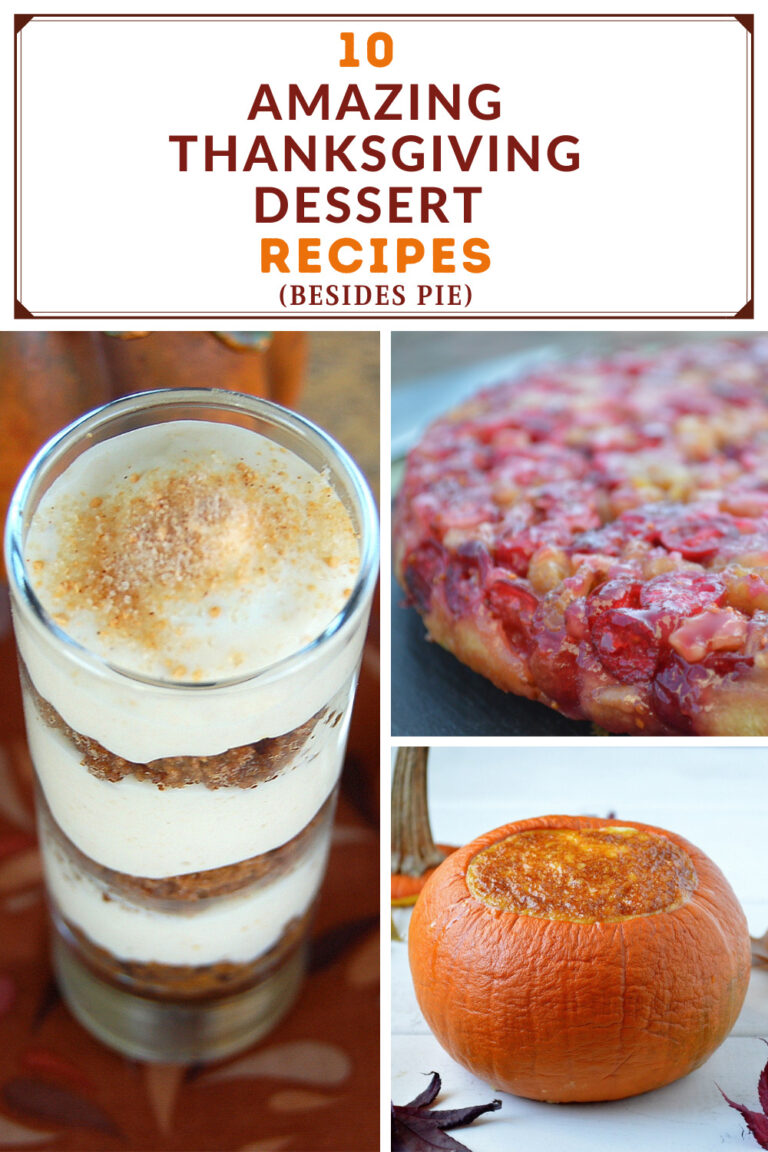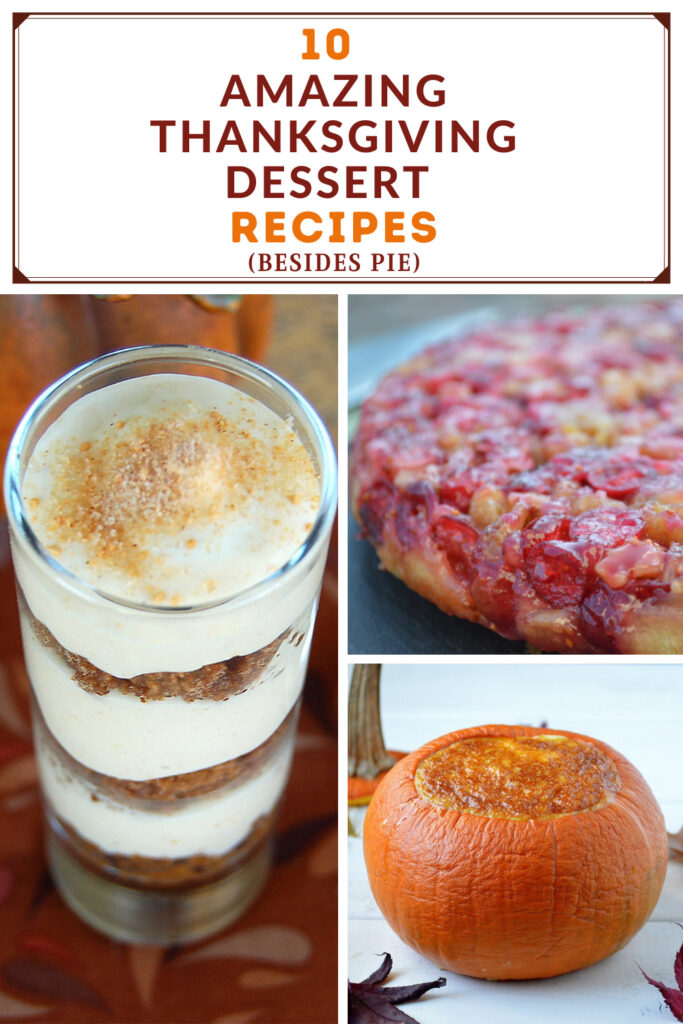 Happy Thanksgiving!!
This post was originally published in November, 2015. It was updated November 9, 2020. It also includes an affiliate link, where if you happen to click on it and purchase my suggestion, I receive a nominal payment.
10 Amazing Thanksgiving Dessert Recipes
Pumpkin Pie Shooters recipe plus 10 amazing Thanksgiving dessert recipes.
Ingredients
8

oz

cream cheese

softened

16

oz

sour cream

1

small box vanilla instant pudding

3 oz

½

cup

sugar

1 ½

teaspoons

vanilla

2 ½

TBS

Pumpkin Pie Dip Mix*

20

Gingersnap cookies

Sweetzles or similar

3

TBS

melted butter
Instructions
In your mixing bowl, combine the cream cheese and sour cream and mix on medium speed until smooth. Add in the pudding mix, sugar, vanilla and pumpkin pie spice. Mix on medium for 3 minutes more.

Crush the gingersnaps in your food processor (or just smash them into crumbs in a plastic bag). Add in the butter and pulse until combined. Place in a small bowl and set aside.

In shooter cups, wine glasses or whatever you may be using, first spoon enough of the gingersnap mixture to cover the bottom. Then spoon or pipe in some cheesecake mixture, Then another layer of gingersnap mixture, then spoon or pipe in second layer of cheesecake mixture, then sprinkle some pumpkin pie spice mix over top.

Keep cold until ready to serve or transport. These really are so easy, people will think you worked harder than you actually did
Notes
You can of course layer it all in a large bowl if you prefer. A trifle bowl or glass bowl work great.
You can make the components of this recipe ahead of time and assemble shortly before serving.
If you can not find pumpkin pie spice mix (the kind used to make dips with sugar and spices in it) make your own, my 9 year old daughter shows you a 5 minute DIY Pumpkin Pie Spice Blend and a Sweet Pumpkin Pie Spice Blend HERE.
** The above recipe is mellow with the pumpkin flavor, it tastes more like a cheesecake with a subtle pumpkin flavor. To boost it up a bit add in 4 TBS pumpkin puree, plus a teaspoon of sugar.
Nutrition
Serving:
12
servings
Calories:
246
kcal
Carbohydrates:
19
g
Protein:
3
g
Fat:
18
g
Saturated Fat:
10
g
Cholesterol:
48
mg
Sodium:
175
mg
Potassium:
120
mg
Fiber:
1
g
Sugar:
12
g
Vitamin A:
578
IU
Vitamin C:
1
mg
Calcium:
70
mg
Iron:
1
mg
Follow me on Tik Tok for 1 minute videos