It's no secret how much I adore a good meatball.  I think I have about 10 recipes for meatballs on my site and I am not finished yet! This recipe for Chicken Parmesan Meatballs is easy to make, a favorite of the kiddos and a nice change from the traditional.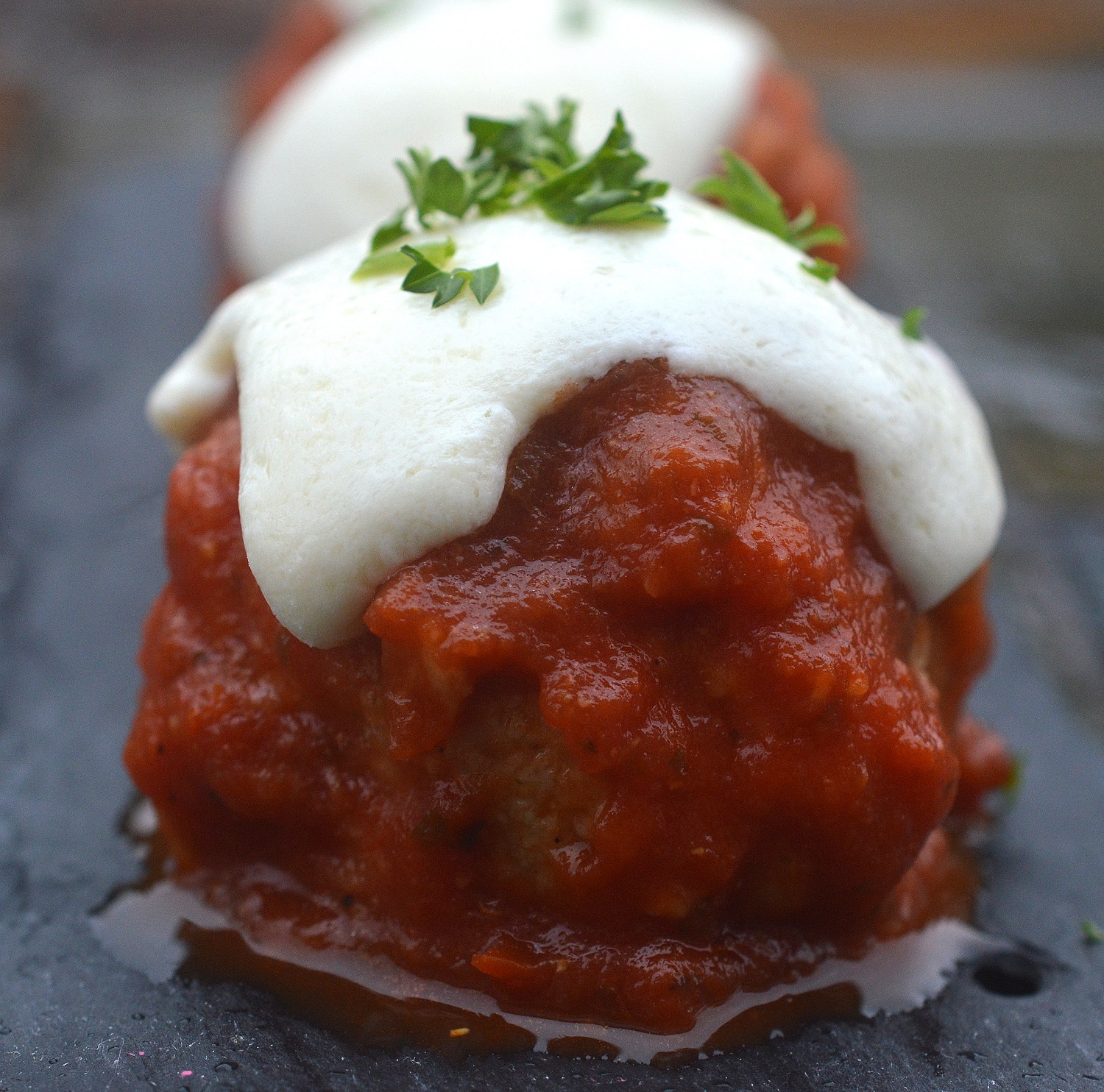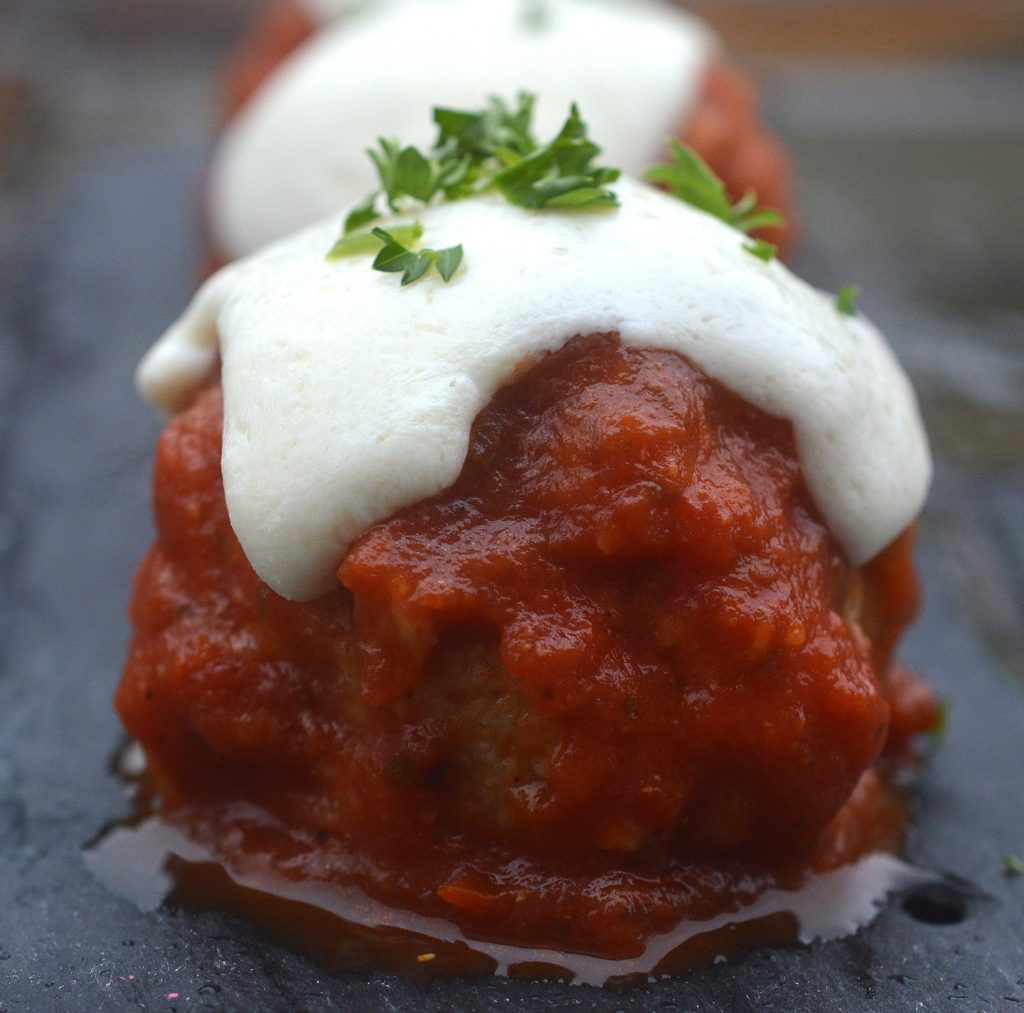 It takes 1 bowl and 10 minutes to whip these Chicken Parmesan Meatballs up, then you decide if you want to fry or bake them. Me? I do both.  For these meatballs I want a nice brown exterior, So I fry them a bit first then pop them in oven to cook them through, top each one  with a slice of fresh mozzarella, let it melt and then plate themover sauce and call it dinner!  I do throw a salad together, or a side of pasta and maybe a loaf of my Ultimate Garlic Bread.
To me, meatballs are the ultimate comfort food. I have no interest in ever buying pre-made meatballs...why would I when they are SO easy to make? Plus, I want to know exactly what's in them and am picky about the "bounce" of the ball. Know what I mean? I do not want it spongy due to too much breading.
If I had to pick a favorite meat for a meatball, I think it would have to be pork...I think...however I bet as I eat a chicken or beef, in the moment I would pick them too ha!! I have been meaning to make Eggplant Meatballs.  A million years ago as a teen, I read Dom Deluise's cookbook (yes he has one). It was such a fun read! His stories are great! He had a recipe for an eggplant meatball (involving a priest I think). I have to dig that book up...so stay tuned!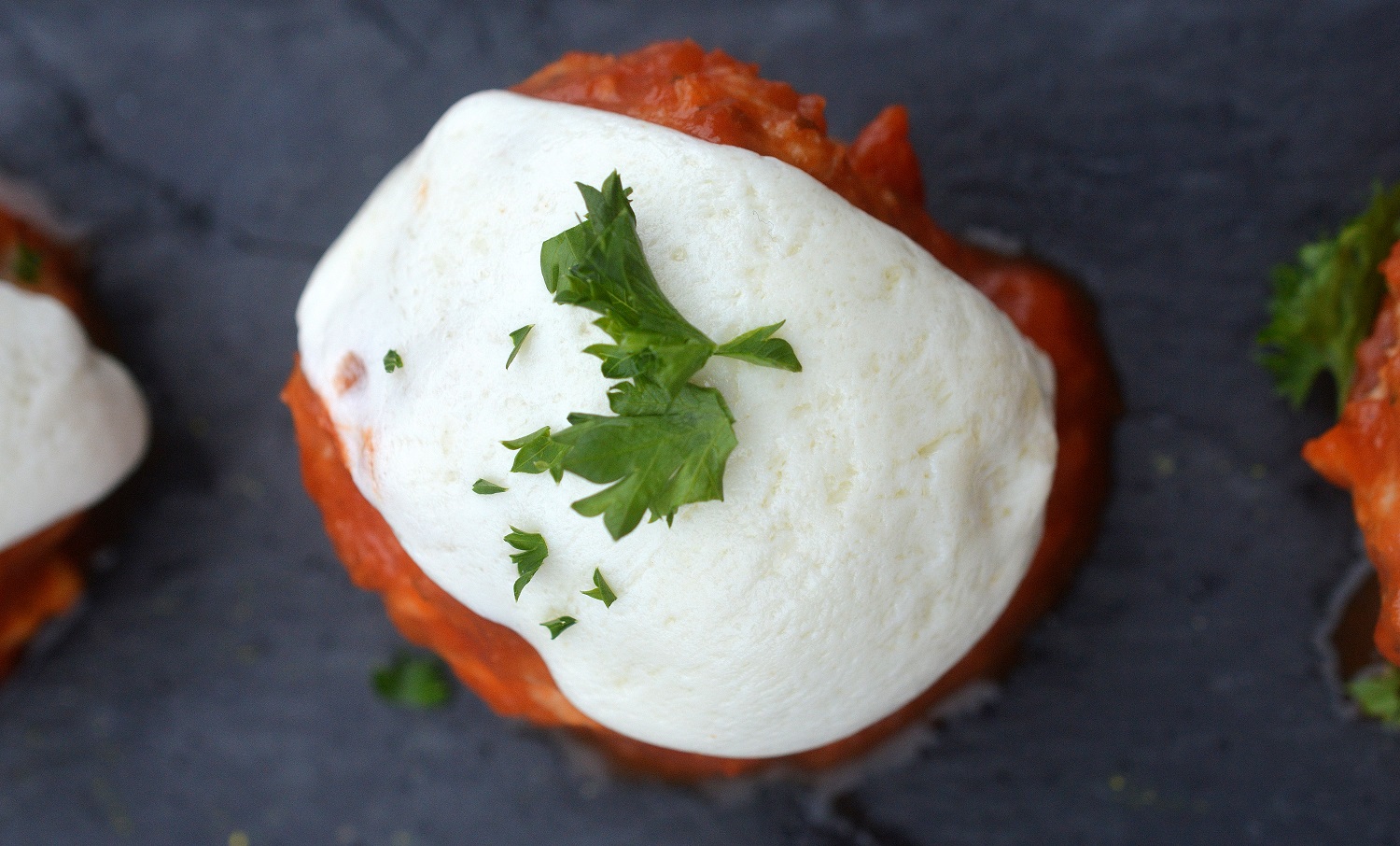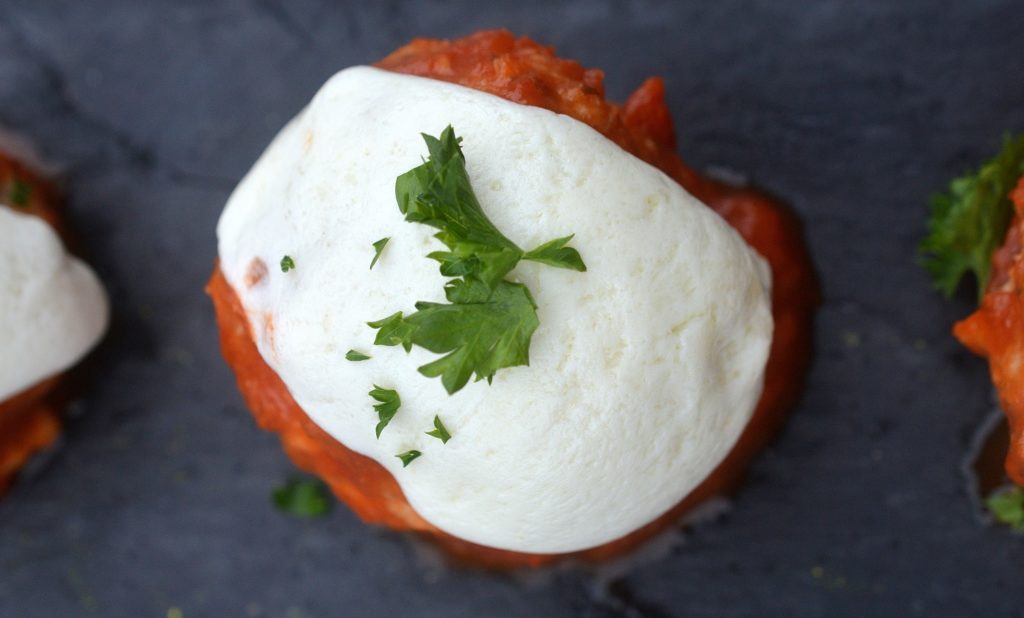 If you & your family enjoy meatballs as much as I do here are some of the other recipes I have on Souffle Bombay for you to try: From R to L The "Perfect" Meatball, Bacon & Chicken Meatballs, Asian Pork Meatballs (gluten free too, no filler), Turkey Meatballs in a Savory Broth, Asian Chicken Meatballs.  I also have Buffalo Chicken Meatballs, A Banh Mi Meatball Sandwich (life-altering) and a few more. Simply search "meatballs" in my search box or Google "Souffle Bombay Meatballs". If you try one of them, tag me on Instagram or Facebook and let me know 🙂

If you want to see a fish meatball...YUP, I said fish! Check out my friend Dara's Salmon Meatballs with Creamy Avocado Sauce!! OMGosh!
Enjoy!!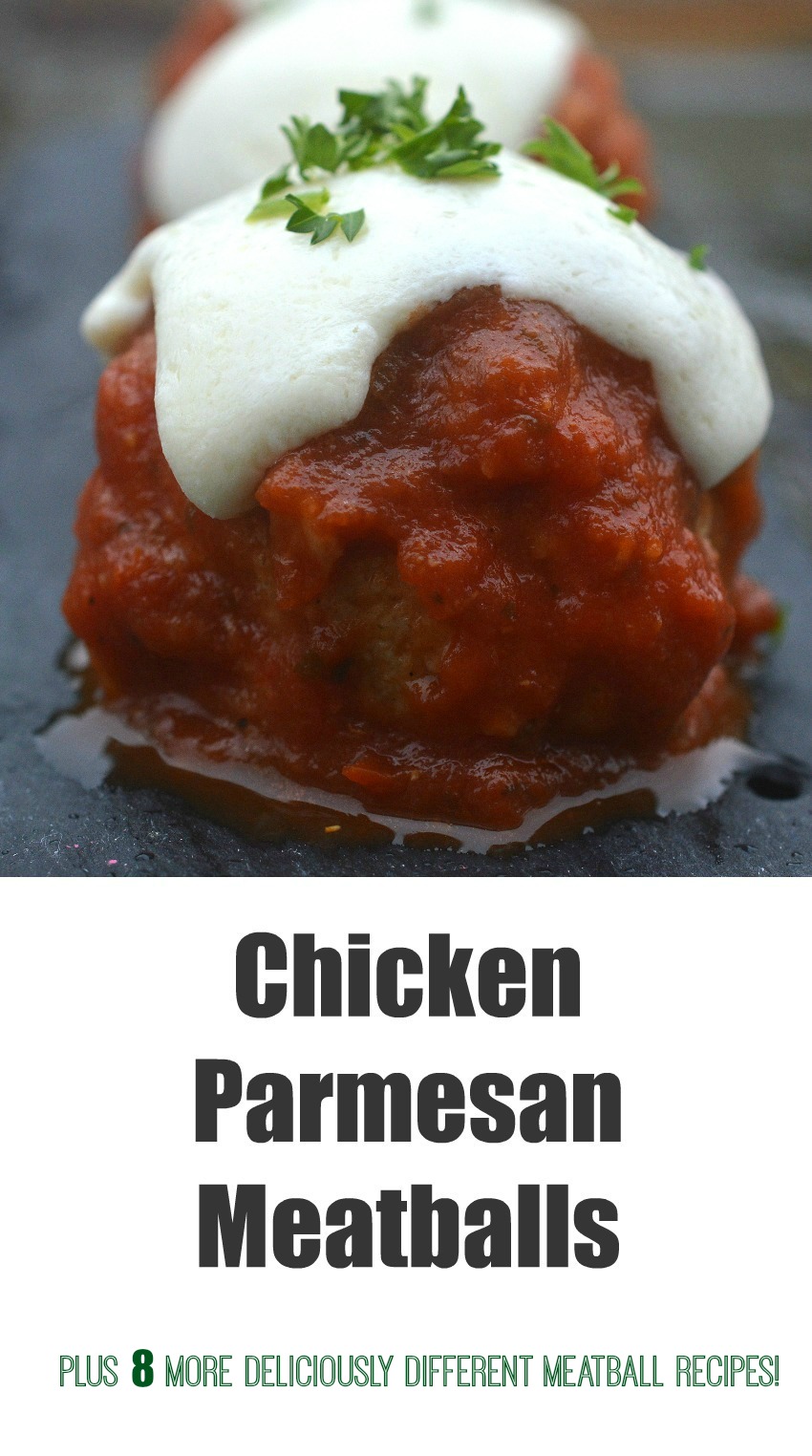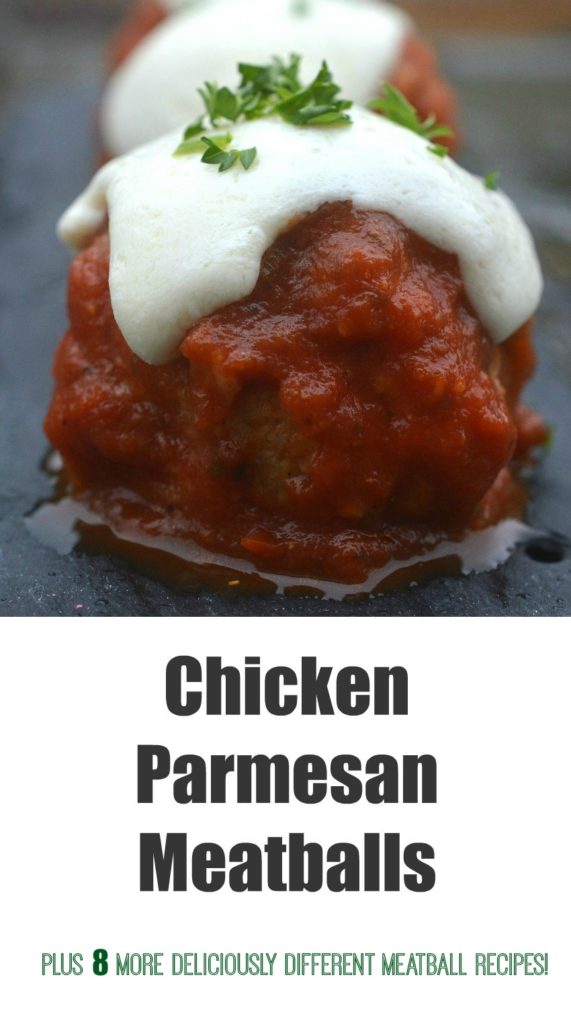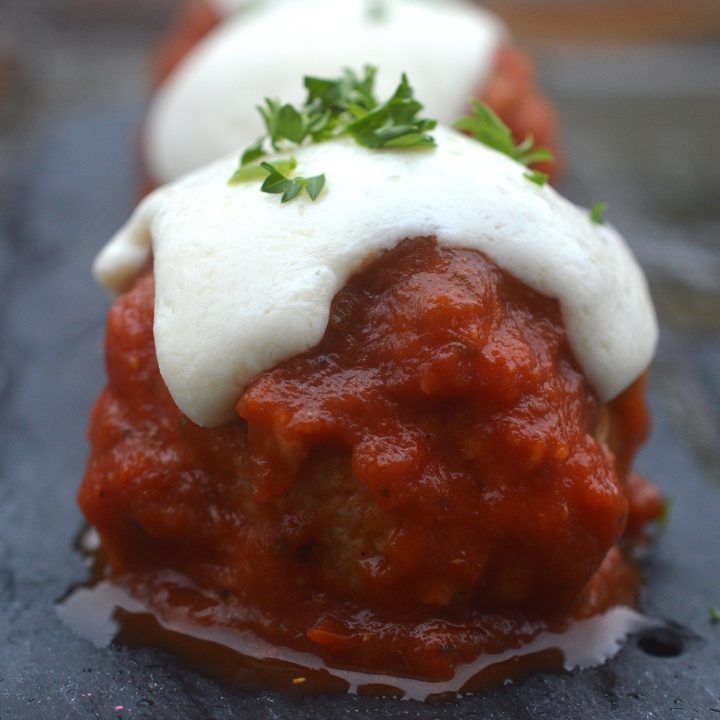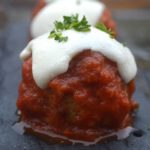 Print Recipe
Chicken Parmesan Meatballs
Ingredients
1

pound

ground chicken

1

TBS

or more of chopped fresh basil or parsley

1

large clove garlic minced

1

large egg

Kosher salt & black pepper

2

TBS

grated Parmesan cheese

1

TBS

milk

½

cup

breadcrumbs

Sauce

Mozzarella for topping

fresh if you can get it

Fresh parsley for garnish
Instructions
If baking, preheat oven to 375 degrees.

In a large bowl, combine chicken, basil or parsley, garlic, egg, seasonings, Parmesan cheese, milk and breadcrumbs.

Using a spatula or your hands, mix until incorporated.

If you ground your own chicken vs store-bought ground it won't be as wet. Whichever you choose to use, adjust for wetness/dryness and add more milk, or breadcrumbs.

Form into balls.

If baking all the way through, line balls up on your lihjtly greased baking sheet and bake for 12-15 minutes or until cooked through, you can also finish them off in your sauce after 8-10 minutes.

If frying, heat 2 TBS grapeseed or olive oil in a frying ban and saute until just browned (about 3 minutes and then bake or until cooked through 8-10.

If frying then finishing off in the oven, place them on a baking sheet and bake for another 6-8 minutes or so or until chicken is cooked through. Just don't overdo it, nothing worse than a dry meatball!

You can also finish cooking in the sauce if you like.

To add mozzarella cheese, simply line them up on a baking sheet, tip with a slice of mozzarella and allow it to melt towards the end of cooking 2-3 minutes.