I became smitten with cooking when I was just 9 years old...because of a cake! A Chocolate Popcorn Cake called a Blizzard Cake to be exact. No really, it's true! I had received the "Julie Eisenhower's Cookbook for Children" from Santa. I read the whole book the next day (all 96 pages of it) and decided that the "Blizzard Cake" on page 71 would be my first recipe to try. It was a chocolate cake, covered in chocolate frosting...covered in popcorn. Hence the "blizzard" title.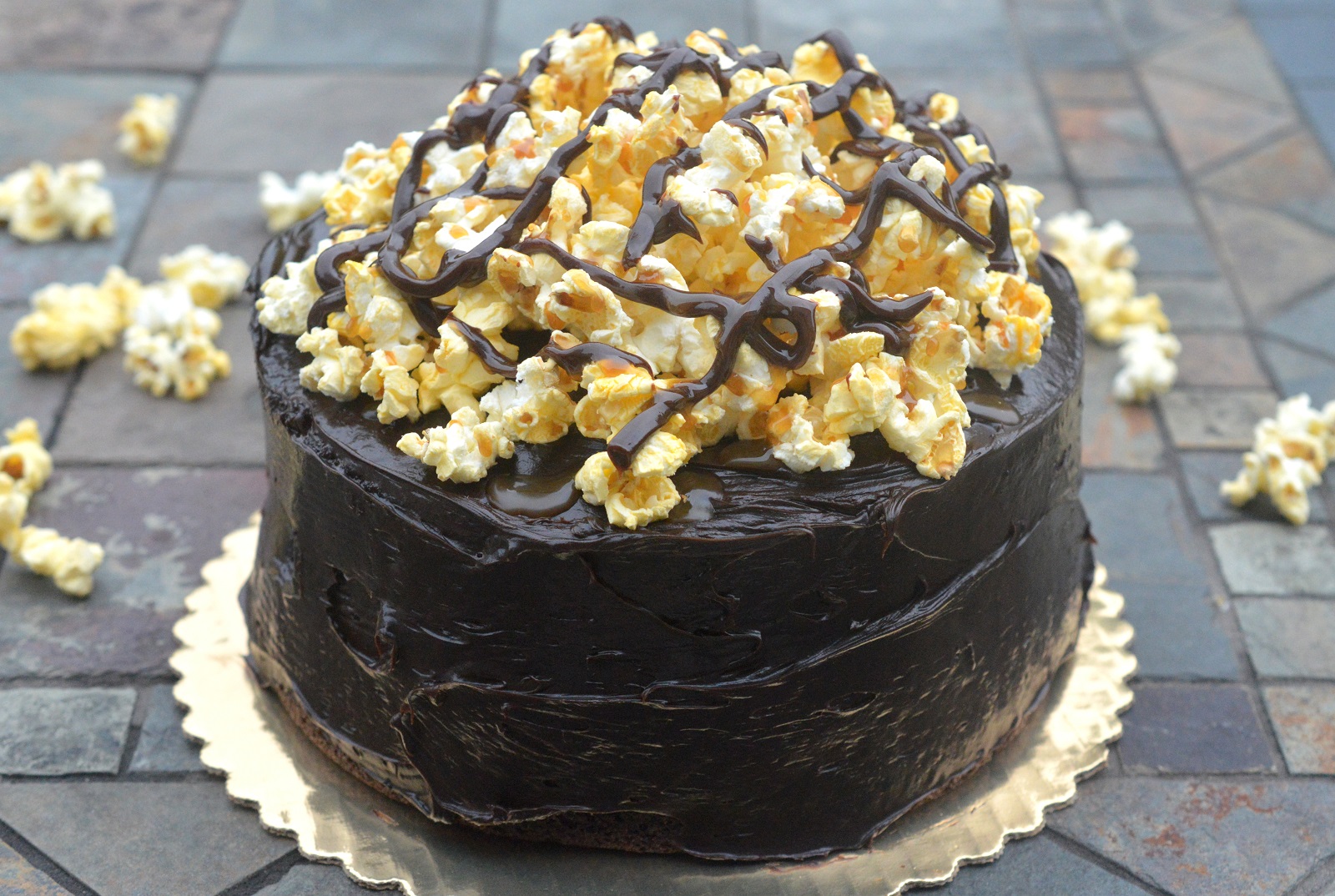 It wasn't so much the cake that was the tipping point for me, it was the look of excitement on my 3 brothers, sister and parents faces as I carried my Chocolate Popcorn Cake over to the table where they all sat with eager anticipation. I felt special, I felt empowered and I felt important as I carried that cake to the table. When they dug in and everyone was enjoying it...I felt really happy!
I knew right then and there that I wanted to feel that way again and again and again!
Making and presenting that Chocolate Popcorn Cake was a defining moment in my life. Funny that popcorn was a big part of it. As I think back on my life, from my childhood to dating my husband, to my kids and our life up until today. Popcorn is there...a lot!!
When I was 9 my other love was horses. These days its all about what my kiddos enjoy and funny enough, my mini-me, my daughter, also loves horses. Her grandmother even had horses until a couple of years ago, when she hung up her reigns for golf clubs.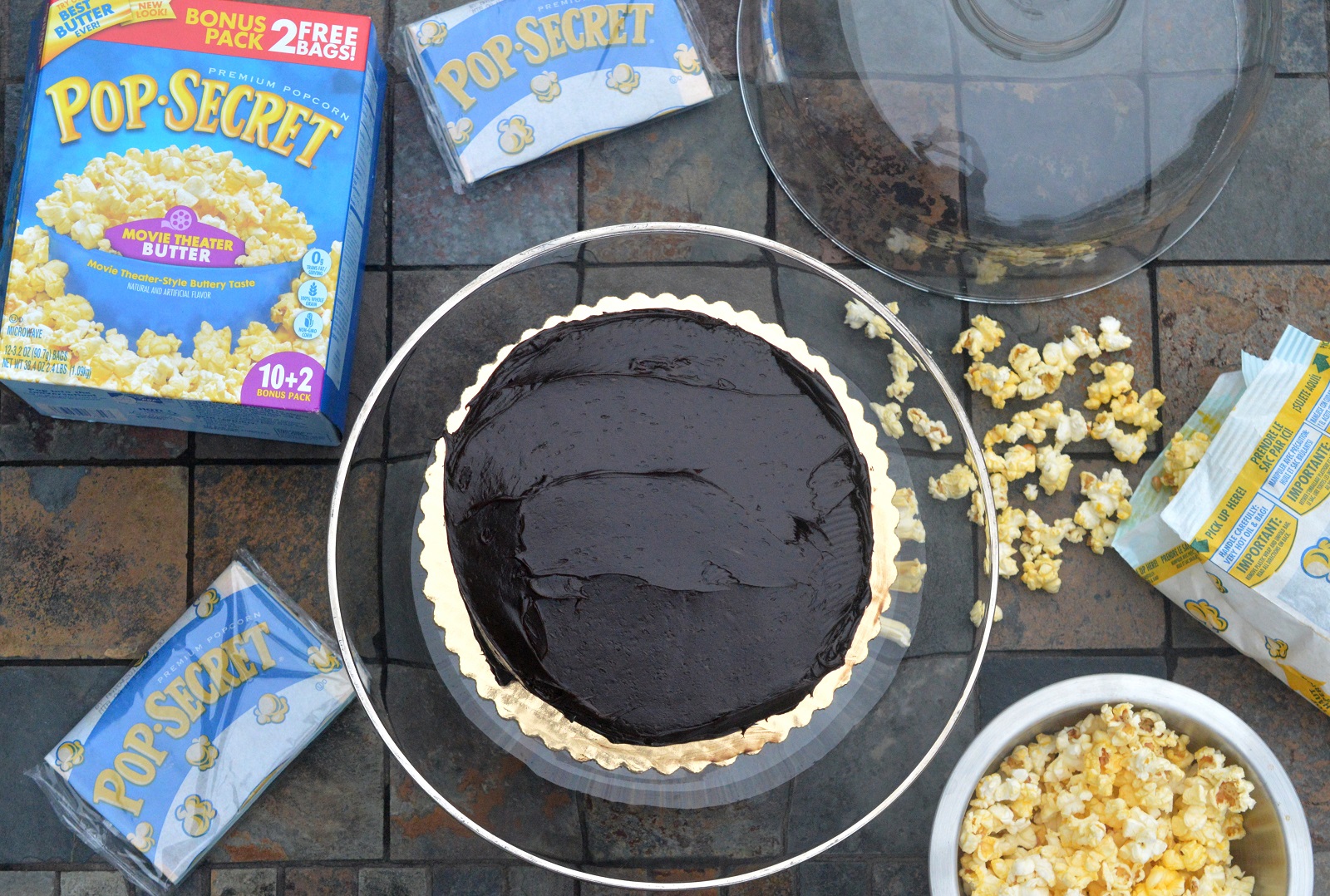 I have always been choosy about what shows my kids watched...No Spongebob (I just don't get it) or Caillou (too winey) or violence when they were younger. I like a show with strong characters with good morals who could overcome obstacles. (I mean I still will watch Little House on the Prarie or the original Anne of Green Gables if I see them on, lol). A good show today for you to check out with your 8 to13-year-old daughter(s) is  Instagram,  especially if she/they like horses...who doesn't like horses at that age??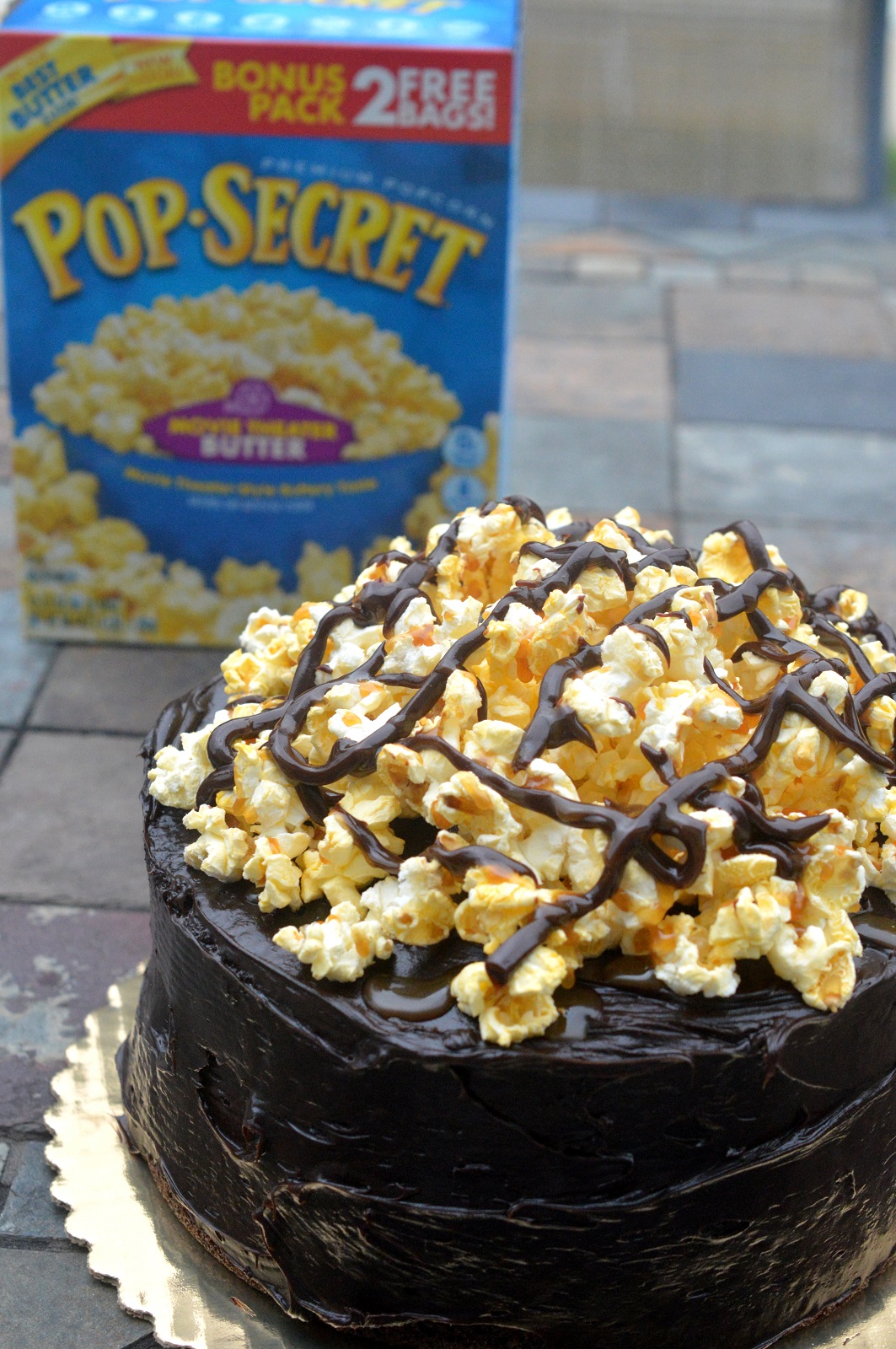 Instagram is a great show with strong 12-year-old girls as lead characters set in the 19th century in a small Texas town. Follow their adventures with their horses and find out the story of Spirit.  Season 6 of Spirit Riding Free by Dreamworks dropped on Netflix on August 17th. You know if a show is on its 6th season these days that it has to be good! I think you'll enjoy it! Check out the activities on the Spirit Riding Free website, I especially love the Family Discussion Guide...Dreamworks is fantastic to have that as a great conversation tool!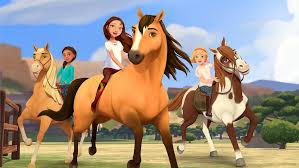 Here's a link to check out some trailer videos to see for yourself.
We are a family that loves to watch movies and let me tell you...we eat a lot of popcorn!! Especially my husband! It's his favorite snack, hands down! The funny thing is when one of us pops a bag of Pop Secret in the microwave...the others show up looking for a handful, the next thing you know, poof it's gone and it's time for a second bag! The smell and the taste are just too darned good! Check your local Walmart for the family 12 pack in Movie Theatre Butter, Homestyle, Extra Butter (oh yes!!), Butter and Kettle Corn.
You can't "hide" making it and enjoying it on your own, the intoxicating smell drifts throughout the house, lol! Gotta love Pop Secret as a go-to quality snack you can feel good enjoying and sharing with your family. Plus its fun! Who doesn't love delicious buttery popcorn??
My daughter and I changed up the original cake a bit, back then the cake was simply studded with popcorn. Samantha suggested today we put some caramel overtop...so we did. That girl will add caramel to anything she can...JUST like he momma! We balanced that out with a chocolate drizzle. It was a fun and delicious treat that the four of us enjoyed!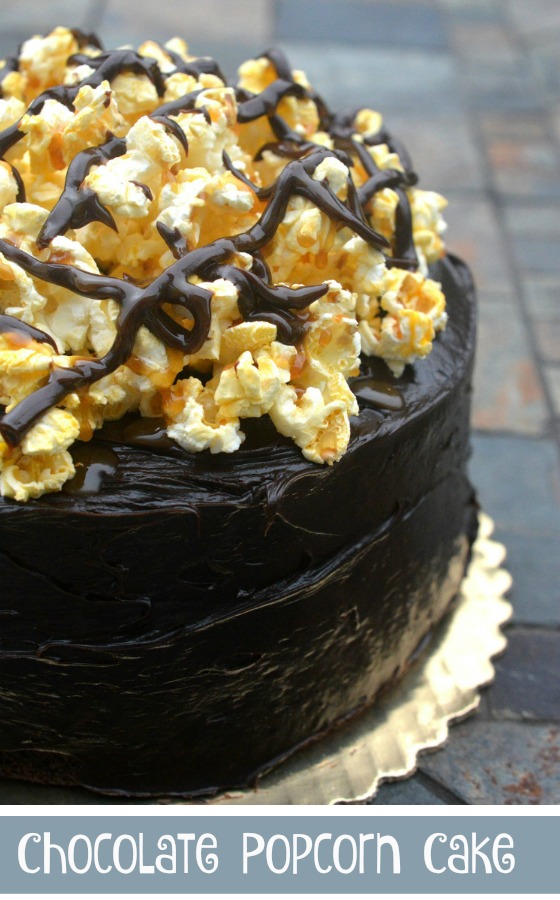 I am sure your kids would love to have at this and decorate their cake with popcorn (and I am sure munch on some popcorn along the way, I mean how can you not??)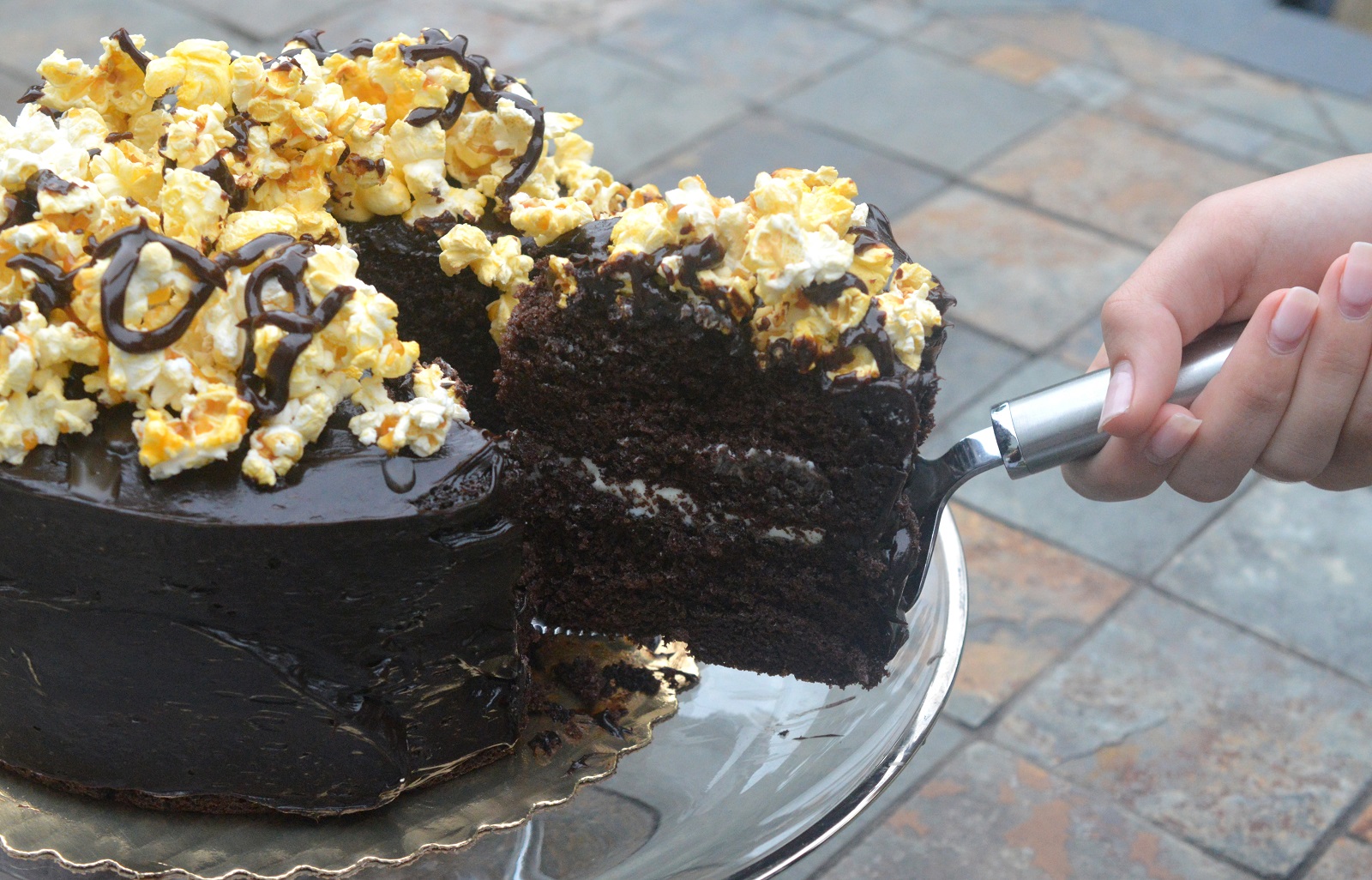 I'd love to see your creation if you whip up a chocolate popcorn cake or any kind of cake with popcorn...so fun! Tag me on Instagram with your creation @SouffleBombay. 
Enjoy!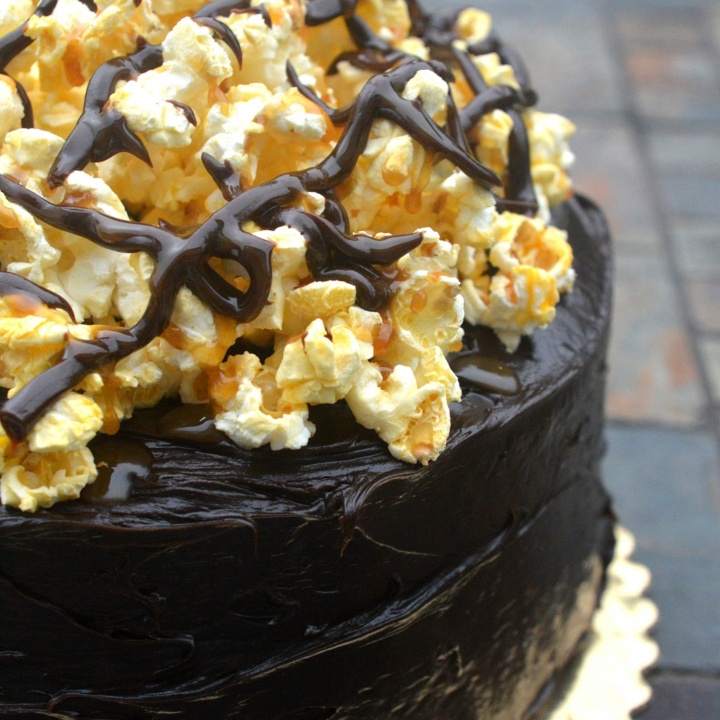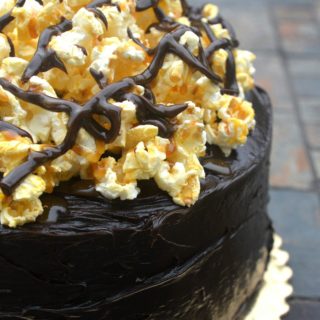 Chocolate Popcorn Cake
Ingredients
Chocolate cake

Chocolate frosting

Vanilla Frosting

middle

2

cups

or more of popped popcorn

Extras like caramel

hot fudge, chocolate syrup or whatever you may enjoy
Instructions
Make your chocolate cake (2 layers, whichever is your go-to recipe or a box cake) and allow it to cool completely.

Frost the top of one layer with vanilla frosting and then top it with the other layer.

Frost the whole cake with chocolate frosting.

Mound popped popcorn on top of the cake OR stud the whole cake with it. Any flavor works, plain, butter, kettle...

Choose to add extras like a caramel drizzle or a chocolate drizzle or both.

Enjoy!
Follow me on Tik Tok for 1 minute videos